As a child Anu Sawhney remembers eating tomato chutney with everything! Cooked up by her Nanima (which translates to grandmother on her mother's side), today tomato chutney brings back all the flavours of her childhood. Ana has kindly passed her treasured family recipe onto us, and you!
While the tomato chutney is great on Indian-style curries and traditional rice dishes, it also adds a hit to sandwiches or grilled cheese, and is delicious with baked vegetables.
This recipe is a fabulous way to preserve the tasty seasonal flavours and the chutney keeps in the fridge for up to four weeks.
Ingredients
1/2 kilo tomatoes
1 large onion finely chopped
2 tablespoons oil (sunflower/canola/vegetable/peanut—just not olive oil)
1 teaspoon Nigella seeds (also called onion seeds or kalonji)
1/2 inch piece of ginger, grind to a coarse paste
2 big cloves of garlic, grind to a coarse paste
1 level teaspoon salt
2/3—3/4 cup sugar
3/4 teaspoon garam masala
1/2 teaspoon red chilli powder
Method
*Heat oil in a pan and add Nigella seeds (let them sizzle for 20-30 seconds).
*Add chopped onions, sauté on medium heat until the onions are translucent.
*Add ginger and garlic paste and stir for about a minute to cook the ginger and garlic.
*Add tomatoes and then add salt, red chilli powder and garam masala.
*Cover and cook on a low heat till the tomatoes are soft and mushy.
*Remove cover and add sugar, stirring through until the sugar dissolves.
*Cook on a low-medium heat until the chutney thickens and starts resembling a runny jam.
*Let the mixture cool, then store in a sterilised bottle and refrigerate.
Enjoy!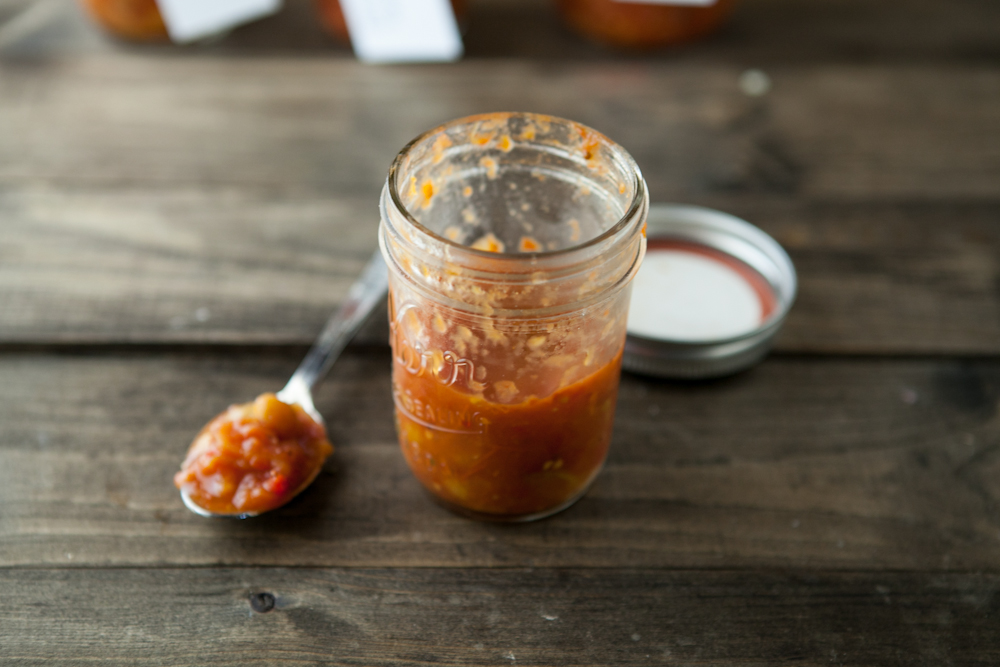 Image credit: Naturally Ella