The "tool of tools", hands have always been dubbed the most difficult body part to draw, as the single most intricate form because of the sheer number of gestures and movements they are capable of.
Totally fitting then, that in his latest suite of works, Sydney based artist Jamie Priesz chooses the subject to channel the many layers of grief felt for his late sister, and honour those that reached out to him during his recovery from her passing.
Each painted hand holds mementos of the artist's loved ones and is obscured by streams of brightly coloured paint.
"I like the random chance created by letting the paint drip however it wants across the hand," says Jamie. "Rather than hiding elements of the hands, the paint is an enhancement. To me, it feels like Rodin's use of drapery or Mapplethorpe's use of props."
These pops of runny paint let hope seep into an otherwise dark and tender love letter aptly entitled Hold On to be presented at Jerico Contemporary this week.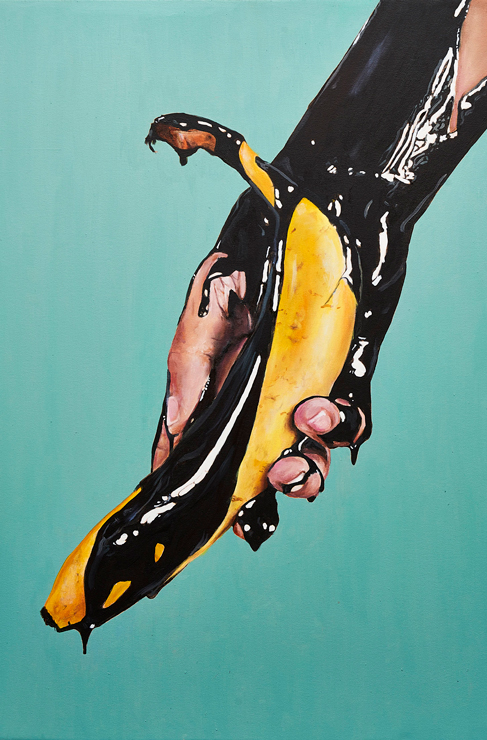 As I write, Jerico Tracy of Jerico Contemporary unpacks Preisz's yet-to-be-unveiled works with the same wonder that the staff of AGNSW did prior to naming the artist winner of the Archibald Packing Prize 2018 for his portrait of Aussie music legend Jimmy Barnes.
My (title fight) renders a man most often pictured onstage with a mic offstage and preparing to fight. Like Preisz's latest works, the painting speaks to the battles that take place backstage with mental health.
An art rockstar in his own right, Preisz's technical prowess has landed his work in the at COMMUNE, Museum of Contemporary Art, Sydney and Damien Minton Gallery among others. This October, let the artist talk to you again with his hands.
The Details
What: Hold On by Jamie Preisz
When: Until 17th November
Where: Jerico Contemporary
Cost: Free
Last chance! Here are all the exhibitions you should definitely see in October.
Image credit: Jamie Preisz.