We're desperately missing bar-hopping and restaurant dining, but, truthfully, iso has us living our best wannabe Masterchef lives. From whipping up some sourdough and Foccacia to baking banana bread (chocolate chips mandatory), we're all about mastering those lockdown eats.
That's why, together with City of Sydney, we hit up the experts in all things delicious—Sydney's favourite foodies, chefs and restaurant owners—for tips on nailing that at-home culinary life. Plus, if it all gets a bit too much, we've got some ideas on how you can support their venues and score a mouth-watering feed at the same time—winning.
Julian Cincotta
EXECUTIVE CHEF, BUTTER
We all know and love Butter in Surry Hills for its foodie thrills like spicy, crispy fried chicken, moreish cinnamon doughnuts and ramen. The brains behind this operation, executive chef Julian, tells us he's "Having a ball baking lots of bread at home with the sourdough starter that's been in my freezer for years."
He also full endorses a cocktail hack of "Squeezing fresh lemon or lime juice into an ice tray. Pour yourself your favourite iso drink—I'm a fan of Hennessy, but this works with vodka and gin too—add a couple of the lemon or lime ice cubes, some water and drink! Keep topping it up with spirits, cubes and water for a never-ending cocktail." We're so here for that.
Here's How You Can Support Butter Right Now
Our favourite initiative coming out of Butter is 'Butter-It-Forward,' where you can buy a voucher for someone in need to get a good feed and the team at Butter will match it. They're also delivering the delicious goods, with takeaway and delivery available on favourites like fried chicken ramen and the 420 Butter Hot Box special.
Emrys Jones
HEAD CHEF, NO. 5 RESTAURANT
At the helm of Alexandria-based restaurant No. 5 is Emrys Jones, who's relaxed approach to food and love for great produce is seen in their simple, flavourful menu. When it comes to at-home cooking, Emrys recommends keeping your kitchen space clean and organised, "This was probably one of the first things that sunk in with me about becoming a good cook. My first head chef always used to tell me if you work in a clean kitchen, you'll create clean food."
In regard to essential spices, he says the two things every kitchen pantry should have is dried mixed Italian herbs and togarashi, "If I feel like putting together something quickly or it's late at night, these are my favourite seasonings and they work well if I'm making things like kumara chips, meatballs or fried rice—they will always take something to another level."
Here's How You Can Support No. 5 Restaurant Right Now
No. 5 Restaurant is offering their menu for takeaway and delivery, as well as essential ready-to-go cocktails—think creamy espresso martinis and fresh margaritas (yes, please). While you're picking up your grub, you can also grab some pantry staples as the venue is now stocking a curated selection of grocery goodies like house-made passata and Himalayan flavoured salt.

Madison Cohen and JC Miranda
CO-OWNERS OF CALLE REY
Plant-based enthusiasts and the duo behind Peruvian-inspired vegan eatery Calle Rey sure know what it means to nourish your mind, body and soul with hearty, nutritious food. For them, Madison says cooking at home is about, "Buying food that's simple and easy to make, loaded with veggies, greens and superfoods for health, as well as buying products from local businesses and supporting them."
She rightfully reminds us that eating is not a chore, "Make a night of it and have a fiesta! Enjoy your meal with those living with you or video call with friends and family. Make it positive and always remember the most important ingredient is love!"
Here's How You Can Support Calle Rey Right Now
Take a night off from cooking and pick up Calle Rey's takeaway eats Tuesday through to Sunday—think mushroom nachos, churros and fun cocktails in jars. They're also dishing up plant-based DIY Taco Fiesta Boxes, as well as cocktail and wine club subscription services.
Nelly Robinson
Head Chef and Owner, nel. Restaurant
Constantly reimagining food, flavour and experiences through his whimsical, bunker-style restaurant nel. in Surry Hills, chef Nelly says, "To simply enjoy the time we have at home right now because there aren't many times in life when we are actually given the luxury of time. This is a great time to explore making dishes from scratch such as bread, cakes, stocks, sauces, and so on."
As the days grow longer and the winter chill creeps in, he explains that most vegetables go well in soups and this is also the perfect way for people to experiment with some unfamiliar ingredients, especially if they're ordering produce boxes. And while Nelly is a fan of salt, he warns, "One thing to never forget—you can always add more salt but you can't take salt out."
Here's How You Can Support nel. Restaurant Right Now
Throw your support behind not just nel. Restaurant, but a slew of Australian producers, by picking up a nel. Box. Carefully curated by Chef Nelly himself, the food box is delivered to your door with fresh fruit, vegetables, meat and seafood direct from Australian farmers and producers, and it even includes custom make-at-home tips.
Sam Bull and Andrew Emerson
Team at Prince Of York
Over at Prince of York, an electric multi-level wine bar in the CBD, it's all about nailing the basics for nutritious and delicious meals. "Make sure you're choosing food that feeds your mind and soul at these times, more nutritious meals will lead to a healthier mindset and make you feel better," partner Andrew explains. "Also, don't forget the essentials like getting your pan hot before chucking the oil in, and making sure your knives are always sharp to master those elusive knife skills."
He recommends using this time to follow a recipe for a dish that you have always wanted to make because recipe books are so underused. "Or, give us a call and let us know what your favourite Prince of York dish is and our chefs can talk you through the recipe," he says. We'll certainly take them up on that.
Here's How You Can Support Prince Of York Right Now
If you're still new to cooking, we can't recommend Prince of York's takeaway and delivery cook at home packages enough. Sporting some of your favourite bites, they take under 25 minutes to cook and are packed with flavour. The team are also proud sponsors of #ShoutAMeal, delivering fresh meals on the daily to frontline staff and healthcare workers with the support of your donations.
Cherie Lydon
Founder of Wholegreen Bakery
As a coeliac herself and the creative mind behind one of Sydney's most beloved gluten-free bakeries—you might have scored a delicious bite from their new CBD digs on Clarence Street—Cherie certainly knows a thing or two about at-home cooking and making it work for you. Her top cooking tip is to go half-and-half when it comes to meal prep. "Take advantage of things you can buy, such as pastry sheets, to make your own tarts or pies, especially as we go into cooler weather," she explains. "But then on the flipside, indulge in fresh local produce to really bring a dish or treat alive."
Here's How You Can Support Wholegreen Bakery Right Now
Gather around, gluten-free friends because Wholegreen Bakery is helping you master cooking at home with their new range of sweet and savoury pastry sheets, gingerbread dough and flour. You can also grab their goods for pick-up or delivery and freeze them for when snack o'clock calls.
Chase Kojima
Executive Chef at Sokyo and Kiyomi at The Star
From San Francisco to London and now Australia, chef Chase Kojima has travelled the world and serves up flavour and imagination in spades to lucky Aussie diners at Sokyo and Kiyomi at The Star. For him, home cooking is all about nailing the basics "I absolutely love rice, so I think everyone should take this opportunity to learn how to cook rice properly. My simple tips for cooking the perfect rice is to use the basic ratio of 1:1, but always use a scale and weigh the rice and water. Some rice is heavier, while others are lighter, so if you weigh it you will get a perfect consistency."
When it comes to cooking at home, Chase's go-to is "A really simple omelette. I just use two-three eggs, add raw baby spinach and black beans (canned beans are fine). I cook it with some coconut oil—it's easy, delicious and I can have it for breakfast, lunch or dinner!"
Here's how you can support Sokyo and Kiyomi right now
Alongside The Star's other restaurants Fat Noodle and BLACK Bar & Grill, Sokyo is now available to be enjoyed at home with multi-course seasonal sharing menus. Don your best gear and light the candles because this cosy date night is delivering six mouthwatering courses featuring signature Sokyo dishes that will take you on a culinary journey from the comfort of your own couch.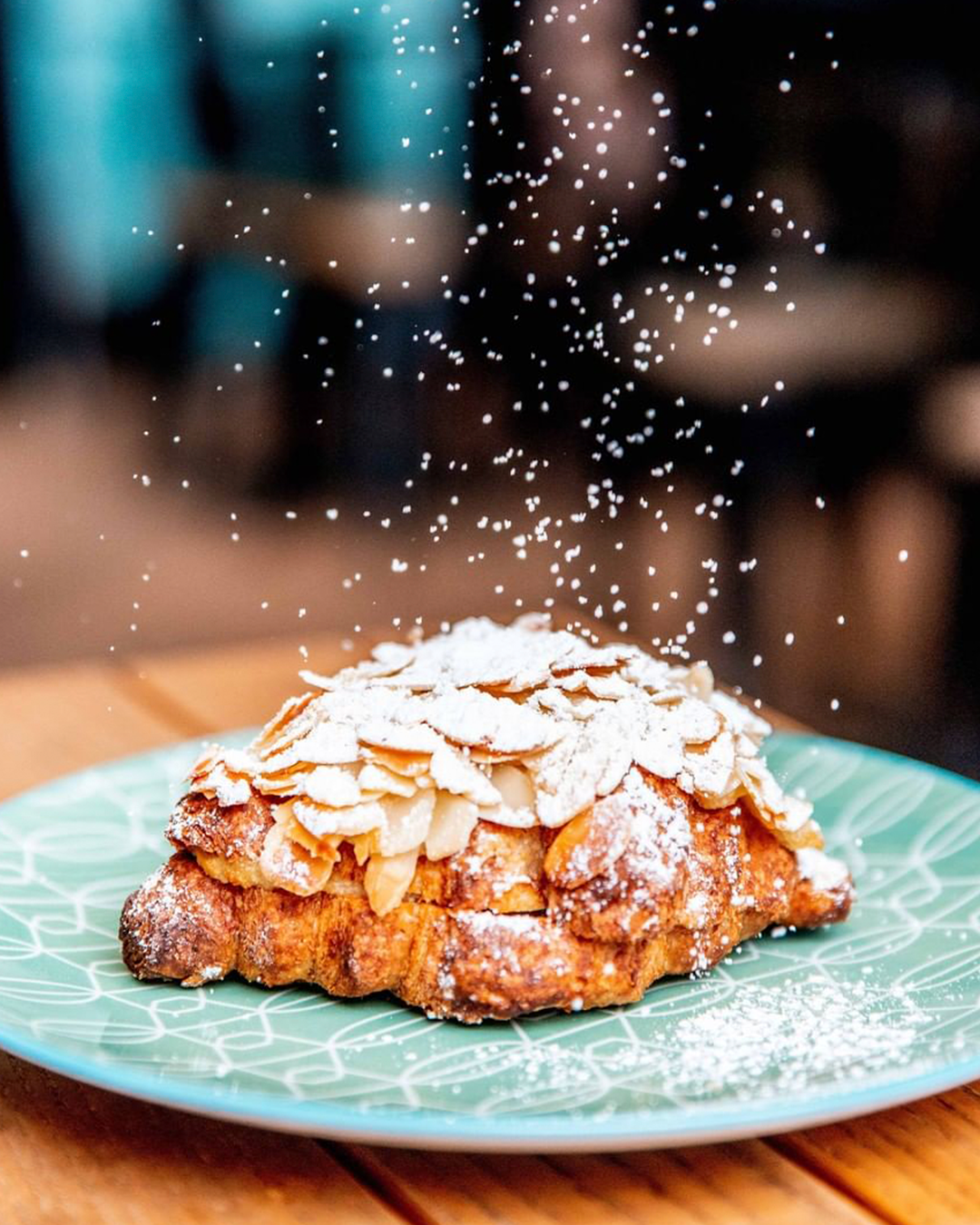 David Rigby
Head Chef And Owner, Oh My Days
Known as the brains behind one of Sydney's first vegan croissants, as well as a slew of stand-out vegan pastries, David of Glebe-based café Oh My Days is dedicated to finding new ways to discover all things delicious.
When he talks of at-home cooking, it's simply about getting the most out of your ingredients. "Use every part of the plants and herbs. You can pickle kale stems, use herb stalks in marinades, stocks and sauces like chimichurri and salsa verde. Plus you can candy lemon and lime zest, or even watermelon rind," David explains. "Go even further and expand your larder, if you have time to make sourdough then you have time to pickle and ferment vegetables. At Oh My Days we are fermenting hot sauces, making kimchi and also a cactus and tomatillo chutney. Throw nothing out!"
Here's How You Can Support Oh My Days Right Now
If you're desperately missing those café delights, Oh My Days are rescuing you with vegan hampers, available for delivery, as well as your regular takeaway and delivery options, to help bring some brightness to those dreary work from home days. Expect freshly-baked bread, croissants, pastries, ground coffee, mock meats, cheese and a selection of house-made beverages.
Seriously, Sydney foodies, restaurants and cafés have come to the party with takeaway, delivery and virtual services to keep us fed and happy. Together, with City of Sydney, we're throwing our support behind them and encouraging you to follow suit.
Editor's note: This article is sponsored by City of Sydney and proudly endorsed by The Urban List. Thank you for supporting the sponsors who make The Urban List possible. Click here for more information on our editorial policy.