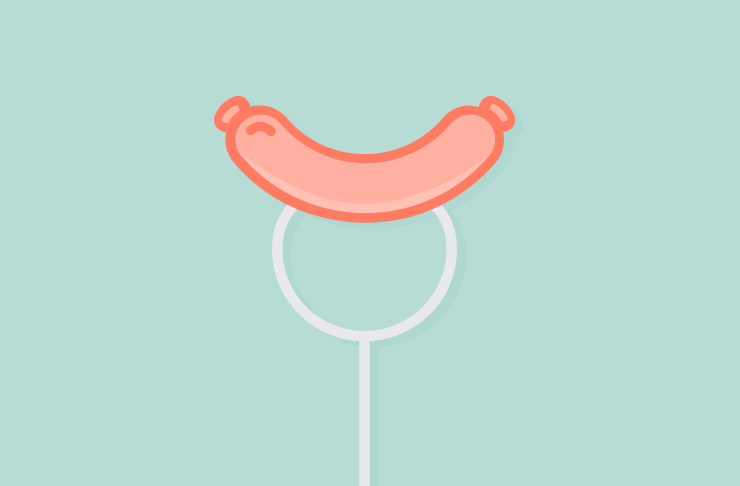 ​
Hey Sydneysiders, we hope you've settled into July as snug as a bug - hopefully in a rug (too), 'cause it sure is cold af. These chilly mornings have sure been tough to get through, especially when you wake up to find your Insta feed flooded with pics from every single corner in Europe. Seriously, enough's enough. But nevermind the feed, we're here to focus on you.
So, here's what you're *really* in for this week.
Gemini
The F word. Yep, for you guys this week is all about having fun. There's a good chance it'll get you into a tiny bit of trouble (not that that's anything out of the ordinary). But getting yourself out of it? That's where the real fun begins.
Looking for a good time? Since I Left You is what you need.
Cancer
According to your planet's alignment this week, you're going to be unusually in touch with your intuition. If you listen to that little voice inside your head (no, you're not crazy), you'll be on your sure path to greatness.
The little voice in our head is telling us we need a burger. Have you checked out the new Botany View Hotel yet?
Leo
Your House of Love is in full swing this week and that's why you've had that craving recently. No, not the chocolate craving, the love craving. Although considering all that bs you've been talking recently, it's not gonna be that simple. But we have a feeling you'll sort it out.
With all that waffling you've been doing, maybe just have some real waffles. Milky Lane has got the goods.
Virgo
Your penchant to be just a tiny bit over-analytical has a bad habit of spoiling things. Your chart is showing that this week it's time to learn that you can't control everything. Live and learn, friends.
We've analysed the menu at Sydney's newest Bagel spot - and it's a winner.
Libra
Your indecisiveness has led you to foster some naughty lil' habits. But thanks to a meteor shower crisis being averted, this week you're getting into gear to slowly put an end to them, one by one.
It sounds like you need a drink. Hey, you earned it! We've got an incred spot for sweet cocktails that you're gonna lurrrrrv.
Scorpio
Well, what can we say Scorpio? You guys always know how to keep things lit. Especially your soul, it's as fiery as ever. This week as Mars moves into your third house, your partiality to get arguing is going to be stronger than ever. We recommend keeping a fire extinguisher on hand. Things are getting hot.
Here are winter wardrobe essentials according to your suburb, that (you guessed it) you absolutely need to know about. Your hotness just got next level.
Sagittarius
It depends on what day of the week it is, but for the most part, you're a glass-half-full kind of person. This week you're spending your time looking for the good in everything. The stars are shining brightly in your galaxy and it looks like there's a good chance you just might find something extra gewwwwd for yourself.
We've got a lil' secret. This List has very, very, ridiculously good noodles. You're welcome.
Capricorn
Things are all comin' up for you guys. The early mornings and late nights are enough to make you wanna throw in the towel and survive on Mi Goreng for the rest of your life. But this week, all of that hard work will finally pay off.
Treat yo'self to some bed sheets... made from real coffee. Yes, this is real life.
Aquarius
You're always there for your mates, to listen to them, to have a giggle and to of course, always be down for a bev or two (hundred). But this week it's all about taking time out for yourself.
And just in case you can't stay away from the squad, here's the newest mini golf course in Sydney for you to hit up, stat.
Pisces
You've never misplaced a single item, but when it comes to you... you're just lost in general. And that's okay, but this week your higher powers need you to get focused. With Mercury moving into your eighth house this week, it's bringing with it the motivation you're after.
Feeling like you've got it together? You'll nail this ambitious cronut recipe like a pro.
Aries
It's true, we all want someone to look at us the way we all look at the waiter when they're bringing our food to the table. But this week it's time you stopped searching so hard because the love of your life is coming into the picture and might we say, it's shaping up to be one pretty canvas.
But just in case they're not the one, here's where you can adopt a furry friend to keep you warm this winter. People? Who needs 'em?
Taurus
You're never too old to play games - especially when they're just starting to get interesting. This week your reading is showing rewards for taking risks. But our advice... quit while you're ahead. Play at own risk.
Stuck for things to do this week? Here's everything happening in Sydney this month.
Image credit: Gabrielle Stjernqvist