It's a well-known beauty fact that mastering a skincare regime is no easy feat. Especially right about now, with the end of summer (*crying face emoji*) officially a reality, and so too the reality of your over indulgence in sunny good times. Cue dry skin and nowhere near enough hours of beauty sleep.

It's all fun, games and makeup wipes that cost less than a latte, until you risk sleeping in your makeup, just one more time. Before you know it, the damage is done and you're Googling what moisturiser Beyonce is using, and somehow you've just spent $400 on a facial to bring back your December glow—sound familiar?

We've searched high and low to bring you a slew of skincare swaps that you need right now, from the fanciest of the fancies (we're talking ultimate goals, like, choosing an eye-cream over those paying rent goals) through to more affordable dewy-skin-inducing dupes – because we know, you've still gotta have some dollars spare for Sunday brunch. Expensive-looking skin whilst not having to forgo avo toast? We're in.

---

Cleanser
Surely no public service announcement needed here. Cleanser is a skincare regime staple. Find one that actually cleanses your complexion, without stripping or irritating your precious skin.
Spend: Omorovicza Thermal Cleansing Balm
There is good reason that this cleansing balm is worshipped by everyone; from Hungarian royalty right through to supermodels, this is a cleanser like no other. It removes makeup with Hungarian moor mud, harvested from European thermal lakes.
Save: Trilogy Make-Up Be Gone Cleansing Balm
Jump on the cleansing-balm bandwagon without having to sell a kidney. This dreamy balm from Trilogy is enriched in rosehip, coconut and mango. Yum.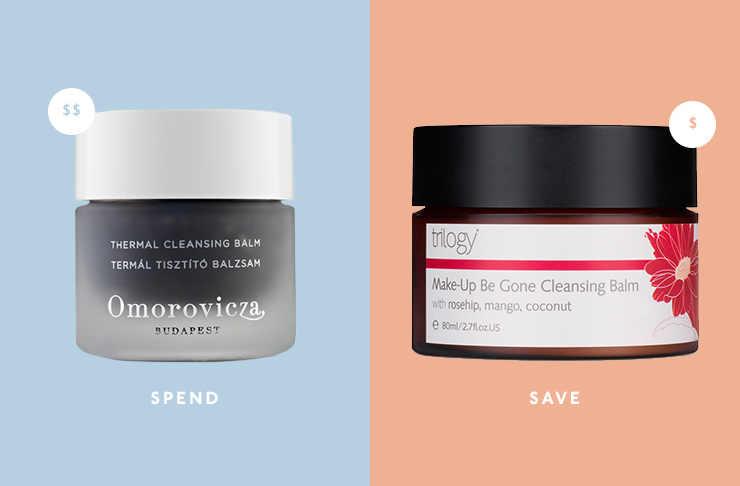 ---

Micellar Water
Sure, washing your face is great, and seemingly does the trick (dirt, makeup, grime, be gone!) but have you tried swiping your face with micellar water post cleansing? Yeah. Not as clean as you thought. This miracle broth made up of tiny balls of cleansing oil is a must have.
Spend: LA MER Cleaning Micellar Water
Complete with LA MER's miracle broth—diamonds, gems, pearls! (Well, actually, sea kelp and a plethora of vitamins). This magic water nourishes and hydrates whilst removing any traces of the day's grime.
Swap: Garnier Micellar Cleansing Water
Hello cleansed, refreshed skin–with change from $10.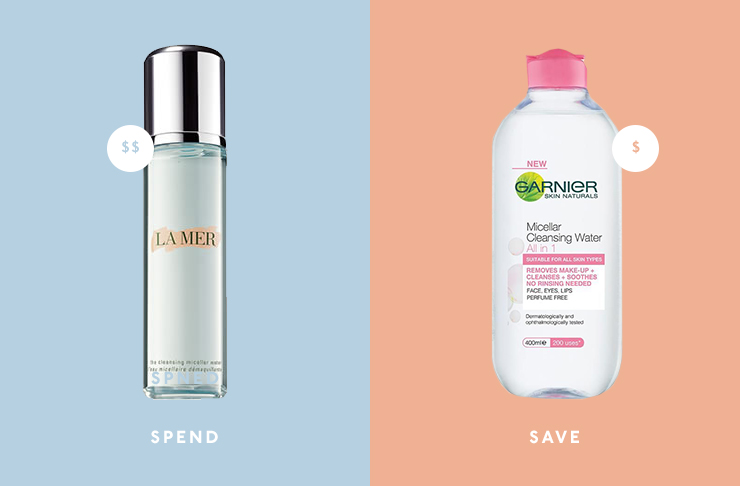 ---

Facial Mist
Seal your skincare, refresh your makeup and beat dull and tired complexions (even when you've had no more than 3 hours sleep). Facial mists are our go to.
Spend: June Jacobs Neroli Hydrating Mist
This delicious facial mist will cost you more than lunch, but it IS almost good enough to eat, complete with nourishing ingredients including bitter orange, green tea extracts, goji berries, pomegranate and grape seed extract.
Save: Mario Badescu Facial Spray
There are so many reasons why we love this facial mist. The fact that it costs $9 (and is complete with aloe, herbs and hydrating rosewater) is right at the top of that list.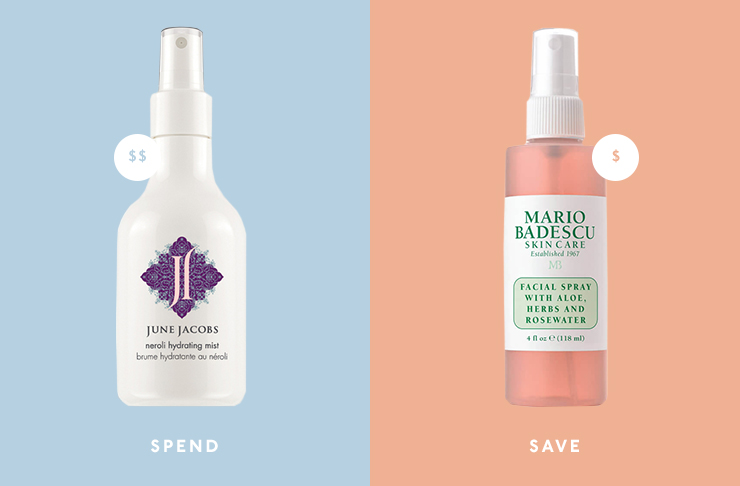 ---

Serum
There are oh-so-many serums that you can introduce into your skincare regime. But ICYMI, hyaluronic acid is having a serious moment right now. The best bit? It's an ingredient that works on all skin types. It boosts hydration, improves skin texture and guarantees a dewy-glow after just one nights use. Add to cart.
Spend: Kate Somerville Quench Oil-Free Hydrating Face Serum
Kate Somerville is a real person. A Los Angeles based skin goddess with a facial waiting list of months. If return flights to LA for a facial aren't in your budget this month, visit your gals at Mecca Cosmetica and pick up this super-luxe, super hydrating serum. We're talking Victoria's Secret model glow in just one pump.
Save: Indeed Laboratories Hydraluron
Get your hyaluronic acid fix with this moisture-boosting gel that leaves with you with change from two twenties.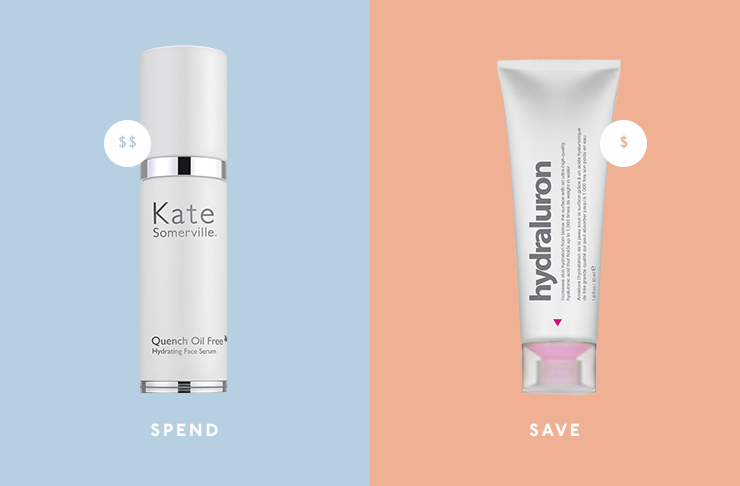 ---

Moisturiser
Ah, the humble moisturiser. It needs no introduction; the right one can change your life (or, your face… but the two are one in the same, right?)
Spend: Danne Montague King TransGenesis Crème
Danne Montague King has been a best-kept-secret behind the skin of Miss Universe contestants through to A-list celebs for years. This next-level-luxury cream has one of the most potent blends of ingredients (we're talking the real fancy stuff, like red caviar enzymes and peptides) to do everything from fight the peskiest fine lines through to refine pores.
Save: SEPHORA Intensive Instant Moisturise + Cream
Weightless, glow-inducing and radiance-boosting. This moisturiser ticks all our boxes and is surprisingly (and thankfully) affordable.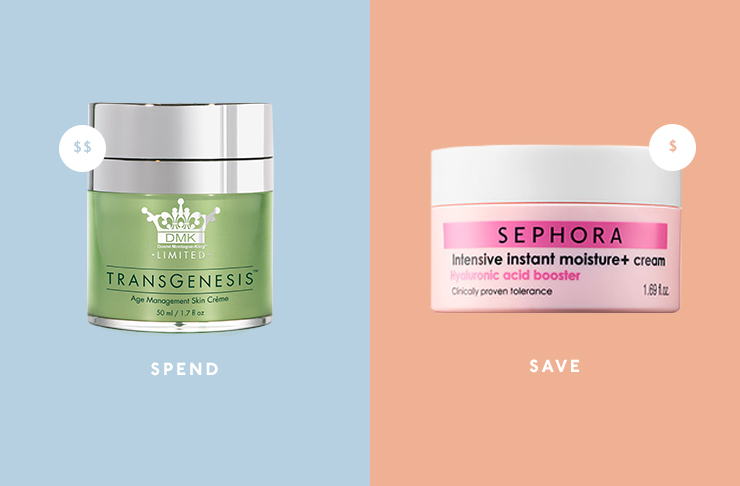 ---

Glow-Inducing Face Mask
Face masking is one of those things that seem a little frivolous and not all that essential; until you get into a routine and you start to reap the rewards (read: lit from within skin and break-outs no more). Use a facemask once a week to get your glow on (it's not too late for another New Years resolution, is it?)
Spend: Estee Lauder Advanced Night Repair Powerfoil Mask
Ever heard of a Powerfoil mask? Neither had we. But that's probably because this luxe Estee Lauder mask is the very first of it's kind; it's a powerful infusion of moisture that promises fresher skin in just 10 minutes. Pricey, but less than the cost of a facial (and no need to leave your bedroom. Win.)
Save: Endota Spa Charcoal Detox Mask
Skin having a little freak out? Charcoal to the rescue. This certified organic mask reveals brighter, smoother, softer skin and calms angry breakouts in a flash. At about the cost of an expensive cocktail (story of our lives), you'll get more than 12 or so pamper sessions from just one tube.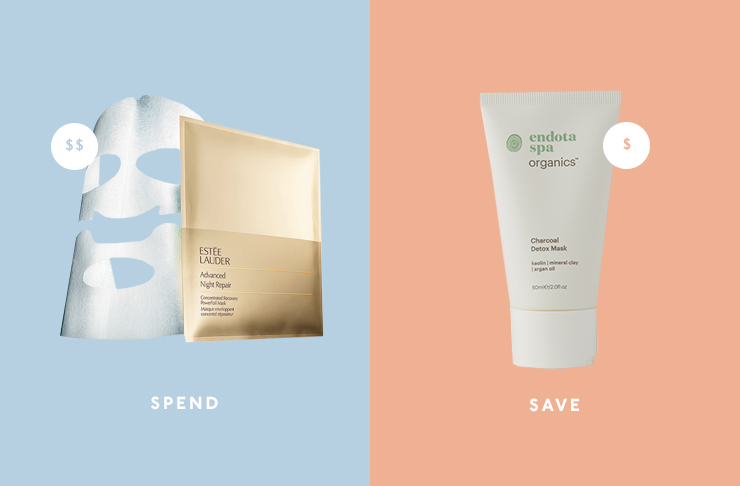 Now that your skin is on fleek (is that still a thing?) it's time to tackle your hair. Check out our humidity hair hacks here.
Design credit: Gabby Stjernqvist