Surry Hills' much-loved restaurant and cellar door, NOMAD is set to reopen in its original Foster St home on Tuesday 20 October, and there's a lot to get excited about.
Since a fire broke out at NOMAD's OG Foster Street home last September (and the team launched NOMAD Up The Road), owners Al and Rebecca Yazbek have given extensive renovations to the venue. The new-look NOMAD features a larger kitchen, twice as much seating around the open kitchen, and, our favourite part, the addition of a new stand-alone deli.
Executive chef Jacqui Challinor has created a menu that centres around the signature wood-fired oven. "I'm so happy to have the fire back so it's no surprise it's the primary focus of the new menu," she said in a statement.
"There's a lot of new dishes we're working on, but the staples have remained, some with a few little updates and tweaks. The heart and soul of NOMAD's food will stay the same."

Signature menu items to return include a more extensive house-cured charcuterie selection, smoked ocean trout basturma, halloumi, date glazed wagyu tongue, and an olive oil ice cream sandwich with sesame, pistachio and honeycomb.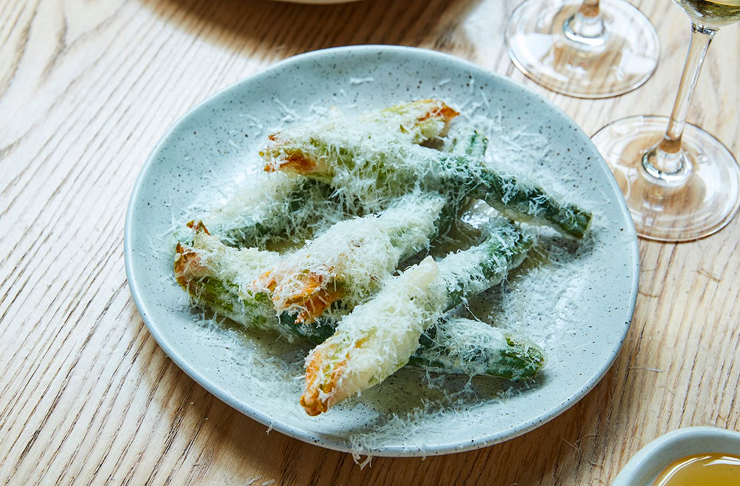 The launch of the NOMAD Deli will feature a range of take-home products, locked to change-up weekly. You can expect a wide selection of house-cured meats, dips, marinated preserves, as well as chocolate fudge brownies and cookie dough, which you can turn into actual cookies at home.
NOMAD'S coveted wine list will be available to take home too and to order for home delivery, still with a focus on small producers from Australia and beyond (but you'll have a bigger variety of some epic vintage labels).

The restaurant's vibe and feel will remain much the same as before, however, Rebecca has worked on the design to make NOMAD feel a little more grown-up. The kitchen's custom-made wood-fired oven returns and the charcoal grill has doubled in size so there will be more opportunities for the kitchen team to cook over fire. The kitchen counter seating now wraps around the entire space and has been extended to 30 seats. The original chairs and tables have all been restored, with extra banquette seating in a deep, plush green leather.

NOMAD will open for dinner seven nights a week, and lunch Friday to Sunday.
And here's where to find cherry blossom inspired bao buns and cocktails in Sydney.
Image credit: Nomad