In this day and age, where repetition reigns supreme, buying an antique or retro piece ensures a sense of personality and timelessness. With a resurgence in period films and TV series (The Great Gatsby, Underbelly etc) many people are looking to bring a little bygone character into their lives.
There are a number of great auction houses you can visit in Sydney; including Raffan Kelaher & Thomas in Leichhardt, Lawsons Auctioneers (also in Leichhardt ) or, at the premium end of the market, Sotheby?s Australia in Woollahra; but auctions can be hit and miss and are often intimidating to a novice.
One establishment where you are guaranteed not only a stimulating peruse but an extraordinary range, which means you are more than likely to find just what you are looking for, is the Sydney Antique Centre. Located on South Dowling Street, Surry Hills, the Sydney Antique Centre opened its doors in 1974 and today houses over 50 dealers. The collections range from furniture, jewellery, and clothes, to porcelain, lighting, books, kitchenware, and sports memorabilia. The Sydney Antique Centre is the go-to place for collectors, prop stylists, set designers, and antique lovers.
We caught up with longstanding dealers, Mark Meredith and Janet Niven to chat history, unique finds, The Great Gatsby, and the love of antiques.
Deco Diva Antiques Shop 10, Mark Meredith.
Mark began collecting Art Deco statues 20 years ago and it was when his personal collection began to overflow that he moved to the Sydney Antique Centre. Deco Diva has been based at the South Dowling Street address for nine years, and Mark particularly enjoys the fact that the centre attracts fellow lovers of antiques and collecting. ?I feel really fortunate, as in the last couple of years Art Deco has had a definite resurgence, not necessarily in the general public but in film and television', he says.
?My biggest gig to date was The Great Gatsby—I sold a lot to the production. I recently saw the film and it was really nice seeing my props, which were made up of tea sets [the beautiful silver and wood set] and Art Deco dancing girls, featured in the party scene involving Myrtle Wilson?s apartment. It was a real buzz.?
Mark has noticed the art of collecting for its own sake has declined somewhat, but there has been a considerable increase in people (from their 20s to 40s) wanting one or two antiques in order to contrast the minimalism of their modern apartments—to give a little soul.
Here are some of Mark?s favourite pieces:
A rare Crown Devon coffee set in the ?Orient? pattern, a highly sort after design from 1932.
Art Deco dancing girls from the 1930s and earlier are Mark?s passion. The image on the right is of a cancan dancer from the 1920s to early 1930s by German company Katzhutte. This lovely lady is easily spotted in Myrtle Wilson?s apartment in The Great Gatsby.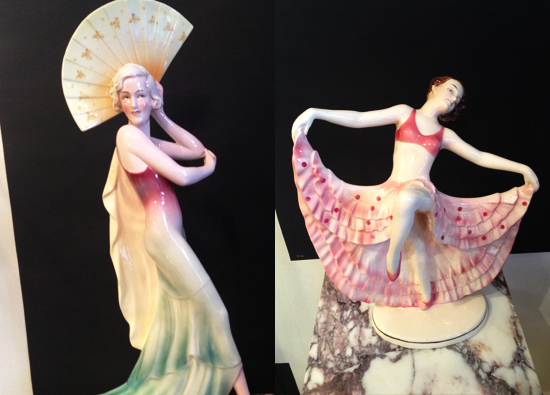 Stunning Art Deco Geometric glassware by Karl Palder from the Czech Republic 1930s.
Bronze and Spelter statuettes are of great interest to Mark. During the war the use of Bronze was banned in the decorative arts, as it was needed for ammunition and artillery. Spelter, which is a mixture of metals, was used as an alternative material but often with a bronze patina. The Panther is cast in Spelter from France in the 1930s and the Girl with the McCaw is from the early '20s.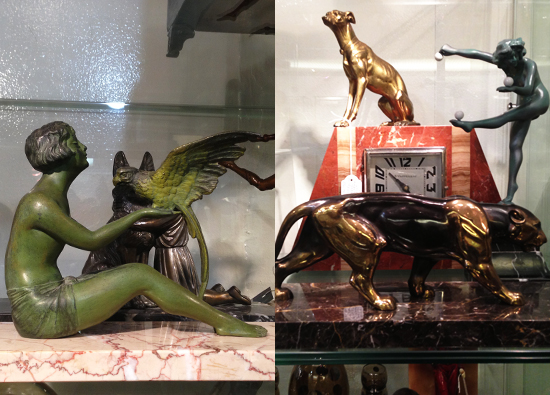 Janet Niven Shop 2. Member Australian Antique Dealers Association.
(By Appointment janetniven@bigpond.com)
After 15 years running her own dealership in Woollahra, Janet moved to the centre as part of her semi-retirement. Janet?s passion for antiques began in her early 20s and has mainly focused on English antiques. ?My specialty is actually portrait miniatures. You wouldn?t think so looking at all this china, I do like ceramics as well.? Janet continues, ?Your taste changes as you go on, it is an eclectic collection and I mainly do 18th and 19th century—I don?t do much 20th century.'
Janet tends to sell to collectors but also to people searching for that special gift. Over the years Janet has supplied countless television shows, films, and magazines with props and accessories.
Here are some of Janet?s favourite pieces:
English Georgian miniatures from the 18th and early 19th century are high on Janet?s collection list. The image on the left is of an unknown lady dating between 1800 and 1805. She sits in her original gold frame with a lock of plaited hair encased in the back (this could be hers or possibly a lover?s). Knowing who the artist is, is more important than the subject?s identity in terms of collecting, but it is always beneficial to know both.
An early 19th century Chinese spectacle case made out of Shagreen (fish skin).
Textiles and needlework are also Janet?s passion. Below is a 17th century Charles ll of England period needlework. It is the earliest piece Janet currently owns.
In the early 19th century people used decorative face screens to protect their faces while sitting in front of the fire. This was particularly important, as using wax in make-up was common (severe facial pock marks were typical and wax was used to fill in the pock marks) and there was a real risk of the wax melting.
On the left are examples of English Transferware, circa 1820. The design was transferred rather than hand painted and used by wealthy families as their day-to-day crockery. Janet also stocks 18th century, hand-painted, first period Worcester porcelain. On the right is a gorgeous and rare example of salt-glazed English earthenware. Circa 1760, it is a moulded plate with a very high gloss.
Top image credit: O Kabaret Patafísico do Alziro