There is literally no one in the world that doesn't get all hot under the collar at the idea of a big, comforting bowl of pasta. Freshly made, topped with artisanal ingredients and perfectly cooked, there is little we wouldn't do to get our hands on a bowl of the stuff.
Now that summer is officially over, and we're well and truly entering trackies and comfort food weather, salad is looking less appealing and pasta is becoming less of a fantasy and more of a necessity. But with so many Italian restaurants in Sydney, which one do you pick?
That is one question we can answer, and it's La Rosa The Strand.
La Rosa The Strand can be found in (you guessed it) The Strand Arcade, but don't let that deter you, stepping beyond the curtain into this inner-city haven is like stepping into another world. You can take a seat in the dimly lit, romantic bar for charcuterie and cocktails, or enjoy a table in the restaurant that feels a million miles away from the CBD. The wine list is updated monthly and features some knockouts to match your food.
I can hear you now, "yeah, right, how am I supposed to trust this guy when my Nonna makes the best pasta IN THE WORLD"? Because owner Nino Zoccali (who also owns The Restaurant Pendolino) is a second-generation Italian chef, olive oil expert and wine merchant, as well as cookbook author. If you can trust anyone to deliver you some of the best pasta in Sydney, it's him. When I probed him for the secret to perfect pasta, he was coy, but assured me that it comes down to "simplicity, quality, and, above all else, flavour".
There's more to the pasta at La Rosa than what comes out of a packet in your pantry. Nino tells us, "Some of our dried pastas use only semolina and water to make the pasta dough, and others use flour, eggs, and salt. It depends on the region of Italy the pasta is from. La Rosa stays true to the region and style of pasta we are creating."
Hooked, I probe further. Nino tells me there are seven (yep, seven) different types of hand-made pasta on offer at La Rosa: Rigatoni, capellini, tagliatelle, cannelloni, lasagne, Puglian 'tria' pasta, and bigoli. I don't expect you to know exactly what all of those are, but I absolutely do expect you to go in there and eat all of them. Now.
I won't spoil all the fun, but I absolutely recommend getting a bit off the beaten track when you dine here. And by that I mean don't panic if you don't see time-tested classics such as spag bol on the menu, but rather get excited about the Alto Adige-style spinach and gruyere bread dumplings with grana padano and burnt sage butter, i.e. food of the gods.
For the kind of dish that is made with so much love that you want to simply climb in and have a nap in it, the cannelloni con ripieno di zucca, baked cannelloni with pumpkin, mustard fruit, ricotta, and that burnt sage butter we just can't get enough of. It's the perfect blend of nutty pumpkin, creamy ricotta, and savoury burnt butter. It's messy, it's moreish, and it's incredible.
For those that truly love their pasta but might want to branch out and try some other delights on the menu, the free range pork polpettine (meatballs) with polenta and montasio cheese, grilled heirloom tomato, crisp pancetta, tomato, olive and chilli salsa is where it's at. At first, it looks a little too pretty to ruin, but the scent of that salty pancetta and mellow polenta will hit you, and you'll have no choice but to get stuck in.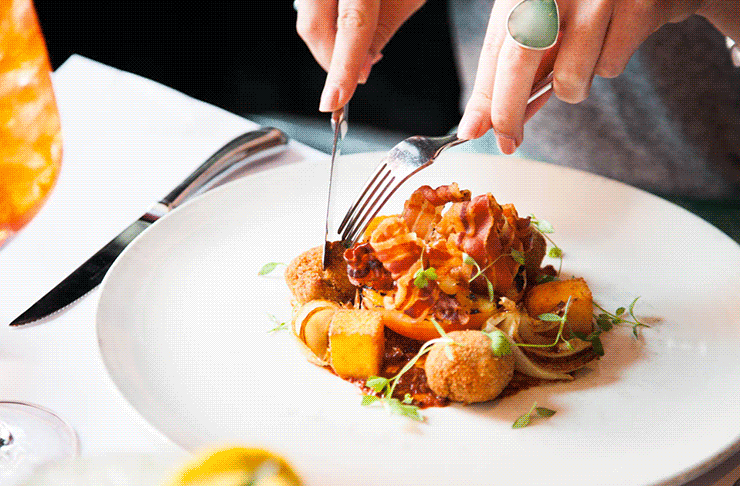 Perhaps you're more into risotto, because we all know that a well-made risotto is hard to come by. And La Rosa The Strand nails it every time. Theirs comes with alba pioppini mushrooms, truffled butter, and a parmesan crisp that is so unbelievably satisfying to crack into pieces and mix through the creamy risotto for a slight crunch and hit of sharpness from the parmesan.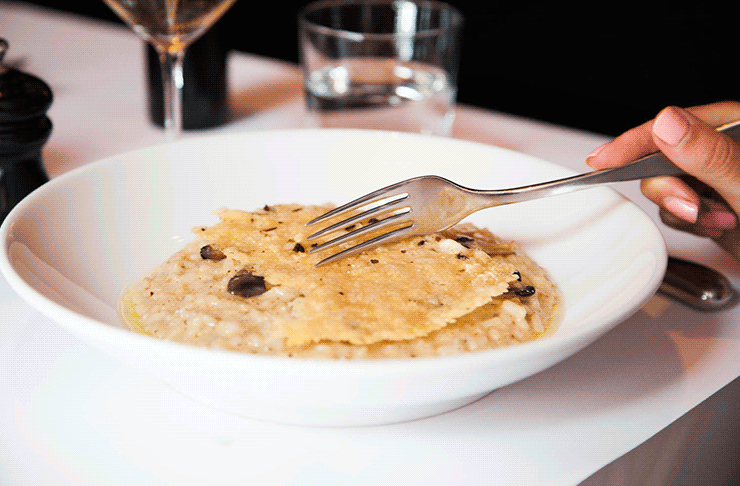 For those that want to keep their pasta simple and see what Nino and the La Rosa team have to offer, the house dried semolina tagliatelle pasta (with sweet pea and mint sauce, grillo - insolia white wine, mint cress, semi aged pecorino) is the definition of eyes-rolling-back delicious but incredibly simple done right.
Like I said, going through the entire menu would spoil the fun, so you're going to have to find out the rest for yourself when you head in to La Rosa The Strand for yourself, and have your mind blown.
---
Image credit: Federica Portentoso
TUL note: This article is proudly sponsored by La Rosa The Strand and endorsed by The Urban List. Thank you supporting the sponsors that make The Urban List possible. Click here for more information on our editorial policy.