To celebrate our 10th birthday here at Urban List, we're asking you to tell us your top 10 lists over on our Instagram—this week, we turned to a pub classic and asked you where to find Sydney's best pub roast.
Nothing says it's Sunday quite like a classic pub roast. While we struck out on our own many years ago, we'll gladly hang onto this very British tradition of roasted meat, veg and gravy to end the week—warm smiles and full bellies guaranteed.
Whether you prefer a classic pub serving or a creative twist, your carrots caramelised or an extra helping of peas, your meat falling off the bone or no meat at all—Sydney's got some seriously standout roasts. If it's served up on a Sunday, accompanied by a drink, covered in gravy and topped with a Yorkshire pudding—well, it doesn't get much better than that.
Here are the best pub roasts in Sydney right now.
The 10 Best Pub Roasts In Sydney, According To You
The Duke Of Clarence
CBD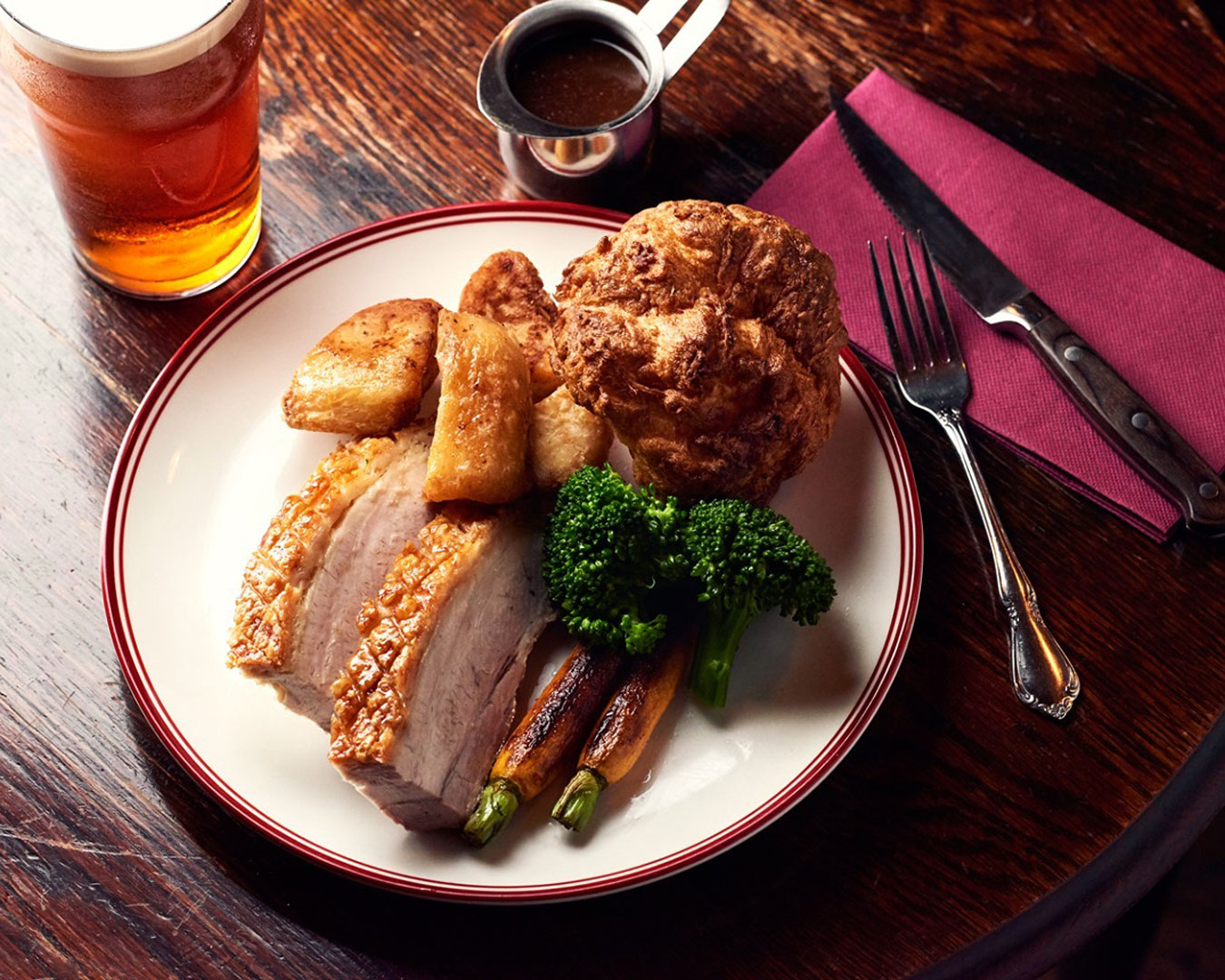 You may not first think of Sydney's CBD for wholesome, cosy pubs, dishing out top-tier Sunday roasts—but The Duke of Clarence is here to change your mind. The Victorian-era joint is brimming with cosy pub energy, with comfy couches, bookshelves, a working fireplace, an endless spirits list, and scotch eggs. And the Sunday roasts on offer are no different—with four different and delicious options to choose from. Whatever your fancy on the day, decide between the British-bred roast beef sirloin, roast pork belly, lamb shoulder, or the veg-friendly roasted pumpkin with wild rice. You can even add more wonderful things like pigs in blankets, cauliflower cheese, honey roasted parsnips and extra Yorkshire puddings. Yep, it's no wonder The Duke of Clarence is a got-to for @tamarasox and @siobhanvm. Book here.
The Oxford Tavern
Petersham
If you're not one to stick to traditions and you don't mind shaking things up, then the Inner West's The Oxford Tavern is the spot for you—and it's a favourite for @taliac. The local watering hole loves nothing more than plating up big, meaty plates of Southern US-style BBQ. And as the week is ending and you're looking for a place to nurse your hangover, The Tav serves up one helluva roast. Expect some speciality smokehouse roasts with a BBQ twist, like beef, chicken and pork belly with all the trimmings, and, because some traditions must be adhered to, a Yorkshire pudding. Don't eat meat? No worries, these guys also dish up a roast pumpkin with potatoes, carrots, broccoli, a Yorkie, and, of course, drinkable gravy. Book here.
Charing Cross Hotel
Waverley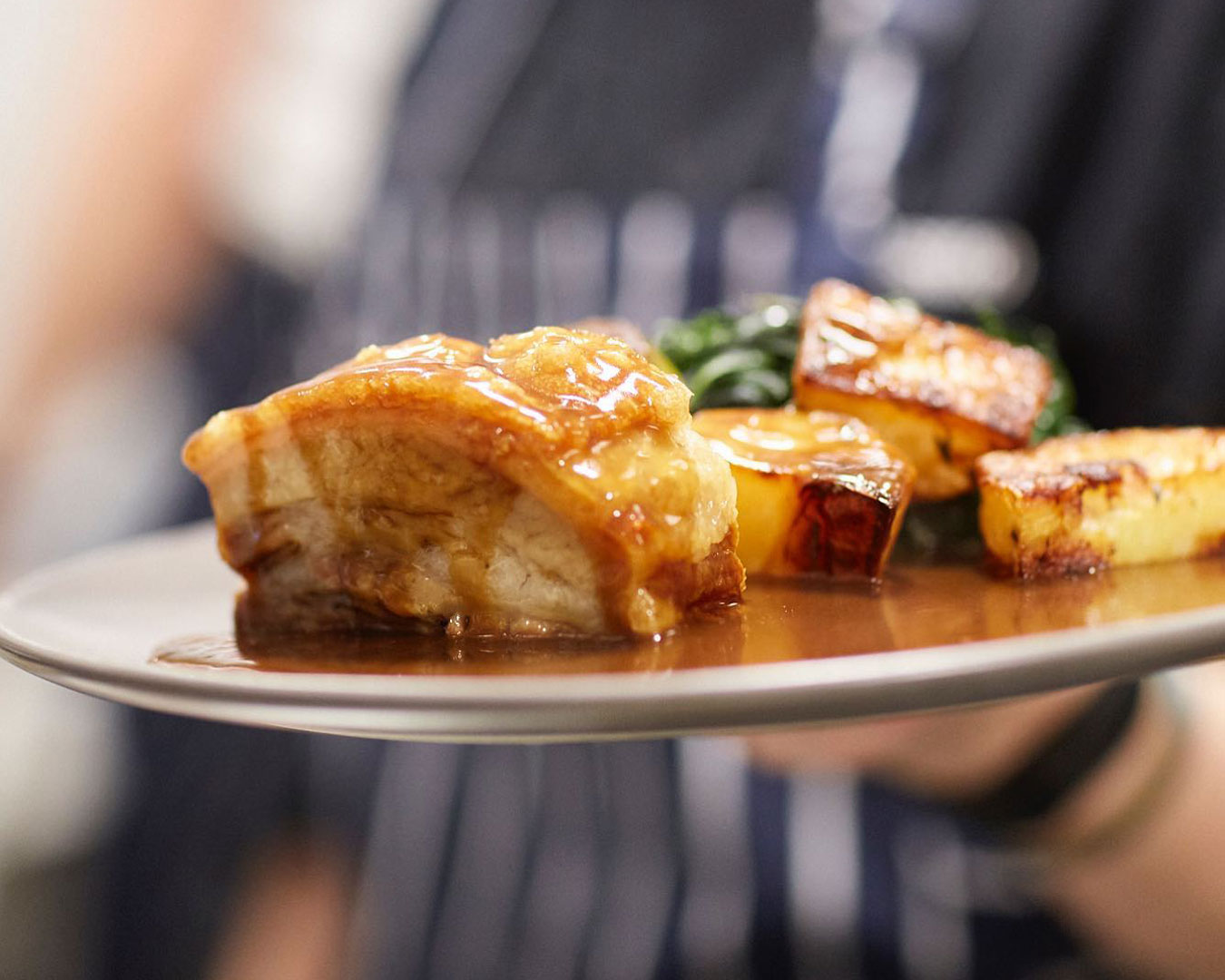 There's nothing quite like heading to the East where the sun shines a little brighter, and the beaches stand out as some of Sydney's best attractions. But for this list, we've got a warm, roasted reason you should visit even in the depths of winter. Starting at 11am every Sunday, The Charing Cross Hotel in Waverley (or Bronte, depending on who you ask) serves up a mean roast. Choose between the pasture-fed sirloin, roasted pork belly, and slow-roasted leg of lamb, each brimming with trimmings. Or, opt for the vegan roast, with miso-glazed roast Japanese pumpkin, sage and onion stuffing hazelnut granola and seasonal vegetables. Thanks @heywholesome for shouting out this gem. Book here.
The Lord Dudley Hotel
Woollahra
It makes sense that one of the best Brit-style pubs in Sydney makes a mean Sunday roast. Beyond The Dudley's ivy-covered brick exterior, you'll find the cosy pub bustling with people tucking into gravy-smothered dishes by a roaring woodfire. And it's not just us who think it's one of the top roasts in town, @_annahealy thinks so too. Every Sunday, the old-school pub puts on two roasts: pork loin and lamb rump. Both come with lashings of gravy, roasted potatoes, pumpkin, greens and a Yorkshire pudding, plus mint or apple sauce depending on what meat you opt for. And while you feast on this Sunday staple, your dad can tuck into lambs fry (if that's his thing). Just be sure to leave room for the sticky date pudding with butterscotch sauce and ice cream. Book here.
The Glebe Hotel
Glebe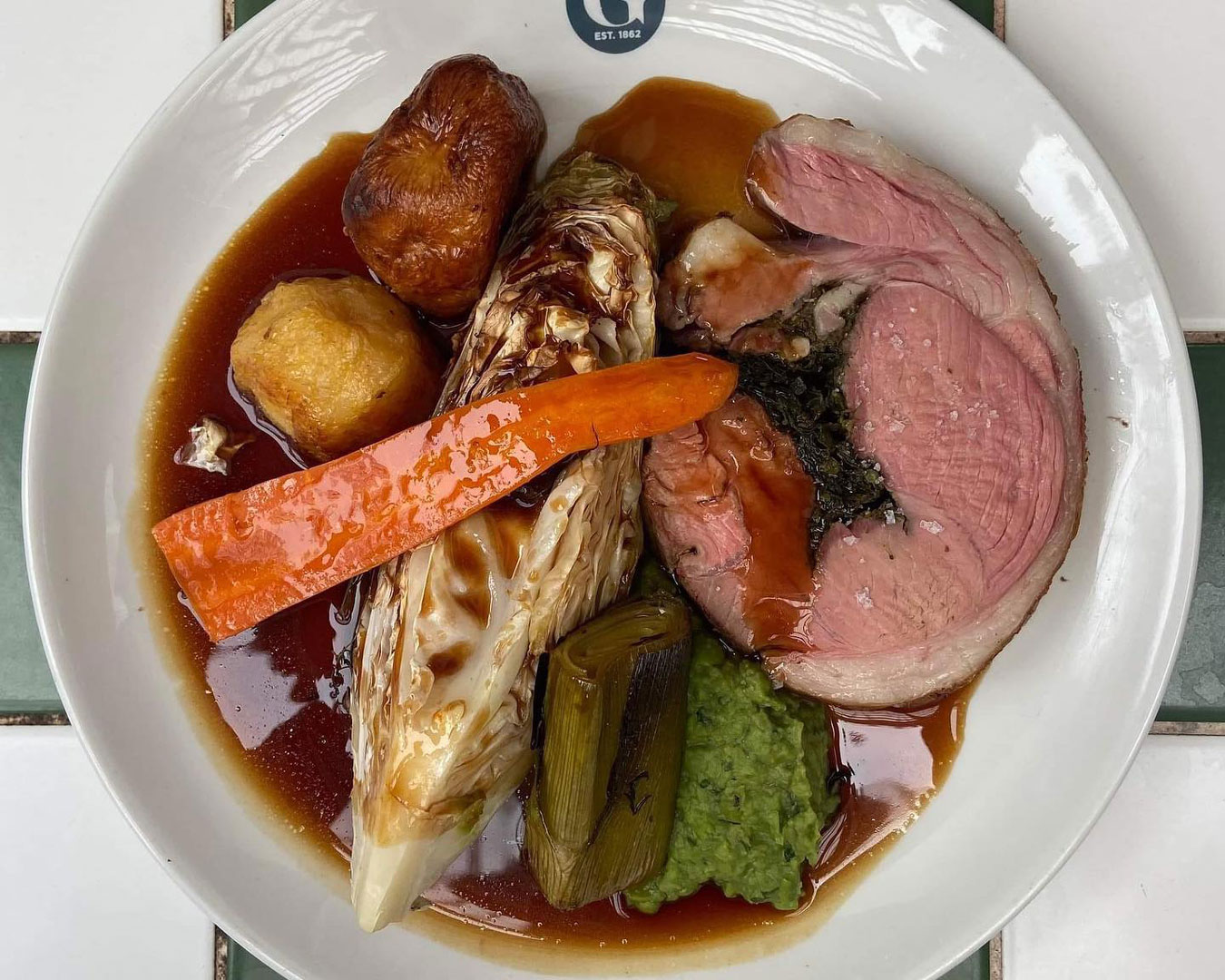 The Glebe Hotel is a character-filled, dog-friendly pub in the backstreets of the Inner West, which makes it an ideal spot to park up for a cosy winter lunch. And while all the food here is heartwarming as hell—we're talking beef and Guinness pie, house-made gnocchi with wild mushrooms, and bangers and mash—you can't beat The Glebe Hotel's epic Sunday roast. Available only on Sundays, the roast options rotate, with two choices to pick from. Think roast beef, porchetta, chicken, lamb, or even veggie served with all the trimmings like Yorkies, gravy and a generous serve of roast veg. @carmy_lo certainly knows what's up with this neighbourhood gem. Book here.
The Nelson Hotel
Woollahra
Big ups to @wheresconner for picking this classic pub and its belly-warming roast. This family-run boozer has a stunning covered courtyard bistro with a roaring fire come winter. And this pub takes the sauce game to a whole new level. Yes, there's gravy as there should be with any roast, but what takes it up a notch is that you get to ladle your own straight onto your plate. No stingy gravy serves here! The roast changes every week and comes with all the trimmings, of course. Book here.
Rocker
Bondi
We know, we know, @heywholesome already had their say. But they've picked another top spot, ok? Rocker in North Bondi may be ideal on a sunny summer's day, but heading here in the cooler months has its perks (fewer crowds being the most obvious). So, make tracks to Rocker on a grey winter's day, rug up and enjoy the fresh air, and order yourself a roast. You could be treated to crackling-heavy rolled porchetta, wagyu beef, or roasted pumpkin for vegetarians, plus all the usual sides like potatoes, peas, and Yorkshire puddings. Best of all, these guys serve up a roast year-round—even in summer. Book here.
Forrester's
Surry Hills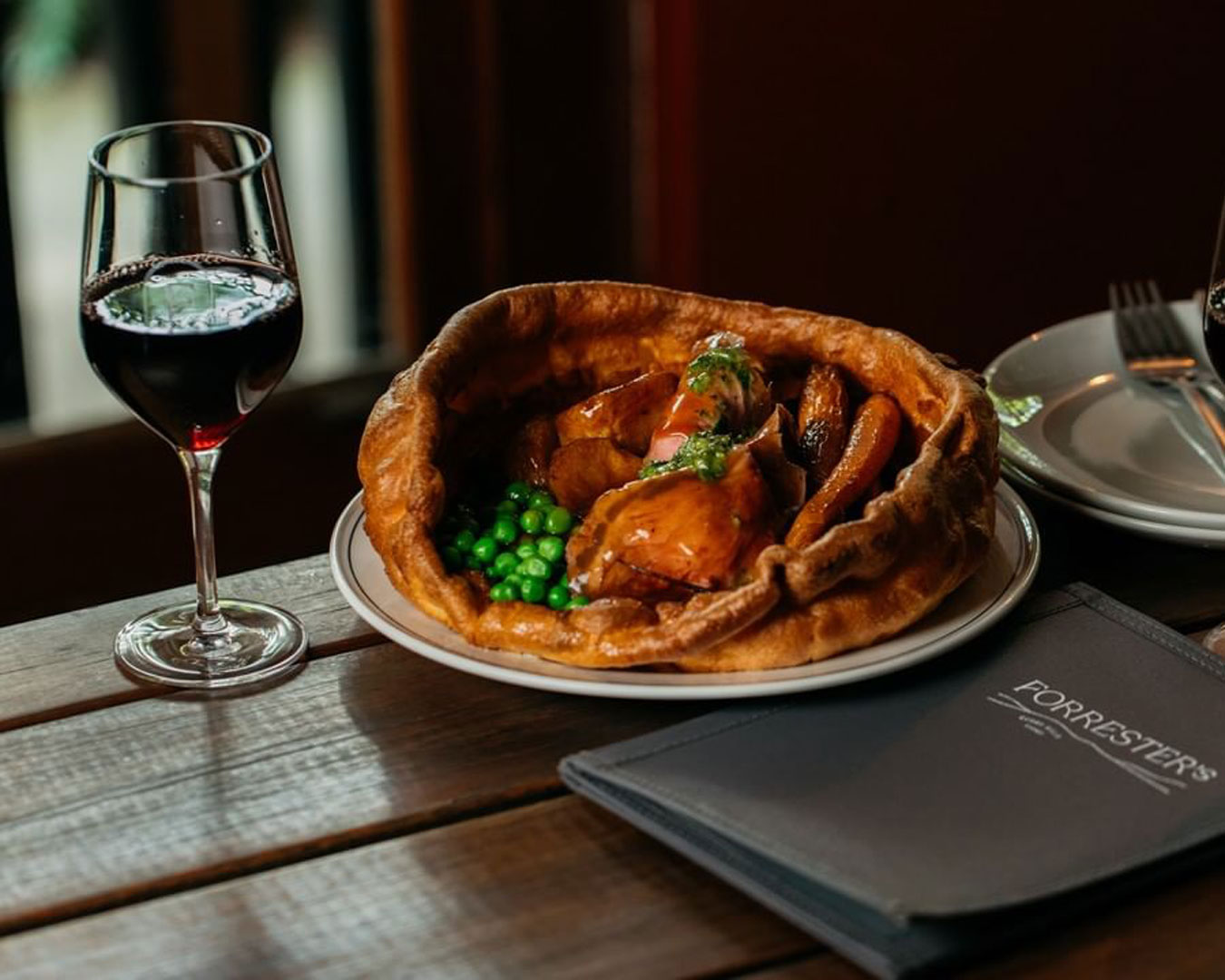 In August 2020, this iconic Surry Hills boozer was added to the Applejack hospitality portfolio—the same group responsible for a collection of Sydney pubs and restaurants that are well-known for their Sunday roasts, like The Botanist, The Butler, and Tap Rooms in The Rocks. So naturally, Forrester's is dishing out a tasty roast, too. Here, chef Patrick Friesen has created a giant Yorkshire pudding, which is available every day of the week. Dubbed The Big Yorkie, it comes with tender roast beef, a generous serving of gravy, roasted potatoes, peas, and carrots—all served in a massive Yorkie pud. @zeta.grace—you picked a good one. Book here.
Sydney Park Hotel
Newtown
Located down the southern end of King Street, Sydney Park Hotel does a roast of the week—and it's now available all week long. You can expect a weekly rotation of the classics—beef, pork and, in summer, ham and turkey—all doused in gravy and served with Yorkies, crispy potatoes and veg. Though @hayleygp comes here for the pub's epic vegan roast. If you're vegetarian, you can add a Yorkshire pudding to it for the ultimate veg-friendly comfort meal. Book here.
Hello Auntie
Marrickville and Darling Square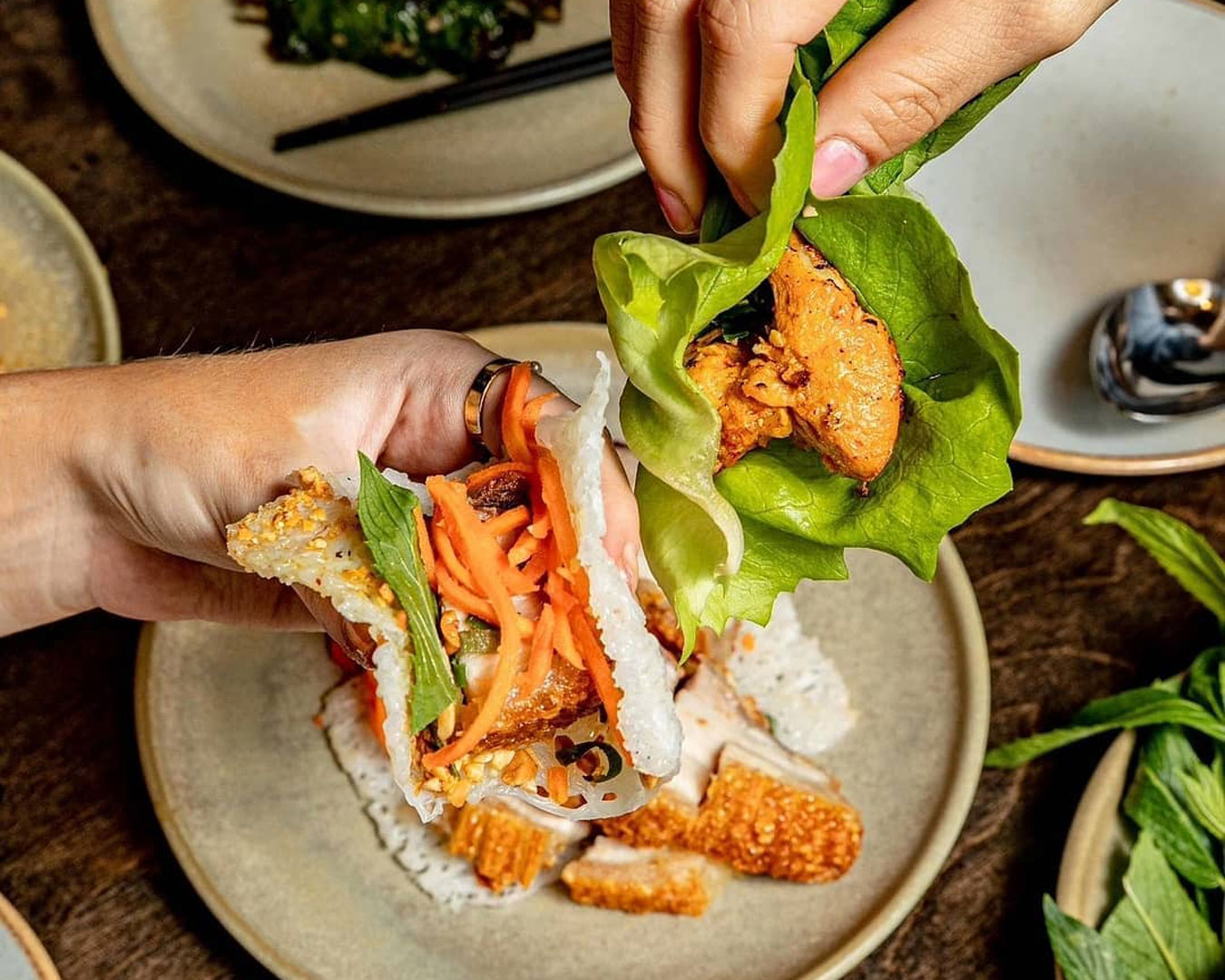 Sydney's ever-iconic new-school Vietnamese joint, Hello Auntie, has brought back its re-imagined Sunday roast. The four-part Sunday roast looks like a glorious mash-up of smoked lemongrass chicken, juicy roast pork belly and wagyu wrapped in betel leaf (grilled over charcoal). The best bit? Hello Auntie's Sunday roast will only set you back $35 per person and is available at both its Darling Square and Marrickville venue. Cheers @emmaolrik for picking this one—it's a winner.
More Of The Best Pub Roasts In Sydney
Tap Rooms
The Rocks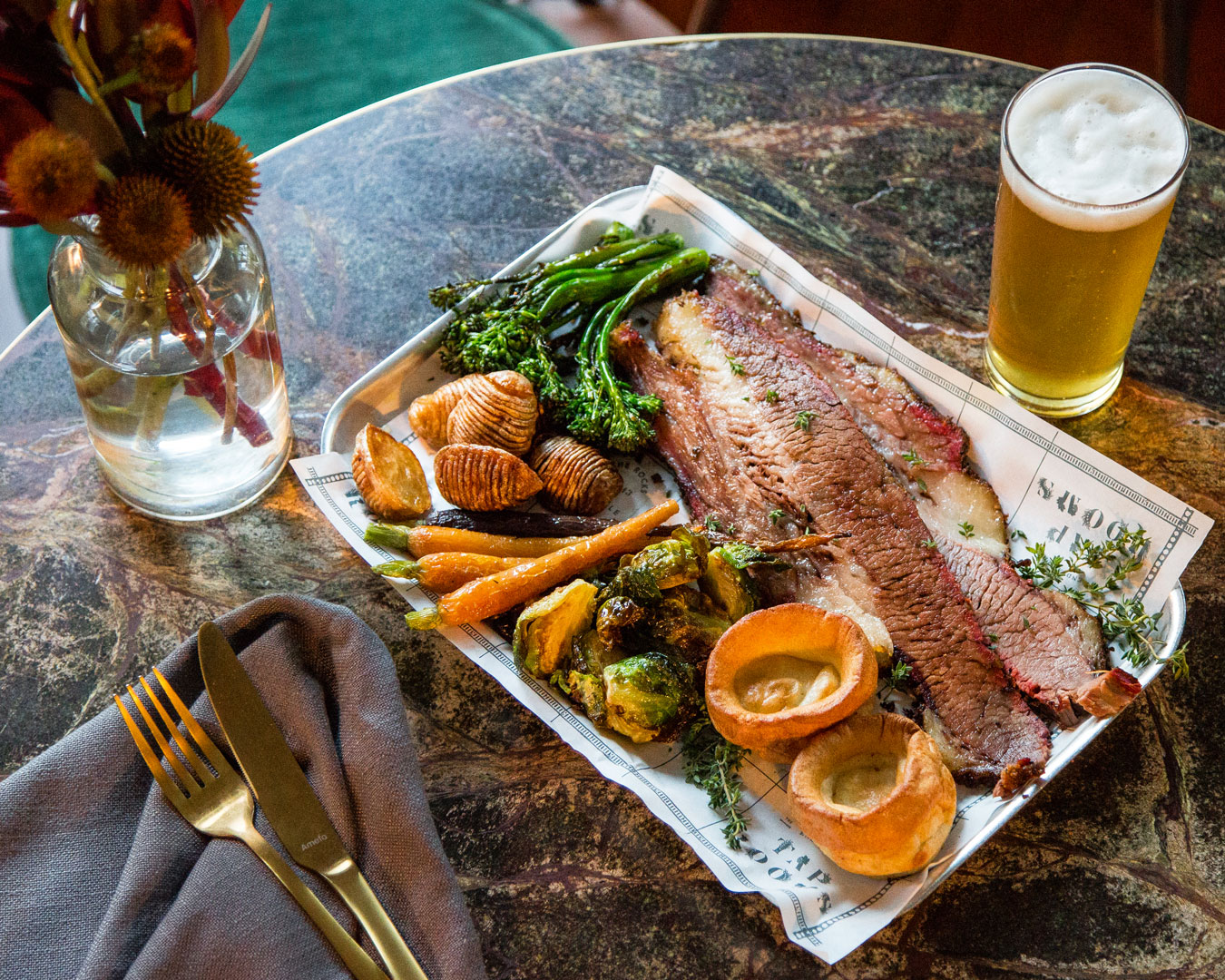 No part of Sydney says an old-school Sunday roast quite like the historic Rocks area. For our money, the place to find one of the area's best is at Tap Rooms. Not only is it one of the slickest and best-looking joints for some craft brews, but they make a mean gravy-covered lunch, too. Expect a weekly rotating protein, with the usual trimmings of roast, seasonal veggies and Yorkshire puddings, accompanied by a house-brewed beer or a glass of wine. Book here.
The Royal Hotel
Leichhardt
The Royal Hotel in Leichhardt has been a winner on the Sydney pub scene for over 125 years, and yes, it nails the staple Sunday roast. Kicking off from 12pm every week until sold out, this classic roast with all the trimmings is an absolute local's favourite—so we'd recommend heading in earlier rather than later. And if you're asking, the best spot to enjoy that roast this summer is upstairs on the heated balcony overlooking Leichhardt's Norton Street. Book here.
The Taphouse
Darlinghurst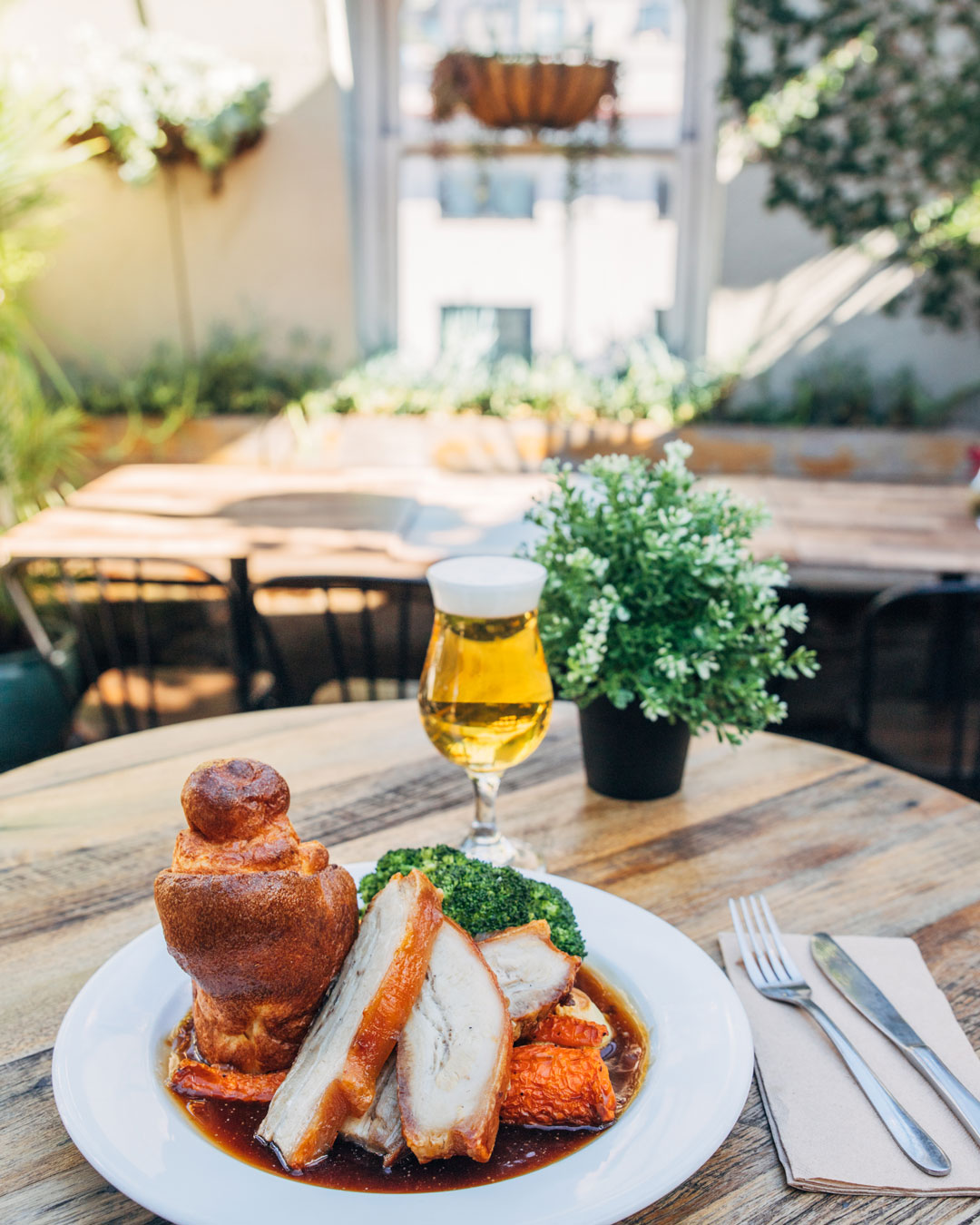 If there's one inner-city roast we know and trust, it comes from The Taphouse. There's a slow-cooked beer brisket, pork loin and vegetarian options that all come accompanied with all the trimmings and a traditional Yorkshire pudding, of course. Whether you want to cosy up downstairs with an endless selection of craft beers on tap or head upstairs for the recently renovated Elm Rooftop overlooking the Darlo streets below—you'll be pleased you dropped by on a Sunday. Book here.
The Tilbury
Wolloomooloo
The dining room at The Tilbury is known for its fine dining take on traditional pub food, and their Sunday roast is no different. The line-up alternates each week, featuring the likes of roast chicken, Coorong beef sirloin, pork loin and roasted Lamb leg–each accompanied by matching trimmings sure to melt away your end-of-week blues. The Sunday roasts are available from 12–3pm. Book here.
The Trinity
Surry Hills
If we're strolling around Surry Hills on a Sunday arvo, thirsting for a pint of Guinness and a good roast—you'll likely find us heading in the direction of The Trinity. Kicking off at midday until sold out, you can choose between crispy roast pork with cauliflower puree or tender beef brisket with a pumpkin puree, each accompanied by all the usual roast trimmings. So popular is the offering with locals that you can actually pre-book your roast to secure not missing out. Sit downstairs in the public bar with the footy on the big screen or upstairs in the sky-lit Tilly May's bar and your Sunday is sorted. Book here.
Kitchens On Kent
The Rocks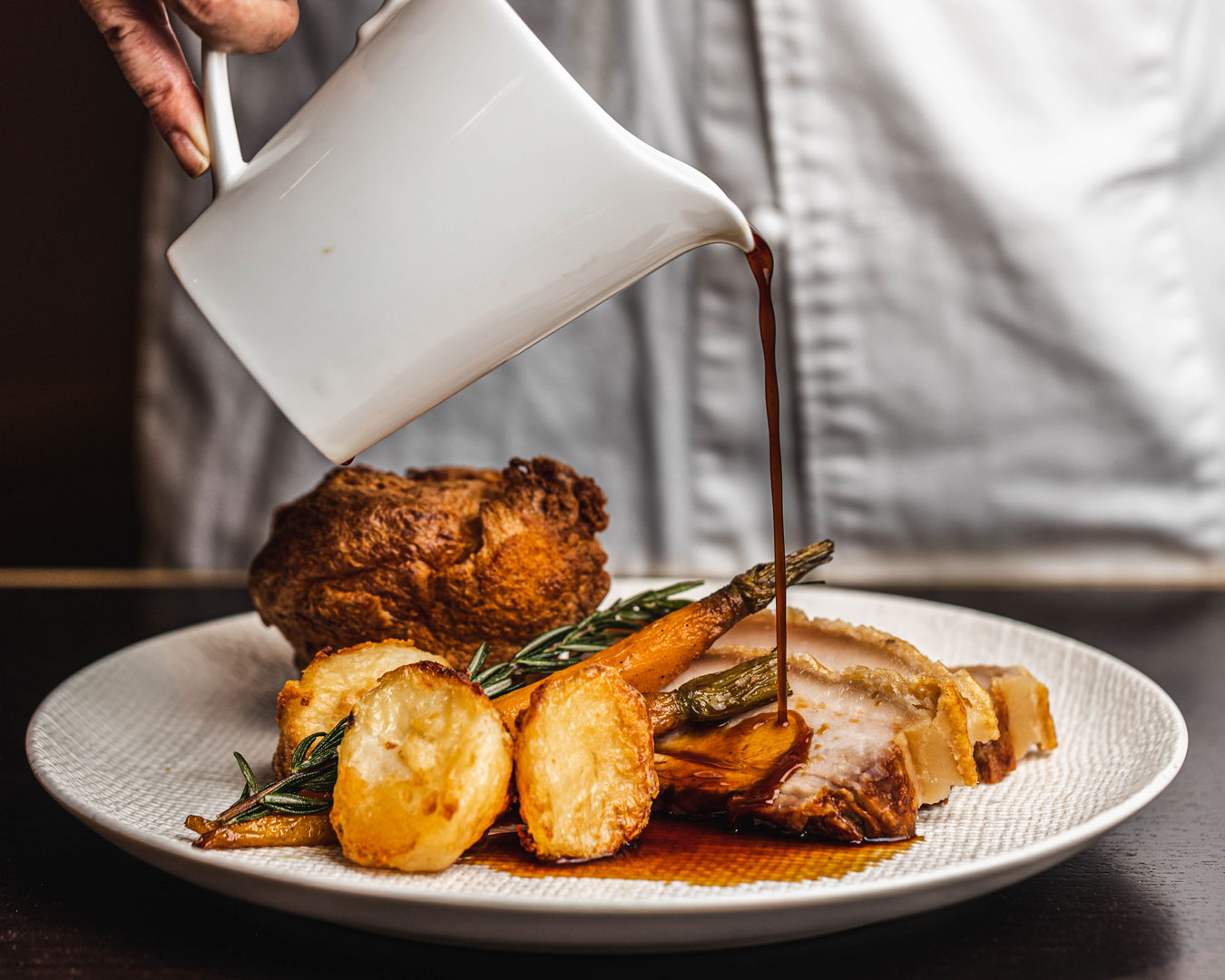 Housed within the stunning Langham Hotel in The Rocks, Kitchens on Kent is one of Sydney's most beautiful (and impressive) hotel buffets. If you're keen to dial up your standard Sunday Roast affair, this is the spot to do it. Featuring premium produce like Riverina striploin, Southern Highlands lamb shoulder, free-range roast chicken, and Byron Bay Berkshire pork belly, your roast is served with Yorkshire pudding, crispy roast potatoes, classic vegetables, and gravy. For just the roast and a dessert, it'll set you back $65. Or, opt for all the above plus access to the bottomless treats at the buffet for $148. Book here.
The Riverview Hotel
Balmain
If you're looking to keep it casual and grab a good feed, look no further than the main bar inside The Riverview Hotel in Balmain. Pull up a seat near a window at the dog-friendly local's joint and order yourself a classic Sunday roast. You can grab a traditional roast beef with baked vegetables, seeded mustard jus and a Yorkshire pudding, or split lunch with someone by opting for the roast lamb shoulder ($80) with pomme puree, gremolata and tahini. Either way, if you pair that with live music, those Sunday blues should be easily forgotten. Book here.
Still hungry? Here's where to find the best pasta in Sydney right now.
Image credit: Forrester's, The Duke Of Clarence, Charing Cross Hotel, The Glebe Hotel, Rocker, Forrester's, Tap Rooms, The Taphouse, Kitchens on Kent