One does not holiday without looking at all the most glammed up properties first (obviously). Yep, we've sourced the heavy-hitters of AirBnB which are all within your reach (ie. just a few hours away) and the good news is, they're all the definition of complete and utter #holidayporn.
We bring you the revamped farmhouses, the picture-perfect cottages, the infinity pools, the Palm Springs holiday mansions, the beachside beauties and naturally, the cave and tree house hideaway gems.
Pack your bags Sydney (or get ready to drool like crazy), here are the most beautiful AirBnB Properties in NSW.
Milton Surf and Stables (South Coast)
Say hello to Milton Surf and Stables. If there was an award for dining room of the year, we're sure Milton would get it, hands down. This rustic charmer is seriously picture perfect (everyone is saying so and we definitely agree) with an outdoor bar and lounge area situated right along the skirts of the forest. Yep, if you're keen for a weekend of kindling fires and home-cooked meals of the glorious chicken, you're going to be hella happy right here.
Jerrymara Farm
Kangaroo River
This one's a beautiful rural estate like no other with not one, but two modern farmhouses (which means it can hold up to 14 guests). Jerrymara Farm looks over Gerringong Village, the Pacific Oceanm and of course, its grounds are blessed with terraced walkways (because glam), a miniature lake, a tennis court and naturally, a saltwater pool. With a sprawling 4-acre country garden and then another 52 acres of coastal farmland to explore beyond the garden gate, we're pretty sure you'll be set for some serious memories when you shack up here.
Eagle View Park (near Jervis Bay)
Let's be honest, basically anything with an infinity pool is a major win for us #guilty, but the The Guest House (ideal for couples… or a weekend away with ya BFF) has a seriously awesome set-up and it totally won't break the bank either. Think a circular timber and glass studio above the ground, sitting on top of a hill with sights of the valley and ocean in all directions. Exactly.
The Shed
Kangaroo Valley
When there's a quiet country road that leads you all the way to a stunning farmyard property, you know you've hit a jackpot. The Shed is something unreal and there's no denying that words really can't do this gem justice. This converted farm shed has been transformed using a heap of recycled materials and you'll be able to invite up to 6 other mates onto its grounds (plus any animal friends you're keen to bring along). You'll find spacious living areas, a wood fire, and a pizza oven that makes even the worst cooks somewhat impressive. And not to mention, it's set on Kangaroo River (so yes, spontaneous dips are necessary).
Magnolia House
Byron Bay
Two words: Hamptons holiday. Make. That. Happen. Magnolia House is no doubt every wanderluster's dream, with big white panelled walls, a pool table, interior design on point, not to mention a fireplace and of course, a pool. If this isn't your quintessential beach house then we don't know what is. We kid you not; this one is heaven on earth.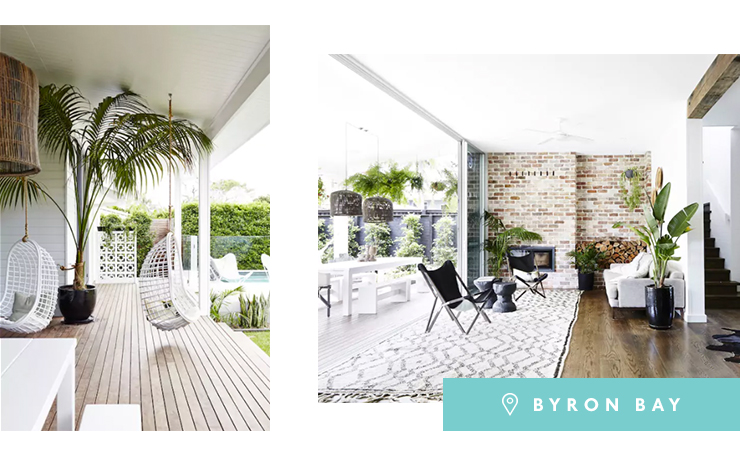 Tree House Blue Mountains
No doubt you'll end up completely speechless when you see what this Blue Mountains Tree House has in store (can confirm we had no words). This property is pretty damn phenomenal and we guarantee time spent here will be the most peaceful of your life. To reiterate, this is an actual tree house, so think built around a tree and at a vantage point so perfect you'll feel like you're in the middle of some kind of stunning wallpaper.
If beautiful places are your jam and you've popped the question (or not!), check out these stunning places in Australia to honeymoon (or take the girls!).
Little Black Shack (Mackeral Beach, across from Palm Beach)
When people imagine pure hidden luxury, we imagine they concoct images something along the lines of the Little Black Shack. This original timber and sandstone fisherman's cottage lies right on the water's edge of Mackeral Beach, and it will feel like you're living in a ginormous houseboat. Inside, this beachside hideaway is decked out in sea treasures and boasts a damn impressive open fireplace. Outside you'll find a number of separate levels, you know so you can keep those incredible water views varied, including a private sandstone terrace equipped with deckchairs overlooking Pittwater, and an undercover pergola with a pizza oven #blessed.
Keanu
Whale Beach
Stop everything. We're (unhealthily) obsessed with Keanu. Find 11 other friends STAT because you need to road-trip yourselves here like, yesterday. Think beach house. Then think a big beach house. Then think an even bigger beach house and you're almost there. Located on the cliff tops of Whale Beach, this exquisite property delivers on all fronts: five bedrooms, panoramic ocean views, a pool and cabana… sorry we got distracted. Did we mention how big this place is?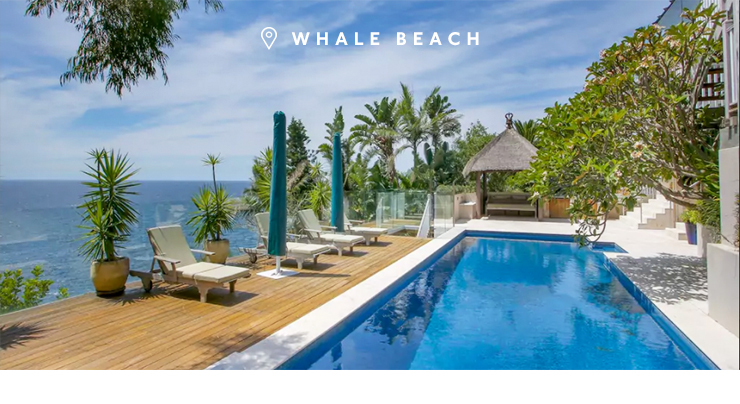 Bellingen Tree House
When you're keen to pull away from the big smoke and luxury mansions (God forbid), Bellingen Tree House is the perfect sanctuary to sneak away to. This 13 hectare property has been regenerated right in the middle of a rainforest and along the Never Never River, which of course, looks as enchanted and magical as it sounds.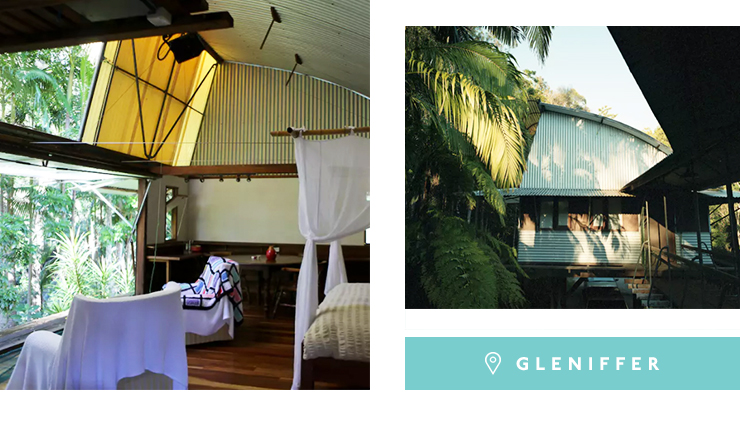 The Enchanted Cave
Bilpin
Speaking of all things enchanted, you'll want to make your way to Bilpin people (Blue Mountains way) for one helluva special property. We're talking caves. Like hole in a rock kind of thing. This cliff top stay is built into a natural rock platform and has a small front door opening (Hobbit style) which means you'll score front seats to the best damn view anyone could ever lay eyes on and a pretty nifty spa. And oh, that spa.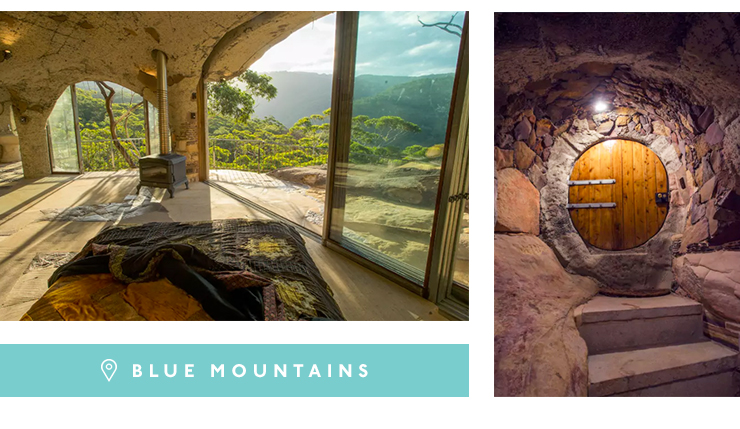 Bilgola Beach House
Newport
Heads up, you're likely (in fact make that very likely) to get super lost in this one. This luxury beach haven has music streaming throughout most of the house, and is just a 10-minute walk down to the beach. With a heated pool and countless entertainment areas, our only warning is that you bring some discipline, you know, so you actually don't end up staying here forever (we wouldn't blame you for trying).
Image credit: