The dining room at The Lord Wolseley Hotel has a sort of magic neon glow.
Encircled by an emerald leather bench, and watched over by a pair of rose-coloured ceramic flamingos and a collection of framed illustrations, photographs and band posters, it might be a scene from Stranger Things or The Chilling Adventures of Sabrina.
Yep, it's all a little otherworldly at The Lord Wolseley—and since chef John Javier appeared in the kitchen a few months back, I can confirm there is some pretty dreamy food magic going down here.
For anyone who was lucky enough to experience Master—the Surry Hills spot where John built a cult following and counted René Redzepi and the Noma crew as big fans during their Sydney stay—well, you'll have an idea of what to expect on the menu at The Lord Wolseley. For the unfamiliar, he's worked at Quay, Momofuku Seiobo and actually interned at Noma too.
After a stint in Hong Kong to launch a semi-fine dining joint called Happy Paradise, John has emerged at this unsuspecting Ultimo pub. So, if you, like me, have been patiently waiting to experience this chef's enchanted approach to food once again, look no further.
Pub Life Kitchen, as the pub's dining room was formerly known, was a place for a pretty mean burger. Now, it's called House Diner and on John's menu are pub-like things with a bit more magic and a lot more flavour and charm.
Think cavatelli, lamb belly, tripe and mint bolognese, a Szechuan fried chicken burger, and these totally delectable fine-dining style grilled scallops with trout roe and seaweed butter.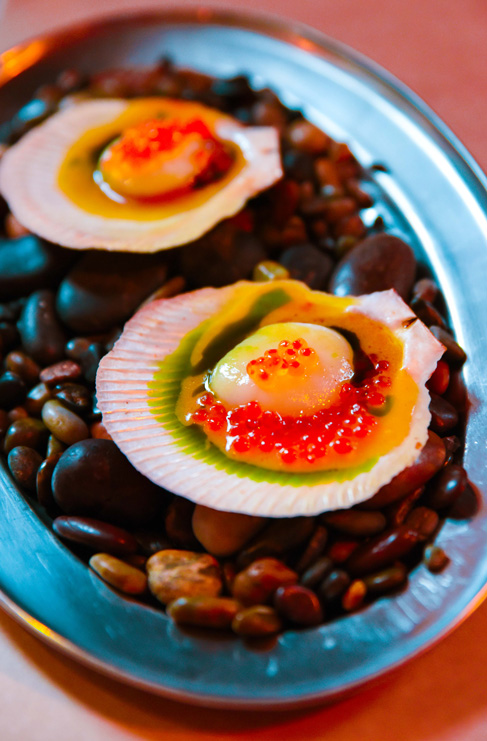 There's lamb kofta with stracciatella and pistachio praline, served with warm homemade flatbread. Oh, and a fresh-caught fish of the day too. For dessert, there is a pillow-like pannacotta in a pool of Vietnamese coffee and dusted with toasted buckwheat.
So—not your average pub grub at all, really. Yet despite all the kitchen wizardry happening here, it's pretty low key and very reasonably priced too. Pick up a schooner of Grifter or a cup of Australian wine at the adjoining bar and settle in beneath that soft pink glow for the night.
You should hurry on down too. John Javier is a chef in high demand throughout the world and, while his menu will stick around, he'll just be in the kitchen at The Lord Wolseley for a good time, not a long time.
While you're here, we've got every reason why this crack pie should be on your foodie hit list too.
Image credit: Dominique Berns-Blackwell.