We're finally coming into the sunny months and we all couldn't be happier. So let's celebrate by getting out and going HAM on cheeseburger sliders, fairy bread, a Chin Chin pop-up, twilight markets (takes huge breath), an inner west beer festival and plant-based gyoza classes.
Here are 19 things to do this November.
---

CHANDON S TRAM AT THE GREENS
Head up to the North Sydney Greens and hop onto the vintage tram carriage for a good time. On the carriage will be an exclusive pop-up cocktail bar where you'll be served the classics with a twist. Don't worry, there'll also be tonnes of food to choose from on board. So, strap yourself in and head on up.
When: From Thursday 1 November to Sunday 18 November, 12-8pm
Where: The Greens, North Sydney
Cost: $15 per person
DAISY'S MILKBAR LOW TEA
This low tea is letting us relive the best parts of our childhood, the food. Serving jam lamingtons, rocky road, fairy bread, cheeseburger sliders and a whole heap more we're in sugar heaven ATM. Plus, they're pairing these sweet sweet treats with either a cocktail or boozy milkshake. This is possibly the greatest thing to ever exist. Head here for more.
When: Friday, Saturday, Sunday every week, 10-2pm
Where: Daisy's Milkbar, Petersham
Cost: $45 per person
BEER MASTERCLASS
If you've always dreamt of learning your way around a brewery, this-this my friend, is your dreams coming true. This beer masterclass is here for you to learn all the techniques while brewing beer and challenging your taste buds. Bring your buds down to Marrickville for a session that'll leave you wanting to change career paths. Head here for more.
When: Every Saturday, 11-12pm
Where: Stockade Barrel Room, Marrickville
Cost: $59.10 per person

MELBOURNE CUP LAWN PARTY
To celebrate cup day, the folks over at Fratelli Fresh are bringing us a lawn day party filled with bottomless cocktails, DJs and multiple screens to watch the highly anticipated race. Endless beer, wine and prosecco along with canapes (hellooo arancini and calamari) and a pizza station. And finish off your meal with unlimited amounts of Fratelli's famous gelato. This sounds too good to be true. To snap up your tickets head here.
When: Tuesday 6 November, 12-3pm
Where: Fratelli Fresh, Darling Harbour
Cost: $99 to $125 per person
TASTE OF SYDNEY COLLECTIVE
This year the Taste of Sydney Collective has announced a 36-chef line-up. If you're sick of the same dishes over and over again, trust us, these chefs are bringing it to the next level with their innovative foodie creations. Held at the Cutaway in scenic Barangaroo, you know they're going to turn this location into a heavenly utopia on food, drinks and music. But you better get in quick to snap up some tix, because we have a feeling this will sell out fast. Jump over here for your tickets.
When: Thursday 8 November, 5:30-10pm, Friday 9 and Saturday 10 November, 12-4pm, 5:30-10pm and Sunday 11 November, 12-5pm
Where: The Cutaway, Barangaroo Reserve
Cost: $17 - $55 per person
W1LL ACOUSTIC YOGA
The designer hotel Ovolo in Woolloomooloo is holding a special yoga class to live acoustic music. All the proceeds will be donated to The Human Kind Project, which aims to end poverty and hunger in African communities. This is a good enough cause to fork over the cash. Jump over here for tickets.
When: Thursday 8 November, 6:30-8pm
Where: The Piper Room in Ovolo, Woolloomooloo
Cost: $25 per person
MIXTAPE 80S & 90S VINTAGE MARKETS
These guys have fashions, music and pop culture items for sale all day. Whether you prefer the grunge styles or the hip-hop fashion, this market has got it all. But you better get in early because we all know vintage is super popular now. For details, head here.
When: Saturday 10 November, 10-3pm
Where: PCYC, Marrickville
Cost: $2 per person
YOUNG GUN OF WINE
Our faves at Chin Chin are popping up at North Bondi Surf Club, along with 30 different winemakers too. These wine-guys are here to show their skills and for some gold old tastings. Chin Chin will be preparing a menu that will pair perfectly with the wine selection so we're definitely keen on this. I don't know about you, but we are down to find the best wine out there, no matter how many tastings it takes. For tickets, check this out.
When: Saturday 10 November, 7-10pm
Where: North Bondi Surf Club, North Bondi
Cost: $65 per person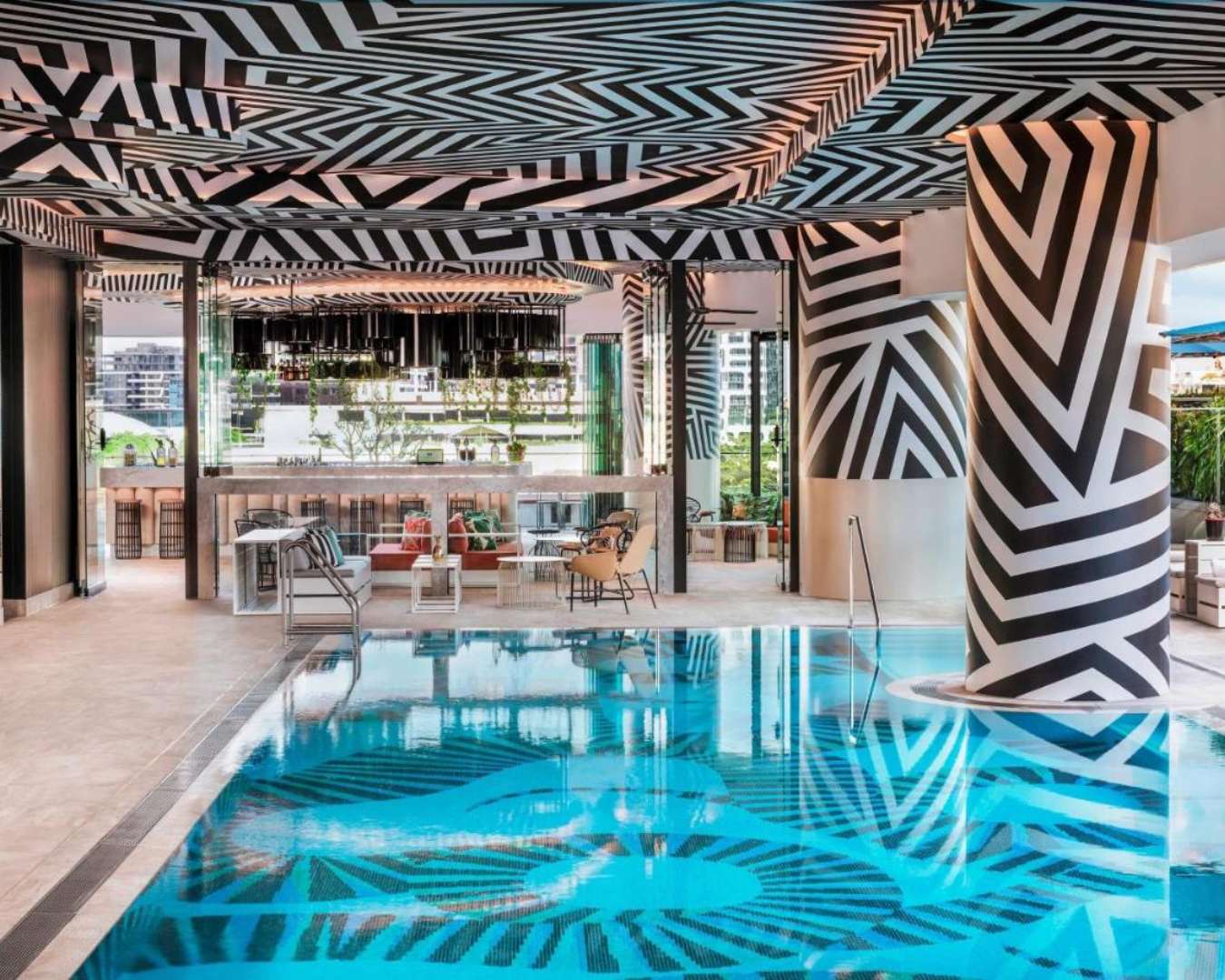 DINNER WITH CAMPARI
Get ready for the ultimate Italian feast, hosted by Fratelli Fresh, Campari is hitting up their kitchen and creating dishes that will perfectly pair to the iconic drink. With a three-course menu to make anyone satisfied, they will be serving drinks with each course along with an Aperol Spritz upon arrival. The dishes, created by Fratelli's head chef, will include wild mushroom risotto, followed by a chocolate orange torta. We can't wait. For more info, head here.
When: Wednesday 14 November, 6:30pm
Where: Fratelli Fresh, Darling Harbour
Cost: $69 per person
INNER WEST BEER FEST
With local breweries and businesses pulling out all the stops, it'll be the best event for all you punters. Come for tastings and samples from the best in the area. With good classic pub food on the menu and live music, you'll want to clear your schedule. Head over here for more.
When: Saturday 17 November, 12-6pm
Where: The Royal, Leichhardt

BLUE WATER GRILL POP-UP
The Rockpool Dining Group and legendary chef Neil Perry are hosting a pop-up after a 30-year hiatus. Happening in the centre of Sydney CBD, this six-day event is lunch and dinner daily, serving up fresh seafood and a throwback with 80s style cocktails. For bookings, jump over here.
When: Monday 19 to Saturday 24 November, Tuesday to Friday 12-3pm and Monday to Saturday 6-10pm
Where: 11 Bridge Street, Sydney
CAKE BAKE & SWEETS SHOW SYDNEY
At the ICC this weekend, the best convention ever is happening. Yes, there will be cakes and sweets galore all weekend long. With competitions and meet and greets we're way too excited now. Snap your tickets up ASAP.
When: Friday 23, Saturday 24 and Sunday 25 November, 10-5pm
Where: International Convention Centre, Sydney
Cost: $23.50 - $495 per person
AMALFI COAST LONG TABLE SERIES
Fratelli is still hosting their famous Long Table Series and this month, they're hitting the shores of the Amalfi Coast. Come along for a 4-course shared style meal along with bottomless prosecco, beer, wine and Aperol spritz. You won't need to purchase a flight to experience this heavenly region, just book your tickets here.
When: Saturday 24 November, 12-2pm
Where: Fratelli Fresh, Darling Harbour
Cost: $79 per person
SUPERFOOD GYOZA CLASS
We'll get straight to the point. This class is totally plant-based, so we're thinking that makes it the perfect balance between ridiculously drool-worthy and actually pretty damn good for you at the same time. You'll learn how to make healthy instant noodles. seaweed salads and dessert-styled gyoza. Jump over here for tickets.
When: Sunday 25 November, 1-3:30pm
Where: Loft and Earth, Bondi Junction
Cost: $140 - 150 per person
SUITCASE RUMMAGE
Come as either a buyer or a seller and hunt through people's belongings for their hidden treasures. They've got everything vintage, artworks, clothing, books, records and absolutely anything you can think of. If you just happen to have a suitcase lying around, click here to sign up as a seller.
When: Sunday 25 November, 11-4pm
Where: The Goods Line, Haymarket
Cost: $27.50 per seller
ALL YOU CAN EAT INDIAN FOOD
With a 90-minute session, you better get all those samosas and curries down as fast as you can. Sessions are filling up fast, so you better book online for your chance to scoff these delish flavours down.
When: Sunday 25 November, 12-1:30pm and 2-3:30pm
Where: The Colonial, Darlinghurst
Cost: $24.95 per person

BROOKLYN NINE-NINE TRIVIA
Do you know more about Jake Peralta than his partner-in-crime (literally) Charles Boyle? Well, it's time to put your knowledge to the test. The Two Wolves are holding a trivia night for the show that's sweeping the globe. We suggest getting your binge on to jog your memory, think back to Halloween heists, stake-outs and Jake and Amy moments. Head here for all the details.
When: Monday 26 November, 6-9pm
Where: The Two Wolves, Broadway
Cost: Free
TWILIGHT CHRISTMAS MARKET
Ok no, it's coming to the crunch point. This market is here to save your butts before the big Christmas shopping rush comes through. The Governor Hotel is our saving grace because they're bringing out a tonne of artisan market stalls that will be selling perfect gifts. And once you're finished your shopping, head upstairs to the rooftop bar for a glass of bubbly to celebrate your shopping victories. For more info, head here.
When: Wednesday 28 November, 5:30-9:30pm
Where: The Governor Hotel, Macquarie Park
Cost: $10 per person
FINDERS KEEPERS MARKET
The Finders Keepers markets is the best for all our crafty, art and design stalls. Stroll around to the picturesque Barangaroo Cutaway and head inside for some great finds at amazing prices. And if you get a hankering for some grub, some big-name food trucks will be placed around the hall for your food and drink needs. Check this out for more details.
When: Friday 30 November, 12-9pm
Where: The Cutaway, Barangaroo Reserve
Cost: $5 per person
If you just want to hit our favourite markets, read this.
Image credit: Unsplash