It's a serious WTF moment when you realise it is already December. But it's true guys—December is officially upon us and Sydney has gone into overdrive with all the eats and allllll the drinks. And while we can't honestly say we followed through on all of our New Year resolutions from last year, we want to end this one with a big fat bang. For you, this translates to spending big, eating bigger and drinking all the cocktails.
We've compiled a solid list of everything you need to do in Sydney this December because aside from eating as much as is humanly possible the holidays are all about the good times.

---
Moonlight Cinema
December sees the five-month Moonlight Cinema season kick off in Sydney and we're too damn excited about it. Setting up camp in Centennial Park, you can catch all the latest films on a giant screen as you eat and drink the arvo away. Book your tickets here. www.moonlight.com.au
When: 1 December – 1 April
Where: Belvedere Amphitheatre, Centennial Park
Cost: $19 for Adults and $16.50 for Concessions
Fire-Powered Brunch Series
Surry Hills' Firedoor restaurant is hosting a series of brunches in December, inspired by pintxos bars in Northern Spain but with a signature Firedoor twist. Think hay-smoked sardines, wood-fired bread, grilled peppers and jamon galore. And let's not forget the grilled tomato Bloody Marys and breakfast martinis that'll be coming over the bar thick and fast. Click here for more deets.
When: Sunday 3, 10 and 17 December, 11am to 3pm
Where: Firedoor, Surry Hills
Cost: $75 chef menu or choice of a la carte menu
THE ROCKS VERY MERRY MARKETS
Throughout December you can stroll through The Rocks every single Friday night for Christmas vibes and a cheeky spot of shopping. Yep, The Rocks Very Merry Market is back. Why would you even consider heading into a shopping centre when you could be on Sydney harbours shore, eating fresh food and listening to live music? Sounds pretty damn good to us.
Where: The Rocks
When: Each Friday, 2 December to 23 December
Ladies Lunches At Casoni.
Calling all ladies who lunch. Every single Saturday, Casoni. offers a special lunch menu just for the gals and if a $49 feast (with $9 Aperol Spritz) sounds like your jam, get on this. Let's be real, December is the month of eating and eating and drinking and we think this place is perfect for your girls Christmas lunch.
When: Each Saturday
Where: Casoni, Darlinghurst
Cost: $49 lunch set menu, $9 Aperol Spritz

---
COMMUNE Block Party
The COMMUNE Block Party is a go in Waterloo guys and this one will have you dancing your way around food stalls, workshops, locally made markets and live music sets (obvs). COMMUNE is turning five and they want you (yes, you) to attend their massive party on the 2 December with the likes of OKENYO and The Strides taking to the deck. Get yo' tickets here.
When: Saturday 2 December, 12pm to 10pm
Where: COMMUNE, Waterloo
Cost: Tickets from $38
THE ARGYLE AFFAIR SUMMER CHRISTMAS MARKET
Head on over to the Argyle Affair Christmas Market in Camden this December to pick up last minute Christmas gifts. This is the perfect spot to head if you're in dire need of some good ol' Christmas cheer minus the CBD crowds.
Where: Camden Hall
When: Saturday 2 December,10am to 8pm
TAL Pop-Up Spotchecker at Bondi Beach
Honest question: how long has it been since you last had your moles checked? That's what we thought. Australian life insurance company, TAL, knows how much us Aussies L-O-V-E the sun and the beach which is why they're popping up at Bondi Beach this December. There'll be specialist GPs giving free skin checks and we think you should bring along all your mates and family too because it's important, okay. Details here.
When: Saturday 2 December & Sunday 3 December, 9am to 6pm
Where: Pavilion Forecourt, Bondi Beach
Cost: Free
MADE UP Workshops and Classes
This two-day festival is all about learning how to make all the things we buy and we'. Yep, this festival will have food trucks, a vegan ice cream van (!!) and booze on sale too, as well as huge classes on things like jewellery, dresses, homewares and even dessert. The workshops are filling fast so book your ticket here.
When: Saturday 2 December and Sunday 3 December
Where: Alexandria
Cost: Tickets are $125
Mov'In Bed Season 3
Back by popular demand, Move'In, the outdoor bed cinema is back and that means you will be cuddling up on a bed with a glass of vino, watching a movie on a giant screen. It's like Netflixing at home but way better than that. Catch it before it leaves Sydney on 10 December—book here.
When: Until 10 December
Where: The Entertainment Quarter, Moore Park
Cost: Tickets from $36.90

---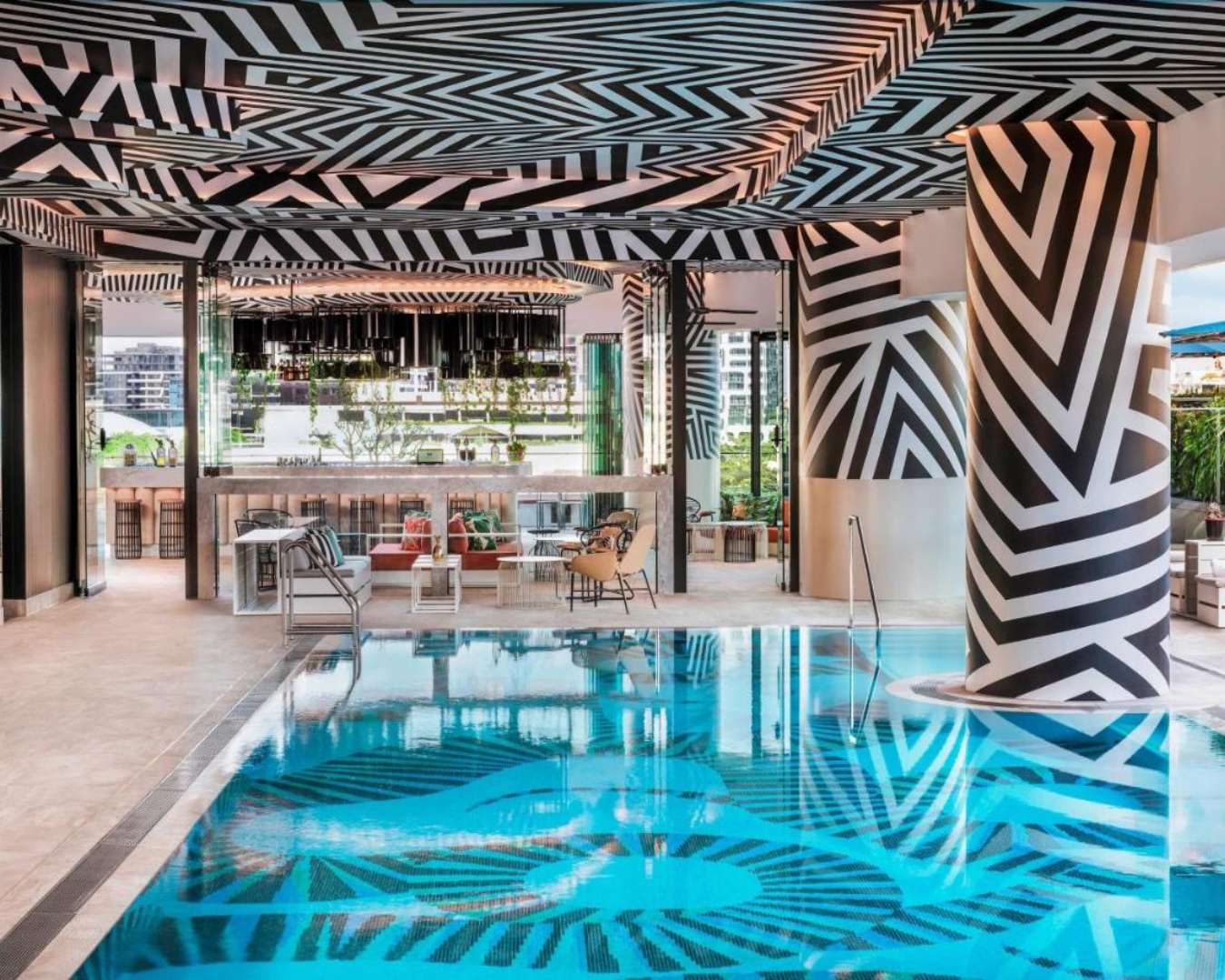 Finders Keepers Markets
The Finders Keepers Markets are a beautifully curated market showcasing local designers selling unique AF fashion and art. Plus, there's food and drink. Honestly, this market just does it all. More details here.
When: Friday 8 December to Sunday 10 December
Where: Barangaroo Reserve
Cost: Free entry
Fairgrounds Festival
Pack your bags team, you're off the Berry for the weekend. Trust us, you'll want to head down to Fairgrounds Festival this December to catch acts like Client Liaison, Future Islands and The Shins all live. Food-wise, you can forget about overpriced gozleme and think organic and gourmet everything from Paperbark Camp Restaurant, The Hummus Bar, Diego's Doughnuts and more. Not to mention their adorable addition of Little Fairgrounds, specifically for kids who love music—so freaking cute.
When: Friday 8 December to Saturday 9 December
Where: Berry, South Sydney
Cost: Tickets from $172
Bocconcini & Bubbles
This is possibly the coolest sounding hands-on class ever. What makes it even better is that it'll help you get your creativity on this December and specifically in the art of cheesemaking while sipping on a glass of bubbles. We know, it's amazing. You'll take home half a kilo of bocconcini made by yours truly and because cheese is always a good idea, book a spot here.
When: Tuesday 12 December, 6:30pm to 8pm
Where: Work-Shop HQ, Redfern
Cost: $80

---
The Market Tales Summer Edition
Summer + markets = a match made in heaven and this month The Market Tales are turning it the hell on guys. There'll be a Negroni Bar (yep) and food pop-ups from local legends Young Henrys, The Stinking Bishops, Smoking Gun Bagels, Epic Pizza and more. Oh, and this is where to head for all those last-minute stocking stuffers—thank us later.
When: 16 & 17 December, 10.30am – 4.30pm
Where: Precinct 75, 75 Mary Street, Stpeters
Cost: $2 entry
Woolworths Carols in the Domain
For you Christmas carol-loving humans, this event is a must. You know you've heard of it—Carols in the Domain is a bloody Sydney institution and this year marks the 35th carols in our city. You know the drill—family-friendly entertainment, live music and all 'round good Christmas vibes. Details here.
When: Sunday 17 December, 12pm to 11:30pm
Where: The Domain
Cost: Tickets starting at $49
Carols On The Beach
The 28th annual carols by the beach are coming back to Collaroy and it's the perfect spot for arvo drinks in the sunshine with your mates. Just sayin'. This event is free and perfect for the entire family, so bring your picnic rug and a cheese board, and get ready for some cheeky Chrissy carols.
When: Sunday 17 December, 5pm to 9pm
Where: The Beach Club, Collaroy
Cost: Free
Will2Live Christmas Party
Will2Live is your chance to give back this Christmas season by donating food to Sydney's homeless. You're encouraged to donate cash, food or presents to those in need and let's be real, this really is the most important part of the Christmas season anyway. If you'd like to head to the party, then you'll need to donate $10 to the cause, bring food to share with your new mates and a present to boot. Head here for more info.
When: Friday 22 December, 6pm to 10:30pm
Where: 505 Pitt St, Haymarket
Cost: Free entry with a minimum $10 donation

---
36 Hour Seafood Market
Christmas in Sydney generally involves a whoooooole lot of fresh seafood. That's why you've got 36 hours to get down to the Sydney Fish Markets to pick up premium fish, oysters and prawns, deli foods, fresh fruit and vege. Take it from people who've braved this one on Christmas Eve one to many times (seriously, once if too many times), get in as early as possible. From 5am on Saturday the seafood retailers stay open for 36 god damn hours just so you can get your mitts on quality seafood.
Where: Sydney Fish Market
When: Saturday 23 December,5am to Sunday 24 December, 5pm
Opera Bar Harbour-Side NYE Party
This year, Opera Bar will be bringing the best of Miami's South Beach to Sydney for New Years. So there'll be a whooooole lot of white, pink flamingos, cocktails and non-stop live entertainment all night long. Get your tickets ASAP before they all sell out and risk being stuck at home with the 'rents drinking cheap AF bubbles at 9pm.
When: Sunday 31 December, 6pm to 2am
Where: Opera Bar, Circular Quay
Cost: $460 per person, includes food and VIP access to Sydney Opera House precinct
NYE At Hacienda
For a New Years Eve foodie adventure, hit up the Cuban-themed party at Hacienda. The view should be enough to pull you in (oh helloooo uninterrupted views of the bridge) but in case you need more, here it is. The menu involves Harisma kingfish tartare, a mini rabbit and quail terrine, and Portuguese tarts. Plus, you'll a glass of Veuve Clicquot on arrival—grab your tickets here.
When: Sunday 31 December, 7.30pm to 12.30am
Where: Hacienda, Circular Quay
Cost: Early bird releases from $359.10, includes canapes
And here are all the best markets happening in Sydney this December.
Smoking Gun Bagels | Image credit: Caitlin Hicks