It's a serious shock moment when you realise it is already December. But it's true guys—December is officially upon us and Sydney has gone into overdrive with all the eats and allllll the drinks. And while we can't honestly say we followed through on all of our New Year resolutions from last year, we want to end this one with a big fat bang. For you, this translates to spending big, eating bigger and drinking all the cocktails.
We've compiled a solid list of everything you need to do in Sydney this December because aside from eating as much as is humanly possible the holidays are all about the good times.

---
MOV'IN BED
The start of summer means the start of the open-air bed cinema in Sydney. With so many movies available this month. With each bed equipped with LED lights and an option to 'dine-in' this will be the ultimate date night with your significant other. Hit it up closer to Christmas for some of the classic flicks like Love Actually, A Nightmare Before Christmas and the new Nutcracker movie. You might want to get in quick, because these movies are going to sell out fast.
When: Various dates in December, 7-11pm
Where: The Entertainment Quarter, Sydney
Cost: $10 - $99 per person
SUNSET SESSIONS
Sunset on Cockatoo Island is back and bigger than ever. We're catching the ferry out this December for some chilled acoustic tunes and a glass (or three) of vino. Hit up the group text to spend an arvo watching the sun set over the Harbour bridge. For tickets, check this out.
When: Saturday 1, 8 & 15 December, 5-7pm
Where: Cockatoo Island, Sydney Harbour
Cost: $15 - $25 per person
MAKE YOUR OWN CHOCOLATE
What's better than the gift of chocolate? Absolutely nothing that's what. This December, check out Adora Chocolates for the perfect homemade gift for Christmas. You'll learn how to make the sweet treat from scratch along with adding your own flavours and flares to the batch. You'll want to snap up your tickets here.
When: Saturday 8 December, 12:45-3pm and Friday 21 December, 6:45-9pm
Where: Adora Handmade Chocolates, Marrickville
Cost: $80 per person
VIBE ROOFTOP YOGA
To kickstart into getting rid of your unwanted Christmas kilos, head down to Rushcutters Bay to do some yoga with a gorgeous view of the water. The Vibe Hotel hosts a rooftop yoga session each Saturday, and it's so affordable you can just go for the view. For booking your spot, head here.
When: Every Saturday, 8:30-9:30am
Where: Vibe Hotel, Rushcutters Bay
Cost: $10 per person
---
RETRO ARCADE CLUB
The champs over at 1989 Arcade Bar are bringing out the big guns. Go back to when you absolutely lived to play Space Invaders. Well these guys are giving out unlimited plays to ticket holders this Sunday, so crack your knuckles and prepare for a massive binging sesh at the arcade. For tickets, grab them here.
When: Sunday 2 December, 12-4pm
Where: 1989 Arcade Bar, Newtown
Cost: $15 per person
THE BIG DESIGN MARKET SYDNEY
This weekend, Moore Park will be home to over 200 vendors selling everything from homewares to art prints. Hit up the Big Design Market for your chance to secure some Christmas presents that'll make anyone jealous. With local taste-makers providing food and drinks, as well as exclusive showbags up for sale, this place is your one-stop shop these holidays. For more details, head here.
When: Friday 7 December, 10-8pm
Where: Royal Hall of Industries, Moore Park
Cost: $2 per person
TAYLORS CELLAR DOOR AT SEA
Have you ever wished that you could just float out to sea with a glass of wine and some nibbles? Well your wish has been granted. Taylors Wines are kickstarting out summer with a 'floating' cellar door in the Sydney Harbour. It's time to round up the troops because you'll definitely want to hit up this classy wine tasting.
When: Friday 7 December to Sunday 9 December, 11-9pm
Where: Man o' War Steps, Port Jackson
Cost: $60 per person
GOOD THINGS FESTIVAL
An all things alternative music festival is on its way to Parramatta this month. With classic acts like The Offspring, Bullet For My Valentine and All Time Low hitting the stage for some classic tunes. Get your head warmed up for some banging and pump your fists for these guys. Jump over here to get your tickets.
When: Saturday 8 December, 11-10pm
Where: Parramatta Park, Parramatta
Cost: $178 per person
---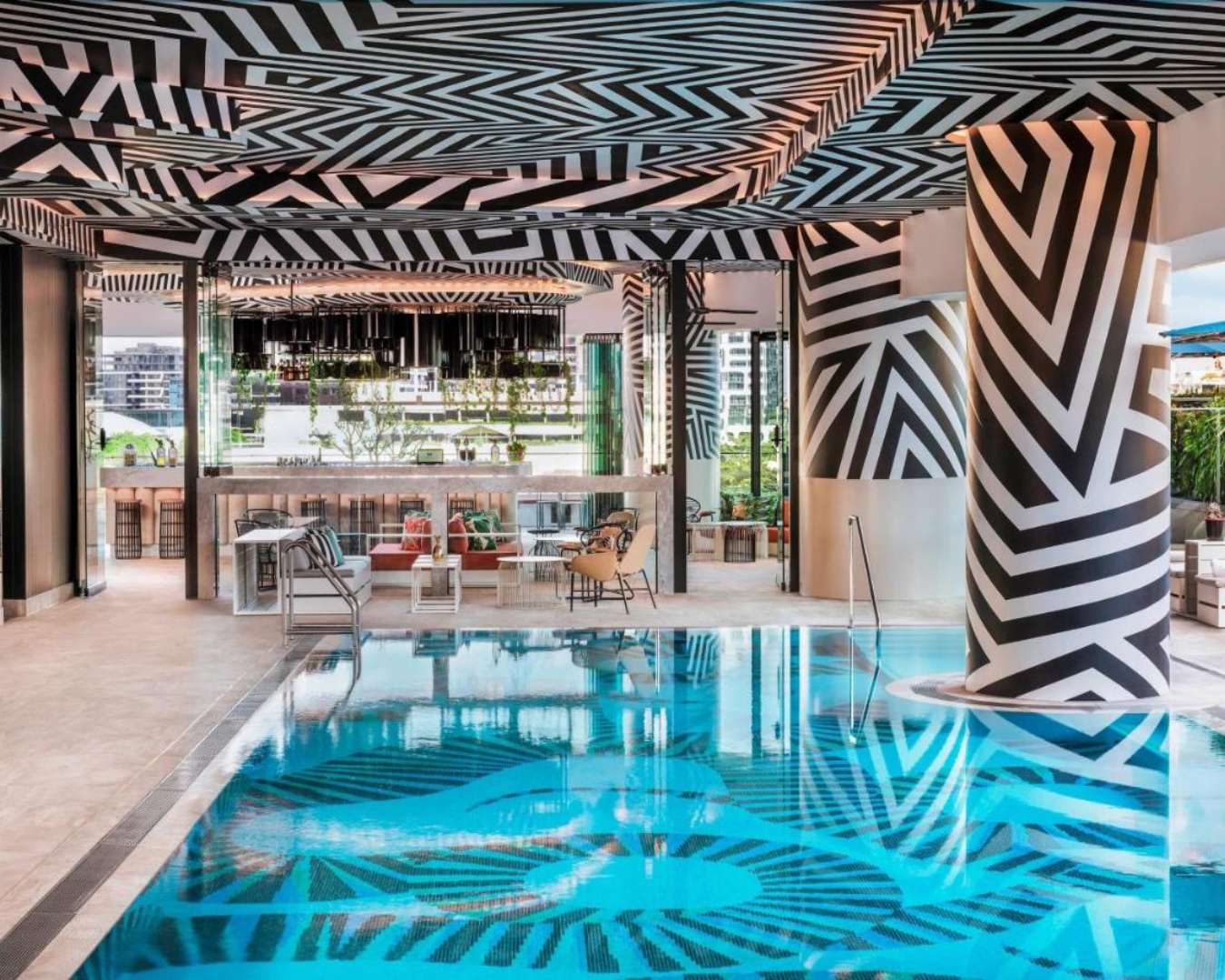 ADULT PAINTING NIGHT
BYO Alcohol, painting and Christmas music. We're hooked. If you haven't got any cute homemade decorations for the holidays, then now's your chance. Grab some plaster or ceramic figurines and get painting. Sing along to some Christmas music and get a bit tipsy with your besties. Definitely a night well done. Hit this up for tickets.
When: Friday 14 December, 7-10pm
Where: The Entertainment Quarter, Moore Park
Cost: $35 per person
KITTY FLANAGAN – SMASHING
Funny gal Kitty Flanagan is coming to the Opera House for her 'Smashing' comedy show. With two show slots, you'll be laughing so hard you'll want to watch it all again. Her comedy chops have been shown on all Aussie TV shows like Have You Been Paying Attention and The Project. So, get in quick for your chance to see this legend on stage.
When: Saturday 15 December, 5pm and 8pm
Where: Sydney Opera House, Bennelong Point
Cost: $59.90 per person
5K FOAM FEST
Basically, the biggest bubble bath is back. Run your way through over 20 obstacles from mud pits to foam, to get to the finish line and be sprayed soapy clean. This is the best way for team bonding to come alive, so hit up your workmates and do your part for the Make A Wish foundation. For your tickets, click here.
When: Saturday 15 and Sunday 16 December, 8-5pm
Where: Sydney International Equestrian Centre, Horsley Park
Cost: $67.25 - $92.80 per person
THE MAKERS' NEST DESIGN MARKET
This place is the perfect opportunity for you to grab some epic presents produced by over fifty local artisans. Also featuring Christmas themed homemade workshops for all ages to enjoy. Hit up some lunch spots any of the numerous restaurants in the building or order a Messina gelato to tie you over, while you shop all these fashion, jewellery and homewares. For more info, check this out.
When: Sunday 16 December, 10-4pm
Where: Tramsheds, Forest Lodge
Cost: $2 per person
---
CHRISTMAS LAUGH-A-THON
To get you in the festive mood, the legends over at Star Bar are holding a laugh-a-thon that is guaranteed to make you wet your pants. With twenty comics in only sixty minutes, tears will be streaming down your face. Grab a VIP package for a good steak or burger dinner while these funny heroes do their sets. Jump over here for tickets.
When: Saturday 22 December, 7pm and 8:45pm
Where: Star Bar, Sydney
Cost: $27 - $89 per person
WOOLWORTHS CAROLS IN THE DOMAIN
It's time, the iconic Sydney Christmas carol concert is back for another year of silent nights and hark the herald angels. Held next to the botanical gardens, this is the perfect night for that seasonal Christmas picnic with your mates. Sing along to the holiday songs and grab your tickets here.
When: Saturday 22 December, 12-10:30pm
Where: The Domain, Sydney
Cost: $59 - $129 per person
---
FESTIVE SEASON AT THE SHANGRI-LA
If you're on of the many who don't have any solid plans for Christmas, why not spend chowing down on the best food in Sydney. With a festive seafood buffet happening this silly season, the Shangri-La is bringing us the freshest of the fresh complete with mussels, prawns and our beloved oysters. And end this bomb meal with a selection of sweet desserts created by boss chef Anna Polyviou. For bookings, check this out.
When: Monday 24 and Tuesday 25 December, 12-2:30pm & 6-9:30pm
Where: Shangri-La, Sydney
Cost: $150 - $260 per person
BLUEPRINT & SUMMERLOVE
Head out east to Watsons Bay for the boxing day event you've all been wishing for. This mini-festival has got some classic live musos headlining the hotel. Grab yourself a burger, a glass of frosé and jam out to some sick beats. Hurry, because tickets are selling out fast.
When: Wednesday 26 December, 12-10pm
Where: Watsons Bay Boutique Hotel, Watsons Bay
Cost: $55 - $75 per person
And here are all the best markets happening in Sydney this December.
Smoking Gun Bagels | Image credit: Caitlin Hicks