Let's be honest here—it's pretty much that time of the year when we may or may not be thinking about planning our next vaycay.
So before you blow all your big bucks on a European adventure that'll leave you in more debt than an average uni degree (think about it guys), we have a serious holiday hack you need to know about—and it's kinda just around the corner. Technically a five-ish hour drive—did someone say roadtriiiiiiiiiip?
Basically, if you feel like you're long overdue for uncrowded beaches, beautiful coastal walks (that easily top your weekly Bondi to Bronte), caves, camping grounds and all the foodie havens, then you'll want to set Google Maps to the mid north coast of NSW and head off to the South West Rocks.
So now you know where we're going, here are all the reasons why!

---



Seabreeze Beach Hotel
Yep you foodie lovers are going to want to hit up the seafood and oyster plate here (especially because you'll have worked up an appetite from exploring ALL the things). Hot tip: you'll need to get in early—they literally mark these bad boys off the board! These guys also head the one, the only, Crafts on the Coast Beer Event every year and that means a full weekend of regional boutique breweries—so that's a yes from us!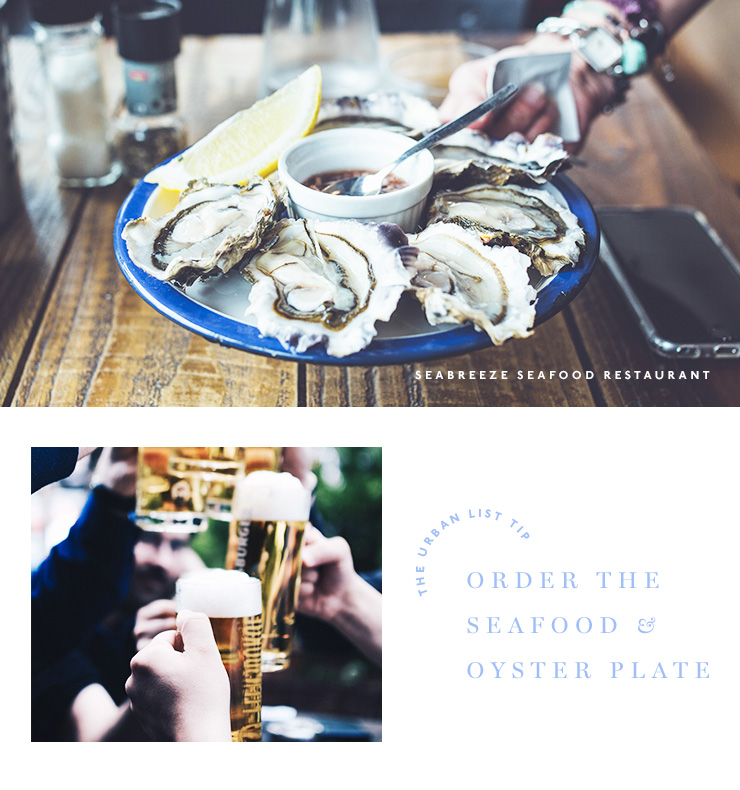 Malt & Honey
No biggie, but Malt & Honey churn out the tastiest maple-glazed bacon french toast with banana pretty much ever. That's right- the best. Oh and about that view- yep, this beauty overlooks Horseshoe Bay (Google it and prepare to be amazed) which means you'll be brunching in a prime paradise location. And that friends, is how you vaycay right.
Full Circle Eatery
Hidden in the Big4 holiday park, the Full Circle Eatery is home to burgers, nachos, fresh fish and heap more. Basically, if there's a place you should be going to in order to give yourself one helluva food baby, it is this one.
Old Bank Gladstone
Take yourself to the super cute heritage listed foodie gem of Old Bank Gladstone for a coffee stop or wine-sipping afternoon. You'll find everything from raspberry roulade served with fresh cream to their classic burger (which has only been a major hit since forever).
Thai On The Rocks
This bustling little locale is every foodie's absolute dream (because when everything on the menu is good, you know you've made it). You can't really go wrong at this joint so the best piece of advice we can give you is do the green curry. And definitely do the pad thai.
---



Climb To The Lighthouse
If there's one thing you need to do, it's conquer every lighthouse walk on the east coast of Australia. And this one is basically like the Bondi to Bronte and Barrenjoey Lighthouse walks combined. When hitting up the South West Rocks, The Smoky Cape Lighthouse walk is a definite must to tick-off because when was winding staircases, coastal views for days, whale watching and picnicking ever a bad idea?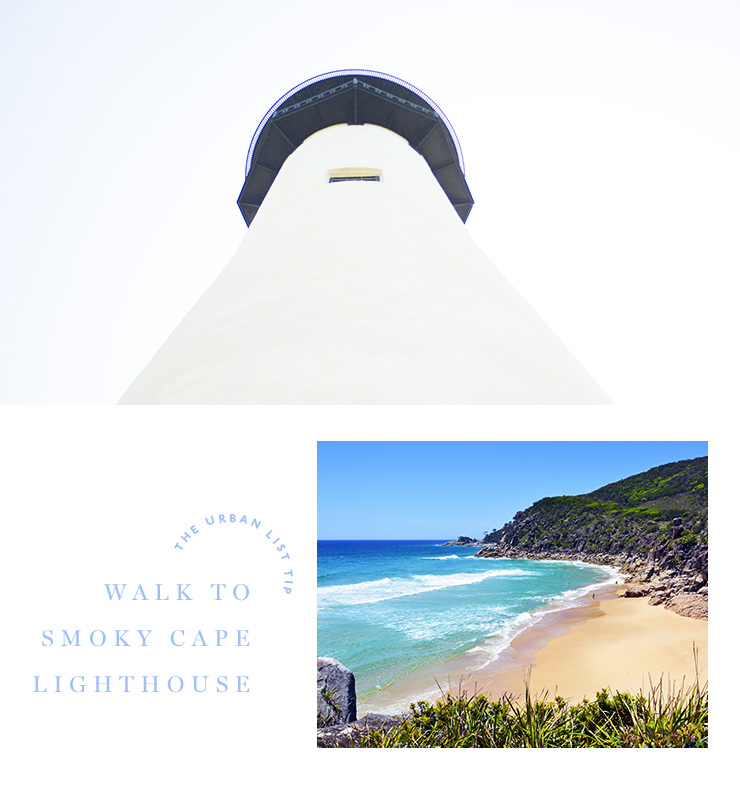 Mermaid Pools
So it's not really an adventure if you didn't hit up the Mermaid Pools (and let's be real, the name is already a massive win for us). No surprise, the Mermaid Pools are a luxurious set of rockpools that we kind of wish our phones had photo access to allllll the time. You can get to these glorious little pools of magic by walking along the Monument Hill track.
Stand Up Paddle Boarding At Hat Head Beach
Holy Mother of beaches, Hat Head may or may not be the absolute Queen B of all sandy shorelines. And we are not even exaggerating in the slightest. If you want to feel like you're on an exotic island somewhere in the middle of the pacific, this beach is your jam. Plus, it's the ultimate place to do some serious stand up paddle boarding (with Sublime SUP SKOOL because they're the freaking best) not because the water is perfectly flat but because this one never has a crowd (so when you stack it, no one will ever know).
Hat Head National Park
Naturally, Hat Head National Park should be on your SWR bucketlist. This park boasts absolute killer views and has pockets of rainforests to explore so we can guarantee you'll want to head here more than once (visiting a handful of times is totally normal—we've done it). So grab your walking shoes and don't miss out on Connor's Walking Track and Captain Cook's Lookout.
Surfing And Bodyboarding
Water adventures are a given when you hit up South West Rocks and for a good reason too! For surfers, Horseshoe Bay is your pipeline dream. Ok not really but the swell is always steady. And if you'd rather bodyboard, well lucky for you, Main Beach is your jam.

---


Horseshoe Bay
This one's an ultimate beach frontage with pines surrounding the entire bay. Because nothing says beach n' chill more than fishing spots and picnic baskets.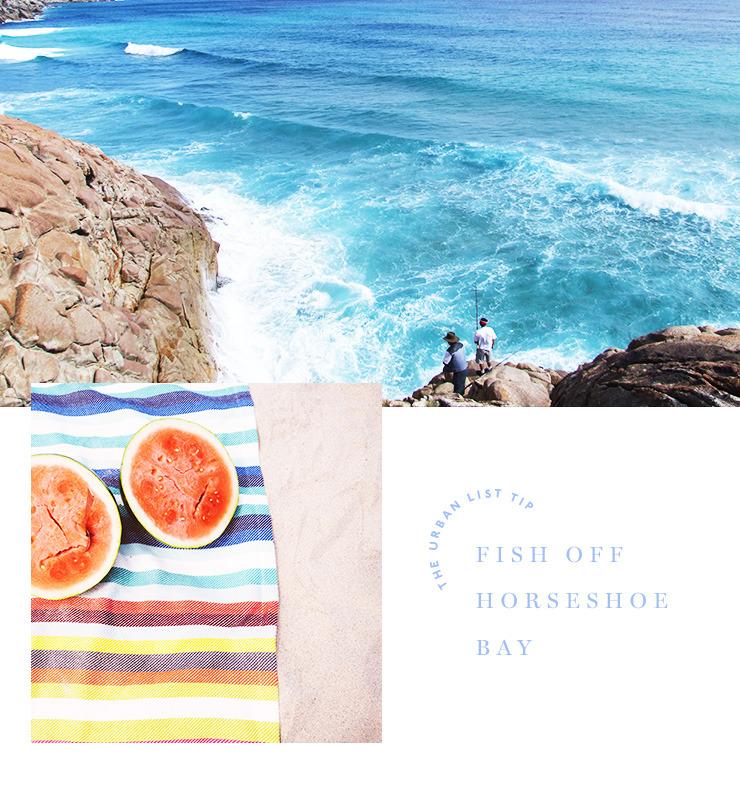 Little Bay
Little Bay Beach is the secluded sanctuary you always wanted to visit. Nestled between two gorgeous cliffs just south of the headland near Trial Bay Gaol in Arakoon National Park, this beauty even has a kiosk with alllll the views so you can grab a bite or go for wine time.
Gap Beach
A little rockier, Gab Beach can be accessed by 4WD or by making your way through the Smoky Cape Track and because of this, you'll usually score this coastal treasure to yourself!
Smoky Beach
For all you keen sunbakers out there, this one's for you. Smoky stretches from Hat Head to Smoky Cape Lighthouse and runs for a good 16km (so you're bound to find your own part of the beach and make it totally yours for the day).

---



If you drive: It's a five and half hour drive north of Sydney and all you really need to do is follow the Pacific Highway/A1 for the entire way (so no problems if you have zero sense of direction) and exit at Frederickton/Coffs Harbour and turn onto Macleay Valley Way.
If you public transport: There's a direct train from Central Station (the north coast XPT train) that only takes around 7 and a half hours which brings you to Kempsey. From here, you can catch the 348 or 350 to South West Rocks (on Belgrave street just around the corner from the station) or you can tee up a coach from Cavanaghs bus service which is about a five minute walk from the station and is on Tozer Street.
If you fly: There's a number of Qantas and Virgin flights that take you to Coffs Harbour and from here you can set aside a rental car at Thrifty Car Rental and then drive for an hour straight to SWR!

---


Holiday And Caravan Parks
BIG4 Sunshine South West Rocks Holiday Park
Regardless of how you want to spend your time here, the BIG4 can cater easily for you. Whether you're a camper or you prefer indoor plumbing, this is one of the most popular places to stay as there are villas, cottages, cabins, powered and unpowered sites to get.
Horseshoe Bay Holiday Park
Say it with us—beach frontage. Yep, you won't get closer to the ocean unless you stay on a boat. Horseshoe Bay Holiday Park has all the views for your camping and caravanning needs. We're talking ocean, mountain and beach. This one's right next to the village centre too so you'll be a stones throw away from restaurants, take-away, pizza houses, pubs and clubs too.
Ingenia Holidays
Nestled along the beach, if you're into all the activities (and we mean all of the them), Ingenia is probably where you need to be staying. Home to an epic games room, fishing, kayaking, pools and stunning picnic areas, "bored" is not a word you'll find yourself saying here.

Camping
Trial Bay Gaol
Ditch the wifi and head over to Arakoon National Park. Trial Bay is right by the beach (and you can even reserve yourself a good spot!) so it's the ultimate location to set up camp or bring your caravan and settle in for a couple of days.
Smoky Cape Campground
Located inside Hat Head National Park, you'll find yourself in the middle of a super lush rainforest here. There are several pockets of campsites (and can we just say—they're all like a mini paradise) and you'll be a short walking distance from fishing, diving and bushwalks. You'll need to be pretty self-sufficient while staying here but hey, you're also only a quick drive from shops at South West Rocks.

Other Accommodation
Seabreeze Beach Hotel
If four walls is more your style, the Seabreeze is where it's at. Located in the heart of SWR, this uber relaxed hotel is a complete win when it comes to cute pub accommodation.
Rockpool Motor Inn
For something a bit more luxe (well as luxe as it can get in a beach town—we're talking free Foxtel and wifi guys), this one is set in a prime location, you'll only be a 10 minute walk from main beach.
If you're looking for more under the radar beach towns near Sydney, read this.
Image credit: Unsplash and Adobe Stock