There are certainly a lot of fun things to do in Sydney this weekend! From writers' festivals to markets, festivals and a little something for dog lovers, Sydney has it all. Bring on the weekend!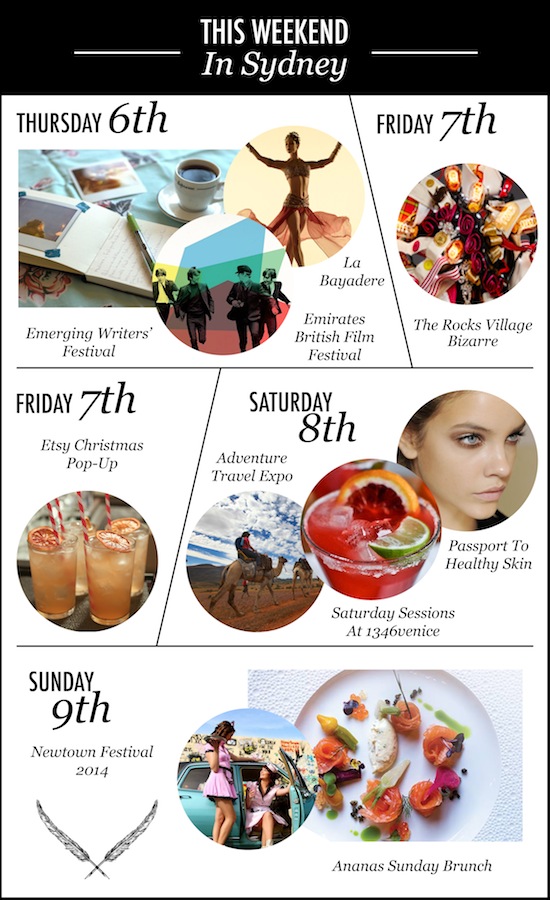 THURSDAY 6TH
Emerging Writers' Festival
It's a writing roadshow like no other! This years Emerging Writers' Festival will be making pit stops in Wagga Wagga, Canberra and Sydney. The coolest part is that they will be picking up hitchhiker writers at each destination. There will also be a range of talks and workshops at each stop for you to show off your creative flair with other writing enthusiasts. For full event details and bookings head to their website.
La Bayadere
Looking for cultural things to do in Sydney? The Australian Ballet recently launched their national tour of their latest show "La Bayadere" and it's coming to Sydney Opera House. Think explosive classical technique and fast-moving choreography amongst blazing colours, opulent sets and lavish costumes. Throw in a beautiful temple dancer, a heroic warrior, their star-crossed love and we're there! For more information and to book tickets head here.
Emirates British Film Festival
This is one for all you movie buffs. Featuring a mix of wildly entertaining comedies, cinematic adaptations, first-time features, and award-winning titles, the festival is sure to be a hit. With an exceptional program of 15 brand new films plus the top picks of British "Swinging Sixties" cinema in a specially curated section, this is one film festival not to be missed! The festival will be running in Sydney from this Thursday until November 26. For more details and to book tickets head to their website.
FRIDAY 7TH
The Rocks Village Bizarre
One of our favourite events of the year is back and it's bigger and better than ever! Head down to The Rocks this Friday and every Friday until December 19 and experience a range of tantalising pop-up eateries, art installations, musical performances and moonlight markets. Entry is FREE and the event will kick off every Friday from 6:30pm – 10pm. With new surprises every week there's plenty of reasons to come back each week for a different experience. For more details see their website.
Festival Of Change
Needing a bit of inspiration this week? Well, Think Education is once again hosting the Festival of Change this weekend in Sydney. Featuring over 150 free events in Sydney alone, there's something for everyone including: demonstrations, exhibitions, and workshops across the areas of design, fashion, beauty, health, food, hospitality, and business. The three-day festival will also put on a fantastic display of entertainment, food stalls and markets for your enjoyment. For program details click here.
Etsy Christmas Pop-up
A bit stuck for what to buy your Kris Kringle this year? Well the Etsy Christmas Pop-up store has got you covered. The self-proclaimed online marketplace for unique goods, invites you to visit its 15-day Christmas Pop-Up shop in central Sydney. Featuring a smorgasbord of one-of-a-kind gifts, knick-knacks and even DIY workshops you won't be disappointed with what Etsy has to offer. But get in quick! The temporary stall will be open from November 28 – December 12. For more information take a look at their website.
First Ever Dog Lovers Show
It may be the silly season for us, but there's no reason why our furry friends can't enjoy it as well! For things to do in Sydney for you and your pup, the exclusive "doggy day" will be a vibrant hub of entertainment, interaction & education. Visitors will be able to connect with dogs of all different sizes and breeds and find out information from professionals. You would be barking mad to miss it! Think of it as an early Christmas celebration dedicated to man's best friend! Unfortunately, as it is an indoor event bringing your own pooch along is not permitted. But hey, you can always bring them home some toys and treats from the day! The festival will run for 3 days only from 10am – 5pm daily. For more information and to book see their website.
SATURDAY 8TH
Saturday Sessions At 1346Venice
Inspired by the Crocker motorbikes of LA, 1346Venice is one of our favourite hotspots on a Saturday. Whether you're wanting to see the historical collection of Crockers or simply wind down with a beer and a burger, 1346Venice is at your service. Think simple, authentic American style food which will leave you wanting more. The café and bar area makes rustic look chic – you'll feel like you've just stepped into a scene from Sons of Anarchy, without the guns. The bar opens from 12pm – 10pm. For more information see their website.
Advernture Travel Expo
Are you suffering from a bit of wanderlust? Maybe you've got a serious case of the travel bug? Well, bring your best travel buddies and head down to STA Travel's, Adventure Travel Expo this weekend. Globetrotters of all ages are welcome to pick the brains of avid travellers and guides on the day – who knows what interesting stories they have in store for you? There'll also be a range of deals and prizes given on the day for you to snatch up! The exhibition is FREE and will run from 12pm – 5pm this Saturday and Sunday. For more details see their website.
Passport To Healthy Skin
The hustle and bustle of our daily routines can take its toll on our skin. This Saturday join POPSUGAR Australia and Simple Skin Care for a day of skin revitalisation in one of Sydney's most skin-friendly and iconic locations, Manly Beach. The day kicks-off at 10am with a range of activities, workshops and advice sessions, educating everyone how to care for their skin. You'll even receive a goodie bag at the end – sign us up! For more details click here.
SUNDAY 9TH
Ananas Sunday Brunch
Our beloved French bar and brasserie recently launched it's first Sunday brunch day! Their exclusive a la carte menu offers Sydney-siders and tourists the chance to indulge in a delicious, new brunch menu, with the exquisite dishes set to rival that of the renowned Bagatelle Brunch in New York. The Executive Corporate Chef, Damien Brassel, will be serving up this enticing menu of French inspired goodness between 11am and 5pm. Head to their website for more details.
Newtown Festival 2014
This Sunday, Camperdown Memorial Rest Park will be transformed into a lively, token Newtown-style celebration. Featuring an array of music, food, entertainment and activities, the brand new festival is going to be wild! It also gives you the chance to work on those positive karma vibes by giving generously to the Newtown Neighbourhood Centre. Being a FREE event there's no excuse not to. To view the program and for more details visit the Newtown Centre website.
Brewery Yard Markets
Nothing makes us happier than a way to enjoy our weekends, and kicking off on Sunday, October 12, The Brewery Yard Markets will keep you occupied all day with an array of stalls offering fashion, art, crafts, accessories, food, and much more. Head down and make the most of the day from 10am – 4pm. There will be live music and farm-to-table feeds as well, so really no excuse not to visit.
TUESDAY 11TH
Inhale Meditation Workshop
Art and consciousness will merge as one this Tuesday with Inhale, Artereal Gallery's unique meditation workshop event. Meditators of all skill-levels are invited to leave behind the stresses of life and find the calm within the noise at a FREE evening of meditation. It's the perfect way to find yourself and wind down after a hard day's work. Inhale guests will be treated to Nudie coconut water and other delicious nibbles before receiving an introduction to the exhibition and mindfulness techniques. The event will run from 6pm – 8:30pm. Spaces are limited. To reserve a space please see their website.
Sustainable Seafood Dinner
Red Lantern and Cleanfish Australia have joined forces to bring you a delicious 5-course menu of succulent sustainable seafood. Kicking off at 6:30pm, the menu designed by Executive Chef Mark Jensen, and accompanied by Young & Rashleigh wines, will feature Coffin Bay octopus, char-grilled squid stuffed with chicken, steamed banana prawns and so much more! To secure your seat head here.
Image credit: Ananas