Sydney, we know you can only take so many staycations and road trips before you start asking yourself whether there is anything else our glorious state can offer. And lucky you asked because yes, yes there is. So. Much. More.
Step up your wanderlusting game and ditch the complimentary white robes and cable TV for something a little more out of the ordinary. That means vintage vans, treehouses and bubble tents. Because hotels were so last year.
Here are eight weird and wonderful places to stay in NSW.
Wollemi Wilderness Treehouse
Blue Mountains
Oh yes, you read that right. And we know the kidult inside you is screaming like a little person on candy right about now. Complete with kickass views of Bowen's Creek Gorge and rainforest, Wollemi Treehouse also features a fireplace and spa… because everybody knows you're a classy kidult.
Bubble Tents
Lithgow
Sydney, these inflatable homestays are a weird and whacky but unbelievable thing you need to jump onboard. Liiiike, right now. Located in a super secluded part of a gigantic working farm between Lithgow and Mudgee, you'll be in direct eye line of the second biggest canyon in the world which doubles as one of the best sanctuaries for bird watching. And trust us, the comfort factor inside these bubbles is way too real.
Sleep In A Buddhist Temple
Wollongong
Setting up nice and close to good old Sydney town is the Nan Tien Buddhist Temple (you might have driven past this gem on all your south coast adventures). This place is the largest of its kind in the southern hemisphere and one of the best vantage points to watch the sunrise or sunset. You know what to do.
Bison Farm
Myrtle Creek
The NSW North Coast is offering up an insane kind of camping with this one. Think an American-style bison farm and FYI, that's a working ranch people. You'll basically be in for all the exploring here with a heap of native birds and animals around. And yes, you'll most definitely be staying in the gigantic teepee because dreams really do come true.
White Cliffs Underground Motel
White Cliffs
Start planning your road trip to outback NSW right now because this underground motel is seriously cool and it needs to be on your hit list. Located in the desert (where mining hillocks literally look like the surface of the moon), rooms here are a glorious and consistent temp of 22 degrees all year 'round. Yep, we guarantee you'll have a solid night's sleep in absolute darkness.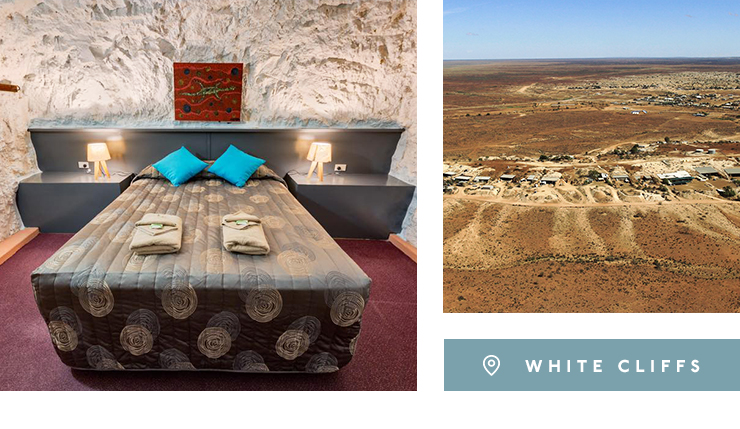 Sugarloaf Point Lighthouse
Seal Rocks
If sleeping in a lighthouse has never been on your list of things to do, well it is now. Sugarloaf is uber charming and in prime position to enjoy all the surfing, snorkelling, fishing and hiking ever. Depending on how hard you want to luxe out, you can stay in the Headkeeper's Cottage, the Assistant Keeper's Cottage South or the Assistant Keeper's Cottage North.
RetroPod
Brunswick Heads
Anyone who's a sucker for pre-loved goods should really be across Byron's Retropods. We're talking funky vintage caravans people and not just one but two of them. These bad boys are restored 60s Sunliner vans and they're both decked out in groovy patterns which means wherever you take these killer pods, you'll no doubt be the centre of attention.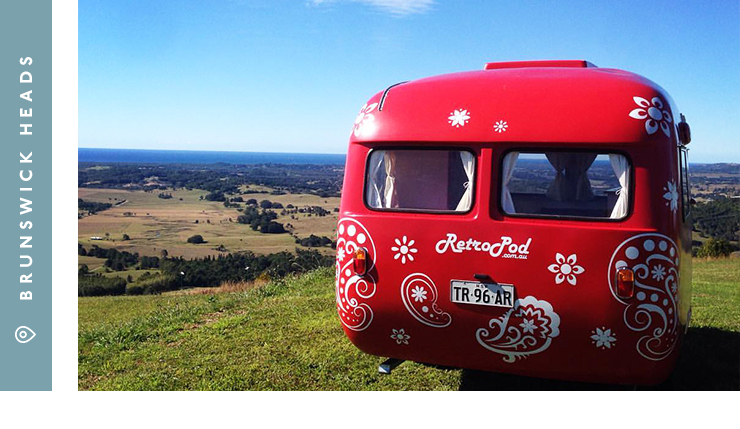 London Bus In The Bush
Turindale
So there may or may not be a red double decker London bus waiting in the outback with your name on it. Read: there very much is. And the best part is, it's perched on a hill and overlooks an insanely beautiful valley. The bus has been perfectly refurbished with a deck to soak up all the views plus there's a wood fire heater for when the temp drops.
Tiny Houses
Various Locations
Anyone who's ever wanted to pack it all in and move to a tiny house in the middle of nowhere, you now can—sorta. Earlier this year, Australian start-up Unyoked brought the tiny house craze to our sometimes sunny shores and they've had a 3,500 strong waiting list ever since. These sustainable and solar powered pockets of fun are hidden in secret locations (cue intrigue) two hours drive from Sydney and both overlook beautiful vistas. We're already coming up with an excuse to move in permanently.​
Here are the best walks on the Northern Beaches.
Image credit: Bubble Tents Australia