Croissants are a favourite breakfast treat, synonymous with France but consumed all over the world and a staple in any good bakery. They're perhaps the most well-known example of a Viennoiserie pastry, where sweet yeasted dough is laminated with layers of butter to create that signature flaky texture and rich flavour we all can't get enough of.
Infamously time-consuming and technically daunting, many bakeries will stake their reputations solely on the quality of their croissants—and it's not hard to see why. When you get a good croissant, it's real good. Golden, flaky, buttery, never dry, with a good rise and even bake, a good croissant is a thing of beauty and can take any morning from blah to brilliant.
Whether you like them plain or filled, sweet or savoury, Sydney is home to some of the best croissants on offer—and here we've got the lowdown on where to find them.
STIX
Marrickville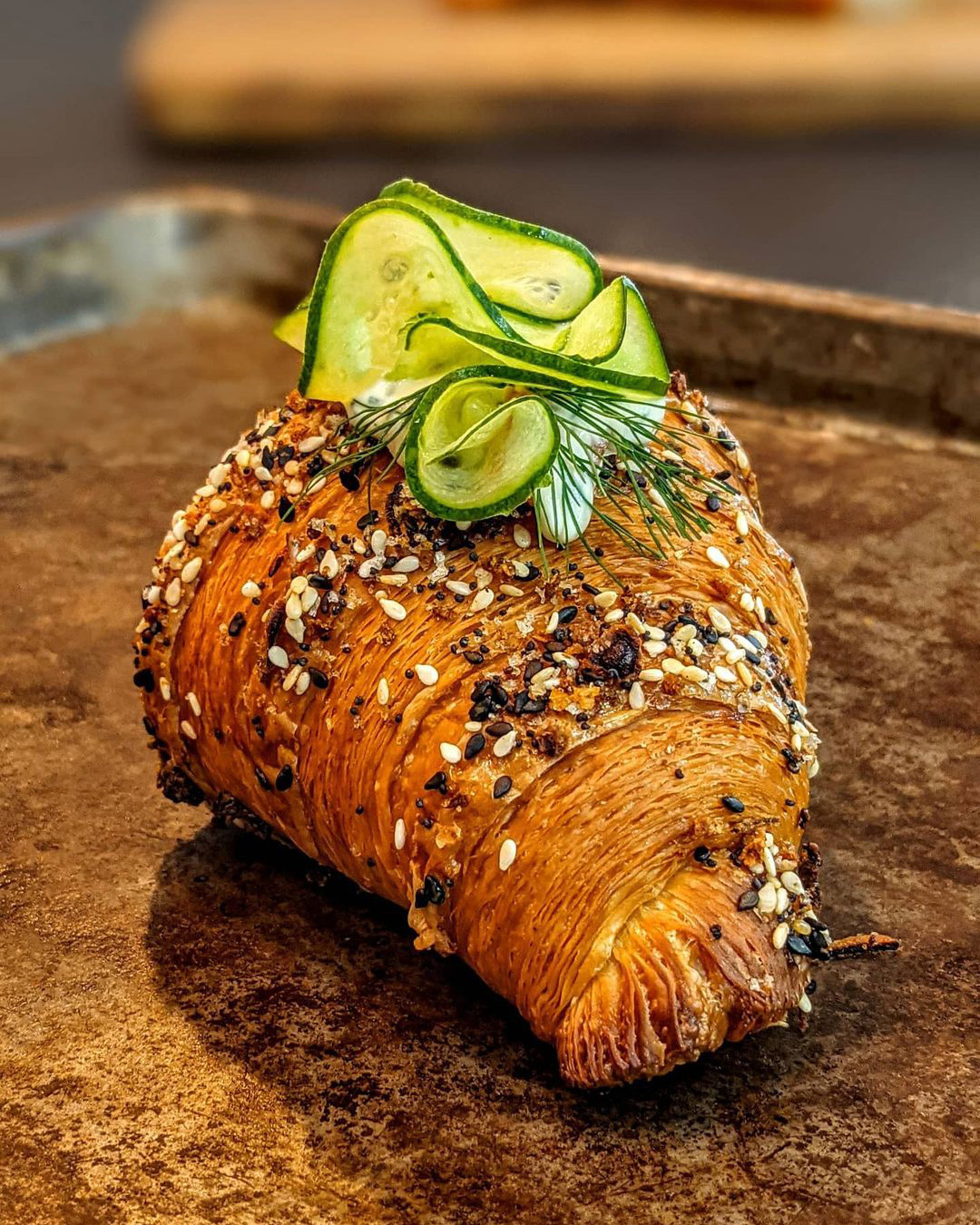 At STIX it's the details that count. Built on a foundation of sustainable practices and using the best homegrown ingredients, STIX croissants use quality French butter, a long fermentation process for the dough, and sustainable Australian Wholegrain Milling flour to take the finished product from standard to special.
For head pastry chef Daria Nechiporenko, using high-quality sustainable flour "contributes greatly to the flavour and texture of the croissant", levelling up everything from the crumb to the aroma and level of flakiness. "Our croissant is light, with [a] thin flaky surface and creamy and stretchy inside," says Daria. "The aroma of butter and well-fermented dough makes you want to eat it while they are still in the oven!" (Not gonna lie, we're tempted). For an even sweeter treat, try the fan-favourite almond croissant or pain au chocolat featuring a triple dose of Belgian chocolate for the ultimate in indulgence.
Flour And Stone
Woolloomooloo
Quality, control, and a whole lotta love and care make Flour and Stone's croissants some of Sydney's absolute best. From maintaining the perfect fermentation environment for full-flavoured dough to making sure those many layers of butter and dough stay consistent, Flour and Stone has the science of croissant creation down pat. Plus, the team use only the highest quality cultured butter from the mighty Pepe Saya, meaning maximum flavour and those all-important crunchy, flaky layers.
All that time and attention to detail pay off and, if you still need convincing, there's only one way to be sure! It only takes one bite to find yourself in crispy, buttery bliss, and Flour and Stone is dedicated to maintaining the highest quality in their pastries, day after day, rain or shine.
"What I love most, and what I am most proud of is that on any day at Flour and Stone our croissants are just coming out of the oven moments before the front door is flung open in the morning," says founder and baker Nadine Ingram. "In my opinion, it is the benchmark of a special croissant."
La Vie & Belle
Surry Hills
Look no further than La Vie & Belle for proper French fare, with croissants made the traditional way with passion and patience. Here you'll find no brow-raising fillings or fusion flavours—just good, honest, authentic French bread and pastries, starring everybody's favourite flaky, buttery, crescent-shaped beauties. Sydney has no shortage of bakeries serving up classic Viennoiseries, but La Vie & Belle stand out from the crowd with their dedication to traditional French methods and ingredients for an inimitable experience. They may be based in Surry Hills, but if you close your eyes, you could be on any boulangerie-lined street in Paris.
Black Star Pastry
Various Locations
You probably know Black Star Pastry for their iconic Strawberry Watermelon Cake, but if you ask us, their croissants deserve their own hashtag, too. Black Star transforms the simple croissant into an artisanal experience, favouring precision, quality, and the one ingredient that can't be beaten: time. From twice-proofed dough to meticulous lamination, no corner is cut in this laborious three-day process, but it sure is worth it when you hear the satisfying crunch of layers upon layers of flaky pastry and reach that pillowy, buttery inside.
The team also include buttermilk in their base dough for a tangy twist on your standard croissant ingredients, and level up their lamination with Pepe Saya cultured butter which, according to executive chef Arnaud Vodounou, makes all the difference.
"Churned butter has a more marbled texture…resulting in flakier pastries," says Vodounou. "The butter is also a probiotic and has a signature lactic flavour due to cultures present which provides a unique taste profile.
"It's almost like we're croissant artisans, always pushing and trying to create a unique product which is focused on the 'experience'," Vodounou adds. Turning your average morning pastry run into an art form is no mean feat, but we reckon Black Star have nailed it.
Bourke Street Bakery
Various Locations
Bourke Street Bakery has been stealing our hearts for years one ginger brûlée tart and savoury pie at a time. Their plain croissants are a solid choice, delivering on flavour and flakiness with a good shape and airy layers, while their almond croissant has cemented itself as a local favourite among croissant connoisseurs with its delectable almond paste filling and crunchy crown of toasted almond flakes dusted with icing sugar. Put simply: get them in your gob, ASAP.
Madame & Yves
Clovelly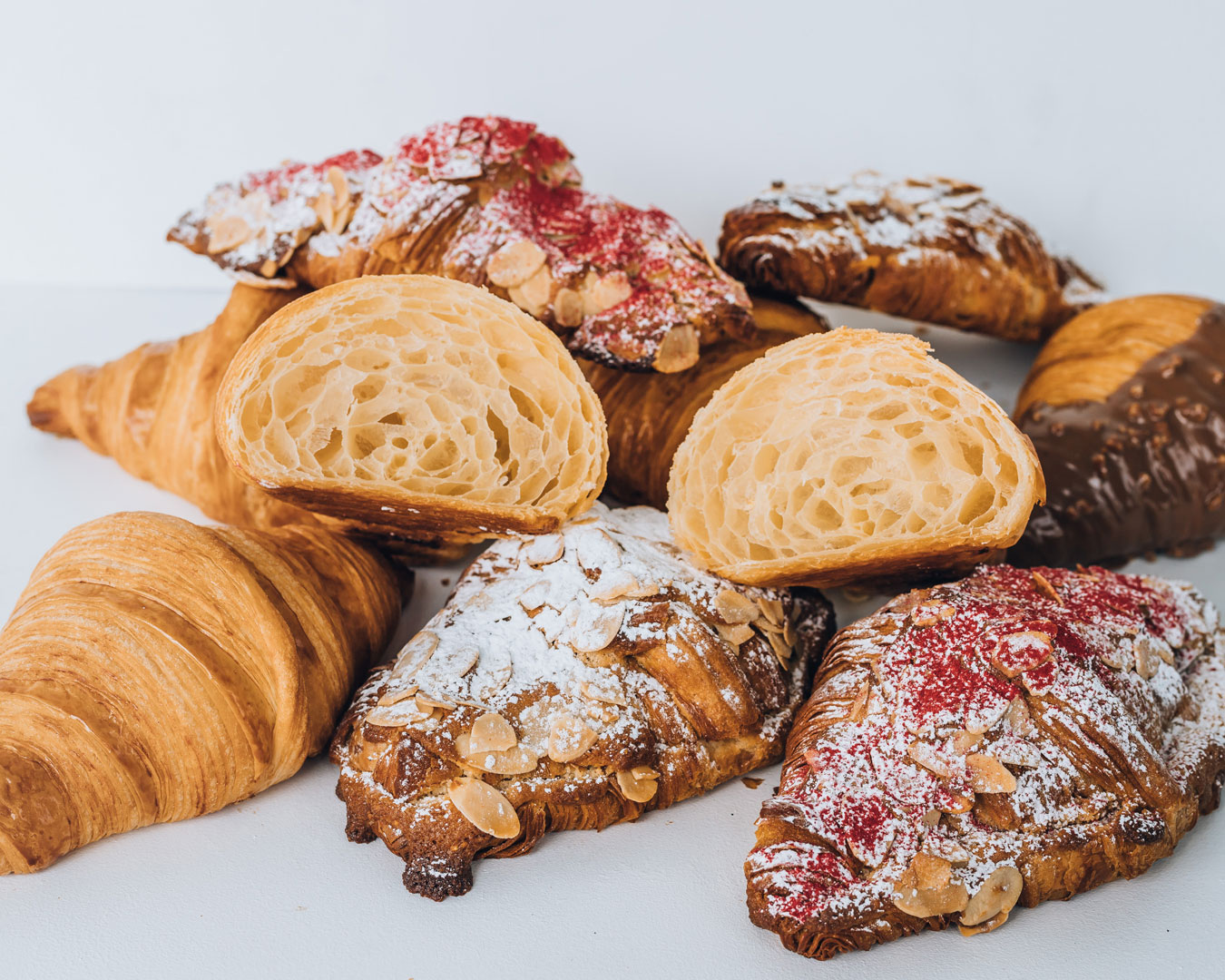 It all starts with the perfect base, featuring twice fermented dough and the best Belgian butter (controversial, we know, but the proof is in the pastry). According to founder and pastry chef extraordinaire Yves Scherrer, "a good croissant has a distinct taste of butter. It needs to be fluffy inside, flaky outside, a very light crunch and not greasy", and the team at Madame ensure each pastry is unique by making everything by hand. "We take our treats very seriously," says Scherrer.
You've heard of trendy croissant creations the cronut and the cruffin and now, get ready for the newest hybrid set to take over your socials: the "crioche". An OG creation from Scherrer, the crioche is a croissant-brioche hybrid made by baking croissant dough in a custom brioche tin for a soft, fluffy interior, "beautiful caramelised exteriors", and maximum flavour whichever way you look at it. Crioche specials have seen flavour riffs the likes of salted caramel, yuzu-meringue-matcha, a chocoholic's dream made with 62% Valrhona, and the pièce de résistance: a decadent D'Affinois truffle.
While you're at it, try any number of Madame & Yves' boundary-pushing flavours of the standard croissant, including early grey custard, hazelnut and almond praline, truffle croque monsieur, a "classic umami" Ferrero, and a raspberry almond croissant filled with fruity, fresh raspberry marmalade.
Humble Bakery
Surry Hills
Brought to you by the crew behind Porteño, Humble Bakery is the new kid on the block taking Sydneysiders to carb-heaven with their selection of pastries, among them some mighty fine croissants. Their plain croissant is anything but; gorgeously golden with an airy honeycomb-textured inside and big enough to satisfy the hungriest of appetites. They sit among Humble's stripy chocolate, oozy ham and cheese, and almond varieties, along with that legendary croissant-muffin hybrid, the cruffin, featuring flavours such as banana old fashioned and choc hazelnut. These are croissants with attitude, and they'll make your next trip to the baked goods cabinet a memorable one.
Textbook Boulangerie-Patisserie
Alexandria
Apart from churning out some of the finest, most technically impressive Viennoiserie in town, these giants of Sydney's pastry scene are well-known for their creative twists on the standard croissant with jaw-dropping flavour combos coming soon to your next Insta story. You can find the usual plain, almond, and chocolate suspects on a regular day, but drop in on the weekend for Textbook's highly anticipated croissant specials and scoff the likes of banoffee, pork and veal, French black truffle, and lamington variations; if you can dream it, Textbook has done it. Past flavour bombs include Golden Gaytime, matcha-raspberry, whipped cheesecake, fig and caramel, ham-cheese-bechamel, and the mighty Milo. These mind-boggling beauties sell out fast, so be sure to get in quick and see what all the fuss is about.
Infinity Bakery
Darlinghurst, Paddington, Manly
Infinity Bakery has been filling our bellies with organic sourdough since 1997 and you can be sure to find the same commitment to quality and bona fide ingredients in their croissants. Theirs is everything a great croissant should be—decently sized, golden all over, with a light-as-air inside texture and flaky layers for days. They only use the freshest, realest butter and local produce where possible at Infinity, and once you've had the good stuff, you'll never settle for second best again. If you're only after a tot-sized treat, Infinity's various Viennoiseries are happily available in mini form, but these pastries are so good we reckon you'll want to go big and savour the flavour.
La Renaissance
The Rocks And Waterloo
As a mainstay of Sydney's pastry scene, founded by a classically trained chef and pâtissier nearly 50 years ago, it's safe to say La Renaissance know a thing or two about croissants. Their plain, almond, and chocolate croissants are made fresh on the daily to the highest standard, and they can even make the cruffin feel bougie with a dreamy vanilla crème patisserie encased in layers of light, fluffy, laminated dough. If you're more of a savoury person, try the famous favourite ham & cheese croissant, which La Ren have levelled up with lashings of delectable bechamel sauce featuring shredded ham, cheese, and herbs; this moreish morsel in even available to take home frozen, so you can scoff at your leisure. Yes, please!
Brickfields
Chippendale
Brickfields is an icon among Sydney's bakery scene, with bready wares so good you'll find them in cafes all over the city, lending many a menu a dose of deliciousness. Being fans of high-quality Australian-grown flour and Pepe Saya's cultured butter, it goes without saying their croissants are just as good as their bread and deserve a spot on your next croissant crawl. Plain and chocolate flavours are a solid choice, or try the almond and almond-chocolate flavours for an extra special treat. Adorned with almond flakes and filled with a brandy and cinnamon-spiced frangipane, this one's a firm favourite among locals.
Looking for your next favourite brunch spot? You might find it here.
Image credit: Textbook Patisserie, STIX, Flour and Stone, Black Star Pastry, Madame & Yves, Humble Bakery, Brickfields