From a floating villa and a dreamy treehouse to a 1900s farmstay on an apple orchard, Airbnb is packed with unique stays that are equal parts luxurious and gram-worthy. But if you want to vacay at the best of the best (you really do), then you'll want to check out Australia's most wishlisted Airbnbs.
Covering every corner of the country and offering everything from jaw-dropping views and private lakes to outdoor baths, here are 18 of the most popular Airbnbs in Australia.
The Point
Shute Harbour, QLD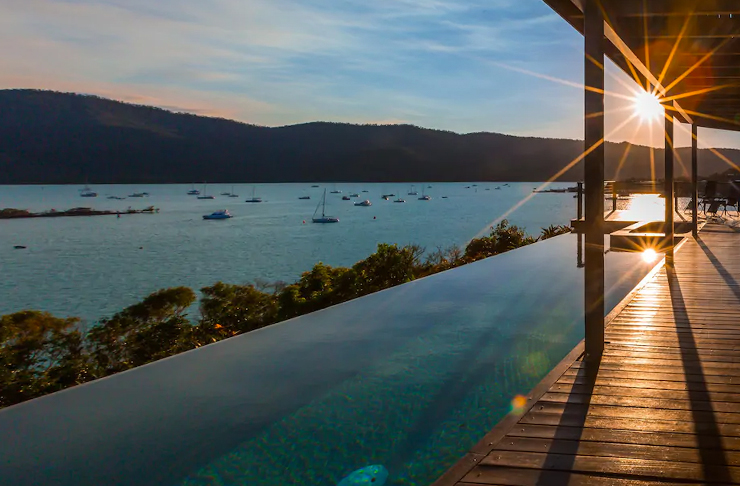 Let's just say, there's no other way to experience the Whitsundays quite like this. The Point is a super luxe self-contained studio with views that will leave your jaw gaping for your entire stay. Swim in your very own 10-metre infinity pool, sip on champagne in the jacuzzi and keep your eyes peeled for sea turtles, whales, dolphins and dugongs. Dare we mention the stunning World Heritage mountains you'll get to feast your eyes on all-day every day too? Book a stay here.
Yambara
Sleaford, SA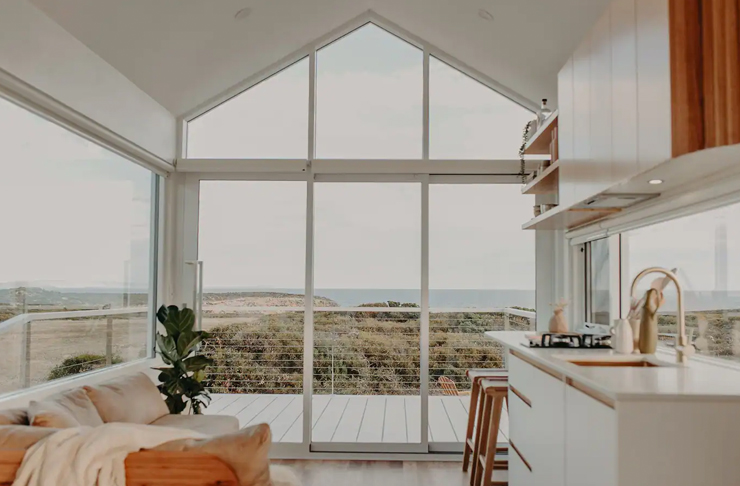 If you're keen to get off grid and soak up the rugged Eyre Peninsula, Yambara is the tiny private oasis calling your name. Lying 80-metres from the secluded Sandy Point Beach, this hideaway also overlooks Sleaford Bay and Port Lincoln National Park, both of which mean you're in for some spectacular whale watching. When you're not frothing over your surrounds, the actual interior make-up leaves nothing to be desired in the way of stunning architecture and detailing.There's a double shower, Moroccan tiles from Tiles of Ezra and beds pummelled in the goodness that is Bed Threads and I Love Linen. Book a stay here.
Treehouse In The Australian Bush
Swan Valley, WA
Nestled high on a ridge overlooking the Swan Valley, this jaw-dropping treehouse is surrounded by stunning views from every angle—whether you're chilling in the jacuzzi, enjoying a wine on the huge lofty deck, cooking up a feast in the outdoor kitchen or just chilling by the pot-belly fireplace. The spacious home sleeps up to 10 and is only 40 minutes from Perth, so it's perfect for a relaxing weekend with a few friends. Book your stay here.
Bill's Boathouse
White Sands, SA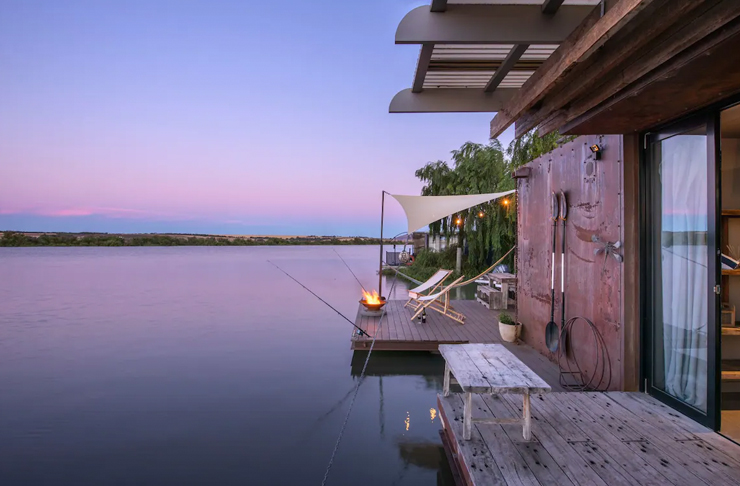 Whether you're up for a workation or just want to travel about in the most sustainable way possible, Bill's Boathouse is the Airbnb that ticks all the boxes. Cosy, self-contained, romantic—this eco pod does it all. Catch a fish and cook it up on the Weber or kick back and soak up some bubbles in the outdoor bath while you stargaze at the night sky. This one sleeps up to two and yes, it's even more magical in person. Book a stay here.
Villa 16 The Edge
Hamilton Island, QLD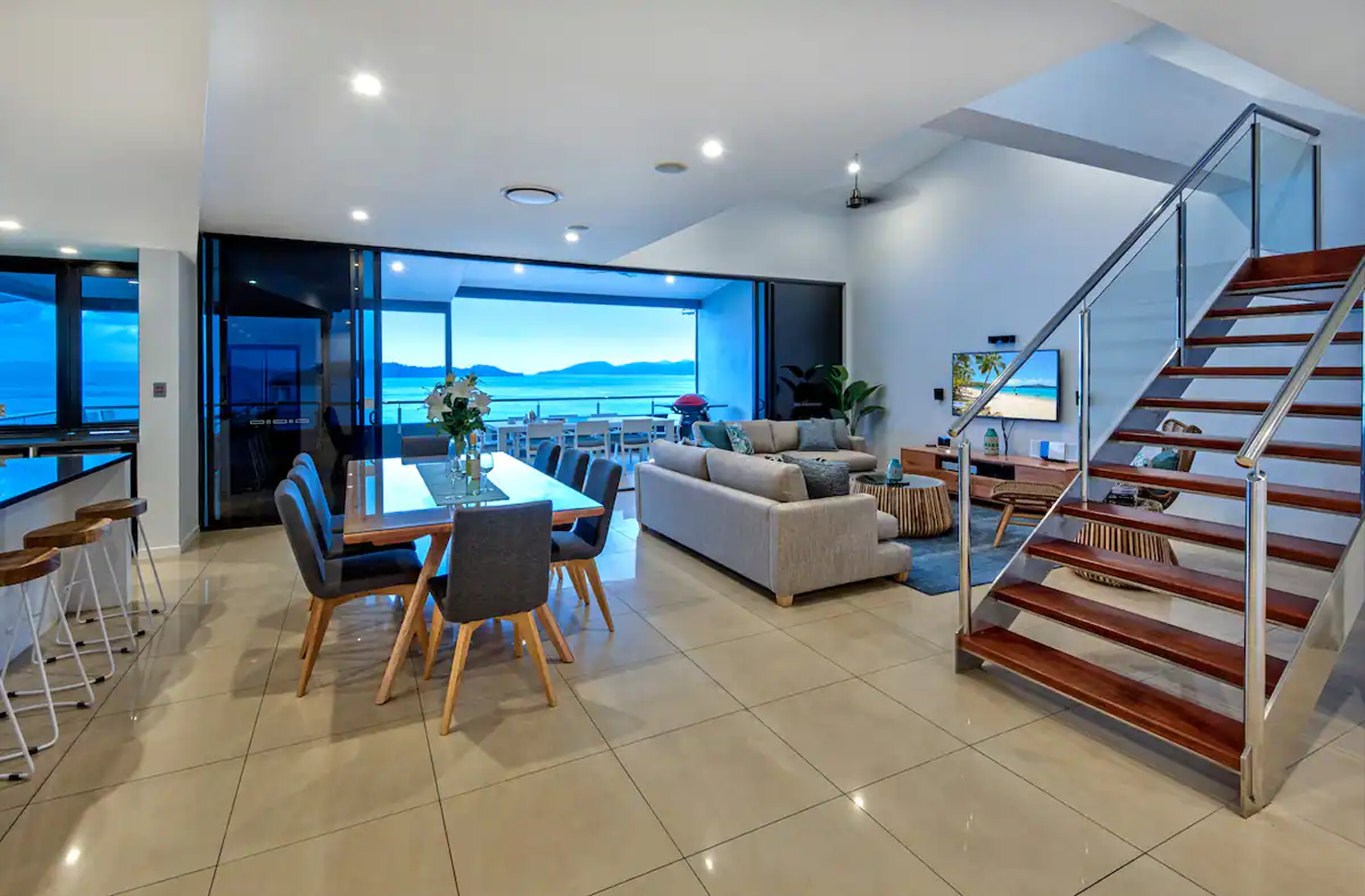 Setting a new standard for luxury accommodation on Hamilton Island, Villa 16 The Edge is the place to stay when you're looking to seriously impress (or be impressed). This opulent tropical Airbnb boasts floor-to-ceiling windows and doors which ensure unparalleled views of the ocean, sleek and sophisticated furnishings, access to one of the island's only pools and a BBQ on your private deck, perfect for cooking up a feast. The lavish two-storey Airbnb sleeps eight guests, with three spacious bedrooms and two bathrooms—we recommend snagging the master bedroom so you can soak in the huge spa bath, with an ice-cold cocktail in hand. Book your stay here.
Beekeepers Cape Liptrap
Gippsland, VIC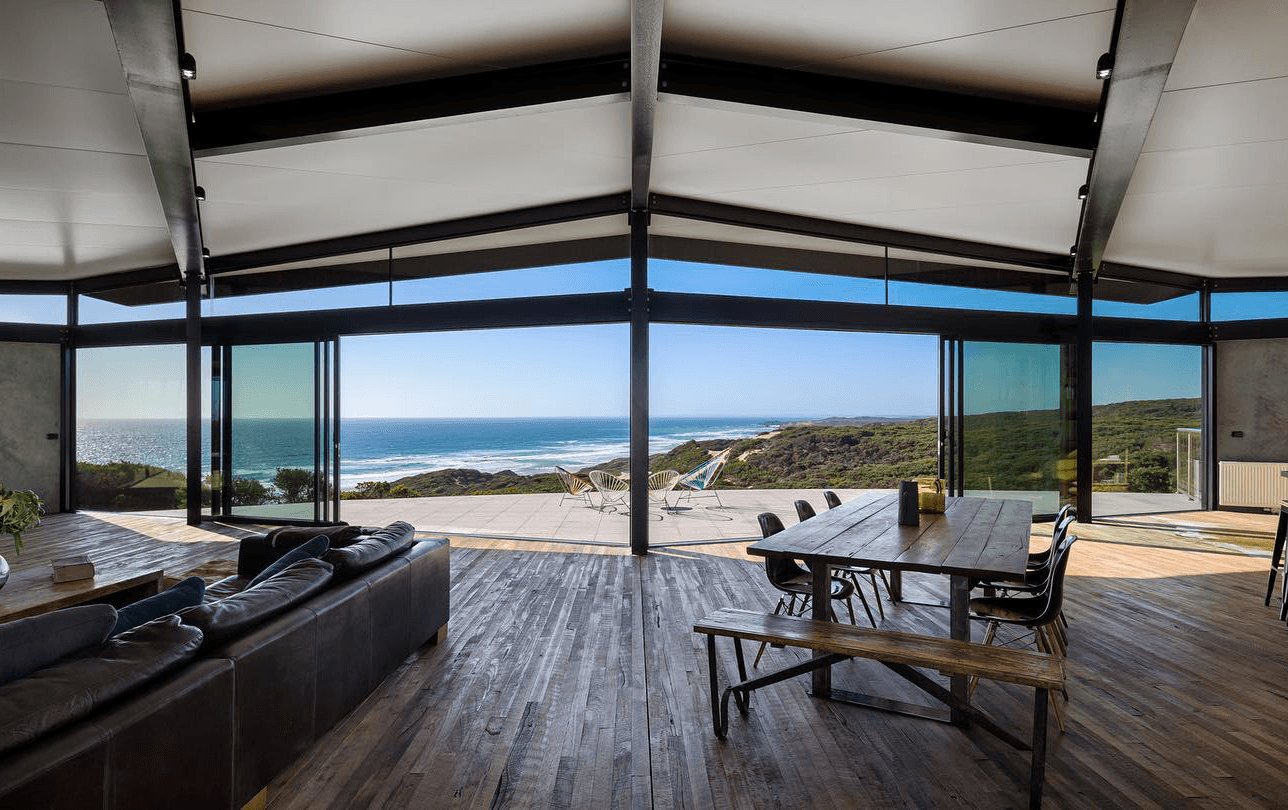 Looking like something straight out of a Bond film, Beekeepers is majestically positioned amongst the hills on its own 640-hectare private national park and looks out over the coast of Cape Liptrap. The house is immaculate and right up there for the best Airbnb in Victoria, it has a wide lounge dining area with wooden floors, as well as a pool that provides a massive panoramic view out onto the beach below. This is a truly unique stay, the property has a three-kilometre driveway through beautiful bushland and even has its own private stretch of beach. It's also literally off-the-grid, operating purely off solar power. Book a stay here.
The Pod
Lewisham, TAS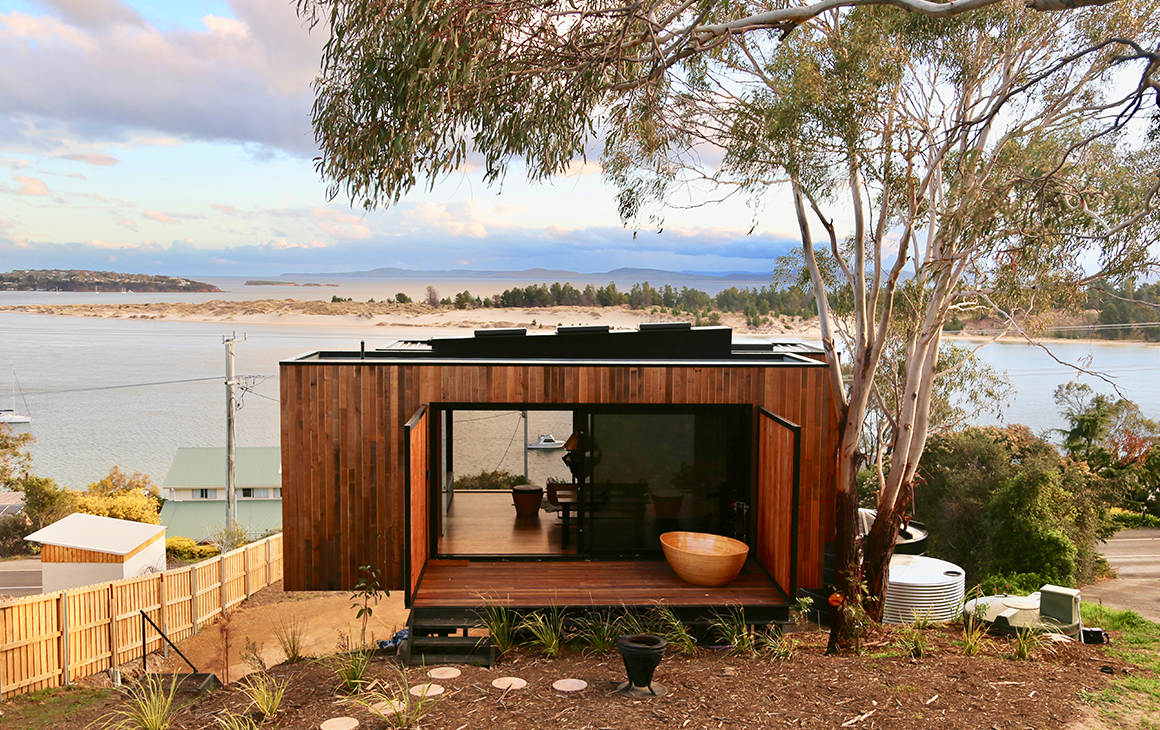 If you're a Grand Designs fan (right here) or are just a sucker for a beautifully crafted home, then you'll want to book a vacay at The Pod stat! Located in the sweet seaside town of Lewisham (just a 35 minute drive north east of Hobart), this property was described by Grand Designs Australia host Peter Madison as a 'love letter to Tasmania'—and we back that. Floor to ceiling glass shows off stunning views of Frederick Henry Bay and the Southern Ocean as well as Mount Wellington/Kunanyi out to the west. At just 40-sqm the space is small but perfectly formed with a handcrafted suspended fireplace (that looks like a piece of art) and a bespoke Huon pine outdoor tub made with timber sourced from the depths of Lake Pieman. Yep, it's no surprise why this is one of the best Airbnbs in Australia. Book your stay here.
Alkira Eco-Glamping Hut
Emerald, VIC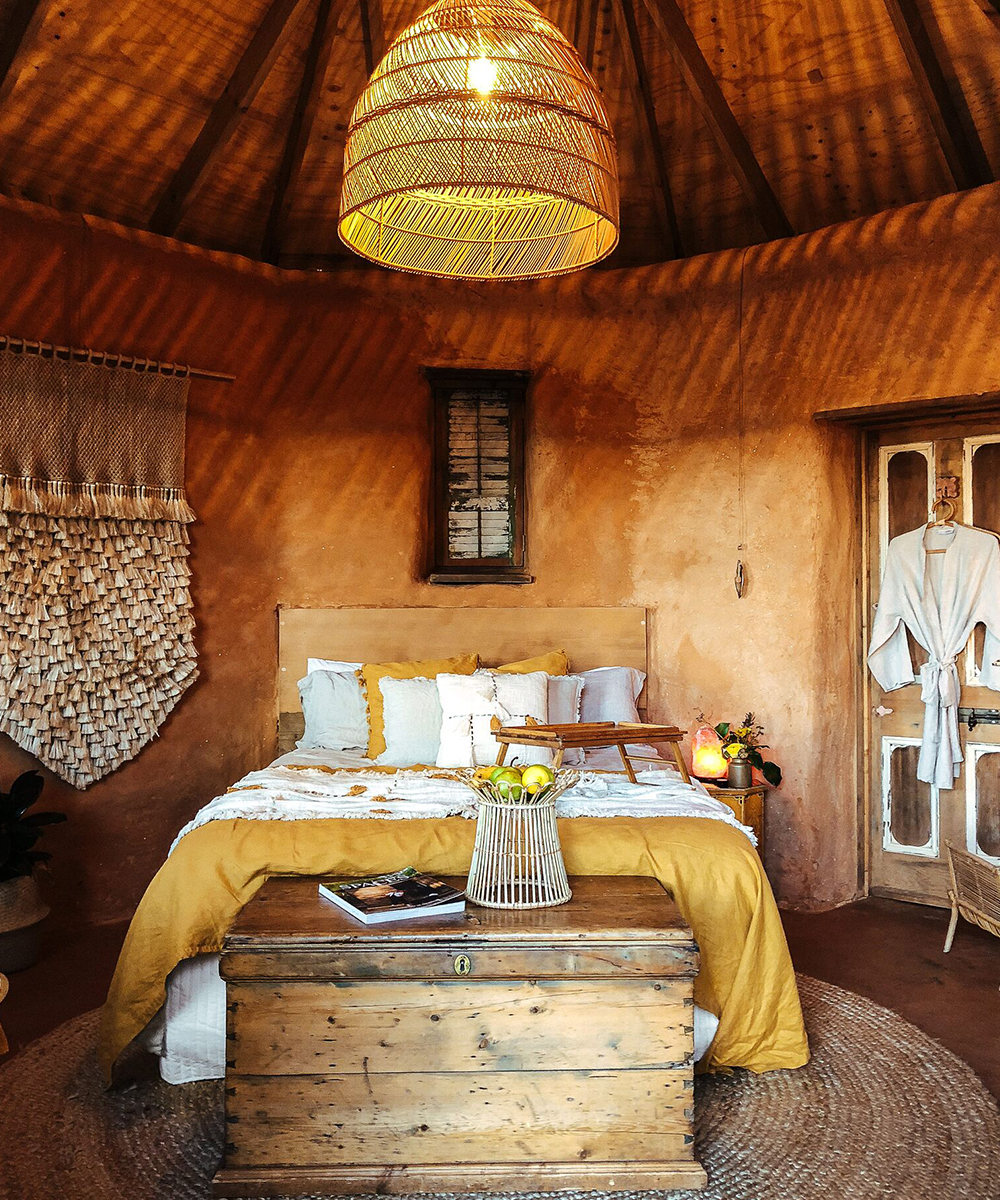 Looking like something straight out of a fairytale, this dreamy hut called Alkira, is located on a sprawling 40-acre property in the Dandenong Ranges. Just an hour's drive from Melbourne, this secluded paradise will see you soaking up the natural surroundings with the hut's outdoor kitchen and ample seating areas perfect for kicking up your feet and diving into a classic book. And while it's tempting to spend all day in the straw-bale yurt, the property is on the doorstep of loads of must-see places like nearby Emerald Lake and the Kokoda Track Memorial Walk. Oh, and don't be surprised if you see a cow, horse or alpaca when going for a stroll. Book your next vacay here.
Apple Orchard Farm Stay
Blackheath, NSW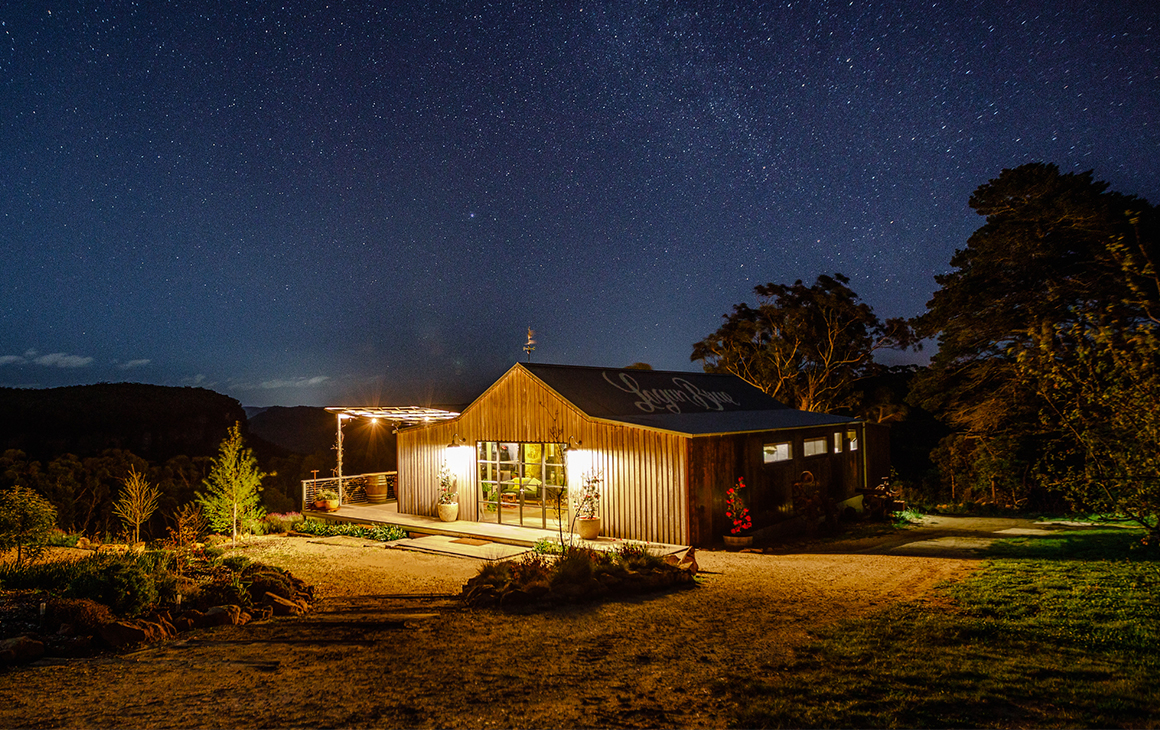 If you like your holiday to be both beautiful and unique then we have just the accommodation for you. This gorgeous farm stay will see you resting your head in a 1919 restored Machinery Shed on the oldest remaining apple orchard on shipley plateau. Perfect for a romantic stay, you'll score your own private Blue Mountains escarpment views whilst soaking in the outdoor freestanding tub. Cosy up by the fireplace with a glass of vino in hand or explore the Orchard and it's secret lookout where you'll wander through the apple trees, meet the chickens and unwind in nature. This place is seriously dreamy. Treat yourself to a visit right here.
The Edge
Port Douglas, QLD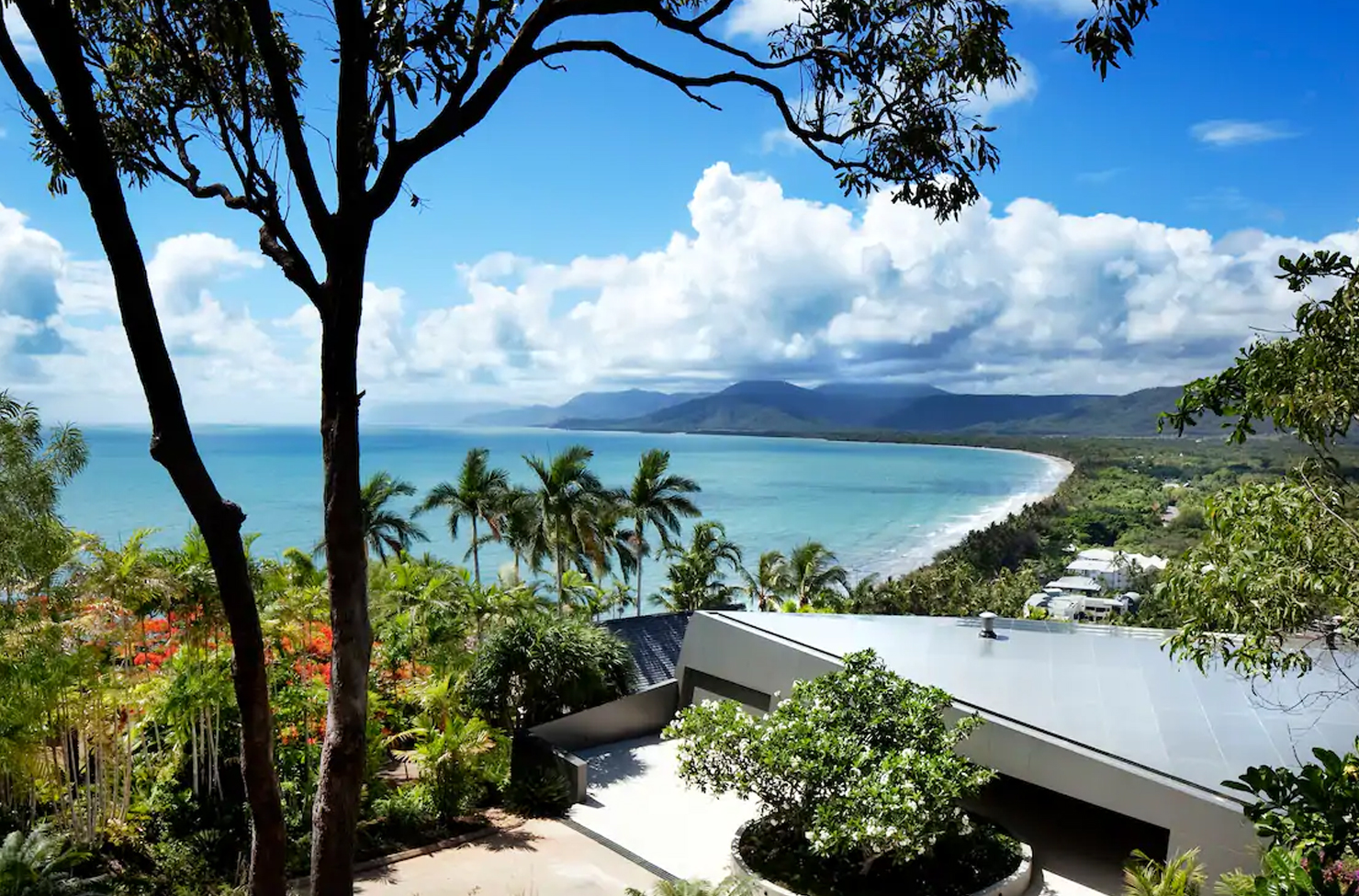 Your eyes do not decieve you, The Edge looks like it was plucked straight out of Spiderhead and into the real world. This fancy spaceship-looking Airbnb has been designed by Aussie architect Charles Wright and it sits directly above the township of Port Douglas (hence those magical views). While certainly not a stay for everyone, it obviously pulls a heft price tag, if you're into living a life of nothing less that luxurious—we think it's pretty safe to say you'll find it all here. Naturally, The Edge has a 10-metre infinity pool, a balcony with a built-in daybed, a butler's pantry and a wine fridge. Book your stay here.
The Park
Yarra Valley, VIC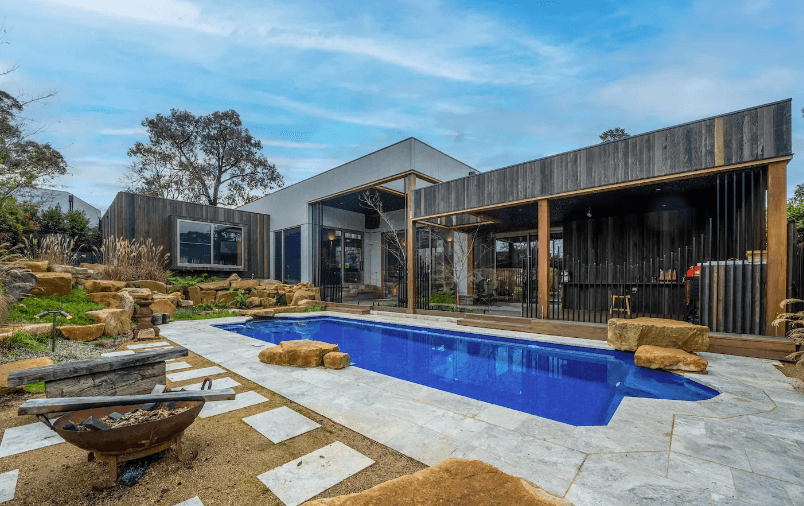 This airbnb has an internal river, I repeat, there is a river inside the property. The park was designed with the goal of creating an immersive experience–to showcase the harmony between nature and architecture. Located less than an hour from the CBD, The Park provides a sophisticated oasis where you can unwind surrounded by a beautiful landscape. If you're feeling particularly fancy, you can organise a private chef, in-house winery tasting or Yarra Valley Winery Tour when you book The Park. Book your stay here.
Little Red Barn
Doonan, QLD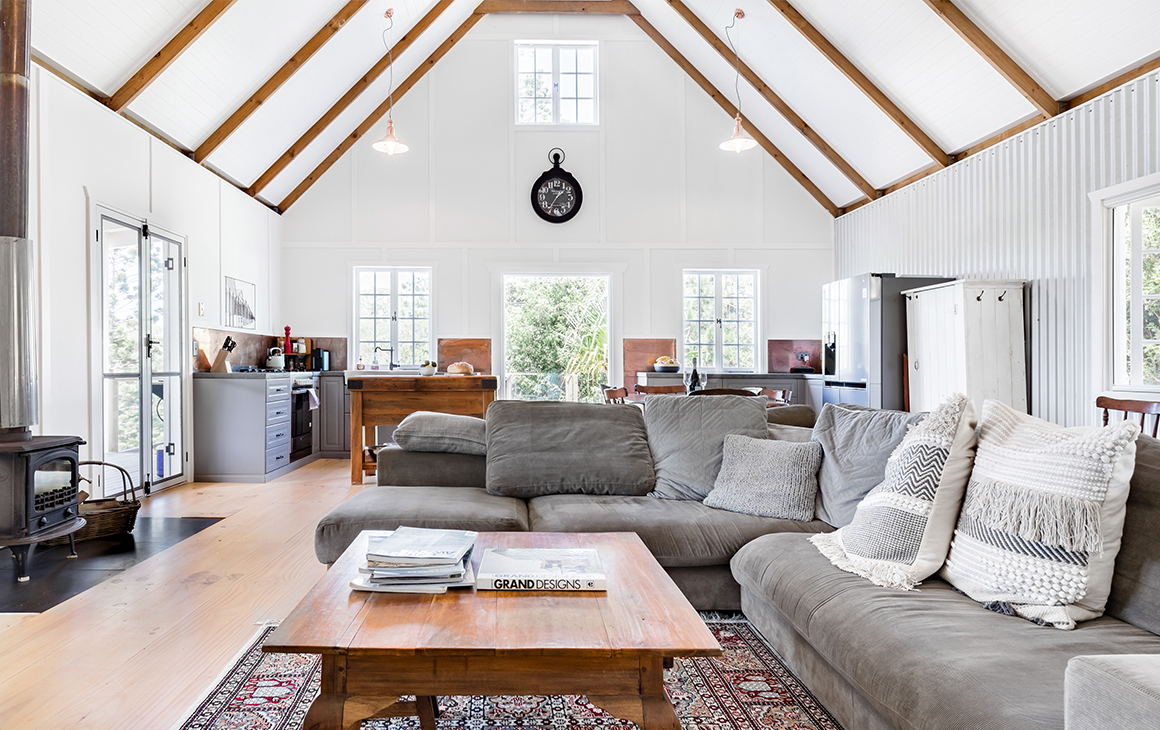 Pulling up to the Little Red Barn in Queensland's Sunshine Coast, it's not hard to see why this Airbnb is one of the most popular stays in Australia—it's straight up stunning. Oozing country charm with modern luxuries, you and six of your mates can have the ultimate vacay here. With high vaulted ceilings and a sprawling kitchen and lounge room (surrounded by a fireplace of course) the space is perfect for groups. There's wrap-around decks offering incredible views of Noosa Valley but our favourite part has to be the freestanding outdoor claw-foot tub and the heated above-ground pool that is just screaming for you to have a cocktail in it. Book a stay at one of Australia's best Airbnbs here.
Ryan's Rest Tiny House
Pemberton, WA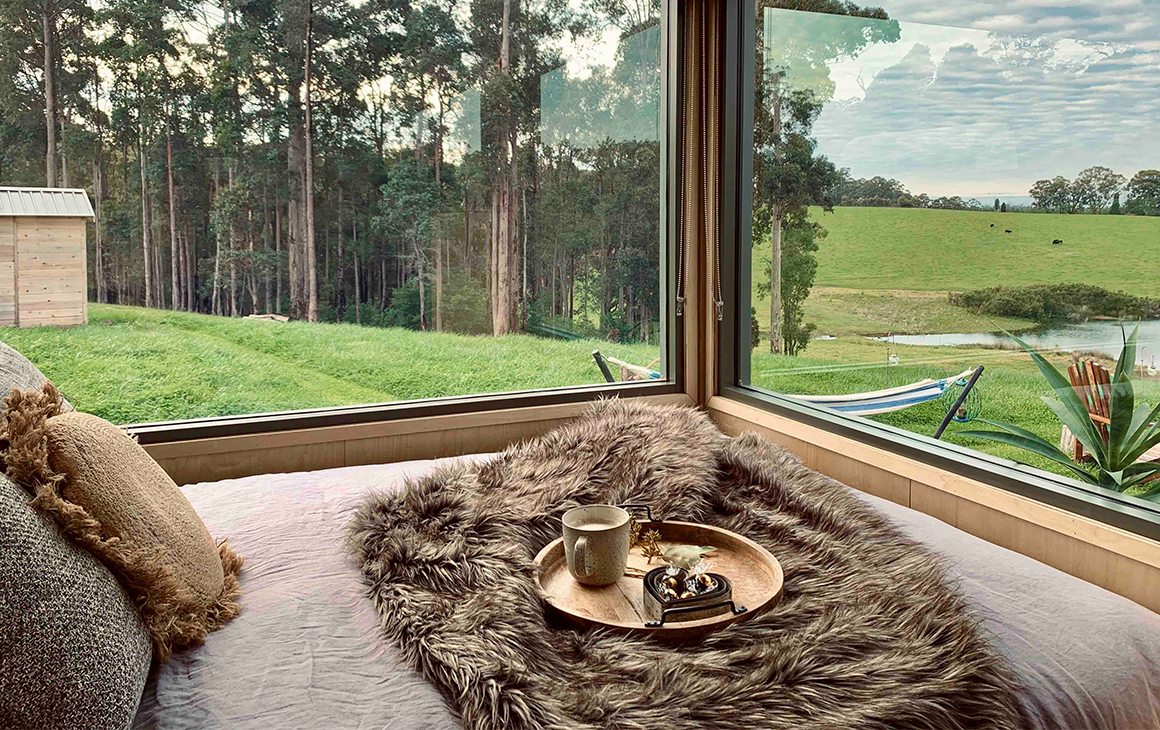 How would you like to wake up with your love or BFF in a totally off the grid retreat? If you're nodding your head excitedly then Ryan's Rest Tiny House is for you. Located in Pemberton, which is about an hour and half's drive south of Margaret River, this tranquil escape is netsetled on private farm land, surrounded by the Karri trees and Warren River frontage which is exclusively yours for swimming, canoeing or fishing. The accommodation itself has a full size queen bed down stairs and a double bed in the loft (all fitted with French linen bedding), and a full-sized bathroom and kitchen. Outside there's a patio area with a gas barbecue and fire pit that you can watch the sunset from. Our fave part? The hammocks strung amongst the trees on the edge of the river. Book your trip here.
The Cube
Murray River, SA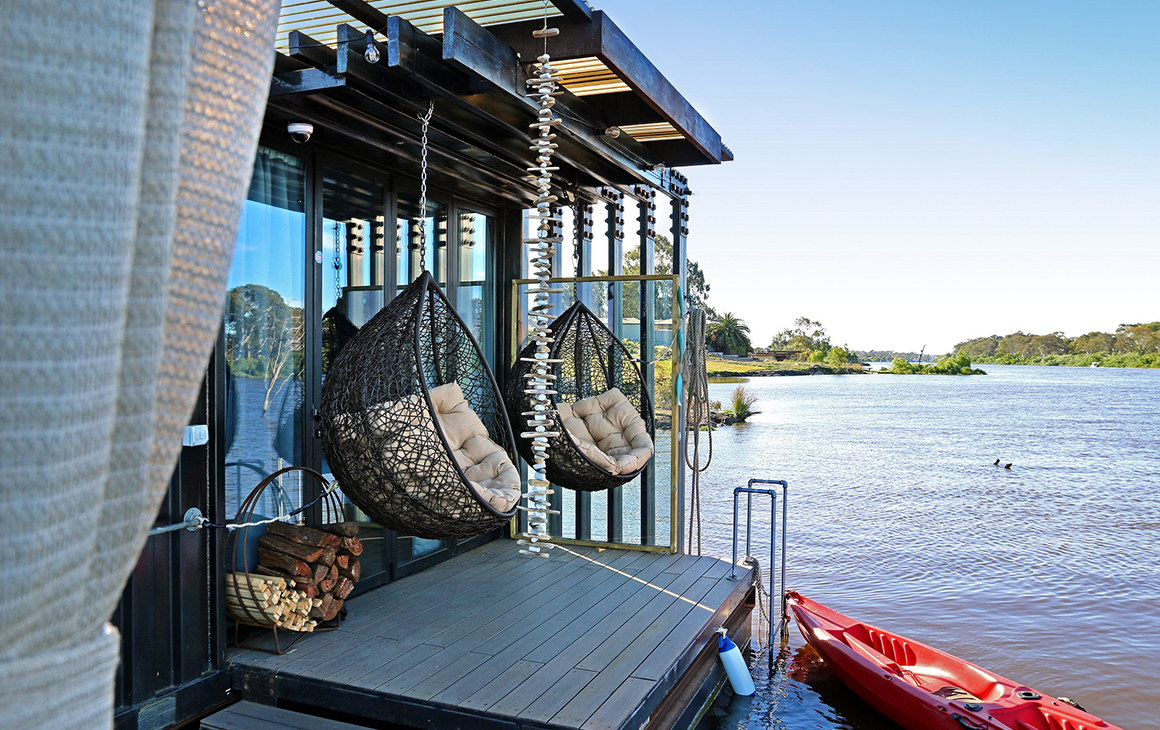 Picture this: you're relaxing in a hanging chair, vino in hand, your feet so close to the Murray River you'd think you're floating on it. Only you actually are because you've checked into The Cube, a floating eco pod docked on South Australia's famous riverway. This is the kind of accommodation you'll pinch yourself for staying at because it's so dreamy. With space for two, there's a queen bed, full ensuite with shower, plus a kitchenette and lounge area that goes out onto the deck adorned with fairy lights and a BBQ. The good folks who run The Cube will also stock your fridge with brekky for two (think: bacon, eggs, avocado, tomatoes, bread), plus a two-man kayak should you want to explore your stunning backyard. What are you waiting for? Book your stay at this incredible spot here.
Bruny Island Hideaway
Bruny Island, TAS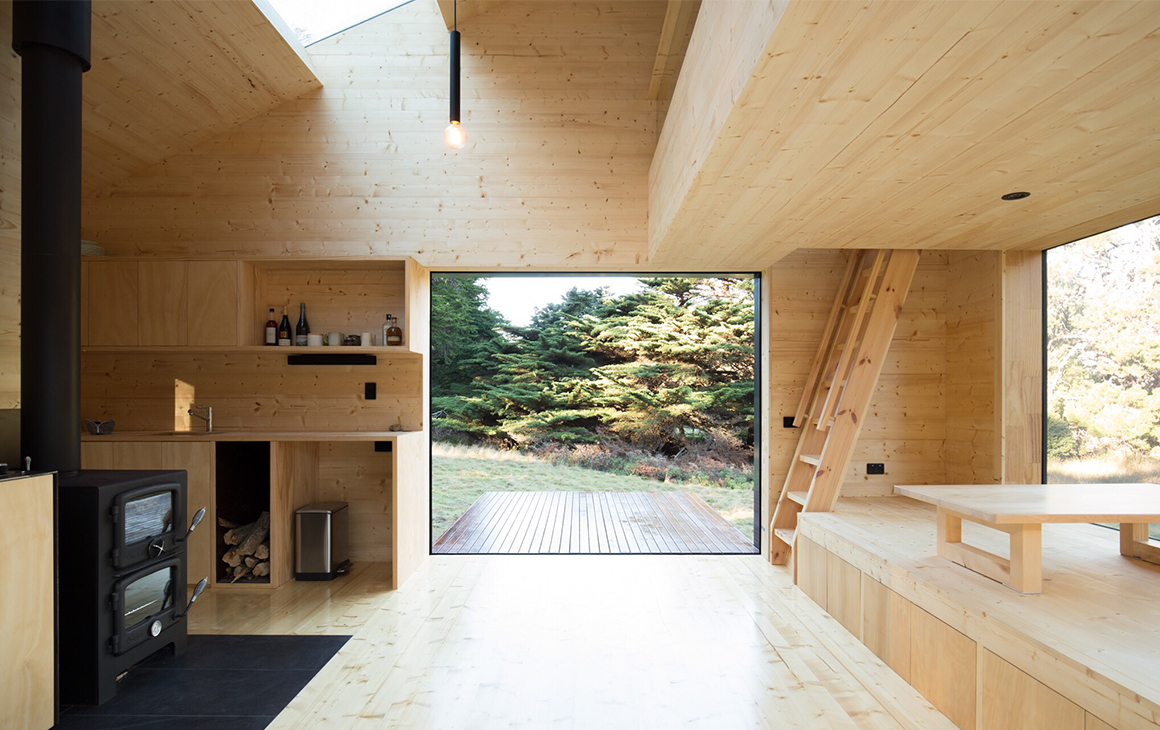 If you haven't yet been to Bruny Island yet, put it to the top of your must-visit list. Home to the freshest seafood, tastiest wine and cheese, a stay here is essential and this gorgeous hideaway is just the place to rest your head. Surrounded by 99 acres of conservation forest, you'll hear the birds during the day and wallabies at night, while eagles soar in the sky. It's also perfectly located to get a glimpse of the famous Southern Lights. The cabin itself is minimalist chic with clean lines, large windows and Blatic pine floors. There's a cosy bed in the upstairs loft, a stylish bathroom, compact kitchen and fireplace. This cabin is all about celebrating the natural surroundings so you'll absolutely be spending a lot of your time soaking in the outdoor tub or sunning yourself on the deck. Book a stay at the Bruny Island Hideaway here.
Treehouse
Blue Mountains, NSW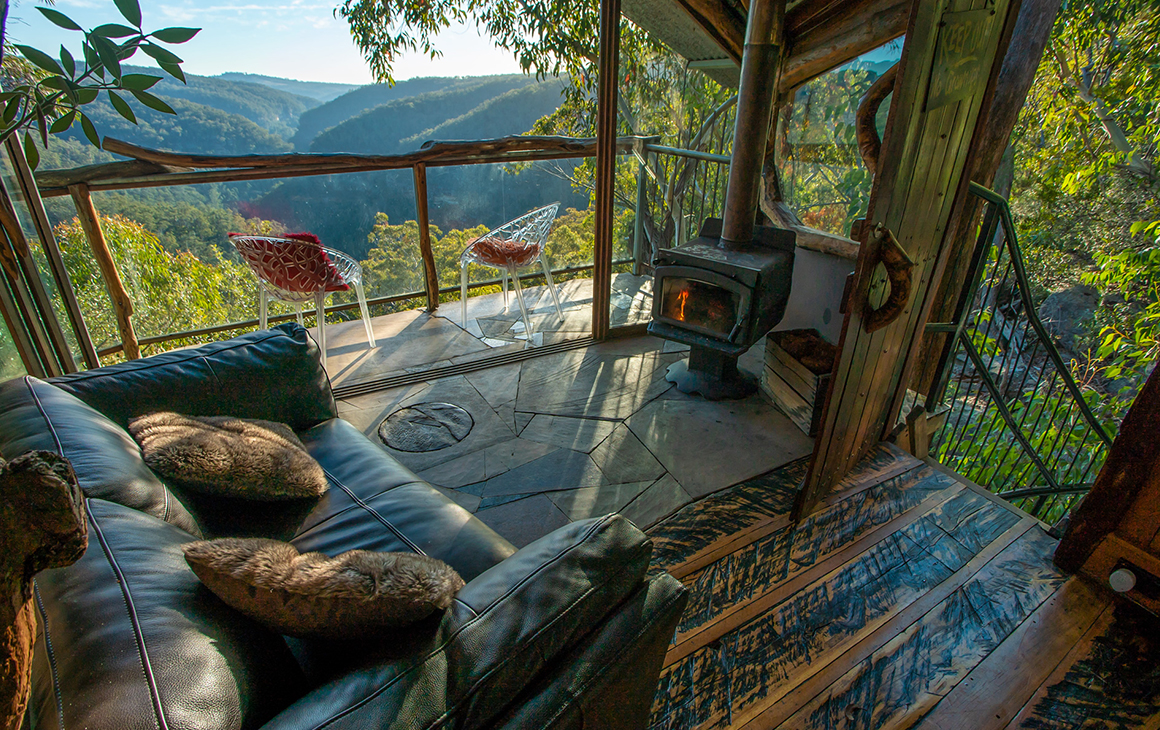 Make like you're in a Disney movie at this truly breathtaking Airbnb. Located amongst 600 acres of private wilderness in the Blue Mountains and perched high in the sky this secluded treehouse offers a back-to-nature experience in style. Nestled between two National Parks and a World Heritage listed rainforest, this place is totally one of a kind. With floor to ceiling windows so you can soak up the sweeping views of Bowen's Creek Gorge this accommodation is all about blissing out. There's a cosy lounge with a fireplace, a deck to sip wines on, a queen bed and best of all, a spa. Yep, you've hit peak holiday mode. Book your stay at the treehouse here.
Clouds Safari
Beechmont, QLD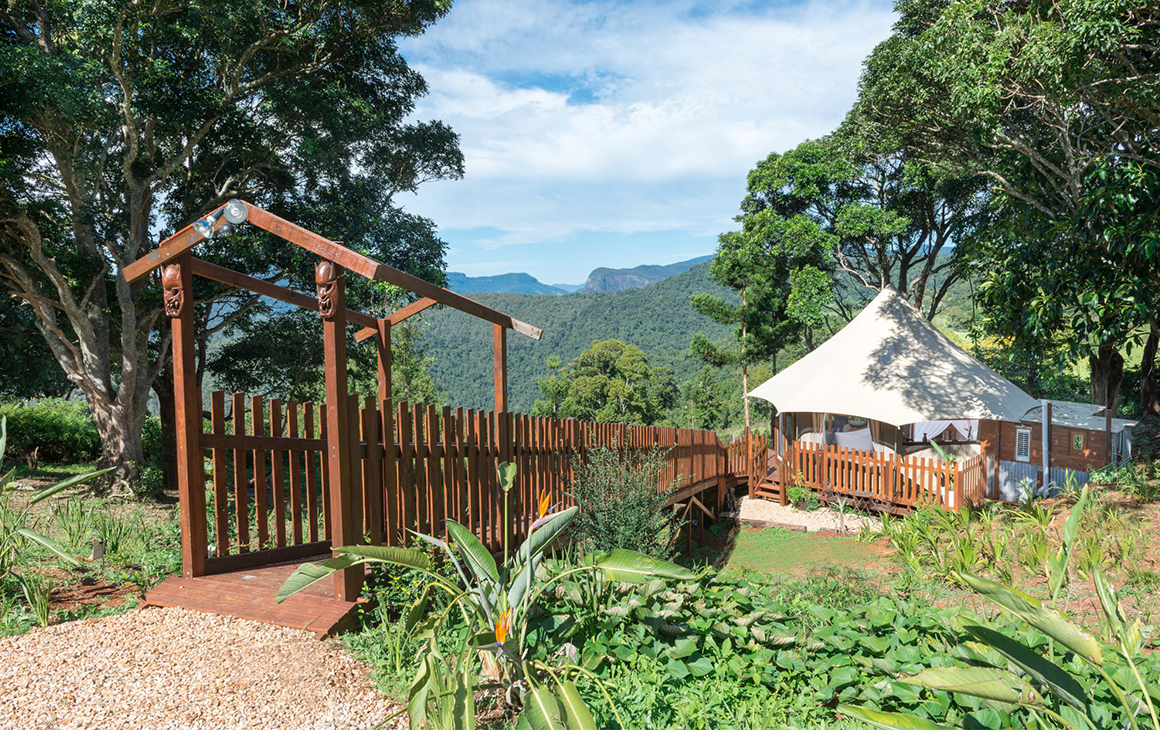 Perfect for couples, besties or a solo adventure it's not hard to see why Clouds Safari is one of the best Airbnbs in Australia. Situated in the Gold Coast's lush hinterland, and just a five minute drive from the world renowned "Heart shape waterfall" also known as Killarney Glen, the location is a 10/10. The glamping style tent is fitted out with all the luxuries you could want, including a four-poster bed with a romantic canopy, a free standing tub, a sprawling deck complete with outdoor dining room and BBQ, plus floor to ceiling windows providing jaw-dropping views from every angle. And to complete your stay, they've even got a huge projector screen so you can have a movie marathon from your bed or bath. Now that's fancy. Head here to book your stay.
Want more holiday inspo? Check out these gram-worthy islands right here in Australia.
Image Credit: Airbnb
Editor's note: Urban List editors independently select and write about stuff we love and think you'll like too. Urban List has affiliate partnerships, so we get revenue from your purchase.