Whisking yourself away to the mountains and neighbouring valleys is about the closest thing you'll find to winter on the Gold Coast.
Those bright, crisp mornings; the crackle of a fireplace; babbling streams; and getting snuggly under the covers. Sounds blissful, right?
You don't need to travel far to feel you've truly escaped, and, fortunately for us, there are plenty of fab options right on our doorstep. So, dust off your cosiest winter jumper and slippers, pack up the car and check into any one of these cute-as-a-button Gold Coast cabins and cottages, perfect for your post-iso winter escape.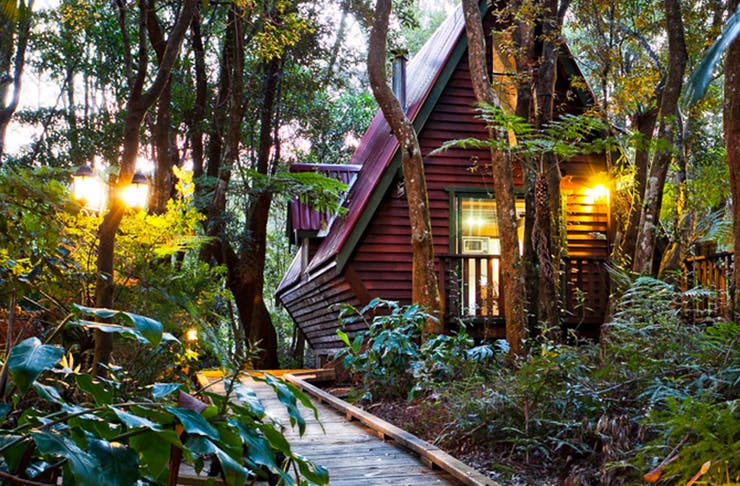 Private Eco Rainforest Cabin
Mount Tamborine
If a rustic but stylish eco cabin is your jam, then you're going to want to look at checking in to this newly renovated rainforest hideaway. Originally a hardwood timber cow milking shed built in 1932, you won't recognise it now. Looking over a lush valley towards the ocean, a stay here will have you swapping internet and reception, for incredible views, yoga mats and housemade muesli.
Oceanview Retreat
Mount Tamborine
Nestled among the trees on an avocado farm, this tiny retreat is the ultimate escape from the hustle and bustle of the city. Soak in incredible sunrises each morning and the twinkling lights of Surfers Paradise at night, all over a glass of vino, of course. It gets chilly at this Gold Coast cabin, so be sure to pack warm clothes and your Uggs.
The Mouses House
Springbrook
Nothing screams romance like a setting taken straight from the page of a fairytale book. Snuggled amid an enchanted forest filled with pixies and unicorns, The Mouses House Rainforest Retreat is just 30 minutes' drive from the coast, yet a world away from care. These magical cedar wood chalets are self-contained and fully kitted-out with a fireplace, BBQ, cosy furnishings and some with their own jacuzzi on the deck. Okay, maybe we lied about the pixies and unicorns, but they'll probably visit you in your dreams at these Gold Coast cabins.
Seaview Farm Retreat
Mount Tamborine
Just beause you're headed for the hills, doesn't mean you need to camp out in a musty wooden shack with haphazard décor straight out of the 80s. We're loving Seaview Farm Retreat for its modern yet still little-bit-country take on a mountain escape, featuring vaulted ceilings, a light and bright sitting area, timber floors, crisp white linen and morning breakfast basket delivery. Once a sprawling cattle farm, today the grassy property is home to a few resident alpacas plus the odd guinea fowl and sheep. Paired with dreamy 180-degree views across GC's glittering coastline, there's a good chance you'll want to settle in for good.
Crystal Creek Rainforest Retreat
Tweed Valley
Warning: this place will take your breath away. Set in the forested rolling hills, just across the border in northern NSW, Crystal Creek Rainforest Retreat is a little, okay a lot luxury, but totally worth the splurge. All private accommodations are architecturally-designed, and you can choose between creek-side spa cabins and rainforest canopy bungalows, or go completely blingin' by booking into the stunning luxury lodge with its own solar-heated plunge pool fringed by tropical lushness.
Witches Falls Cottages
Mount Tamborine
Nestled in Mount Tamborine's lush rainforest, Witches Falls Cottages are sanctioned as "adults only" so you can count on the serenity of chirping birds and crickets, rather than screaming kids. You'll love the daily baked bread and breakfast hamper delivery, wood fireplace, fluffy bathrobes, private courtyard garden with BBQ, and all just a short drive from the local wineries and cheese-making factory.
Waterfall Hideout
Tweed Valley
Hidden away in the lushly fertile Tweed Valley and an easy 45-minute drive across the border, there's just one secluded cabin up for grabs at Waterfall Hideout. This little gem is self-contained with a rainwater tank, volcanic outdoor bath, wood fireplace, old-school board games, and palms and ferns lining the private back deck. Considering its located on five acres of beautiful gardens it'll quite possibly feel like you're the only ones for miles, so you might be tempted to shed the clothes and totally get back to nature.
Tommerup's Dairy Farm Stay
Scenic Rim
If you're the type who can't sit still reading books we reckon you're going to love the full experience on offer at Tommerup's Dairy Farm Stay. Tommerup's only cottage oozes rustic charm or you can book the whimsical historical homestead which sleeps 12, if you need room for extra bodies. What's best, guests are invited to join in on activities like cow milking, animal feeding, and egg collecting, or to take a picnic by the nearby creek. Later, snuggle under the stars and beside the outdoor chiminea fireplace, just don't forget the marshmallows and red wine. The 90-minute drive from the GC is worth it.
Spiddal Cottage
Tamborine
This wee cottage will melt your heart, with its daintiness and lakeside position in the meadows lining the foothills of Mount Tamborine. Bundle up your loved ones and get cosy watching movie marathons by the pot-belly stove, but not before a dreamy afternoon exploring the postcard-worthy countryside surrounds, or an evening counting shooting stars. Self-contained Spiddal Cottage even comes with access to a tinnie and kayaks for rowing out and fishing on the glassy lake. What do they say? Good things come in small packages.
Booked your stay and now need an itinerary? Here's the best things to do in Tamborine Mountain.
Image credit: The Mouses House and Private Eco Cabin