Sometimes we wish we could forgo our love affair with wine, or penchant for a pre-dinner beer appetiser. Oh how healthy our bank balances would be!
Dining out would be half the price had we not ordered that second bottle of sav blanc on a whim, conversation following. But it doesn't have to be that way. Escape the kitchen or three-day old leftovers, with our pick of seven of the best BYO restaurants on the Gold Coast.
Hachi
Hip hangout, Nobby Beach has no shortage of fab eateries, but want to save a few pennies (for more gyoza per se), then Hachi is your place! Menu highlights include ponzu salmon, wasabi steak, or crumbed scallops, but all your Japanese favourites are featured on their extensive menu. For southern Gold Coasters after a BYO hook up, you'll also find the original Hachi establishment at Palm Beach. But don't be bringing your six pack of stubbies, BYO is limited to wine only.
Where: 2249 Gold Coast Highway, Nobby Beach and 1/1136 Gold Coast Highway, Palm Beach
ZabIsan Thai
For a low-key easy night out in Burleigh, without the trendy furnishings and fancy cocktail lists, ZabIsan Thai is one of our faves among the best BYO restaurants on the Gold Coast. Serving up all your authentic Thai favourites like massaman curries, pad thai, tom yum, green papaya salad, and ginger chilli beef—every dish is a flavour sensation.
Where: 1742 Gold Coast Highway, Burleigh Heads
Cha Cha Japanese
Broadbeach institution, Cha Cha feels like it's been there forever (well, it kinda has!). All your oriental favourites are on offer, from small dishes like steamed gyoza, Agedashi tofu, and Okonomiyaki, to more fulfilling fare, like teriyaki ginger pork and beef donburi—washed down with your personal selection of red, white, or rose. Corkage is $2 per head.
Where: 6/2705 Gold Coast Highway, Broadbeach
Kohinoor Indian
Whether you've got a mid-week hankering for some butter chicken and lamb curry, or have had a big weekend and just need something to soak up the alcohol, there's nothing like a hearty serve of Indian food. We also know, there's nothing like saving a few extra bucks when drinking more of said alcohol. Palm Beach's Kohinoor Indian kindly lets you bring your own vino ($2 corkage per person). Forgot? No worries, stop in at the bottlo inside the adjoining shopping plaza.
Where: Shop 8, Fifth Avenue, Palm Beach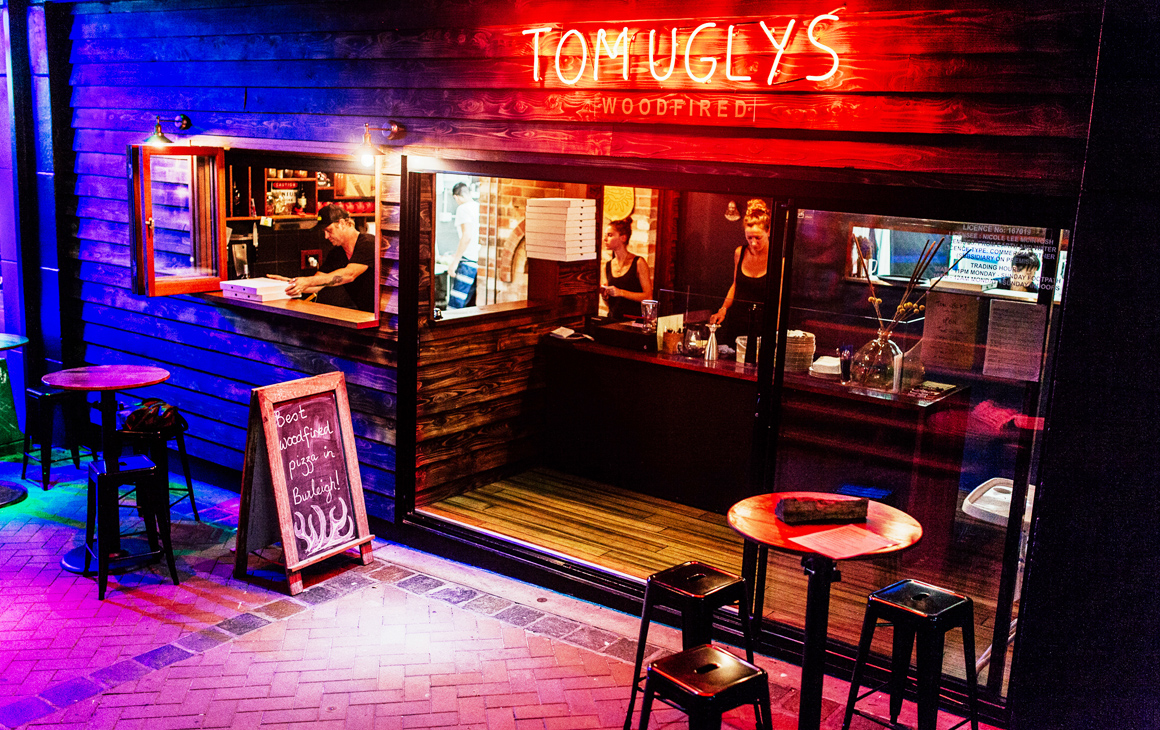 Tom Uglys Pizzeria
The best kind of pizza is no frills, few ingredients, fresh produce, and perfect bases. Tom Uglys excels at all aforementioned pizza perfectors, and even lets you bring your own bottle of wine to wash it down.
Where: 2 West Street, Burleigh Heads
Slurping Panda Noodle Bar
Re-purposing a retro mall thoroughfare, Slurping Panda's tables and chairs spill into the Old Burleigh Theatre Arcade, located across the road from the beach. Delicious and authentic beef pho, plus slurpable stir fries, curries, laksas, baos, and tasty Asian street food-inspired small plates. But take note, BYO is an extra special occasion—Wednesday nights only. Corkage is $5 per bottle, but also means more money to spend on noodles!
Where: 66 Goodwin Terrace, Old Burleigh Theatre Arcade, Burleigh Heads
Taboon
It's the wafting aromas that'll coax you in off the street. Arabic for stone oven, Taboon's melting pot of Middle Eastern flavours: mixed dips with pita, homemade falafel, oven-baked bread, slow-cooked lamb tagine, is the perfect accompaniment to a drop from the home cellar—wine OR beer, these guys generously let you bring either (or both!). Cost is $2.50 per person having a tipple.
Where: 514 Christine Avenue, Robina and Pines Shopping Centre, Elanora
Photo Credit: Ariana Gillrie for Metropolist