The Gold Coast's coffee culture has exploded in recent years, with new espresso bars, roasteries and boutique brewers seeming to open up every week. And that's where it gets contentious. You might love a nook in Palm Beach somewhere, but your friend swears their local in Southport is the best place to get their caffeine fix.
It's no easy feat hunting down the best coffee on the Gold Coast but we've happily knocked back plenty of cups of the good stuff, all in the name of research. Check out our picks for the best coffee on the Gold Coast and we're positive your tastebuds and Instagram followers will thank us. The only thing left for you to decide is how you like your coffee.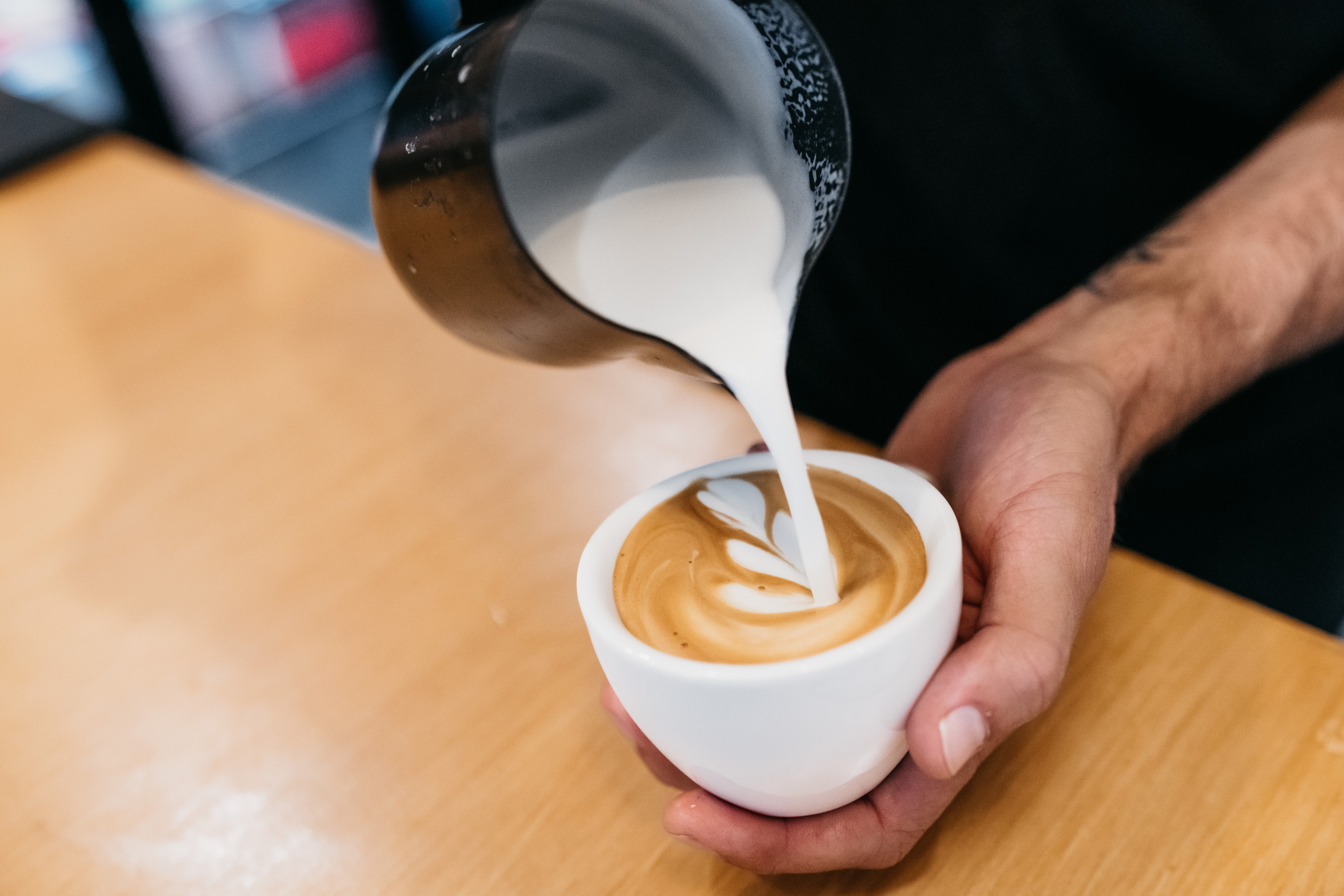 Wavybone
SOUTHPORT
The Gold Coast is definitely in no shortage of trendy coffee shops but when you hear that a retro coffee caravan turned speciality coffee lounge has opened up, you check it out ASAP. Originally pumping out quality drops in a vintage coffee caravan, Wavybone has opened up their first bricks-and-mortar location in Chirn Park and boy, do we love it. This culturally crafted coffee spot oozes trendy vibes and you can expect a beautifully crafted cup of locally brewed Blackboard Coffee any time you visit.
MADE Barber & Barista
Tugun
Tugun keeps impressing us with its mouthwatering eats and amazing coffee and Made Barber And Barista falls into the latter category. Tugun newbie Made Barber is both a modern barber using classic traditions and an espresso bar. The crew has designed a space that's not just for male grooming but also a communal space for the community, where people can meet and enjoy the simple pleasures of a fantastic cup of coffee. Serving delicious coffee by Moonshine Roasters, as well as a few sweet treats, Made's stripped back, minimalist space is the perfect spot to come unwind with a top notch brew.
Seadog Burleigh
Burleigh Heads
This tiny coffee nook has quickly become one of the best spots in Burls to grab a quality brew on the fly. Squeezed into bustling James Street, this four square metre hole in the wall (literally) stands where an ATM machine once was, and slings out top-notch coffee to start your day right. When you're all about quality coffee, you don't need more space—all you need to know is Seadog offers ORG Coffee from Peru as the house blend or for those long-black sippers, you're blessed with a new bean every week, showcasing a global range of boutique blends.
Blackboard Coffee
Varsity Lakes
If you drink coffee and you live on the Gold Coast, you know Blackboard Coffee. A long-standing favourite and contender for the best coffee around, their speciality Blackboard Coffee blend has been sprinkling caffeinated goodness around the Coast for years, and where better to try it than their flagship cafe? Boasting their own wholesale distribution line (and Nespresso friendly biodegradable pods), the good peeps at Blackboard love their coffee and sure know how to make a good one. Peek into their cabinet and you won't be able to resist their gigantic doughnuts, gravity-defying pastries and luscious granola bowls.
Espresso Moto
Palm Beach, Mermaid Waters
Espresso Moto opened its doors to locals and drifters passing through, hungry for a refined and inviting space in Palmy and with hearty meals and unpretentious, friendly service. Slinging some of the best coffee around, they've now just opened a brand-new location in Mermaid Waters, so if you're in the area, we definitely recommend you pop in for a visit.
Caffeine Kings
MIAMI
Early birds, rejoice. Pouring from 6am all week long, Caffeine Kings is the hole in the wall haunt you'll never want to leave. Fuelling your creativity with grungy alley art, your motivation with killer tunes and your soul with unlimited coffee, this Miami laundromat-turned-cafe can do no wrong. With free Wi-Fi flowing through the airwaves (ask for the password at the counter) and powerpoints available to recharge the lappy, you can even enjoy a knock off drink from 10am until midday.
Daark Espresso
Labrador
If you consider yourself to be a coffee connoisseur, then Daark Espresso should already be on your go-to list for serving some of the best brews on the Coast. The welcoming crew at Daark take their coffee very seriously and it shows in their delicious caffeinated goodness, their intricate latte art (expect swan-level art) and dedicated cult following. Pair your coffee with their drool-worthy meals—does hot smoked salmon and feta croquettes tickle your tastebuds? Chuck in dark timber furnishings, pops of lush greenery and a sleek wrap around deck and you've got a gorgeous space you could happily spend all day at.
Freshly Ground
Coomera
We love coffee. But more than coffee, we love passion. Beyond serving some of the best brews on the northern Gold Coast, Freshly Ground is a family-run cafe which has secured a special place in the hearts of locals, with their passionate, friendly approach. The eclectic joint lovingly serves up Merlo's smooth blend and boasts a range of delicious cabinet food. Tucked away on Dreamworld Parkway, just a stone's throw off the M1, there's a good chance you've driven straight past Freshly Ground. We're here to tell you...don't even think about doing it again. It's a foolish mistake and once you've tried your first cup of caffeinated goodness at this cafe, you'll never do it again.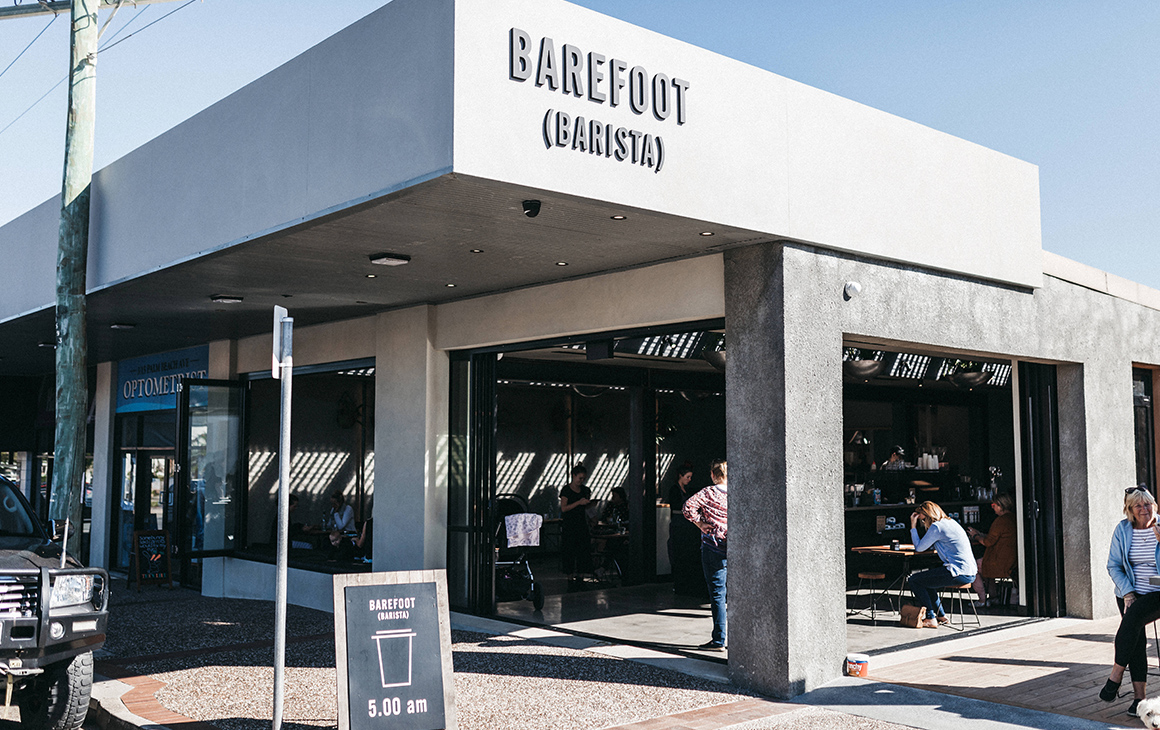 Barefoot Barista
Various locations
Barefoot Barista has long been known as a coffee pioneer on the local scene—the Palm Beach cafe seemingly pumping since it opened eleven years ago. A testament to its success, Barefoot now slings out boutique cups of joe from it's OG Palm Beach location, Mermaid Beach, Burleigh and Currumbin so there's no excuse for not swinging by. You'll find this well-loved joint teeming with surfers, locals and workers who are understandably hooked on their tasty drops. If the coffee isn't enough to convince you, chow down on one of their epic halloumi and mushroom rolls or their crispy potato hash and you'll be hooked.
Stairwell Coffee
Surfers Paradise
Skip the Maccas queues and head straight to The Centre Arcade's Stairwell Coffee, hidden beneath—you guessed it—stairs! This cute-as-a-button coffee joint serves up some truly delicious locally roasted coffees and cold brews, yummy jaffles (with a side of Pringles) and creative bagels. Look for their minty exterior—you can't miss it.
Foster & Black
Various locations
This speciality coffee chain describes itself as 'a growing movement bringing speciality coffee to unexpected places'. Yeah, it's pretty cool. Foster & Black espresso bars are truly diamonds in the rough—artisan coffee spots tucked into metropolitan shopping centres, providing a brief escape and a pause to enjoy a delicious brew. We are lucky enough to be blessed with Foster & Black's smooth Semi-Pro Coffee drops in both Pacific Fair and Westfield Coomera, so next time you're shopping up a storm, make your day a little brighter with a visit to these gems.
Nook Espresso
Burleigh Heads
Good coffee is worth the wait and the regular local crowd lining up outside is a solid indicator of the consistent quality drop served at popular Burleigh hole-in-the-wall, Nook Espresso. It's the perfect place to refuel after a surf, grab a quick pick-me-up on your morning wall or sit and watch the sunrise over the rolling waves. There's no doubt that Nook and good coffee go together like a flat white and a chat with your barista in the morning.
Paradox Coffee Roasters
Surfers Paradise
Tasting as good as it looks, this coffee shop in Surfers Paradise's The 4217 complex is hard to miss. Cavernous with vaulted ceilings, moody lighting, red brick and industrial finishings, Paradox Coffee Roasters is the kind of cafe that excites those with a lusting desire for warehouses and contemporary design. What else excites us about Paradox? Yep, it's the coffee. The passionate team roasts at their onsite commercial roastery daily and spreads their caffeinated joy to cafes throughout all of eastern Australia. Their bespoke blends and single origin coffees are truly phenomenal and unlike anything you've tried before but don't just take our word for it—we'll see you there.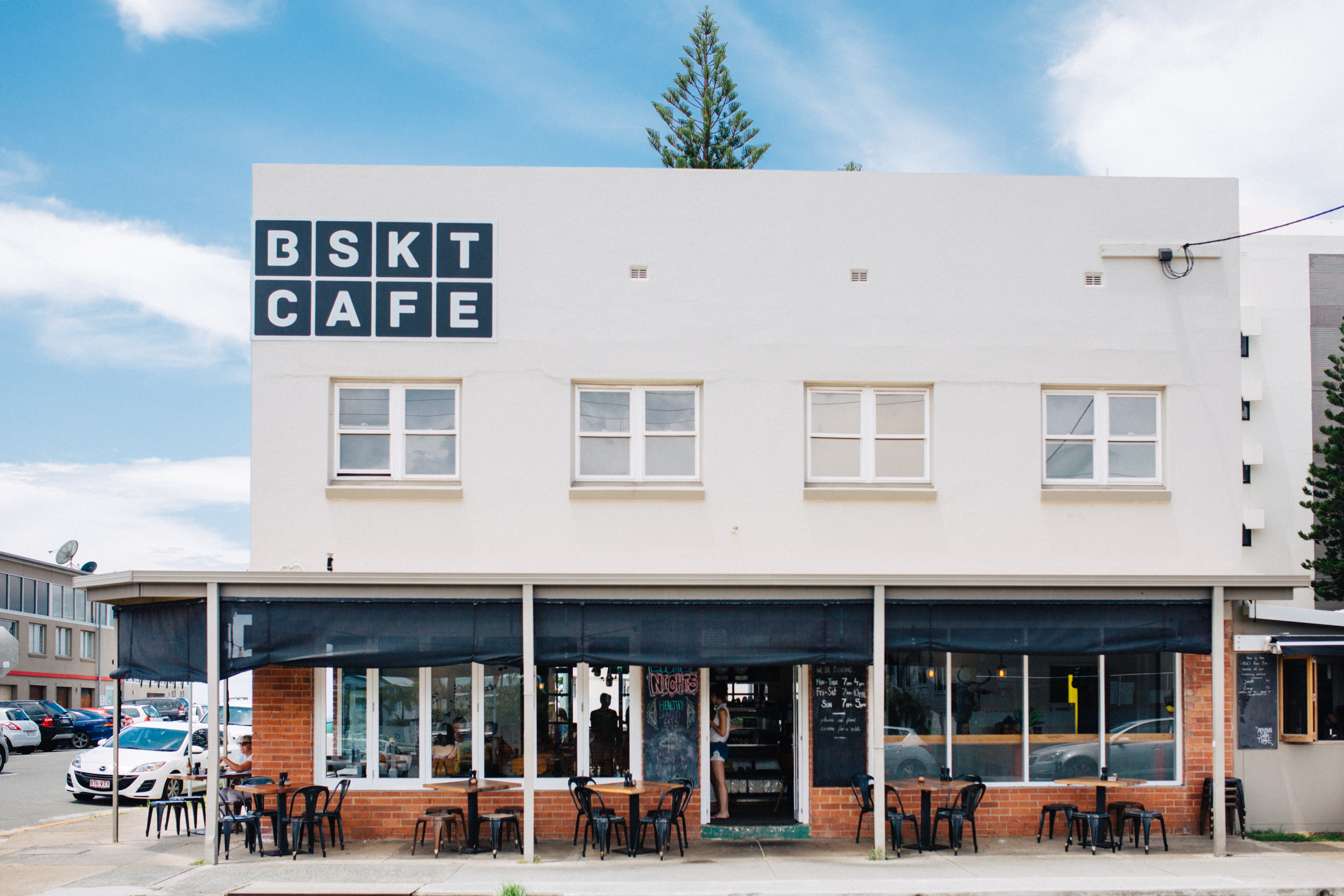 BSKT Cafe
Mermaid Beach
Beach and coffee are a match made in heaven and the smart folk at BSKT sure know it. Just a stone's throw from the salty waves, BSKT Cafe boasts wholesome, nutritious feeds and the hordes of walkers, cyclists and surfers lining up for a coffee attest to their brews. Grab your caffeine hit and relax on the beach or venture inside the simplistically stylish space, adorned with murals and soft lighting, Bonus: this dog-friendly spot attracts some of the cutest doggos around so prepare for lots of pats.
Commune
Burleigh Heads
This quirky coffee joint is one of the legends of the Burleigh coffee scene and stays true to its ethos of good coffee, good company and good vibes. Vintage furniture fills the space, quirky posters plaster the walls and upbeat conversation flows. Yep, it's just as cool as it sounds. Escape into Commune's outdoor garden space, recline into one of the retro lounge chairs and savour one of their cups of liquid gold.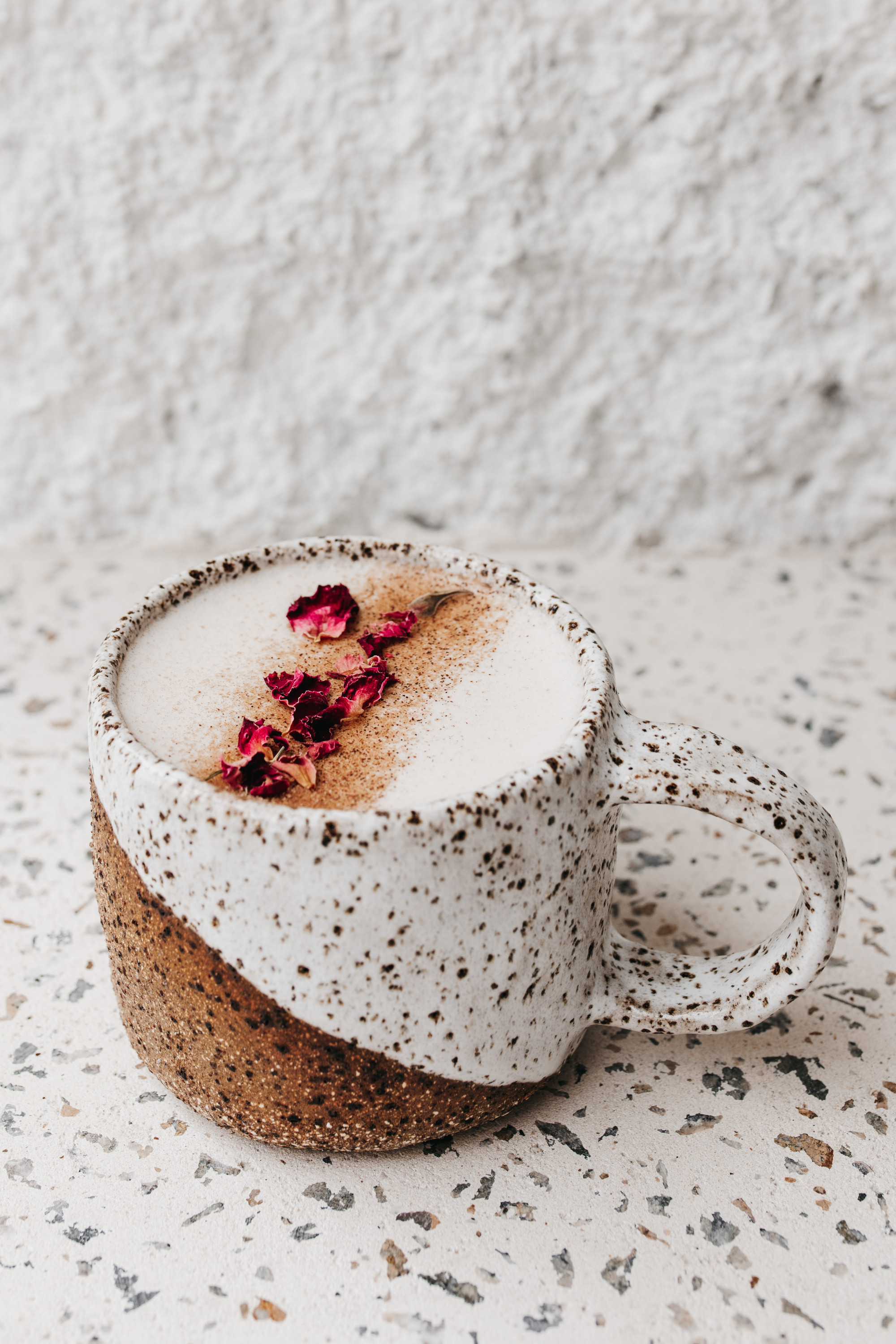 Next Door Espresso
Burleigh Heads, Tweed Heads
Stepping into Next Door's alfresco cafe will set your heart aflutter with its crisp decor, understated styling and breezy Mediterranean vibes. From the solid teak tables imported from Jakarta to the inviting blue and white striped seating, designer rattan loungers, olive tree centerpiece, and freshly-planted white bougainvillea and jasmine vines that will soon creep their way around the outskirts, Next Door is laidback bohemian luxury. You'll be able to enjoy their favourite organic Moonshine coffee—sourced from the tiny town of Federal—along with a delicious new menu that lends itself to the compact kitchen.
Bear Boy Espresso
Helensvale
The northern end of the Coast is in surprisingly short supply of trendy coffee shops, so when one pops, you need to know about it. Bear Boy Espresso is a sleek, terracotta-hued spot tucked away in Homeworld Helensvale, just a stone's throw from the motorway. Looking as though it belongs on the streets of New York, this trendy joint pumps out speciality Single O brews that are the perfect pick-me-up before work, with friends…well, anytime really. Jump in the car, hit up this oh-so-aesthetic cafe and sip on one of the best coffees on the northside of town.
Elk Espresso
Broadbeach
Guaranteed to draw a crowd any day craving their delicious coffee, Elk Espresso is a long-standing favourite in the Gold Coast foodie scene. Elk boasts speciality blends from Single O, but for those of you who like to spice up their morning cup of joe, keep an eye out for their regularly rotating line-up of guest roasters. Of course, you can't leave without trying (and falling in love with) their imaginative menu which oozes luxe with a modern twist. Changing with the seasons, the potato hash has amassed a cult-like following, the mango weis bar waffle is to die for and you can't go past their signature breakfast panna cotta.
Stable Coffee & Kitchen
Tugun
With coffee beans from Melbourne specialty roaster Seven Seeds, Balter beer on tap (yes, they're licensed), signature drinks like a Japanese-inspired Bloody Mary, kombucha by Probiotic Kitchen and lightly sparkling lavender and rose water by Madame Dry, we're honestly ready to move into Stable Coffee & Kitchen and never leave. Not only does Stable serve some of the best coffee around, but it's also one of the prettiest Gold Coast cafes you'll ever lay eyes on, so if you haven't been yet, what are you waiting for?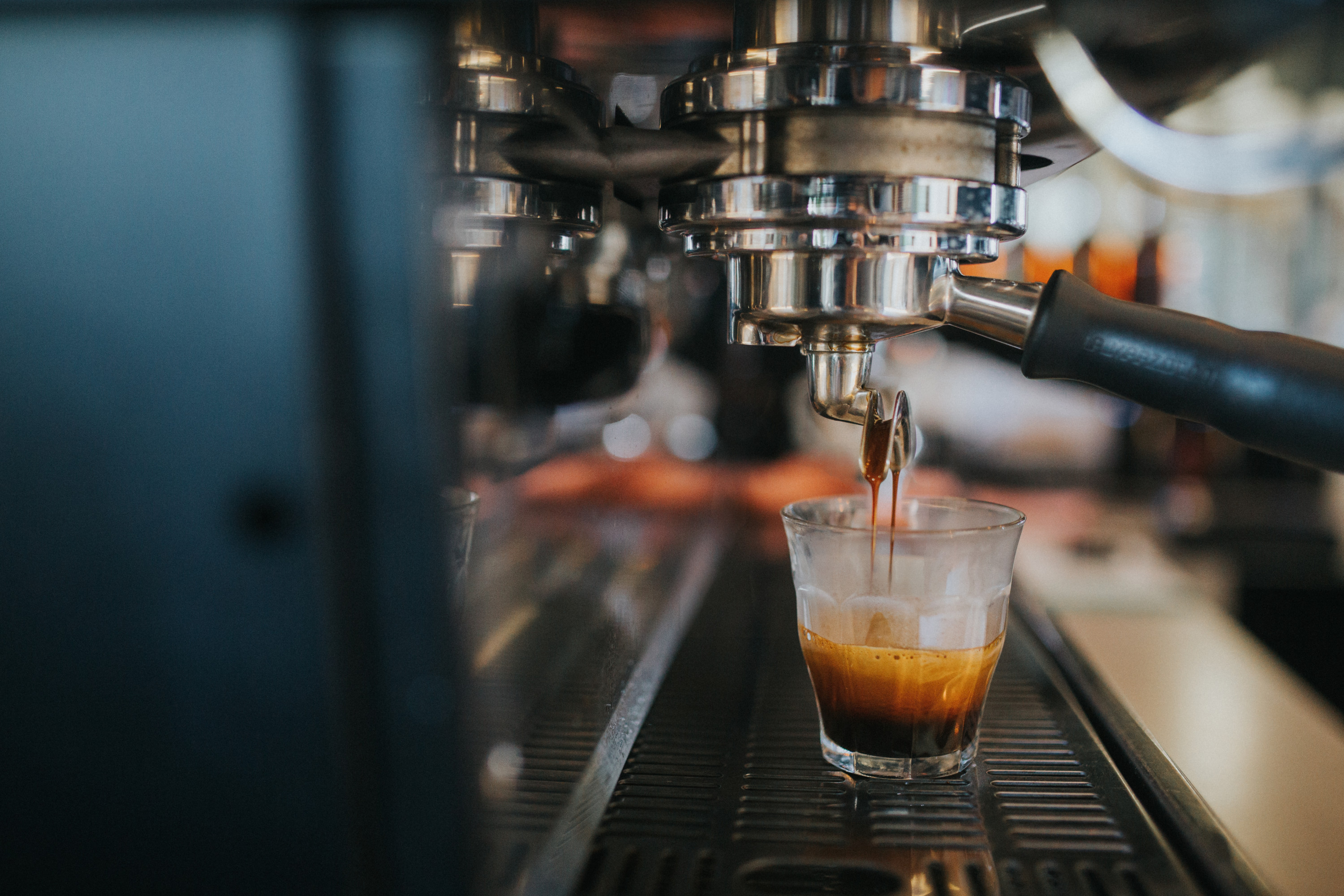 Bam Bam Bakehouse
Mermaid Beach
You simply can't talk about coffee on the Coast without talking about Bam Bam Bakehouse. Adored by just about everyone, any time you pass by this breezy space it'll be overflowing with coffee fiends who need their fix of some of the best coffee on the Coast. Bam Bam's signature blend is Byron Bay's Marvell Street and let us tell you, it's bloody good. The Bam Bam magic has spread to sister venues, Custard Canteen and Cubby Bakehouse, which are loved for their traditional French-style artisan baking and mouth-watering pastries. Pair your cup of Bam's Bam's elixir with crispy choux bombs, decadent eclairs and indulgent cruffins.
Watson Bloom
Palm Beach
Top-notch coffee? Plant-based eats? We're listening. Watson Bloom is one of the best new hangs to come out of COVID and this unique coffee hub has already made its mark on the bustling Palmy cafe scene. This simplistically trendy cafe slings out a smooth house blend and rotating single origins from Bellissimo Coffee every day from 5:30am, perfect for your morning ritual. They're doing their part for the planet by offering a fully plant-based menu (aside from organic full cream milk), including some drool-worthy treats, like their warm vegan cinnamon doughnuts.
Ocean 4218
MERMAID BEACH
Ocean 4218's jam is raising awareness about the state of our marine life's homes. These legends are committed to reducing the plastic debris that reaches our seas (5.25 trillion pieces, FYI). And because of this, they're totally plastic-free. So if you're looking for a fantastic coffee that won't harm the planet, Ocean 4218 is your spot.
Have you drunk your way through our list of the best coffee spots on the Gold Coast? It's time to put that caffeinated energy to good use and catch some morning rays at our best sunrise watching spots.
Image credit: Kaitlin Maree Photography, Brooke Darling Photography, Hayley Williamson Photography