I don't know about you, but there's one thing that I simply cannot resist when I head to the movies. It's the most exciting thing about cinemas being back in full swing, and fuels my love for the experience, no matter the flick I'm seeing.
What is this thing that transcends genres and has me scrolling session times with fervour? Snacks, baby.
There's a very specific snack vibe that you can only achieve when you hit the silver screen IRL, and it's one that I am genuinely grateful has returned in full force. It's not purely about the treats, it's about the journey before the cinematic journey.
I'm a planner, so you best believe I buy my ticket ahead of time. But if you think this means I'm cruising in at the end of the trailers just in time for the main event, think again.
I love my pre-movie ritual, because no matter the success of the film, it always satisfies. It begins at the candy bar with the very specific order of a medium popcorn and a quintessential cinema treat–the Choc Top.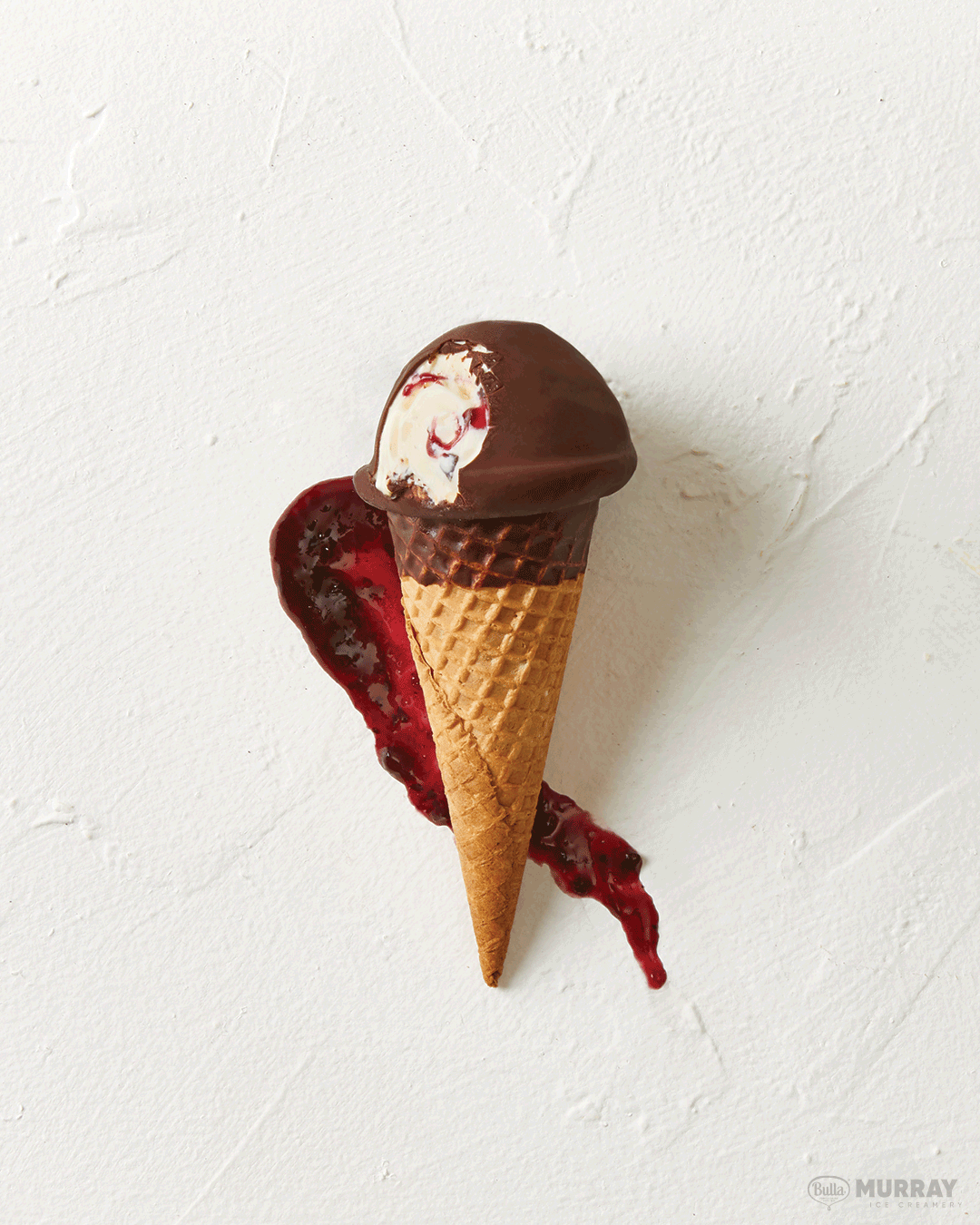 A crowd and personal favourite, the classic Choc Top is a pillar of the cinema experience. This creamy, crunchy, choccy treat has stood the test of time and is a crucial component of my ritual. The cool, creamy sweetness is the perfect balance to the salty popcorn. Hot tip, bite the top off and dip it in the hot popcorn for the best of both worlds.
If I've planned my ritual properly, I'm in my seat as soon as the trailers start and have devoured my Choc Top by the opening sequence, so I can sit back and ride the wave of snack-smugness through whatever the film throws my way.
My love of sweet treats will never change, but it's undeniable we've all returned to the cinema with a renewed glint in our eyes after a couple of years of lockdown. Not to be left out, it's the Choc Top's turn for a revamp. Ice cream experts, Bulla have given their crowd favourite a refresh, with an all-new Murray St touch for their premiumest and creamiest Choc Top range yet.
And if you're like me, and you love your ritual snacks with a dollop of personality, the revamped Choc Tops come in five different flavours perfect for pairing with your big-screen genre vibes.
For a glimpse into my mind, read on to see what Choc Top I reckon is the go-to for your next movie experience.
Vanilla Bean, vanilla ice cream with real vanilla cream
Sweet and simple, Vanilla Bean is a go-to for a complicated flick like a psychological thriller. Head into the most complicated film feeling grounded and centred thanks to the calming and reliable classic flavour.
Boysenberry Swirl, boysenberry flavoured ice cream with boysenberry swirl
Boysenberry Swirl screams romantic comedy to me. Little hits of flavour provide twists and turns, but there's never any doubt of a satisfying ending that will warm your soul as much as a classic rom-com.
Cookies & Cream, vanilla ice cream with chocolate cookie pieces throughout
Cookies & Cream might as well be spelt 'USA' in my mind, so for me, this is your big, all-American blockbuster match. A tried and true flavour combo that packs a punch to rival any superhero.
Mint & Cookies, mint ice cream with chocolate cookie pieces throughout
When I think of mint ice cream, I think of my childhood. So, if it's an animated film or a flick dripping in nostalgia, I can't go past Mint & Cookies to send my tastebuds and memory back in time.
Caramel Maple, caramel ice cream with a maple syrup swirl
Rich, sultry and layered, the Caramel Maple is without a doubt the true pairing of an affecting drama. Smooth flavours make themselves known, but don't distract from the equally smooth script and lush performances on screen.
Aussie-made and owned, each super creamy recipe is made with premium local milk, cream and free-range eggs. Keen to get your hands on these iconic treats? The whole range is available in participating cinemas now. For all the details head over here.
Image credit: Supplied
Editor's note: This article is sponsored by Bulla and proudly endorsed by Urban List. Thank you for supporting the sponsors who make Urban List possible. Click here for more information on our editorial policy.