If like us, you can't help but get hyped up on some festive spirit, get your calendars ready, because Brisbane is turning it on with a stack of festive events to celebrate the most wonderful time of the year. There is a tonne of events to check out this Chrissy season, from classic twilight carols to a Christmas Jazz Lounge with no shortage of lights and merriment in between.
To ensure you make the most of your season, we've rounded up the best spots to celebrate all things Christmas around Brisbane's CBD and South Bank. So grab your own Dasher and Dancer and Prancer and Vixen, and head down to soak up some big festive energy all month long.
Kick Start Christmas With The Lord Mayor's Lighting of the Christmas Tree
If you're a Brissie local then you might already be familiar with the Lighting of the Christmas Tree, and if you're not, you're in for an absolute treat. It's the official ceremony in which the Brisbane city tree is lit by Lord Mayor Adrian Schrinner, which is quite the spectacle as the tree reaches around 22m in height and is covered in hundreds of lights. There are also special Christmas musical performances to mark the start of the merry season to really get you in the mood. The tree will stay up in King George Square all December long, so if you can't make it on the night be sure to check it out while you're Christmas shopping because it's definitely worth a stop. Head over here for all the details.
Where: King George Square, CBD
When: 6.30pm-7.15pm Friday, 25 November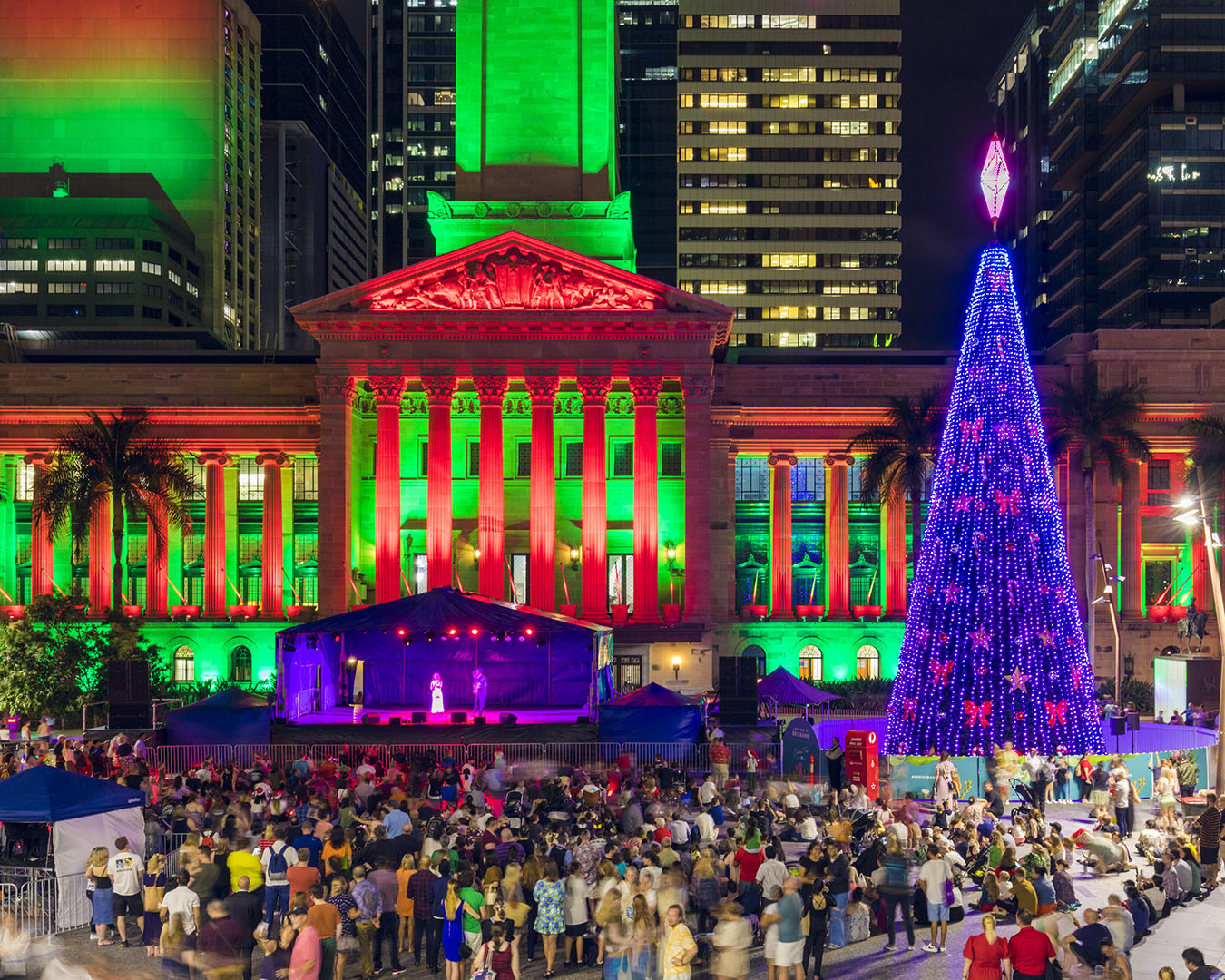 Brighten Up Your Night With The Lott by Golden Casket City Hall Lights
As per the annual tradition, Brisbane City Hall will be illuminated in a stunning light show to celebrate the magic of Christmas with its most exciting set-up yet. The visual and audio experience is one that never fails to put you into the Christmas mood and is perfect for both young and young-at-heart audiences. The show runs every 15 minutes throughout the night, so you've really got no excuse to miss this one. Find all the details, here.
Where: King George Square, CBD
When: 7.30pm to midnight Friday, 9-Saturday 24 December
Shop To Smooth Tunes With The Christmas Jazz Lounge
There's nothing like hearing jazzy Christmas classics to make you feel like celebrating Yuletide. And what better way than hearing them live? Head down to Queen St Mall this December to enjoy live jazz performances by a local quartet to get you in a merry mood. Check out the line-up and all the details, here.
Where: Queen Street Mall Stage, CBD
When: 12pm-2.30pm daily, 5pm-7.30pm during late-night trade Friday, 9-Saturday, 24 December
Sing Along At The Lord Mayor's Christmas Carols
The Lord Mayor's Christmas Carols are perhaps the most Christmas-y event of them all, where Brisbane's best entertainers come to lead the city in a giant carol singalong. An 18-strong dance ensemble accompanies vocal talent, the likes of Sheppard, Johnny Manuel and Stefanie Jones, plus plenty of surprise guests. So put away the Bublé and get down to see how it's done IRL. With tickets for just $5 we promise it'll be the most festive bang for your buck you'll get this year. To book your ticket, head over here.
When: Riverstage
Where: 6pm, Saturday 10 December
Sip Eggnog At The Tinsel Tavern
If you prefer your eggnog with a little extra kick, make the Tinsel Tavern in South Bank your go-to venue this season. The tavern is a pop-up hosted by eatSouthBank on Little Stanley Street Lawn. Along with serving up refreshing drinks and cocktails to get you through the Christmas heat, you can also enjoy some local talent with live music each evening to really get the mood going. Check out all the details over here.
Where: Little Stanley Street Lawns, South Bank
When: 4.30pm-10pm Saturday, 17-Thursday, 22 December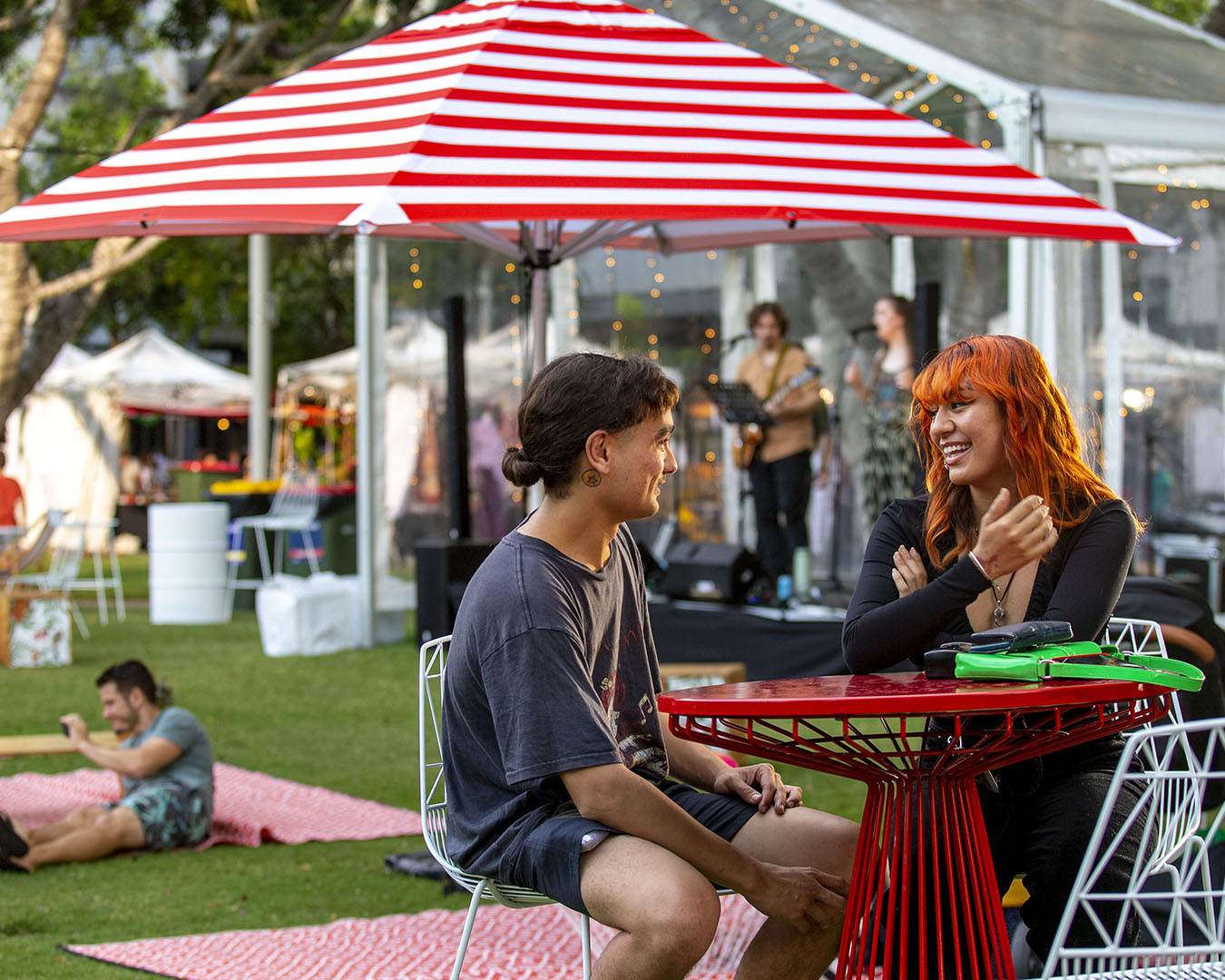 Get The Festive Feels At Christmas Cinema
What better way to celebrate the season than settling in for a cosy Christmas movie? Whether you prefer something corny or something with a little bit of romance (or maybe a bit of both), check out the screening of the festive flicks at River Quay this December. Screenings are free for all to enjoy, so pack a picnic or grab some snacks from a nearby restaurant and settle in for the ultimate festive movie experience. For the full program, head over here.
Where: River Quay, South Bank
When: 6pm and 8pm Saturday, 17-Thursday 22 December
Tick Of Your Gift List At The Collective Markets, Christmas Edition
We've always been fans of the Collective Markets along Little Stanley Street in South Bank, but in December the markets get a festive Christmas makeover and instantly turn into our go-to for all things jolly and local. From crafts, homewares, collectibles, handcrafted jewellery, and local designer fashion, you're sure to find something for everyone on your 'nice' list this season at the Collective Christmas Markets (and even a little something for those on the naughty list if you're feeling generous). It's also the perfect spot for those last-minute pressies that we always end up needing (whether it's for someone else or for yourself). Be sure to check it out from 10am to 9pm in the lead-up to the big day.
Ready to stack your calendar with Christmas cheer? Head over here for more details on Brisbane's festive season.
Where: Little Stanley Street, South Bank
When: 10am-9pm, Saturday, 17-Thursday 22 December
Editor's note: This article is sponsored by City Parklands and proudly endorsed by Urban List. Thank you for supporting the sponsors who make Urban List possible. Click here for more information on our editorial policy.
Images: @queenstreetmall, Supplied