A sustainable stay is more than just a fun alliteration—it's the way we should all be travelling going forward. We're talking about booking a stay somewhere that uses solar power, harvests rainwater and supports local producers, among other things.
But going green doesn't mean you have to substitute luxury. There are loads of luxurious eco-friendly retreats on and around the Gold Coast, which are suitable for couples retreats, a getaway with friends or family vacays. To help you out, we've created a list of our favourite sustainable stays on the Gold Coast that'll make you feel even better about saying yes to that getaway. After all, you're doing it for the environment.
Crystal Creek Rainforest Retreat
Tweed Valley
If you're after a getaway that seamlessly connects luxury with the environment, this is it. Crystal Creek Rainforest Retreat is surrounded on three sides by the Numinbah Nature Reserve leading to Springbrook and Lamington National Parks. You can stroll along stunning fern-lined gullies, under giant strangler figs and 400-year-old rainforest trees. Then you can lie in a hammock over a bubbling rainforest brook of pure, crystal-clear mountain water before retreating to your glass terrace bungalow. It's seriously dreamy. And you can enjoy it while knowing the Retreat is committed to preserving its backyard which is home to 25 species of rare and threatened plants, 15 species of vulnerable birds, mammals, reptiles and amphibians and 400 species of plants. They've carefully removed large expanses of lantana, leaving the existing native vegetation, and planted over 1,000 native rainforest trees endemic to the area. They also use insulated glass, heat pumps and lemon myrtle oil as a cleaning product, all to minimise their environmental footprint.
Eden Health Retreat
Currumbin Valley

Set in dew-draped Currumbin Valley is the splendid Eden Health Retreat, occupying a sheer 120 hectares of tranquil promised land and fresh country air. Built with sustainability in mind, this holistic earthy-inspired retreat covers all aspects of wellness— fitness, nutrition, naturopathy and life coaching to name albeit a few indulgences. It doesn't take long to settle into this paradise and the facilities are seriously first-class. Think: a sauna, steam room, gymnasium, heated swimming pool, giant flying fox, bush walking tracks, tennis court, natural mud baths, and they even have a guest library full of self-development and productivity books. All foods are sourced locally and ethically from rural producers nearby, while alcohol and caffeine are non-existent. Without question one of the best sustainable stays on the Gold Coast, packages at Eden Health Retreat are six nights, seven days stays only.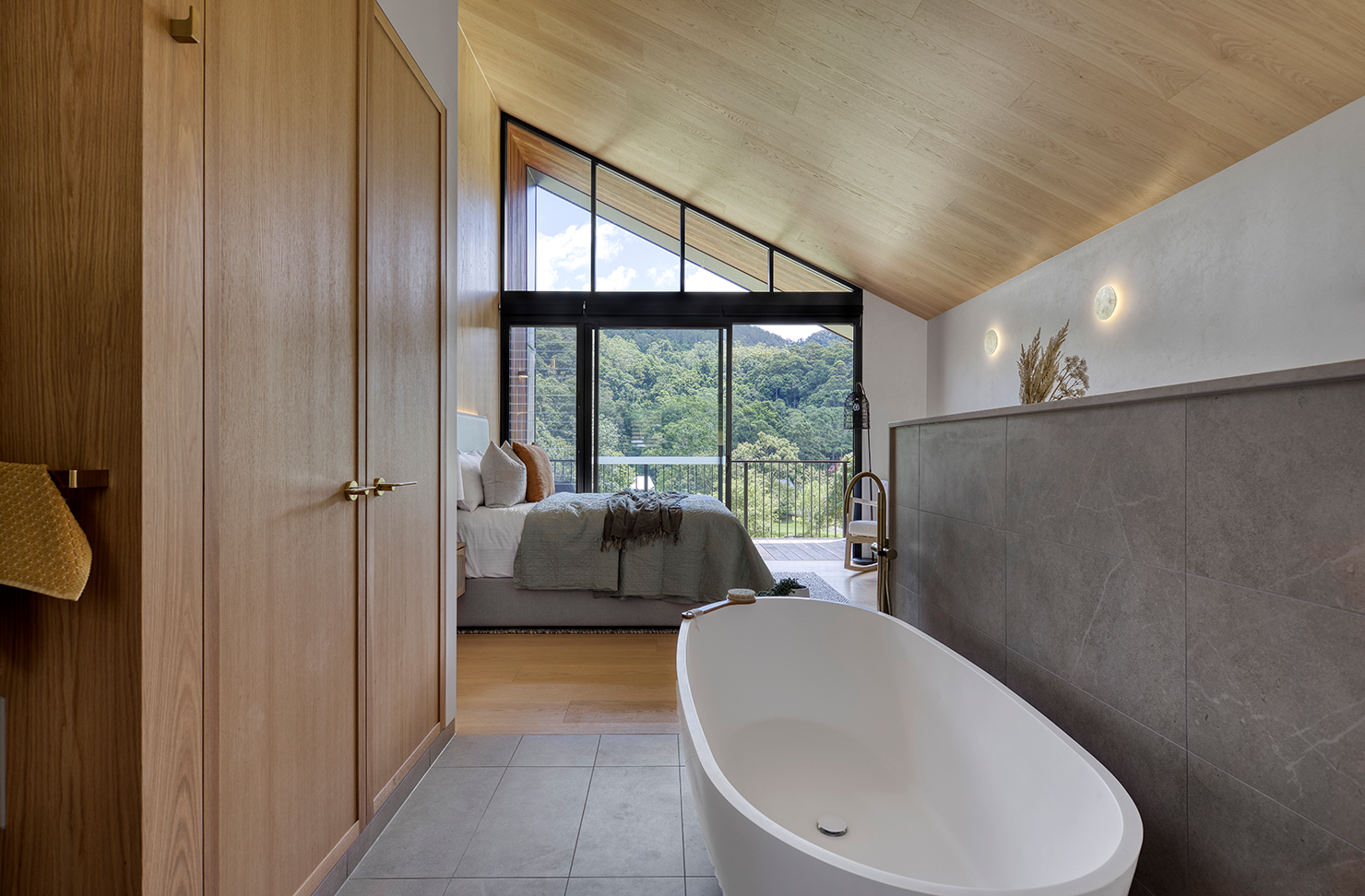 JW Marriott Gold Coast Resort
Surfers Paradise
This luxurious hotel located in the middle of Surfers is the perfect place to rest your head in the party playground, and sleep easy knowing this stunning place is doing good for the environment too. JW Marriott Gold Coast Resort & Spa kind of has everything you could possibly want in a hotel so you may not even step a foot outside. For starters, they have some of the best eats on the Gold Coast. Misono is JW Marriott's Japanese eatery inspired by the streets of Harajuku, where you can choose between an intimate izakaya experience, a refined whisky bar or teppanyaki dining. Citrique is another exclusive eating experience that showcases sustainable practices through sourcing herbs, flowers and honey from the JW Garden, championing local produce from small suppliers and its thriving worm farm. The hotel also houses a twin fleet of Jaguar I-Place hotel cars, which were officially named the World Green Car and are a testament to JW Marriott's sustainability. Trust us, this is one special hotel you want a one-night stand with.
O'Reilly's Rainforest Retreat
Canungra
Surrounded by 20,000 hectares of subtropical rainforest, O'Reilly's is the perfect escape to reconnect with nature. Owned and operated by the O'Reilly family, pioneers of ecotourism, O'Reilly's boasts the world's first Treetop Walk in the canopy of the rainforest and an Advanced Eco-accredited 'Discovery Program' of guided rainforest activities operating every day. Bliss out in one of 48 self-contained and architecturally designed villas (made from recycled materials) perched onto the sloping hillside. There's also plenty of activities here to get you out amongst nature, including Segway tours through creek crossings to Morans Falls or opt for uber relaxation at the Lost World Day Spa, equipped with a couple's suite and 25-metre infinity lap pool. We recommend ordering a picnic hamper and setting off to one of 500 world-class waterfalls accessible via 160-kilometres of nature trails.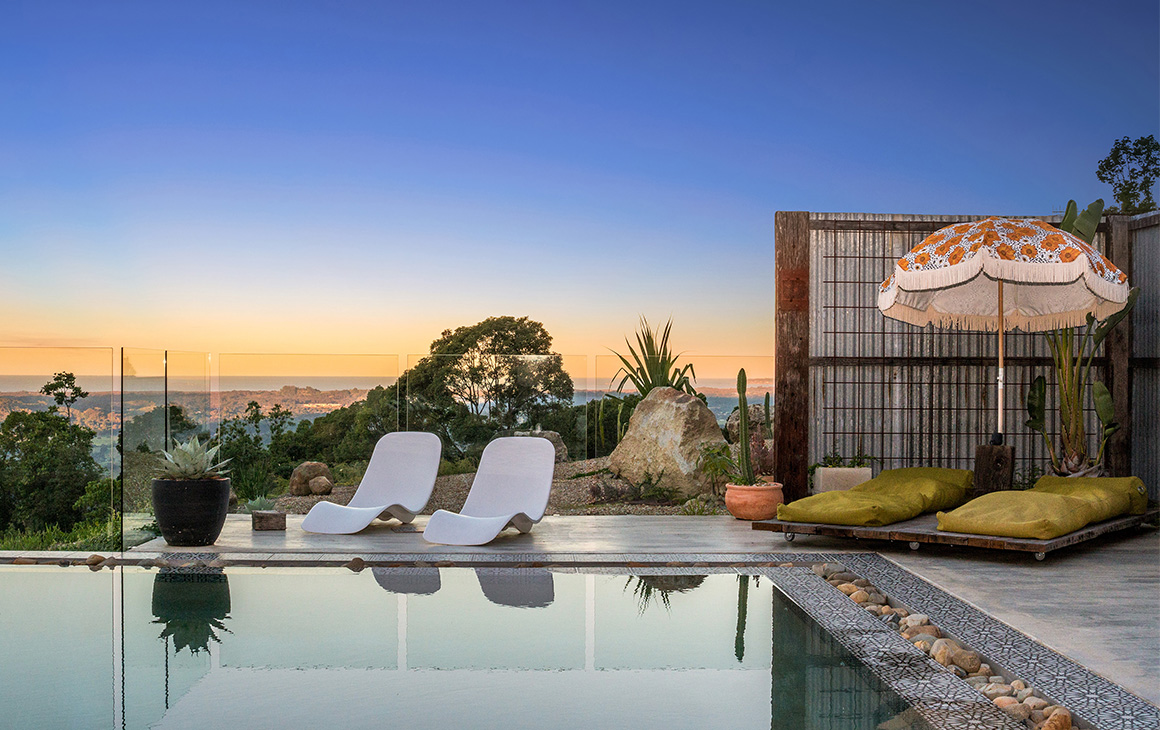 Blackbird
Byron Bay
This luxury accommodation is so stunning you won't want to leave. At Blackbird you'll be able to cosy up in private pavilions all framed beautifully in acres of green rainforest, with spectacular views eastwards to Cape Byron and the Pacific Ocean. These guys get 10/10 for their sleek interiors and exteriors. The design-driven accommodations are provided in distinct detached concrete Pavilions fitted out with the latest environmentally sustainable energy saving 20kW solar system with Tesla Batteries to provide air-conditioning, hot water and other services. As well as wanting you to relax during your stay (champagne on arrival, complimentary artisanal local produce in your pavilion and dip in 10 metre mineral magnesium pool for starts) the crew at Blackbird also want to encourage you to appreciate their stunning backyard providing easy access to waterfalls, as well as hiking trails, kayaking and mountain-biking all at your fingertips.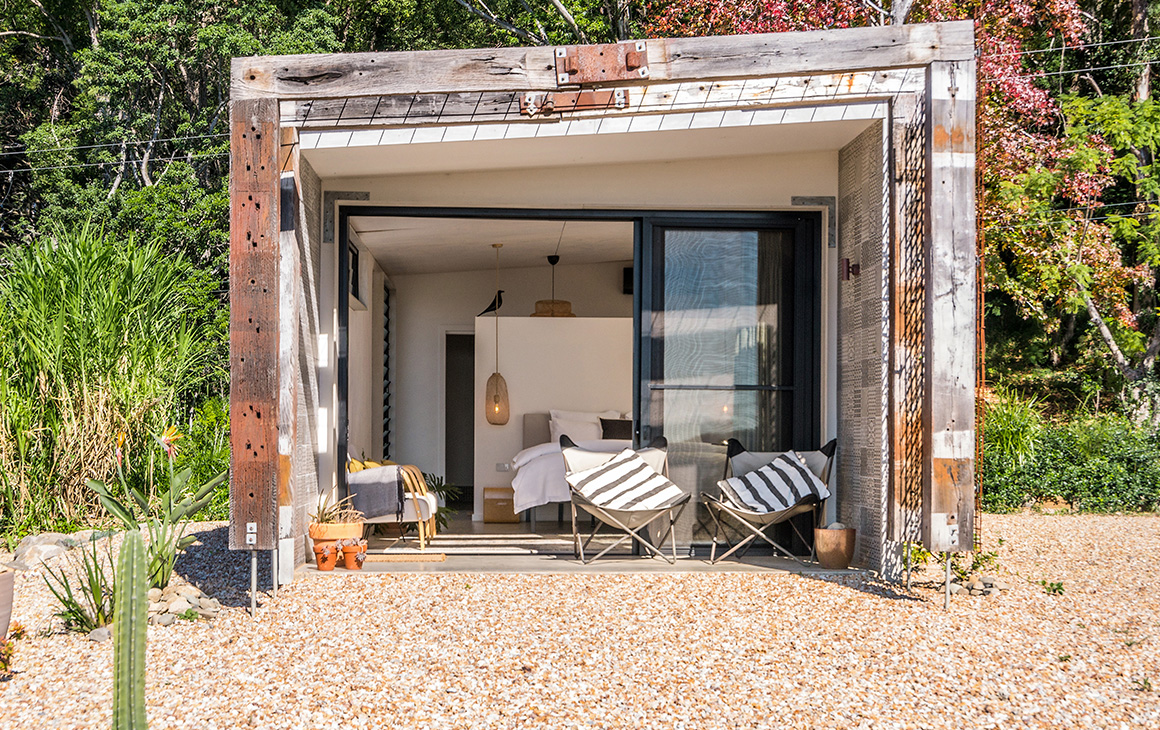 Mysa Motel
Palm Beach
The Mysa Motel (pronounced Mee-sa) is tucked away in the heart of Palm Beach and it's a retro decor lover's dream. The old Palm Trees Motel has been refurbished by husband-and-wife-duo Eliza and Jason Raine into a seven-room retro paradise that'll make you forget you're on a staycation. A quick stroll down the road and you will find long stretches of Palmy's white sand beaches and turquoise waters, as well as a plethora of vibrant cafes within walking distance. The Mysa Motel has been lovingly restored using recycled local items from pre-existing properties on the Gold Coast. Upcycling is at the fore of Mysa, with vintage design pieces like the glass mosaics in the bathroom, the pool lounge recliners and breeze blocks all lovingly reinvented from local building sites. On top of all its recycled materials, Mysa relies on rainwater tanks for toilets and gardens and solar panels for energy, and all rooms offer filtered water so guests can fill reusable water bottles, keeping the property as environmentally friendly as possible.
Nightfall Camp
Lamington National Park
This one is a little over an hour's drive from the Gold Coast but it's too good not to include. Nightfall Camp is credited for its zero-carbon ethos and we're loving them for it. Located smack bang in the middle of Lamington National Park, owners Steve and Jaide have mashed up glamping with eco-goodness. With bush regeneration of native plants, organic cuisine sourced from local markets and a natural spa (a swirling, bubbling spa in the middle of their nearby creek), glamping was never so good for the environment. They also boast on-site waste-water treatment, are a chemical-free site, use a 5KW grid-connect solar-power system and are dedicated to monitoring Christmas Creek and protected species including the glossy-black cockatoos which frequent Lamington Valley. During your visit you may meet Lillypilly, a wallaby the Nightfall crew raised from a hairless joey. And if that wasn't enough, know that you can forage for snacks in the wilderness and roast them over their custom-built wood-fired oven too.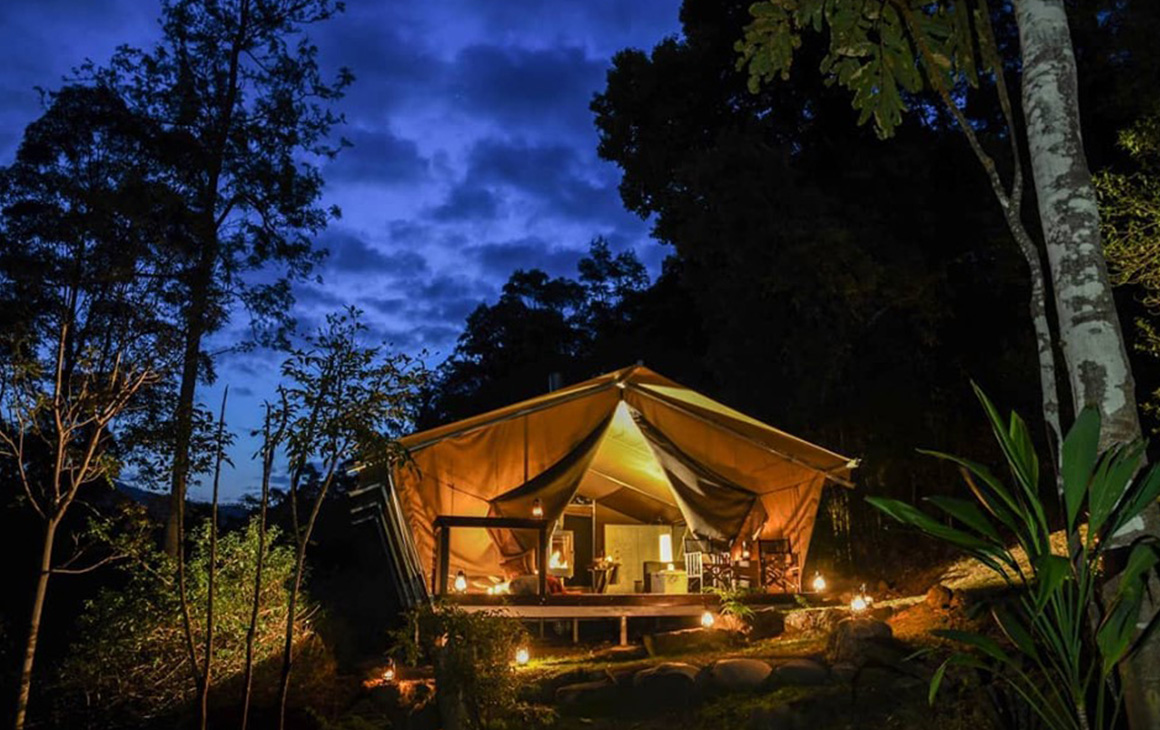 Gwinganna Lifestyle Retreat
Tallebudgera Valley
If you want a retreat that is as healthy for the environment as it is for you, you'll want to check in to Tallebudgera Valley's Gwinganna Lifestyle Retreat. The idea here is simple; it's a wellness haven maintained by the boundaries that certain substances aren't to be consumed during your stay. If you're okay with that, you'll be rewarded with a personalised getaway that nourishes your mind, body and soul. Gwinganna also has our eco-friendly stamp of approval. As well as being fully registered with Land for Wildlife, a program committed to protecting and enhancing wildlife habitat on the property, they use only organic produce in their kitchen, often sourcing from their own backyard. There are also 16 different walks for you explore the stunning natural environment across the retreat's 200 hectares.
Looking for more epic local escapes? Head here.
Image Credit: Crystal Creek Rainforest Retreat, Eden Health Retreat, Nightfall Camp, O'Reilly's Rainforest Retreat and Property Shot Photography