Pottery is one of those crafts that has come full circle. It teaches you valuable life skills—perseverance, patience and determination. And it's one of those skills you always say you want to learn but never do; oh, to be a mud manipulator and eat from plates that you created with your bare hands.
Well, now you can, because we've hunted down the best Gold Coast ceramics workshops you can join, right now.
Stone Studio
KINGSCLIFF
Stone Studio is centred around the philosophy of sharing and it's their mission to share the joy of ceramics, encourage creativity and build community. Yes, it's as wholesome as it sounds. Nestled in picturesque Kingscliff, this community pottery studio and coffee bar offers an array of workshops and studio access for potters of all skill levels. Stone Studio is run by the incredibly passionate Jennifer, who says pottery has changed her life and she is inspired to share the experience she had with others. She believes pottery grounds you, gives you purpose and a sense of community and her passion to share this emanates in every aspect of the studio. No matter what kind of pottery experience you're after, there's something for you here; from teapot and mug workshops to more advanced wheel throwing to four-week courses, there's plenty to spark your inner creativity. Stone Studio also hosts Wheel & Wine and Date Night workshops—pottery with a glass of vino sounds just like our thing. Discover more about Stone Studio, which might just be our favourite place to get our hands dirty.
POT Studios
Tugun
Located in Tugun, this stunning studio provides the perfect environment for bringing out your inner creative. Run by incredibly knowledgeable potter Cindy, start with the four-week hand building course or the six-week wheel throwing course. Both of which will see you turn a block of clay into a glazed pottery piece. Even better? No experience is necessary. If that sounds like too much of a commitment, then the one-day pottery workshops are for you. They're ideal for first timers looking to get their hands in clay and get creative, where you can make gems including mugs, teapots, fruit bowls, vases and more. As well as private and group lessons, POT Studios also hold 'Date Night' sessions where you and your love can channel your inner Swayze and Moore over a crash course in wheel throwing…with the lights down low, of course.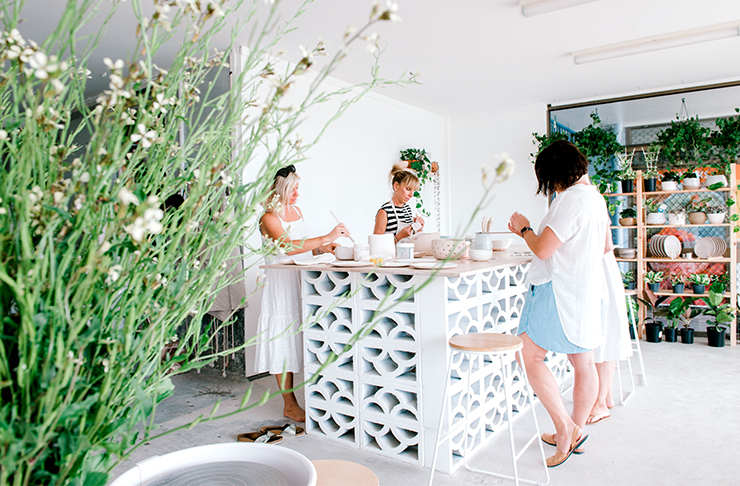 Norton And Norton
Currumbin
Jo Norton's passion comes from the fact her work will be held, used and will stay in people's homes for what she hopes is a long time. Norton & Norton offers up an array of workshops, but if you really want to get in the groove, then the pottery program might be the one for you. It consists of one three-hour session, once a week for four weeks and in this time you will gain an introductory understanding of clay, design, hand-building and wheel-throwing techniques. Who knows, this might just spark a pottery passion you never knew you had! If you already have little experience, then maybe opt for the hand built planter workshops, the pinch pots workshop or the hand built vase workshop and be proud as punch to have your own hand-made items around your humble home. Spots get snapped up quick, so keep an eye out if this is going to be your new hobby. Once all booked in, look out for the blue door in Currumbin on the corner of Traders Way and prepare to get covered in clay. Find out more here.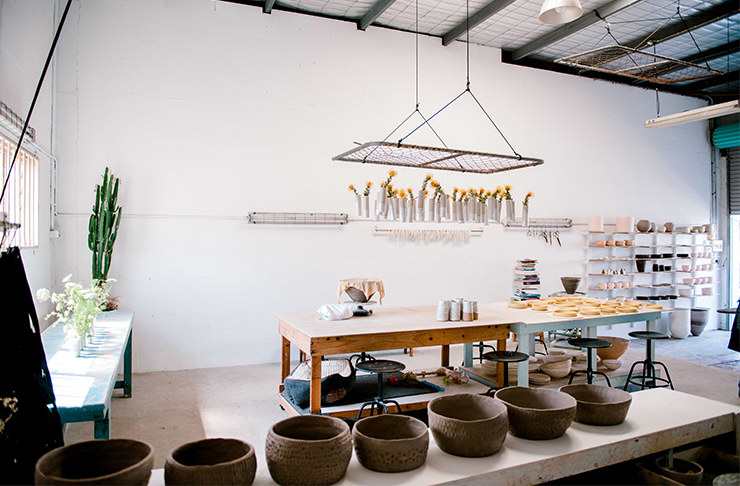 The Craft Parlour
Miami
Rachel from The Craft Parlour has the sweetest studio in Miami where people can do an array of workshops and hold events, resulting in a space to throw caution to the wind and get all creative. Popping up from time to time amongst a rotating roster of various creative classes—including resin art to jewellery making, macramé, dried foliage arrangements and more—you'll find pottery classes hosted by talented local creatives generously sharing their skills. Whether it be learning the fundamentals of pinch potting and coiling, to the philosophy of working with Mother Earth and understanding how clay works and feels between your fingers. They're even known to host the occasional sip and paint-on-pottery class, where BYO vino and cheese platters are encouraged—perfect for the first timer. Browse through The Craft Parlour's current workshops options here.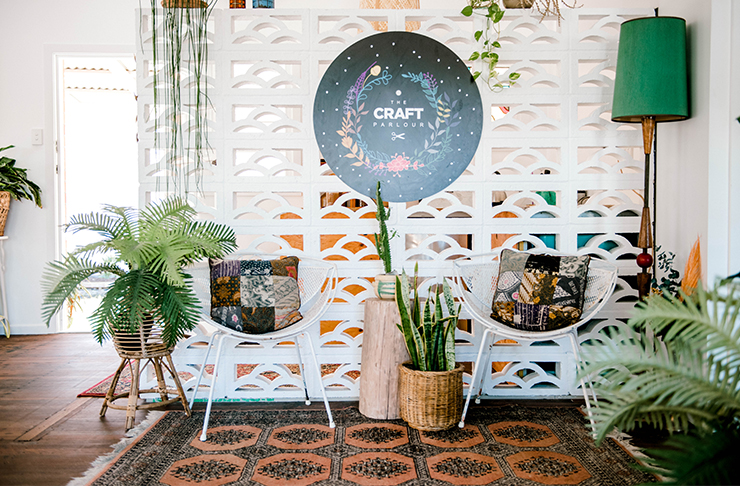 GritCERAMICS
POTTSVILLE
The gritLAB is where it all happens. In teacher Leia's characterful workshop across the border in Pottsville, it is her mission to create space for clay-hungry students. GritGERAMICS hosts a number workshops for people that are curious about clay. She believes working with clay is an immensely powerful tool for personal transformation and self inquiry and wants to share this magic and alchemy of earth working (and the frustration and joys around potting) with others. To be able to slow everything down and plant seeds of creativity in our busy, connected world is what ceramics is all about for this inspiring and talented lady. Disclaimer: these workshops will be aimed at all skill levels and no prior experience is needed, so full permission to get down and dirty! Read more about current workshops here.
Gold Coast Potters Association
Benowa & Mudgeeraba
Proof in the pudding that clay connoisseurs have been around a while, the Gold Coast Potters Association has been up and running since 1977. The local council was kind enough to give the organisation a derelict school to set up camp, and the enthusiastic volunteers soon had it re-vamped so they could hold workshops there, since adding another workshop to their repertoire. Holding three-hour classes on the daily with a variety of teachers at both the Benowa and Mudgeeraba campuses, everything you need to learn the craft is supplied; including pottery wheels, kils, slab rollers, clay, glazes, moulds and various other tools. They also offer specialised workshops such as print making, pinch pots, painting on porcelain, mould making, kintsugi (the Japanese art of repairing broken pottery) and how to build a collection of pieces. Yep, this is pretty much your one-stop shop if you have a passion for pottery. AND it's reasonably priced, take for example the 10-week term for $400. Your pay check and your creative soul will thank you. Find more information here.
Inspired by the best ceramics workshops on the Gold Coast, and want to try your hand at painting next? Check out these fab offerings (with BYO wine)!
Image credit: Kaitlin Maree for Urban List