To make it through the daily grind every week, prioritising some consistent, well earned rest and relaxation is key. While you could opt for the likes of a day spa, why not kick the relaxation vibes into high gear with a weekend getaway where the bath is actually the main attraction?
From clawfoot iron baths to wine barrel plunge pools to open-air spa baths, there's plenty of soak-worthy outdoor baths on and around the Gold Coast. Let your hair down, and book yourself in for a getaway at one of these ultra-tranquil stays with a gorgeous outdoor bath around the Gold Coast.
Tyalgum Springs
Tyalgum
Enjoy a country getaway in northern New South Wales at this sweet home that calls 30 acres of rolling farmland home. With stunning views of Mount Warning, access to a creek and dam, located just one kilometre from the neighbouring town of Tyalgum, and indoor and outdoor fireplaces, this Airbnb's best feature is its outdoor clawfoot iron bath for soaking away the stress of city life. A peaceful spot for kicking back with friends or family, Tyalgum Springs can sleep six people and also welcomes dogs (as long as they can get along with the horses and cows).
Hillview Dairy
Currumbin Valley
Four words: wine barrel plunge pool. Need we say more? Yes, we're already in love. Hillview Dairy was originally built in 1887 and offers everything you need to escape from everyday life. You'll be off the grid, but don't stress—there's plenty to immerse yourself in, including an outdoor European bathtub, retro cruiser bikes for hike and stunning views of Mt Tallebudgera and Currumbin Creek. Did we mention the plunge pool? Hillview Dairy sleeps eight people, so round up your squad and unwind at this gorgeous getaway.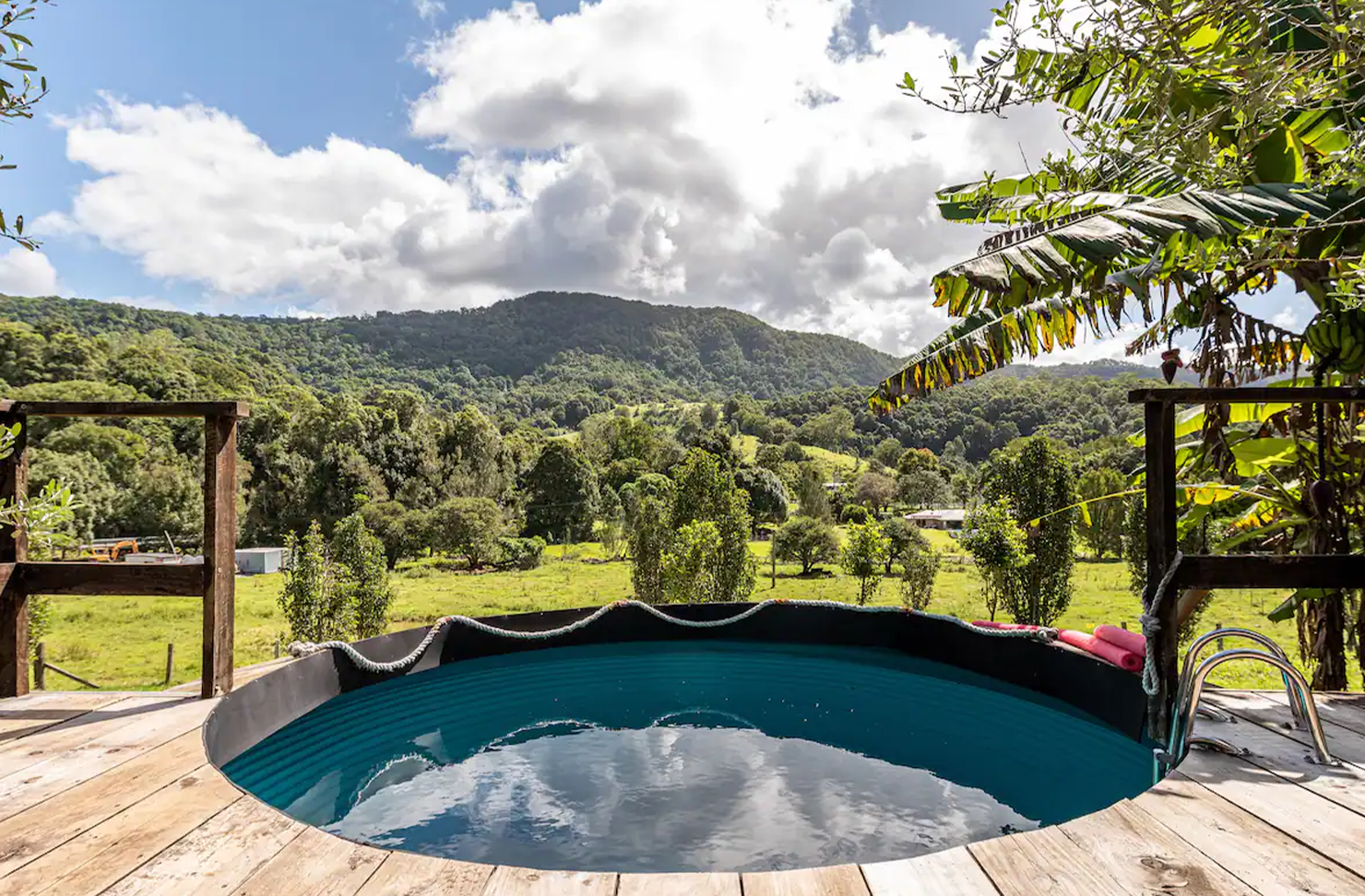 Stargazer
Beechmont
If you want to fall asleep under the stars but in the comfort and warmth of a bed, Stargazer house has you covered. The house's glass ceilings make stargazing possible from rooms all over the house and glass walls make watching the sunset possible from the open-air bathtub. Apart from the stunning glass ceilings and walls, there's an outdoor fireplace, entertainment deck and a pizza oven. Yes, a pizza oven, you read that correctly. Enjoy the views of rolling hills and ridges and the starry night sky with a woodfired slice of pizza in hand—it's only right. Hands down, this is one of the best Airbnbs with an outdoor bath on the Gold Coast.
Grand Designs Home
Mount Tamborine
If you've been watching Grand Designs for a while, dreaming about relaxing in one of those incredible homes, well the time has finally come. This architectural wonder nestled on seven acres of private land on Mount Tamborine was featured in Grand Designs Australia and it certainly looks like it. The three-bedroom property is perfect for a group or family getaway, sleeping up to eight people. It boasts cathedral ceilings, an indoor and outdoor fireplace and a kitted-out sunroom. Just when you thought this place couldn't get any cooler, it has an entire bathhouse with doors that open to the mountain air where you can unwind.
Clouds Safari
Beechmont
Sure, camping is fun and all, but why bother setting up your own tent when you can stroll right into Clouds Safari? In the heart of the Gold Coast Hinterland, Clouds Safari boasts 180 degree views of Springbrook Mountain and Numinbah Valley, and is just a five minute drive from the world-renowned Killarney Glen waterfall. This romantic getaway sleeps just two people, so its perfect for a romantic adventure. The tent features stunning wood furnishings and homewares reminiscent of African safaris, as well as an enormous four-poster bed, a free-standing bath and an outdoor fireplace to keep you nice and cosy.
Nightfall Wilderness Camp
Lamington National Park
If you're looking for a luxe stay with an outdoor bath that's close to home, Nightfall Wilderness Camp has nailed glamping with the perfect combination of secluded wilderness and wholesome luxuries. In summer, you can open your canvas walls (don't worry, there's still mesh for the bugs) to relish in the surrounding rainforests. While in winter you can keep it intimately closed, spending your eves relaxing in the free-standing twin iron baths or curling up around the fireplace. Pretty awesome, right? Next there's the finer details of each tent… elements like hand-carved stone basins, smooth wire-brushed timber floors, and lush organic bedding. Pure bliss.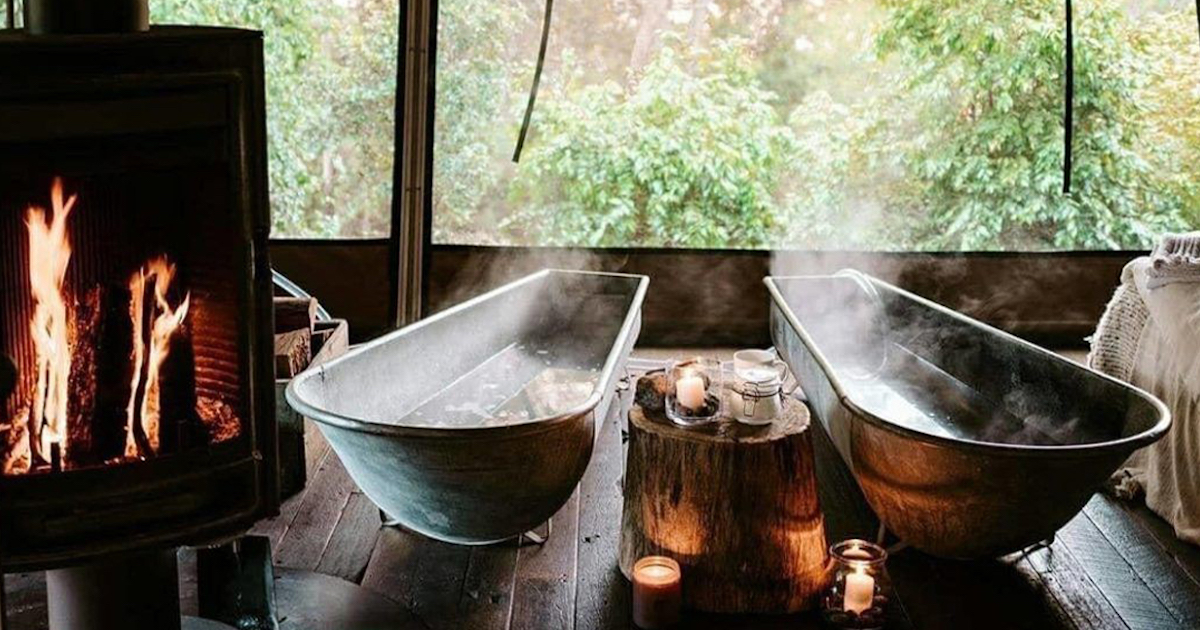 Kingfisher Bay Resort
Fraser Island
Fraser Island's luxe architecturally-designed houses, part of Kingfisher Bay Resort, might just be your new island home away from home. You can choose from a variety of accommodation options, with the houses catering from six to sixteen people, but they are all fully self-contained, are kitted out with top-of-the-line furnishings and are immersed among the island's nature. Many of the houses boast spa baths on their expansive decks, so you can soak in the bubbles, sip a glass of wine and enjoy the stunning oceanfront views. It's easy to say Fraser Island has some of the of the best outdoor baths we have ever had the pleasure of soaking in.
Looking for more inspiration? Check into one of the Gold Coast's top-rated Airbnbs, which will make you never want to leave.
Image Credit: Airbnb, Stargazer and Nightfall Wilderness Camp
Editor's Note: Urban List editors independently select and write about stuff we love and think you'll like too. Urban List has affiliate partnerships, so we get revenue from your booking.