Chocolate. It needs no introduction because it's everybody's favourite thing. (Unless you're one of those soulless people who claim they don't like chocolate, in which case, stop reading because you're not going to like where this article is headed.)
In celebration of World Chocolate Day on 7 July, we've compiled a list of the Gold Coast's best chocolate everything. Get devouring.
The Four-Way Big Bicky From Cubby Bakehouse
Chinderah
The gang at Cubby sure knows how to indulge a sweet tooth and they've well and truly outdone themselves with this chocolate dream. This big cookie is loaded with not one but four types of gooey Lindt chocolate, macaron chunks and filled with white chocolate ganache—it's a game changer!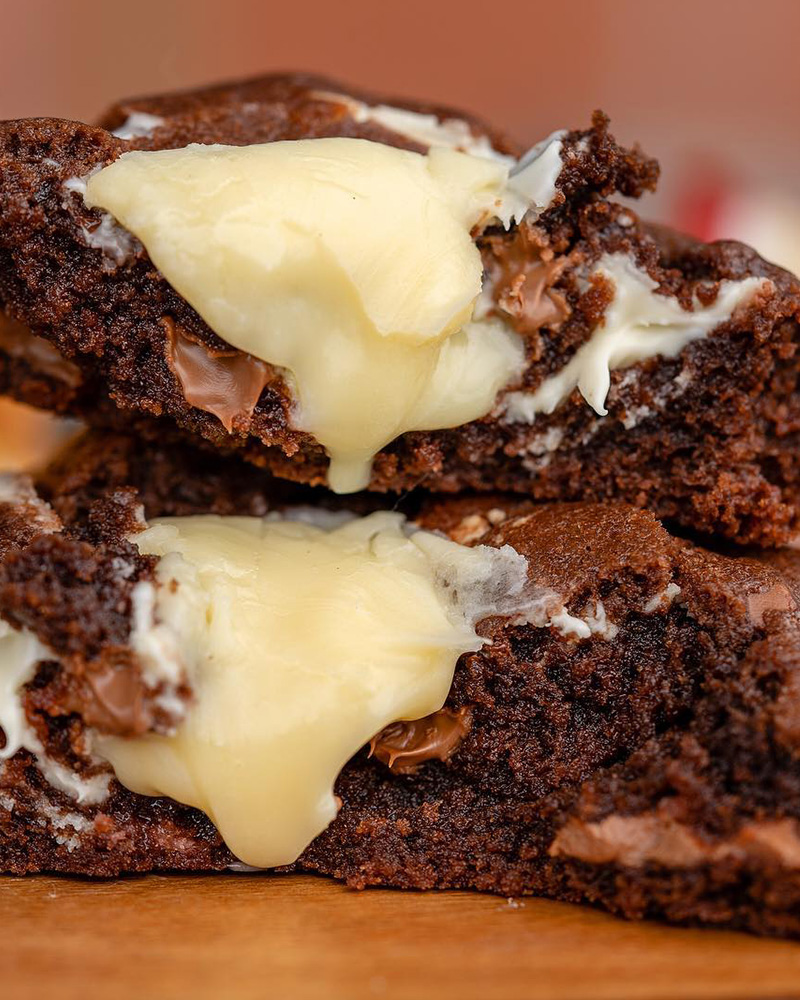 Melting Moo-Ments From Cowch
Broadbeach
We're all for a dessert pizza and they don't get much greater than Melting Moo-Ments from Cowch. It starts with a cinnamon butter base, then is topped with lashings of Nutella, gooey toasted marshmallow, cookie crumble and finished with a generous sprinkling of dark chocolate chunks.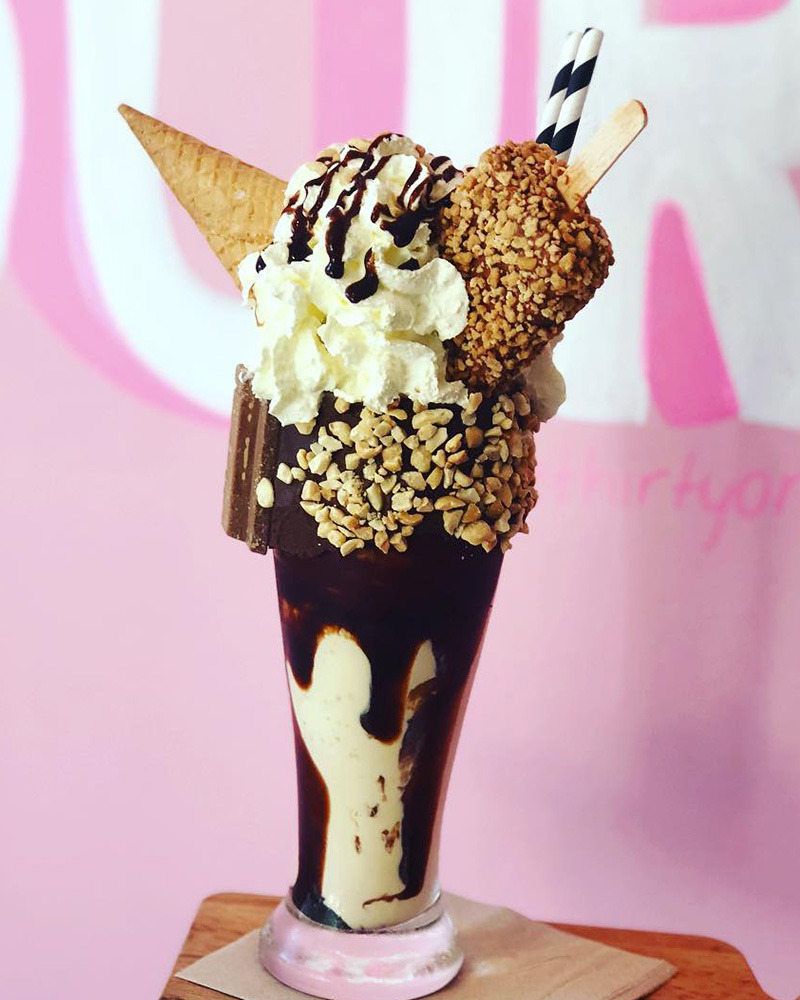 Golden Gaytime Crazy Shake From Guilty Café
Currumbin
When a milkshake has an entire Gaytime sticking out the top of it, you know you're in for one seriously tasty sugar rush. As the café's name suggests, this guilty shake includes vanilla and Gaytime ice cream, a splash of milk, chocolate frosting, nuts, a Kit Kat and lashings of chocolate sauce.
Brownie Cookies From Tarte Bakery & Cafe
Burleigh
You might as well close your eyes and point at Tarte Bakery's impressive treat-filled display and you're sure to score something delicious. But we've got our eyes set on the simple yet effective brownie cookies: using only the finest dark chocolate available, think melt-in-your-mouth super soft brownie centre and a chewy, crispy cookie exterior topped with a sprinkle of sea salt.
Banana Bounty Hunter From Oh My Waffle
Burleigh
Is there anything better than warm, crispy yet soft, freshly made waffles? If you're going to be naughty then you're going to want to chow down on the best and that is served up on the daily by the Oh My Waffle crew. Grab the Banana Bounty Hunter, a golden waffle topped with chopped banana, drizzled with Whitaker's Creamy Milk Chocolate, Bounty bar, ice cream, whipped cream and dusted with coconut.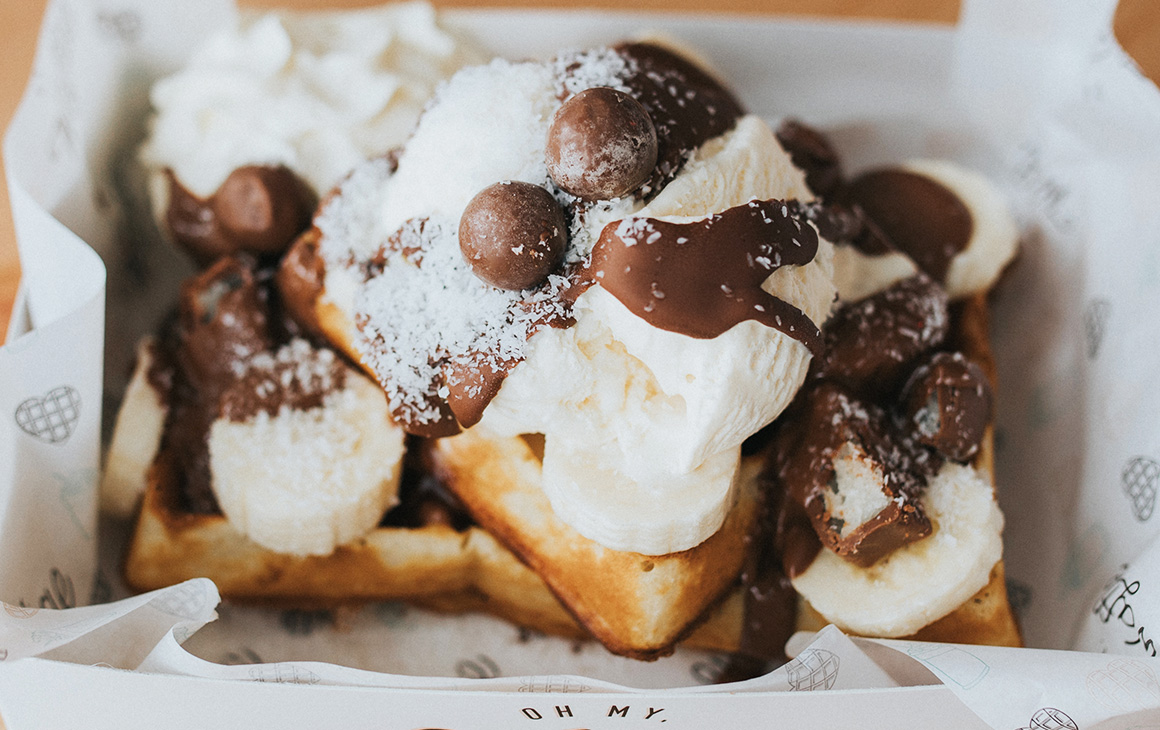 Frozen Hot Chocolate From Paddock Bakery
Miami
If we're honest, pretty much everything on offer at Paddock Bakery could easily make this list. These guys are absolute masters at creating chocolate delights. But this time we're going to give the Milk Bar a shout out and in particular, their Frozen Hot Chocolate. Made with five different types of chocolate and blended with ice, topped with vanilla bean whipped cream, Nutella, marbled chocolate shavings and their famous Brownie bits, put this baby to the top of your list.
Nutella Bomba From Gemelli
Broadbeach
Chocolate-lovers make a beeline for Gemelli. One dish particularly close to our hearts there is the delectable Nutella Bomba. Think: melt-in-your-mouth, deep-fried Sicilian pastry, equal parts soft and crispy, and filled with oozing Nutella. It's probably big enough to share, but you definitely will not want to.
Image Credit: Hayley Williamson for Urban List; Cubby Bakehouse; Guilty Cafe