The one thing the Gold Coast is missing—apart from affordable housing—is a beach club. We're talking about a club that is actually on the beach, sand and all. Think: soaking up the sunshine, a balmy sea breeze rolling over, while you sip on your ice-cold drink. Well, this might be your summer reality 'cause Broadbeach just scored the Gold Coast's first pop-up beach club. Yes, you read that right and yes, we are hyped.
Undoubtedly the place to be this summer, the Kurrawa Beach Club will be sitting pretty on the shores of Broadbeach until Sunday 30 January. We're already planning our summer days here, toes in the sand, throwing back cocktails and basking in the vibrant atmosphere.
So how decked out is the Gold Coast's first pop-up beach club? Think sun lounges, VIP cabanas, casual dining areas, tons of daybeds to relax in, recreational zones, volleyball nets and kid's play spaces. Now that's what we call a game-changer. This exciting summer pop-up resonates with the laid back vibe of Broadbeach and is suitable for all ages, so no one gets left behind.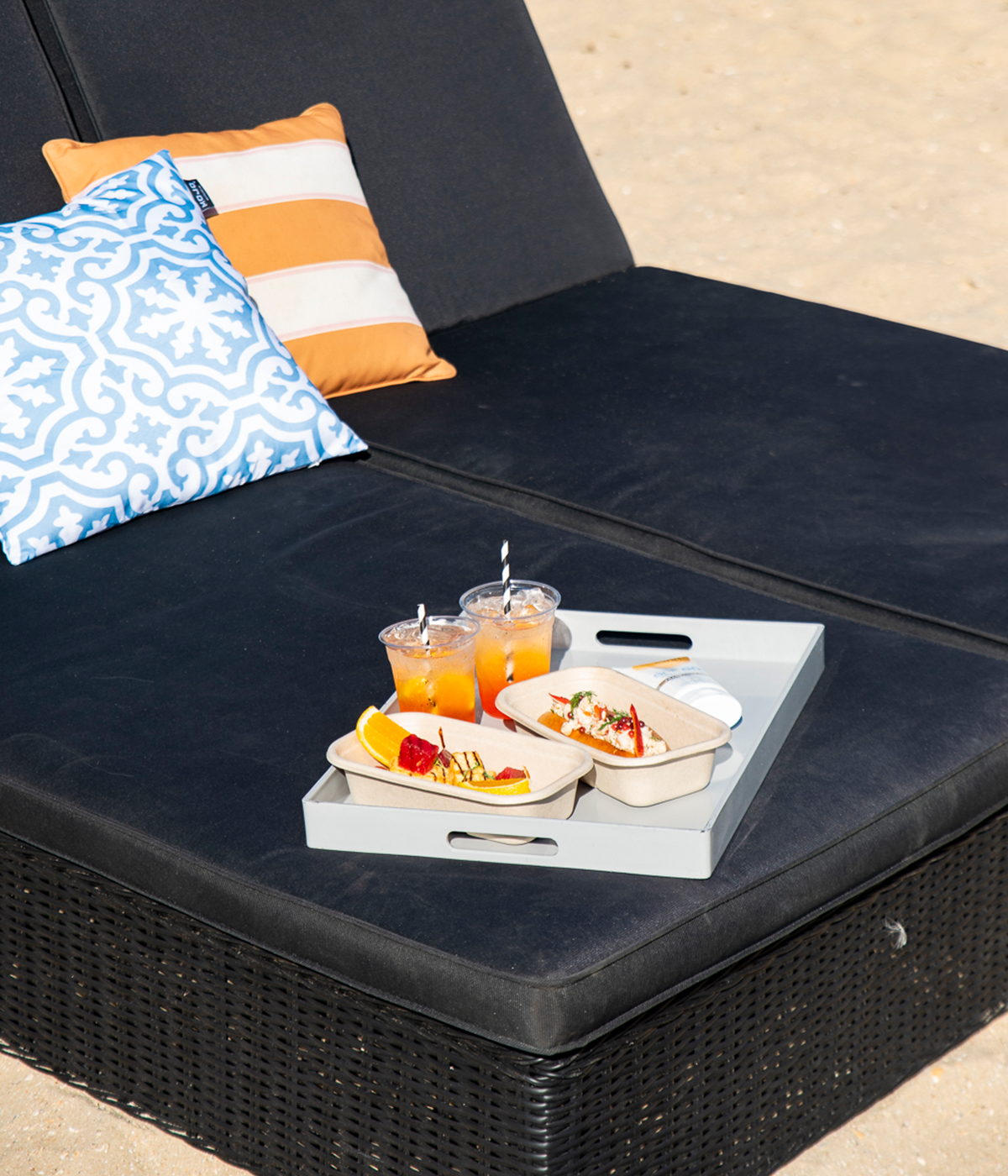 Design-wise, it's an Instagram dream. The beachfront space just oozes summer vibes—neutral tones of white and beige seamlessly blend with shades of blue, emulating that sleek Euro summer style and just begging you to take that one more Instagram selfie. Once you've lusted over the fit-out in all its sunkissed glory, turn your attention to the food 'cause it's goddamn delicious.
The fresh, summer-inspired menu pays homage to the ocean, starring fresh seafood, light snacks, salads and burgers, which pair perfectly with a cheeky bevvie (or three). Speaking of drinks, the summertime sips menu is expansive and features a lineup of homegrown brands such as Black Hops Brewing and Hard FIZZ. Beachfront cocktails just got a whole new meaning.
As if the stunning beachfront views (literally), stylish space and drool-worthy menu were not enough, Kurrawa Beach Club is kicking it up a notch and hosting a jam-packed entertainment lineup all summer long. With a strong emphasis on supporting the Broadbeach community, the entertainment will range from local music concerts to yoga beach sessions to family day activities. Start texting your group chat now, 'cause you've got plans to make.
The good folks at Australian Venue Co are the geniuses behind Kurrawa Beach Club and State Manager, Scott Brydson sums it up perfectly: "The Gold Coast is famed for its picturesque beaches, active lifestyle and exciting hospitality offering and we have designed the Kurrawa Beach Club concept to showcase the best this incredible city has to offer."
Kurrawa Beach Club will open up its umbrellas just in time for you to bask in the sunshine and welcome summer in the right way. The venue will be open on selected days until Sunday 30 January. We reckon they've nailed it, but don't just take our word for it—do yourself a favour and pay a visit to the Gold Coast's hottest new seaside hang.
THE DETAILS
What: Kurrawa Beach Club
When: Open Saturday 4 December to Sunday 30 January
See website for detailed trading hours
Where: Kurrawa Terrace, Broadbeach
For more information, click here.
If you're looking to fill your social cal with more summertime adventures, you have to check out the Disney-themed drive-in cinema coming to the Gold Coast this summer.
Image Credit: Kurrawa Beach Club