A holiday in its truest sense should feature at least a few things. Beaches are a must-have; a little sunshine also doesn't go astray, an ice-cold bev here and there is basically a necessity, and if you're being honest with yourself, some sort of water-based activity would tie the package up nicely, right? It's that bucket list energy you see in postcards, and all of the above—and then some much more—comes standard at the Southern Great Barrier Reef's sublime Lady Musgrave Island.
The 28-hectare island and lagoon sit about 50km off the Bundaberg region's coast at the tail end of the Great Barrier Reef, and it's a real stunner—catch it on the right angle and it even takes the shape of a heart. There are plenty of ways to experience its untapped beauty, and while you can't go wrong whichever way you choose to tackle this vacay, there are several essential stops on (and around) Lady Musgrave Island primed for those postcard moments we mentioned just earlier.
Lady Musgrave HQ
The just-built pontoon floats above the pristine waters of the lagoon, and acts as a perfect jumping-off point if you're looking at spending a night or two exploring Lady Musgrave. You've got two accommodation offerings signature to Lady Musgrave HQ: below deck in the bunks which look out into the lagoon below thanks to the largely glass underside, or private glamping above board for those wanting a little luxury. Regardless of your sleeping arrangements, the team onboard put on a top-notch homestyle feast for the overnighters which is all sourced from within the Bundaberg region back onshore.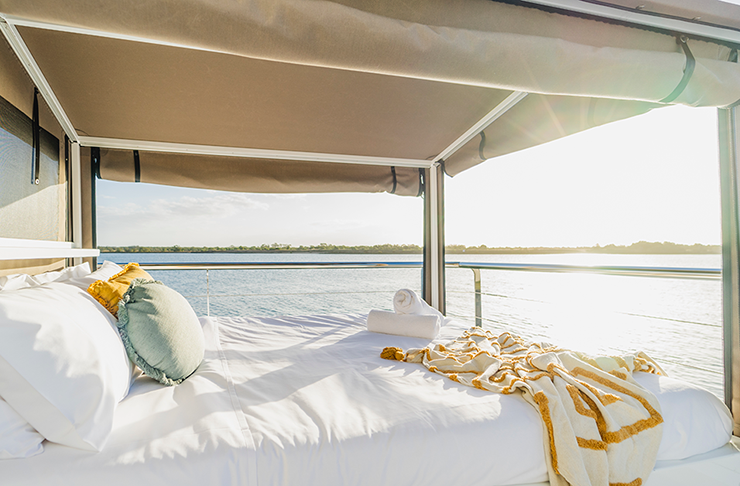 To really double down on the fact that you're on holiday, you'll also be taking a luxury 35-metre catamaran known as the Reef Empress out Lady Musgrave HQ. Fancy.
Snorkelling & Scuba Diving
From here, casual vacationers to the outright adventurous are all catered to. Anyone just wanting to dip their toes in can take off from Lady Musgrave HQ for a spot of snorkelling where you'll likely cross paths with several giant (but gentle) marine friends. While those wanting to dive deep—and who have a license—can take off on a scuba diving tour exploring the lagoon and reef. Evening kayak tours are also very much on the cards should you want to stay dry while getting out into the lagoon.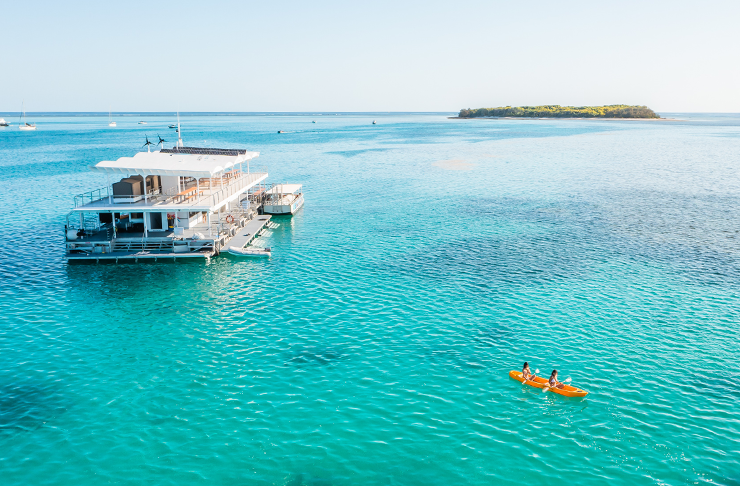 Camping On Lady Musgrave
This one's a real bucket list experience for the happy campers out there, and given only 40 people are allowed to pitch a tent on Lady Musgrave at any one time, you can begin to understand why.
Campers here can explore the island via the stunning pisonia forest and coral shores. Meanwhile, snorkelling, diving, and laxing out on the beach as the day goes by are all on offer, too. The latter is naturally a popular choice after getting a visual. There's only the most necessary of facilities for campers here—which consists of a composting toilet—so you'll need to be entirely self-sufficient and bring your own water, food, stubby holder, tent and camping chair (very important).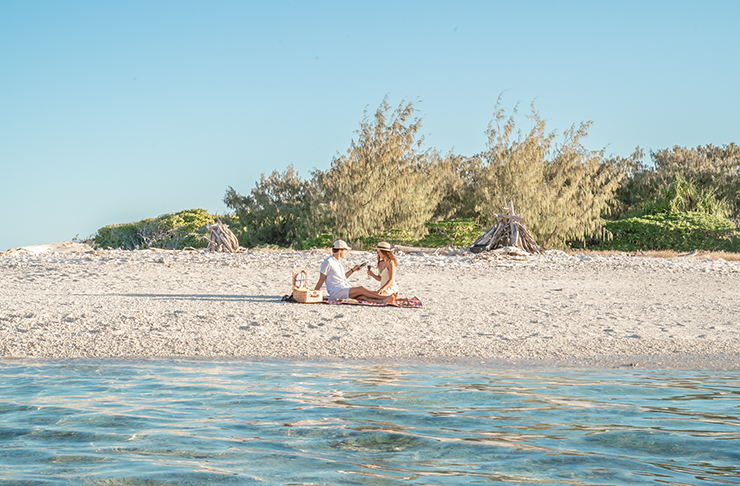 To nab one of those 40 spots, book via Queensland National Parks. There are several operators who take care of transfers to the island. Lady Musgrave Experience is a great place to start.
Lady Musgrave Day Trip
There's plenty to see, eat, drink and do around the Bundaberg regions (more on that here), so if you're pressed for time and desperately want to get to the likes of the Bundaberg Distillery too, a day trip out to the lagoon with Lady Musgrave Experience is the return ticket for you.
You'll first take off on the Reef Empress, that luxury 35-metre catamaran we mentioned earlier, from Bundaberg for a one-of-a-kind morning tea experience. Once you arrive at Lady Musgrave, you'll be treated to a tour of the island—the team here know their stuff, from how Lady Musgrave achieved its world heritage status right through to what that cooing bird is up in the trees above. Ask all the questions.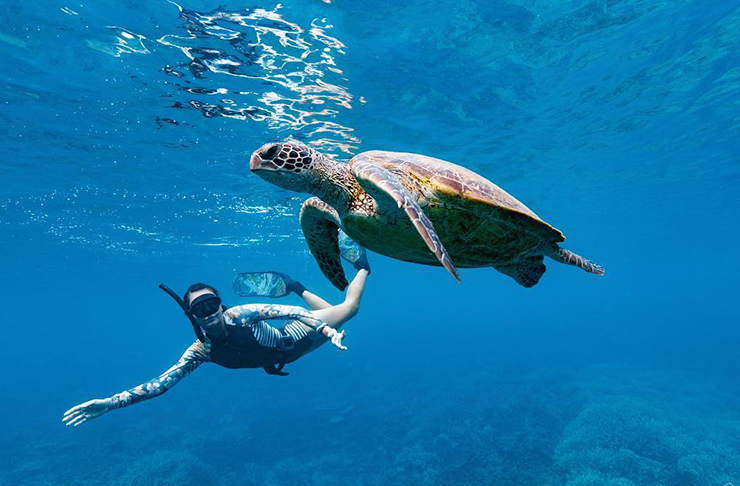 So you've seen the island, and now you get to see the reef. Use of snorkelling gear comes standard with the tours, while licensed divers will have the option to do exactly. Either way, you'll likely take home a selfie with one of the friendly resident turtles who've basically become the quokka of the east coast. You might even get a snap with a ray on a good day.
If you want to go all-out, there's also a glass-bottom boat experience, known as the Great Blue, that takes off from the lagoon. From there, you'll be able to take a look at the intricacies of the reef with a reef guide by your side—you can quite literally find Nemo, if you like.
Throughout the day, it's encouraged to keep an eye out for the Great Eight, several creatures synonymous with the area. Some will be more easily identifiable than others, like humpback whales and several species of sharks; while others like the potato cod and giant clams—who are slightly less majestic but still stunning in their own right—will require a keener eye.
Find out more about the Bundaberg region with our ultimate guide here.
Image credit: Paul Beutel, Lady Musgrave Experience, Visit Bundaberg