Summer is sizzling which means only one thing! It's time to shade up, splash in the ocean and toast yourself dry in the sun. Lucky for us, New Zealand's beaches are among our greatest treasures, from endless expanses of golden bays to rugged black sand beauty. To discover an unforgettable one, read on…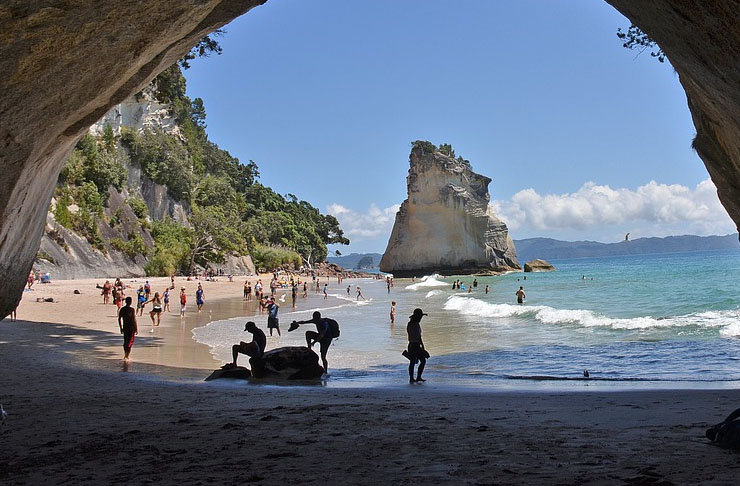 Cathedral Cove
Coromandel
Located in Hahei, Cathedral Cove is a must visit. Venture down the winding path to a series of beaches and coves and find the best saved until last. Cathedral Cove boasts a spectacular naturally-formed archway, making it one of New Zealand's most 'gram-worthy, which hasn't gone unnoticed—its golden bays feature in the film Narnia. The cove is also reached by taxi boat from Hahei beach or by kayak, a great option given the surrounding pristine waters and marine life.
Purakaunui Bay
Southland
Purakaunui is a well-kept secret, found in the sleepy corner of The Catlins, but has a few claims to fame. It featured a small role in The Lion, the Witch and the Wardrobe and The Lord Of The Rings. The large serene bay is framed by high cliffs, native bush and grassy reserves. There's blissfully not much to do at this peaceful spot, except get your surf on when the waves roll in.
New Chums
Coromandel
Now, this is an untouched slice of para, para, paradise. New Chums Beach stands out for its isolation, glittering waters and fringing native forest. From the north end of Whangapoua beach, discover this gem via a 30-minute walk from the Manakahia track. There's no doubt the slimy rock hopping treck will be worth it. New Chums has been voted one of the top 10 beaches in the world, but even in the height of summer, you can have the place all to yourself.
Wainui Beach
Gisborne
Just up the coast from Gisborne, Wainui is an absolute stunner. Its name means 'big water' in Maori, a sensible title seeing as there's world-class surf breaks and swimming. The 4km beach is surrounded by dunes and grass reserves, perfect for tucking into fish and chips from the nearby Wainui store.
Hot Water Beach
Coromandel
Within two hours either side of low tide, visitors flock to Hot Water Beach to find geothermically heated water bubbling up through the sand. Witness hordes of people reverting to their sand-castle-building childhood by digging holes to create makeshift hot tubs. That's right, its time to say goodbye to overprices spa days! Over summer, it's teeming with people come peak times so its best to get in early to nab your spot. Temperatures reach up to 64 C, so settle in carefully.
Karekare
West Auckland
The wild beauty of Karkare, was famously featured in the 1993 film The Piano. The jaggedness of its coast, the fine black sand, and the alluring Karakara falls just moments away, give the impression of being on the edge of the world. There's fewer tourists than nearby Piha but the waters are equally as dangerous so swim between the flags.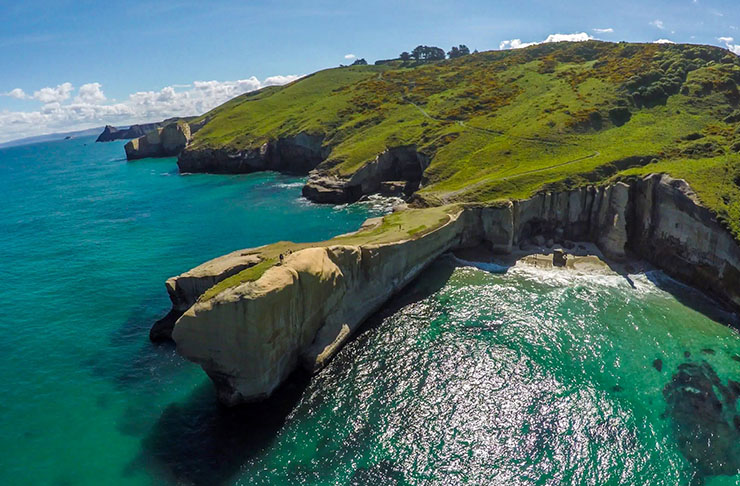 Tunnel Beach
Dunedin
The wild charm of Tunnel Beach will blow you away—sometimes literally, depending on the Dunedin gusts that day. A short drive from the city, descend down the track to a magnificent outlook of rugged sandstone cliffs, arches and a man-made tunnel to the isolated sandy beach. Best at low tide, this is a magical spot right on Dunedin's doorstep.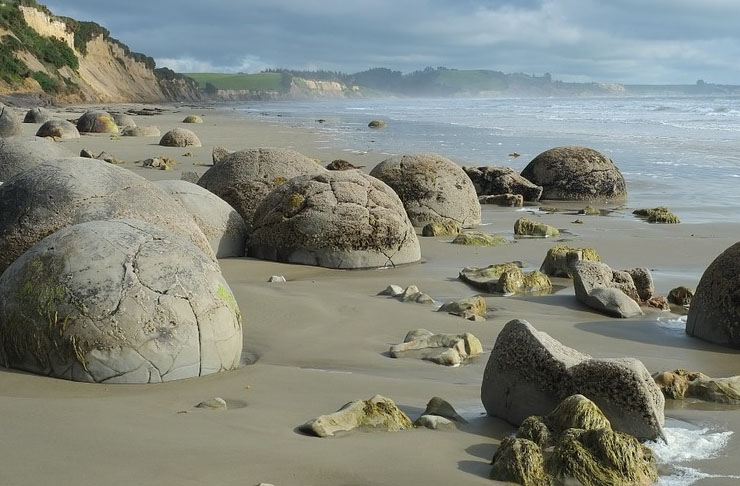 Koekohe Beach
Otago Coast
This North Otago beach is famed for its Moeraki boulders. The striking rock formations that are up to two metres high spill across the soft sand beach. According to Maori legend, they are the ancient remains of sunken Araiteuru canoe. Jump from boulder to boulder, and soak up one of New Zealand's extraordinary wonders. Hike up to the viewing platform for views of the entire length of the beach.
Hahei
Coromandel
Hahei beach is truly about as postcard-perfect as it gets. The sand is golden white and the turquoise water is always crystal clear. It's almost too beautiful to be real. Kayak trips leave daily in summer and take you to nearby Cathedral Cove—a must do for any visitors. You can also stay at the campsite right by the beach, meaning it will literally be on your front doorstep.
Onetangi Beach
Waiheke
As if Waiheke didn't have enough to offer, this three-mile-long beach is b-e-a-utiful. Splash your way through tranquil shallow waters and stroll along the fine-grained sand. Even in the height of summer, there's only a mere handful of people. Heads up: the western end is clothing optional, code: nude.
Muriwai Beach
Auckland
Muriwai is a rugged beauty with its iron black sand and vicious waves, making it a surfers' paradise. It's also great for horse riders, dog walkers and boaties. If your into bird life, it has become a top spot to watch and take photos of its resident gannet colon
Anchorage Beach
Abel Tasman
It's impossible to pick the best beach in the Abel Tasman, the coastline is one golden stunner after another. Anchorage Beach does particularly dazzle however, with its sheer breathtaking beauty, made even more special because you can only reach it by foot or water taxi. Stay overnight in the campsite and make sure to schedule a side trip to the magical Cleopatra pool nearby.
Ninety Mile Beach
Northland
Ninety Mile beach is almost a never-ending paradise, but truth be told, it's actually only 88km long. Starting near Kaitaia and ending close to Cape Reinga (Te Rerenga Wairua)—New Zealand's spiritual northern point—it's an expanse of sand and ocean and massive dunes. Nestle down for the afternoon to watch the surfers and linger for the fiery sunsets.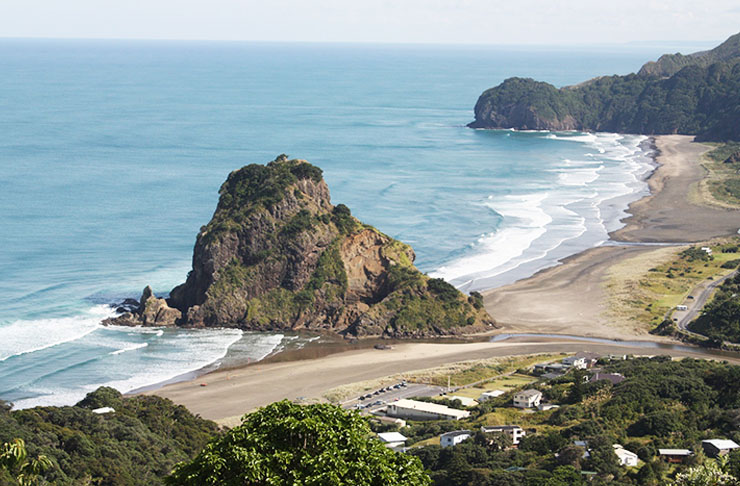 Piha
Auckland
An iconic beach, made famously dangerous in TV show Piha Rescue, which featured its hero lifeguards protecting those who dare to swim. Sizzle in its hot black sand, walk the surrounding tracks and admire the headlands of the striking Lion Rock. The surf is undoubtedly unruly so swim with extreme caution between the flags.
Gillespies Beach
West Coast
Found 25 km from Fox Glacier, the great beauty of Gillespies Beach is a West Coast hidden gem. It's secluded, often strewn with driftwood, and offers a glimpse into our gold mining past and, if you're lucky, a seal encounter. Explore the lagoon at the northern end of the beach for a tamer swimming option and then take the boardwalk to the miners' tunnel track.
St Claire
Dunedin
Arrive at the sweeping beach of St Claire's and you'll most likely spot the crazy surfers braving Dunedin's chilly waters. For the less adventurous, the firm sand makes it an ideal to take a long walk and clear your head. Cafes and bars line the esplanade giving every reason to dine out afterwards.
Raglan
Waikato
There are actually three majestic beaches in Raglan but let's count them as a package deal. Ngarunui (Ocean) Beach, is where most visitors go, and the trek back up the steep hill to the car park isn't quickly forgotten. The majestic vista makes it worth it, though. Manu Bay and Whale Bay are nearby and are equally as stunning.
Kaiteriteri
Abel Tasman
Kaiteriteri is said to have the most sunshine hours in New Zealand, a strong selling point already. Adding to that is its golden sands and beautiful coves. Venture down the windy access road through pine forest to see the beach appear. It's a favourite with South Islanders and draws in packs of tourists.
Punakaiki Beach
West Coast
A few minutes to the famous Pancake Rocks, Punakaiki is a narrow, black sand beach surrounded by the steep Paparoa Ranges. Spend hours exploring the rock pools, eroded outcrops and gazing up at the rocky headlands. It's one of the best places to watch a spectacular South Island sunset from its secluded location.
Sumner
Christchurch
The seaside suburb of Sumner, 10 km from Christchurch, dishes up a sandy beach that ticks all the boxes. It bustles with swimmers and surfers who get drawn to the beach's clean salty air and golden sand. The nearby cafes and restaurants churn out coffee, burgers and ice cream at lightning speed, making it an ideal family-friendly spot.
Mt Maunganui Beach
Tauranga
The relaxed beach town of Mt Maunganui in Tauranga beckons all year round but really comes to life in summer. It's an absolute pumping spot great for road trips with friends and family holidays. The beach is a dream with its white sand and clear waters with cafes lining the strip. Make sure to climb the Mount right by it for incredible views of the beach.
* With 15,000 kilometres of beach coastline in our amazing country, there's no way all of the best could squeeze in!
Want more:
Image Credit: The Cormandel, Enterprise Dunedin
SaveSave