Broadbeach may be known as the mecca for good food on the Gold Coast and the frequently-changing dining scene certainly keeps us on our toes—and our stomachs full—but every now and then, a new dining spot pops up which you just know is going to be a keeper. The latest newcomer on the Broady block, Sofia's Restaurant and Bar, is just that.
Sofia's is a homage to the dreamy tones of coastal Europe and brings a breath of fresh, salty sea breeze air to the Broadbeach dining scene. The stunning fit-out is classic European with a contemporary twist—whitewashed walls, exposed brick, touches of wood and pops of colour. Sofia's oozes European-chic vibes; rattan chairs invitingly spill out onto the pavement, olive trees and clusters of greenery reminiscent of an Italian vineyard adorn the bright venue and the open space lets the balmy breeze flow through.
The crisp white interior is contrasted by glossy black tiles, pops of turquoise-blue and an open kitchen and bar—all designed to transport you to slow, serene summers on the French Riviera. Once you've drooled over the sophisticated fit-out, look a little further and notice the customised details that mark Sofia's out as truly one-of-a-kind. Restaurant extraordinaire, Henry Hunt, is the genius behind this gem and his unique flair runs throughout—the stunning artwork lining the walls are pieces created by his parents, while the stylish tables are handmade by his family. It's touches like this that make Sofia's a special place you want to come back to again...and again.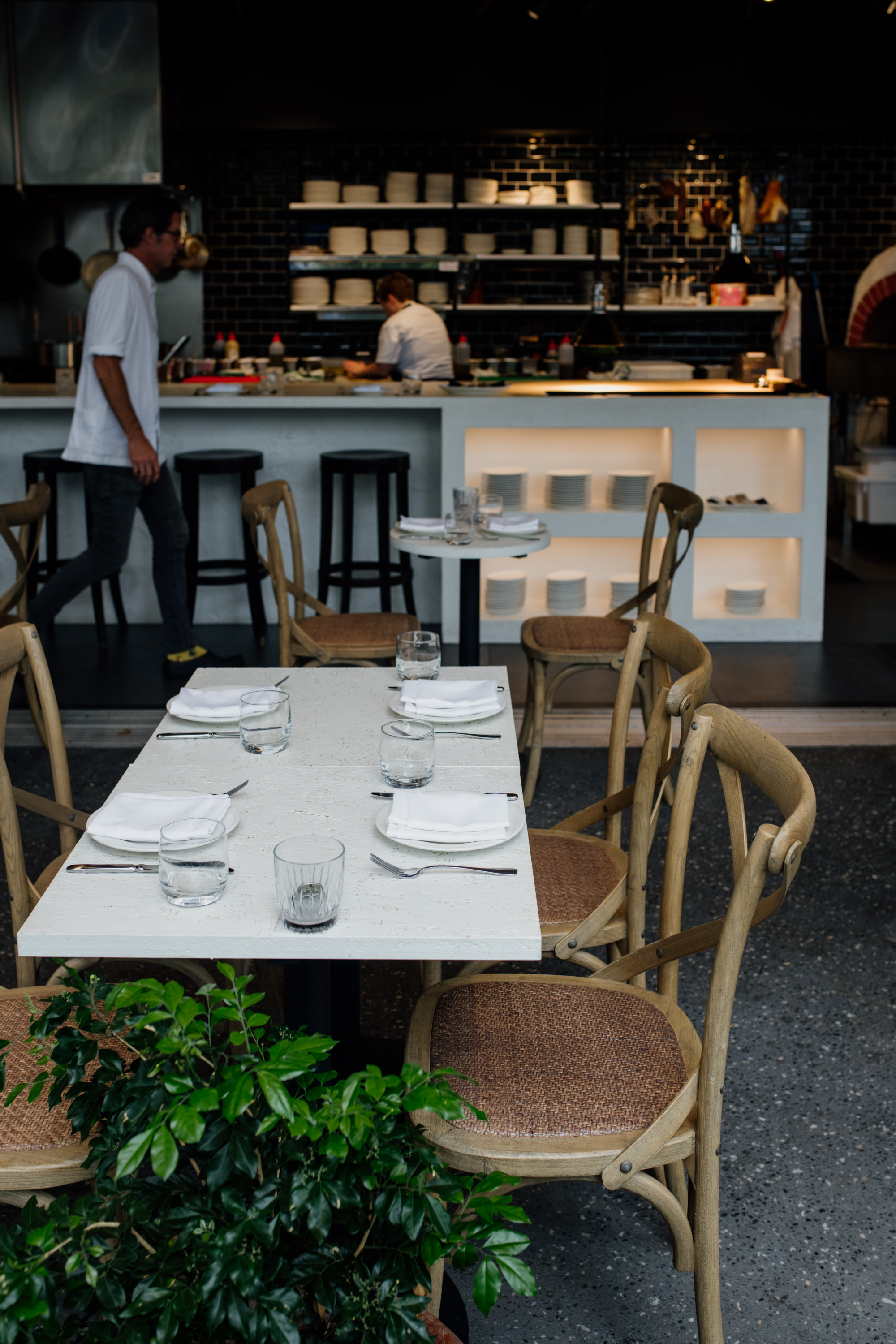 The magnificent share-style menu is stripped back, refined and lets the quality produce speak, nay, sing for itself. Curated by culinary legend, Damien Styles, whose other Gold Coast forays include Etsu Izakaya and award-winning The Fish House, the menu is simplistic and showcases the flavours of fresh, local produce—as well as some delectable European specialties thrown in for good measure.
Once you've lusted over Sofia's dreamy ambience, sneak a peek at the menu—but don't be overwhelmed by the delectable lineup—the share-style menu means you can sample plenty of dishes and keep 'em coming. Start with the housemade wood-fired bread, which is made from fresh dough to order and can only be described as a puffy, rosemary-sprinkled pocket of deliciousness. Warm your palate with luscious fresh figs and vincotto, a vibrant heirloom tomato salad with basil and balsamic truffle glaze and top off your starters with the exquisite kingfish crudo, delicately arranged over a blood orange dressing.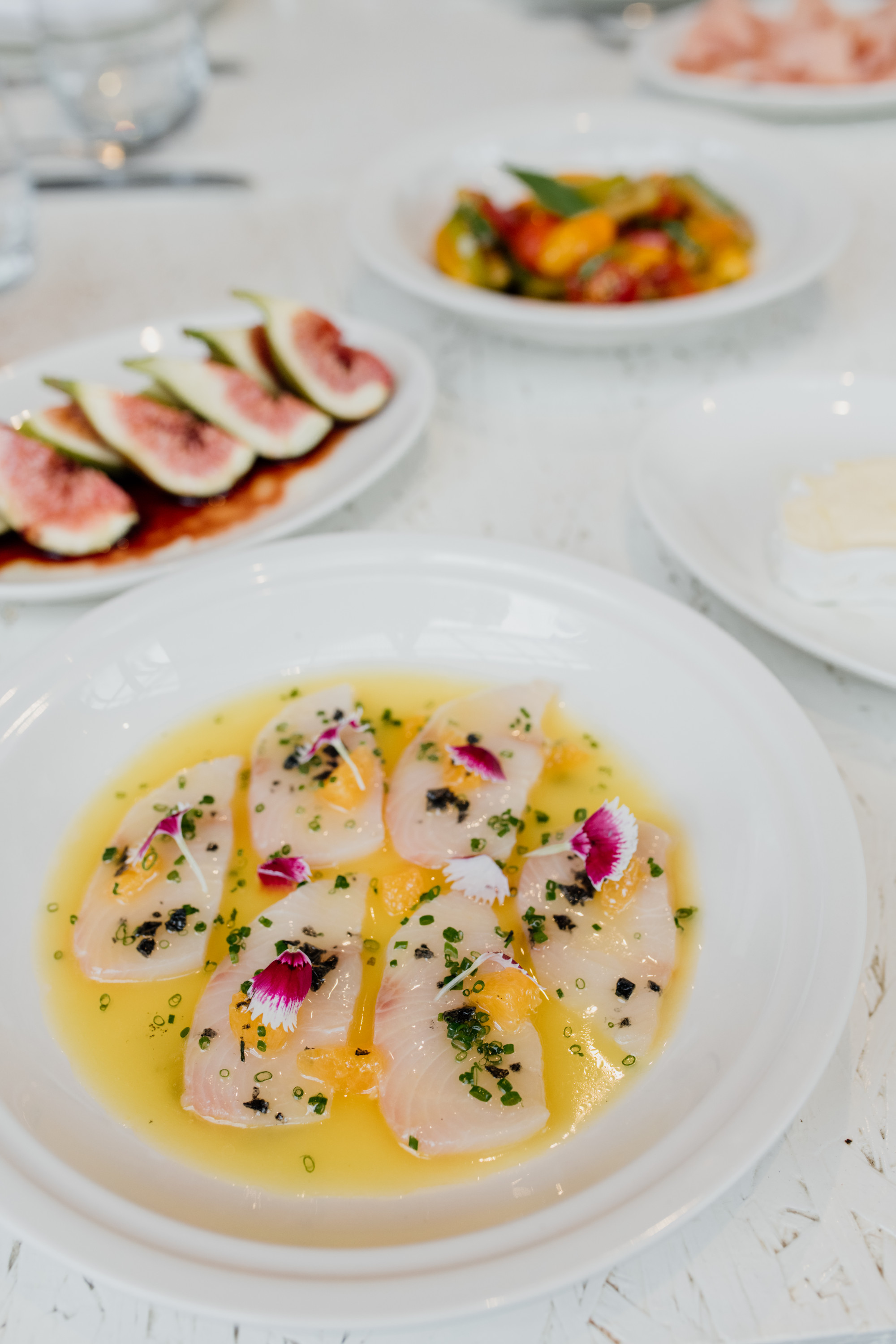 Satisfy your cheesy cravings and dive into Damien's carefully curated cheese and salumi selection—when it has a whole menu dedicated to cheese and salumi, you know it's going to be good. Drool over the creamy triple brie and the Italian gorgonzola and you can't go past the peppered pancetta and wagyu bresaola. This authentic European fare is the sort of thing you'd expect to snack on while lying in a summery Italian vineyard and we can't get enough of it.
Sofia's knows not to change a good thing that has been perfected over centuries, except with fresh, quality produce of course, and this ethos is showcased in their larger dishes. Picture this—housemade linguine with king prawns, garlic and chilli, fresh chardonay mignonette oysters and grilled Mooloolaba king prawns, cooked over a charcoal grill. It's simple, it's fresh and it's goddamn delicious. The Gold Coast needs more of this stuff. In a city that thinks of Italian cuisine as spaghetti bolognese and margarita pizza, Sofia's is a breath of fresh, seaside air. You can practically hear the seagulls.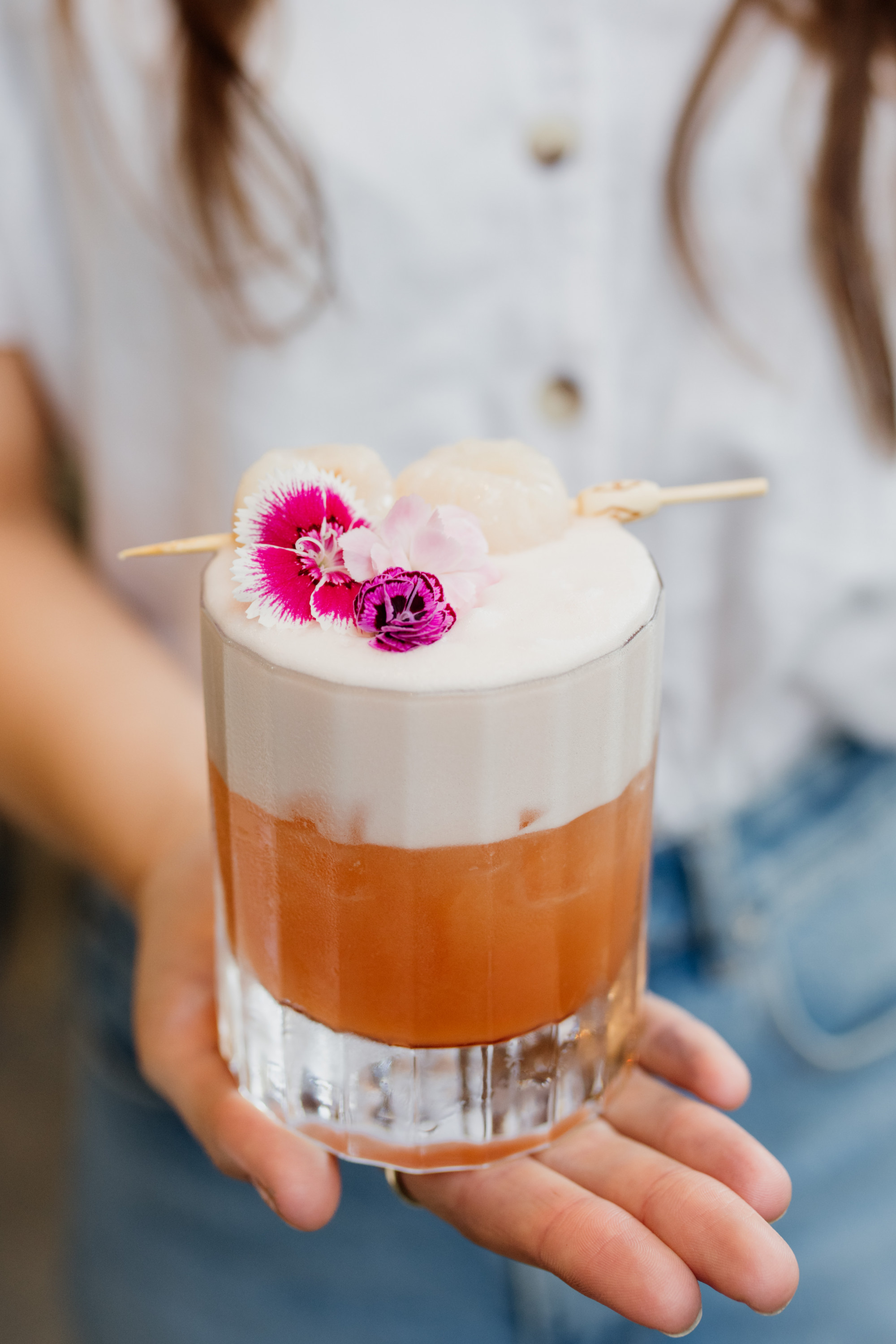 Take it slow, linger and let your long afternoon lunch become dinner plans, so you have an excuse to dive into the extensive drinks list that takes you from pre-dinner cocktails through to dessert wines. At Sofia's, boutique and hard-to-find drops from Europe take centre stage and the seriously impressive wine lineup is not to be scoffed at. Browse the tempting selection of cocktails and prepare to fall in love (or off your chair after a few) with the exquisite Hibiscus Lychee Sour, a tantalising concoction of Martini Rosso infused with hibiscus tea, Campari, gin, lemon juice and lychee juice. Nod to Sofia's ethos of making everything in-house and order the Chai Negroni which is infused with a homemade chai for six weeks in a traditional aged oak barrel then poured over hand chiselled ice. We can confirm it tastes as good as it sounds.
Sofia's is the perfect marriage of tradition and modernity; it's sophisticated yet simplistic, stripped back yet refined and is a true celebration of European flavours. If you've been chasing a quality dining experience, it's absolutely time you unfold a napkin at Sofia's.
THE DETAILS
What: Sofia's Restaurant and Bar
Where: Oasis Shopping Centre, Victoria Avenue, Broadbeach
When: Open Monday to Sunday, 8am till late, serving lunch from 11:30am
For more information, click here.

Looking to indulge in more European cuisine? Venture over the border (trust us, it's worth it) and slurp up Italian-with-a-twist at Byron's newest eatery.
Image credit: Brooke Darling Photography