There's a quaint retro charm to Brunswick Heads, the seaside town nestled between Byron Bay and the Tweed Coast.
Off the beaten track, Bruns boasts a pristine river that flows into a surf beach with private inlets along the way. It's a tree change by the sea and was recently home to the new series of Sea Change—it's that dreamy.
From sprawling old pubs to tiny restaurants, there's even an original 50s picture house and a swag of vintage shops to wander.
Here's our top picks for the best things to do in Brunswick Heads, when you're ready to plan your next weekender.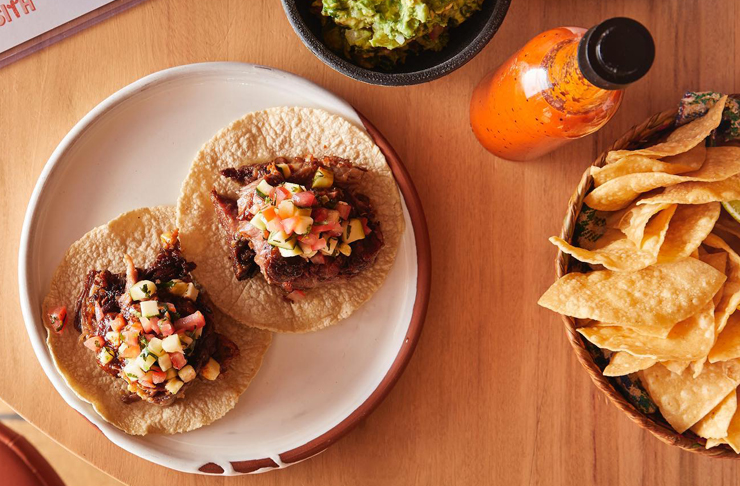 Eat + Drink
LA CASITA MEXICAN CANTINA
Yucatan comes to Brunswick; this authentic Mexican Cantina is the brainchild of the renowned Fleet folk. There's a wicked margarita menu, local beers and tasty tapas like a poached chicken with mole negro, dark chocolate and chillies. La Casita channels an outdoor eatery in Tulum, beachy feels go together with splashes of orange and tiled feature walls. A laid back Latin eatery offering good food and cocktails that taste like an endless summer.
Fleet
Lauded as one of the best restaurants in Northern NSW, Fleet could've been plucked straight out of Sydney or Melbourne, but the fact it's found a home in the most unlikely of locations, makes it extraordinary. Having migrated up from Victoria, Fleet's young owner-operators are sea-changers with an impressive resume. The intimate dining room only seats about 20 at a time, and dinner is often booked solid weeks in advance, so be sure to call ahead before you set off on your roadie.
BRUNS BAKERY
The bakers from Bruns Bakery promise 'good vibes baked fresh daily'. Taking over the old Brunswick Bakery established in 1950 and giving it a mind-blowing reno, this local crew is all about eating cake and drinking good coffee. From banging baguettes, buttery pastries and crusty sourdoughs to delicious doughnut boxes, it's safe to say the charming Bruns Bakery is a must-visit when looking for things to do in Brunswick Heads.
CADEAU
This little beauty is a pleasant surprise and popped up in the space formerly occupied by Kingswood Restaurant. A hop and jump from the pub, Cadeau oozes European charm with a simple share plate menu and crafted wine list. Husband and wife team, Molly and Giorgio have combined their talents to produce a friendly, fresh and inviting eatery with seriously good food. Chef Giorgio brings a touch of his Swiss heritage to the table, so expect to taste cheese and more cheese throughout the delicious menu.
OLD MAIDS BURGER STORE
Sticking with the retro theme of Brunswick, the Old Maids Burger Store sits in a quaint corner store building, serving jam-packed burgers of all tastes and spices. The ideal lunch spot, there's an array of local produce in the burgers and salads, fresh juices and good coffee all set in a relaxed diner style. Check out their tasty breakfast menu and daily cake cabinet, it's one of those local spots that attracts people as the sun comes up. Next door they've also opened a pizza and wine bar, Saint Maries, for the night time revelers.
Daily Counter
As you roll into town via Tweed Street, keep your eyes peeled for the white brick façade of cute cafe, Daily Counter. Come for your morning fix of smooth Allpress Coffee and pastries by The Bread Social, though be warned, you may leave with an armful of fresh blooms, locally-crafted ceramics, organic soap bars and other curious handiworks.
ETHEL FOOD STORE
Full of fresh goodness from the team at Fleet and La Casita, this unassuming eatery packs a punch from breakfast to lunch. A cabinet of freshly baked focaccias, daily salads and a banging pizza taglio with the latest Northern NSW flavour, Oomite are just some of the nosh that await you at Ethel Food Store. Added bonus Chef Daki (Fleet's) sous chef has popped up a raman, sake bar every Wednesday night as part of the big rejig.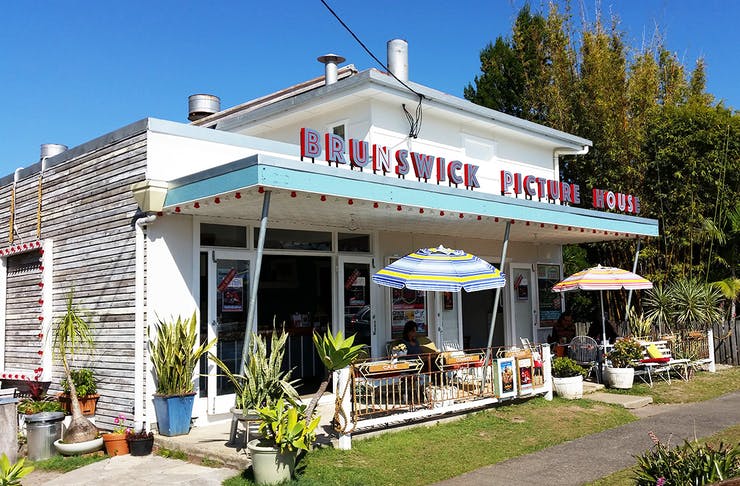 Play
Simpson Creek
While it might look like nothing more than a drained mud flat when the tide is out, come high tide and with the sun beaming overhead, Simpson Creek, an offshoot of the Brunswick River, could be mistaken for the crystal-clear waters of the Caribbean. Okay, maybe that's a stretch, but it sure makes for a lush setting to spend an afternoon floating. Somehow the water in this protected pocket stays pretty damn cool too, so join the hordes with a floatie or SUP, or be reckless and jump off the bridge with the local teens.
BRUNsWICK PICTURE HOUSE
For 30 years, the original Brunswick Picture House was patiently waiting for the right person to lavish it with love and open it back up for everyone to enjoy. Incoming cirque owner Brett Haylock and his partner have rebooted this little lady and brought her back to life to host live theatre, comedy and cabaret. There's a tranquil garden that serves cakes, coffee and a dam fine Sunday Yum Cha deal. A plethora of well-known performers kickstart their shows here, like Katie Noonan, Dave Hughes and Judith Lucy.
THE HOTEL BRUNSWICK
The Hotel Brunswick has to be one of the most renowned regional hotels in Australia. Boasting original art deco facades and the biggest beer garden we've ever seen, when it comes to the best things to do in Brunswick Heads, sinking a cold one here, comes in close to the top. Known for its Sunday sessions and live music gatherings on the outdoor amphitheatre stage, both musicians and revellers flock to the Brunswick. The pub food is fresh and affordable with a focus on local Northern Rivers produce, so drop in for your drinking sesh with a hungry belly.
Shop
RESOULD
Resould is a groovy collectables shop on the way into town, but blink and you may just miss it.
Look out for the cowhide rugs, vintage furniture and old orange Ford F100 out the front. Locally-owned and operated, this little pearler has been quietly upholstering chairs, lamps and poufs for many years. A one-stop retro shop, where you can pick up anything from old vinyl to a 60s china tea set, add a rummage at Resould to your list of things to do in Brunswick Heads.
FABULOUS MRS FOX
Fabulous is one word to describe this shop. Styled to an inch of its life, take time to explore this vintage treasure trove. A fusion of new and old with a focus on local designers, it's a gallery of sorts with antique wares, jewels, clothes, hats and dressing table trinkets. Open seven days, Fabulous Mrs Fox is the ideal day-tripper for the fashionista or discerning antique collector.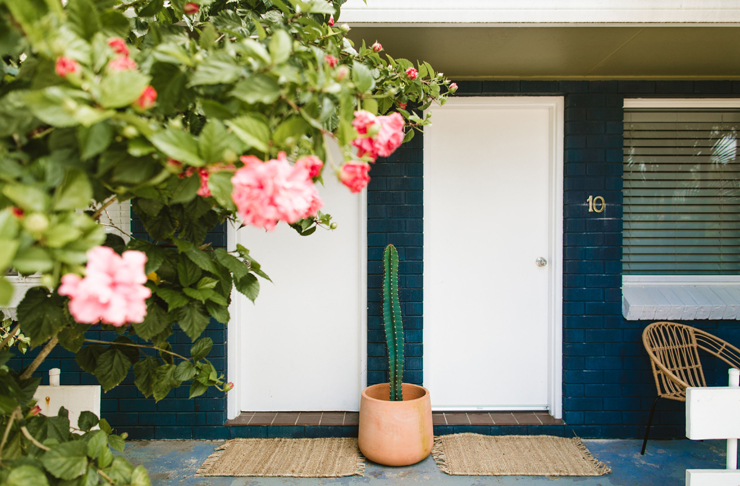 Stay
THE SAILs MOTEL And Pool Bar
Restoring a classic motel to its former beauty, The Sails is as nautical as it is contemporary.
The retro-chic architecture oozes a 'Palm Springs meets Brunswick Heads' vibe with blue and white stripes greeting you at every turn and a 50s-style pool taking pride of place.
Central to town, this Brunswick Heads accommodation is located next door to Saint Maries pizza and wine bar and Old Maids Burger Bar, so tucker is well and truly sorted.
THE BRUNSWICK
Brunswick Heads is about simple living by the sea and The Brunswick has captured the lifestyle of this riverside town in this funky house. The boutique-style accommodation is in the heart of town and offers a couple's retreat or four-person suites, with luscious garden surrounds that top off the stunning interiors.
Chalet Motel
If you're looking to holiday in Brunswick Heads and want a place to come home to each day that's casual, great value and damn fine to look at, the Chalet Motel is where you need to book. With 12 rooms on offer, tropical gardens, a pool and plenty of Insta-worthy photo ops just waiting to be had, this revamped motel ticks all the boxes.
SALTY SAM'S
From the moment, you enter the retro façade of this beachside apartment you will be immediately transfixed by the luscious interiors. Styled to perfection, Salty Sam's is one swanky apartment for the bustling river town. There's two comfy (large) bedrooms for you to frolic in with plenty of morning sun and birdsong. You can literally see Fleet and Bruns Bakery from your Juliette balcony—this gem is perched atop the renowned corner health food store and cafe. Tastefully decorated with local artisan wares, the crème de la crème is the sweet smelling complimentary organic products by In The Raw Byron Bay.
* Brunswick Heads is located 30 minutes south of the Gold Coast Airport and 15 minutes north of Byron Bay. Surrounded by the Byron Hinterland and Tweed Valley there's a plethora of waterfalls and national parks to explore, like Killen Falls and Nightcap National Park.
Looking for more getaway inspo? Check out our epic Local Escapes section.
Image credits: Chalet Motel, La Casita, Brunswick Picture House and Brooke Darling