Heartfill Store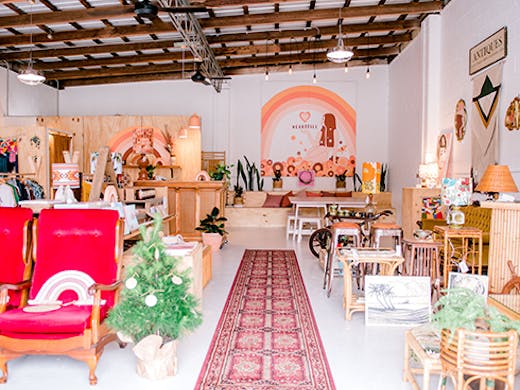 The Verdict
Heartfill is the passion project of local teacher-turned-sustainable living queen Corinne Russel, who believes in filling your heart, not filling the land. And this is the ethos she's embodied through Heartfill, a one-stop-shop for flowers, clothing, art, craft, homewares, and vintage pieces.
Most of the products sold at Heartfill are hand-made, made to order, or completely one off, so there's no generic and mass-produced products in sight. Everything in store is sourced from local creatives, so by making a purchase you are not only treating yourself to something fabulous, but also supporting local talent.
Heartfill also doubles as a creative workshop space where the community is able to acquaint themselves with the skills of making and creating, while also coming together in a unique and welcoming environment. There's also a 'meet the maker' space where the community can observe artists at work and learn about the skills of craftmanship, as well as corporate wellbeing programs.
Image Credit: Kaitlin Maree Photography for Urban List
---