Honour | Brunswick Heads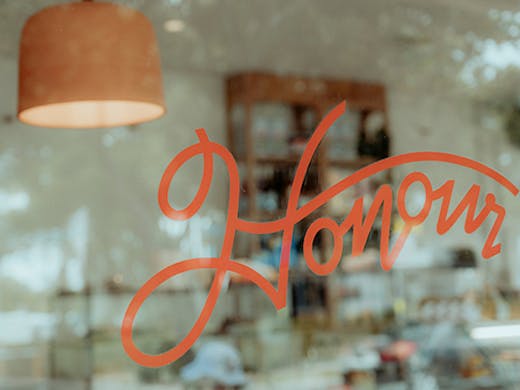 The Verdict
Honour has long established itself as a firm favourite in the Brunswick brunch scene, but they're changing the game with their new after-hours natural wine and salumi bar—needless to say, it was love at first sight for us. European-style charcuterie plates and natural wines take centre stage with their simple, authentic and delicious flavours, bringing uncomplicated yet indulgent delicacies into our lives.
The space oozes French-chic vibes; small tables cluster on the pavement, the espresso machine hums out of a charming coffee window and greenery cascades from above—it's a special spot that simply draws you in to linger.
Honour's magnificent menu is stripped back, inspired by the abundant local produce of the Northern Rivers region and usually requires bread for mopping. Start with a delectable selection of smaller plates; cucumbers, pickled mussels and stracciatella curds, followed by carpaccio of zucchini and squash with manchego cheese. We can't go past the famous handmade share plates, heaped with cheeses, salumi, pates, terrines, pickles and preserves.
Your delectable nibbles are delicately paired with a colourful natural wine list, proudly displaying drops you won't find anywhere else in the region. Honour boasts a solid wine list of Australian, French and Italian wines and a rotating blackboard of interesting and hard to find wines by the glass.
Deli and cafe by day, wine and salumi bar by night, Honour is truly one of a kind. Prepare to fall in love with this dreamy European-style aperitivo bar, where the wines are pouring, people laughing and fingers happily digging into wholesome plates.
Image credit: Supplied
---