i like ramen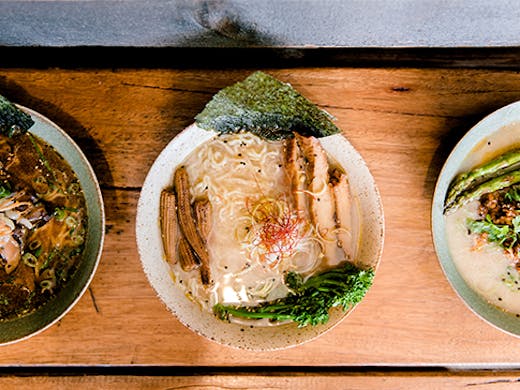 The Verdict
Having made their mark on the Gold Coast dining scene with their hearty-as-ever plant-based ramen, i like ramen have recently jujed up their beloved menu of 100% vegan Japanese fusion eats, and the results are just as delicious as they are aesthetically pleasing. Fear not, all your old favourites (such as the cult favourite white miso + chick'n ramen) are still on the menu, just with some fresh twists and new innovations thrown into the mix.
Going right back to their roots, these guys have simmered their famous broth down to its Japanese beginnings, mixing up their dishes with a range of delicious oils, seasonal fresh ingredients and new cooking methods. They cook everything in-house with local ingredients, making sure the nutritional value, as well as the taste, hits the spot for vegans and the vegan-curious alike.
Ramen is what these guys are best known for, and the expanded menu now boasts six different types of bowls, including some with a delicious, creamy oat broth. Forget the standard bean sprouts and spring onion cuttings, each bowl now comes with unique toppings to pique your interest for several dinners to come.
Located within the Surfboard Empire HQ in the re-developed retail corner at Nobby Beach, i like ramen has capacity for around 70 diners in their sleek, street-level space with large windows opening out to the sunshine. The Japanese-style whisky bar has expanded its offering to include an Instagram-worthy range of classic cocktails with a twist, and of course, cold pints of Japanese beer are served too if that's what you're into.
Image credit: Kaitlin Maree Photography for Urban List
---