Iku Yakitori And Whisky Bar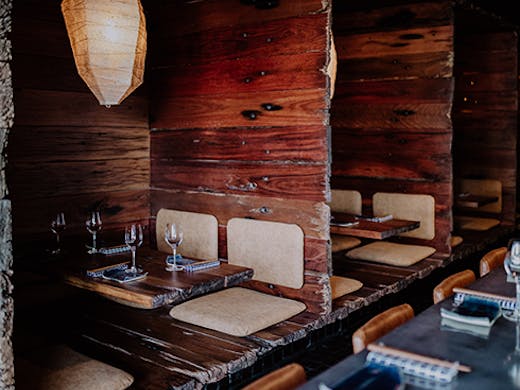 The Verdict
Burleigh's Iku yakitori and whisky bar is next level on so many fronts.
Recently under new management, Iku presents a simple offering that hones right in on yakitori. For the inexperienced, yakitori translates to chicken skewers and a technique utilising every part of the bird, from breasts and thighs, to chicken skin, liver, heart and oyster, each carrying its own subtle flavour difference and paired with fresh wasabi or special seasonings and sauces made from house recipes.
While a traditional yakitori bar is almost exclusively skewers, Iku complements the robata grill menu with tasty options from flavour-packed ramen to agedashi tofu, raw dishes like Hiramasa kingfish and beef tataki, to Shio Koji fried chicken, Wagyu sirloin, chicken soup and liver pate (again, making use of the whole chicken).
Rocking one of the most impressive fit-outs in town, step past the simple façade and you'll feel like you've been transported to another world. Or, at the very least, another country. Whacking you in the face the moment you slip inside, anticipate sensory overload with a solid cement, open-plan kitchen on full display.
It's atmospheric, narrow and bustling, and you'll likely be rubbing shoulders with your neighbour when you pull up a front row seat at the yakitori bar, where steam wafts and the grill sizzles as Japanese chefs work over the robata and white-hot binchotan charcoals.
Just in the mood for drinks? Weave your way into the grungy back alley of Justins Lane, where you'll find the characterful entrance to Iku's intimate whisky bar. Pull up a seat at the bar or slip into the communal plush velvet couch, where one drink will likely turn into a spontaneously good night out.
In what is another recent change, Iku is now open on Tuesdays to service the hospitality and mid-week crowd, with first in, best dressed access to $2 yakitori skewers and new menu samples, slurpable ramen and a live musician to bring the grooves.
Image credit: Hayley Williamson for Urban List
---