Kalm Springs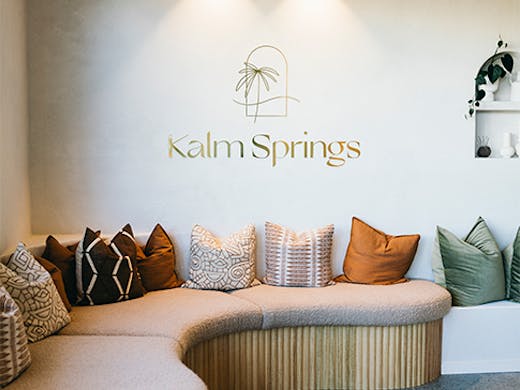 The Verdict
Slip off your shoes, exhale and let any stress melt away when you step foot into the stunning new health sanctuary sprinkling its calming magic around the Gold Coast. Nestled in lush seaside escape Casuarina, Kalm Springs is an indulgent seaside health spa that is all about healing, rejuvenation and wellness from within.
The moment you step into the luscious space, you'll be transported to the luxe land of California, with a generous sprinkle of zen, Bali-esque vibes. Kalm Springs has nailed the minimalist feng shui look—think natural textures and flowing lines, rattan furniture, pops of lush greenery, softly arched nooks and a light-filled interior that invites you to take it slow and switch off.
The team here is all about restoring balance to your body, and they have a variety of blissful treatments to rejuvenate you. Their three main wellness treatments include float therapy, infrared saunas and LED therapy—while you can choose how many treatments you want, we recommend you clear your schedule for this place and take the time to splash out on a day of pampering. Trust us, it's worth it.
Image credit: Kristy Mason Photography
---