La Bella Cellar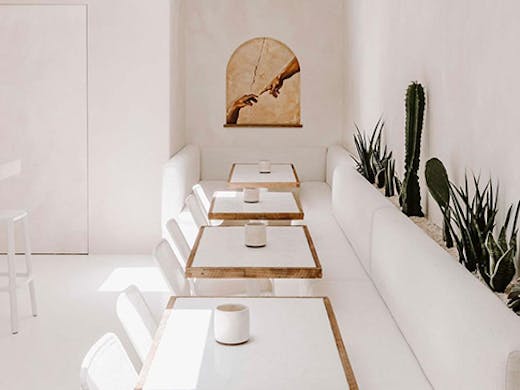 The Verdict
It's raining Mediterranean-inspired joints on the Gold Coast lately and we are most definitely not complaining—we love it so much that we didn't even bring an umbrella.
La Bella Cellar quietly popped up in December 2020 on Deodar Drive in Burleigh Heads and it's been the talk of the town ever since. It's easy to see why: the intimate venue exudes an air of mystery, with its modest entrance (a wooden door with hovering initials and a teeny cactus) that evokes a hidden speakeasy vibe.
La Bella's concept and fitout sprouted from the minds of talented locals Adam Farrugia and Josh Bailey, who own the stunning bespoke building and design firm Studio Build. The space is sexy as hell, with compact white walls, a dreamy indoor cactus garden and gorgeous accents like the handmade ceramics by local Kelly Bignell. If you're thinking of sinking a few glasses of wine with a date while sharing a generous cheese plate or slurping down some oysters, we strongly recommend you hit up this joint.
Image credit: La Bella Cellar
---