Little Mali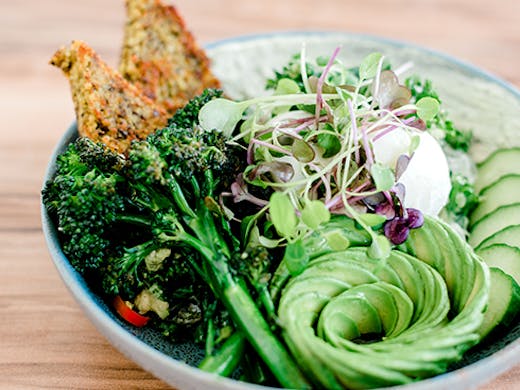 The Verdict
The much-loved eatery, located just a block back from the Cooly beachfront, is known for its seriously good coffee (they brew Bun Coffee's 100% organic, fair trade blend, hand roasted in Byron) and their delish brekky and lunch options. Oh and did we mention the prices are very wallet friendly.
Little Mali, which offers both indoor and outdoor seating, has something for everyone with vegan, gluten and diary free options, healthy dishes as well as indulgent treats.
For brekky you HAVE to try the waffles, not only are they oh so pretty, they're also damn tasty. Soft with a crunchy edge the waffles are smothered in pitaya and Cocowhip (GF and DF soft serve made with coconut water) with maple crushed almonds, toasted coconut and berries. It's a sweet brekky that won't leave you feeling heavy. The lunch menu, which kicks off at 11am is another tasty affair with offerings like a slow cooked lamb burger, fried spiced cauliflower with smoked paprika, cumin and fennel seed, and sweet potato fries with vegan aioli.
Finish it all off with one their Next Level Shakes. Choose between the Salted Caramel Pretzel, S'mores, Peanut Brownie and Strawberry Dream. Go on, you deserve it.
Image Credit: Kaitlin Maree Photography
---