Lupo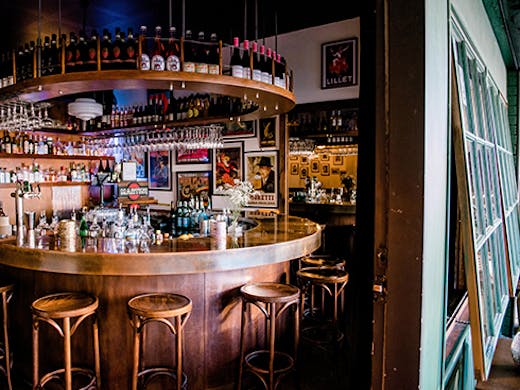 The Verdict
From the outside looking in, dimly lit Lupo has the essence of an Italian neighbourhood trattoria and late-night bar. It already feels worn and lived in, like it's been there forever. Dark timber furnishings and Bentwood chairs join inviting forest green booths and banquettes; spherical ceiling lights, grey-washed walls and exposed cement floors all tie together seamlessly in the 40-seater dining room.
That's if you can drag yourself past the stunning horseshoe cocktail bar at the entrance, topped with copper and fringed overhead with bottles of both old and new world wines, as well as a selection of natural, low interference vinos. If there's one thing we love, it's a bar that suckers us in for a tipple, which unexpectedly turns into an all-evening session. Better yet, Lupo is one of the rare venues on the Coast serving incredible food until midnight.
What really sets Lupo apart, is that it's one of very few restaurants in the country to be almost exclusively cooking in a wood-fired oven. And no, there is no f*cking pizza. They source fresh farm produce from growers in the Northern Rivers and Tweed region, with visits to Southport's trawlers to gather caught-this-morning baby snapper, prawns and cuttlefish. Lupo's menu evolves depending on whatever they can get their hands on, so each visit presents a new selection of utterly brilliant, yet classic dishes to try.
Image credit: Kaitlin Maree for Urban List
---