Maggie Choo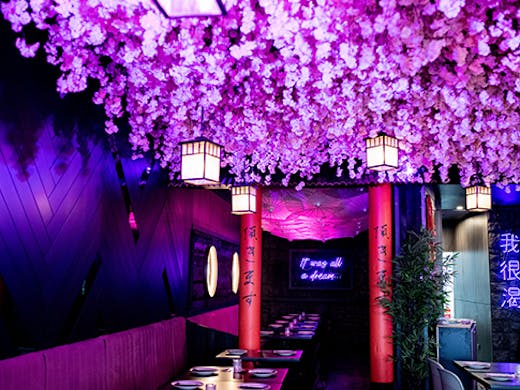 The Verdict
We're here to bring you some breaking hospitality news: Pat Gennari of the Gennari Group (Koi, Loose Moose, Roosevelt Lounge) has done it again. And by "it" we mean "open a fabulous new restaurant.
Inspired by the street food and hawker markets of Southeast Asia, Maggie Choo is Broadbeach's newest Asian fusion hotspot, and it was love at first sight for us.
Boasting a typical share plates style menu with both big and small portions, the menu at Maggie Choo is everything you've ever wanted from hawker-style fare and more. Between the banquet menus and the vegan menus, plus the plethora of choices for both, we promise you will not go hungry. If you're anything like us, you might actually go home too full to move.
We're talking salmon sashimi tacos, Indonesian fritters, Kingfish sashimi, oysters, it's all here.
With a list of pretty interesting twist on some classic cocktails, like the Not Today Satan (a spicy twist on the Blood Mary, which comes with its own dedicated Tabasco bottle), Lady Luck (a lychee cocktail served with a cute fortune cookie) and an espresso martini that'll knock your pants off, Maggie's also has you covered on the booze front.
So if you're looking for a spot that has that big city vibe, with casual but killer eats and a picture-perfect backdrop (we predict Maggie Choo will feature in many, many selfies), you know where to head.
Image credit: Brooke Darling Photography
---