Magnolia Lane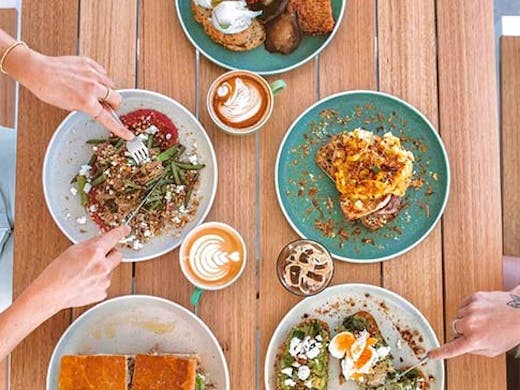 The Verdict
Magnolia Lane is a newly opened cafe that commands the corner of the Gold Coast Highway and Fire Avenue in Burleigh Heads and has been turning heads with its wholesome message. A bold feature wall reminds us to be grateful every day and, boy, we are grateful for Magnolia Lane. Bringing good vibes, wholesome meals and top-notch coffee to Burleigh, this laidback eatery is ticking all our boxes.
Picture this: your curiosity has been piqued by the eye-catching feature wall, you venture into whitewashed outdoor space and immediately feel like you've found your new local. That's exactly what visiting Magnolia Lane is like. The breezy space uses clean lines to create a sophisticated yet casual look and the white walls are contrasted by tasteful pops of dark green. It's bustling, bright and full of energy—just the way we like it.
Magnolia Lane was brought to life by an intrepid group of young Burleigh locals with a passion for combining wholesome food, gorgeous decor and exceptional coffee and this ethos resonates throughout every aspect of the eatery. The all-day menu is centred around wholesome food that nourishes your body, but it's also damn delicious and totes Instagrammable.
Get your hands on a menu and peruse the tempting options like the eggs benedict with braised pork shoulder, apple cider hollandaise and apple sauce or the smoked salmon and asparagus combo, loaded with smashed peas, poached eggs, pesto, beetroot relish, dukkah and feta. Either way, you can't go wrong.
If you're after something heartier, drive into the Moroccan lamb plate, which is piled high with braised lamb shoulder, sauteed greens, couscous, feta and dukkah or try our fave mushroom toastie with portobello mushrooms, garlic and herb oil, mozzarella, caramelised onion and rocket. One mouthful of this oozy, cheesy goodness and you'll be hooked.
Magnolia Lane takes their coffee very seriously and serves only the finest beans from Melbourne based Inglewood Coffee Roasters. When it's from Melbourne, you know it's going to be good coffee. For those who like their caffeinated brews black, there's a Single Origin blend, with notes of grape, plum and dates, which will satisfy even the fussiest of coffee connoisseurs. If caffeinated goodness isn't your thing (yes, we're judging), you're spoilt for choice with an extensive range of fresh juices and smoothies.
The wholesome wall mural may have caught our attention but the delicious food, top-notch brews and friendly vibes have kept it. If you take your coffee with a sprinkle of gratitude then you're going to fall in love with Magnolia Lane.
Image credit: Magnolia Lane
---