Maman Bar and Kitchen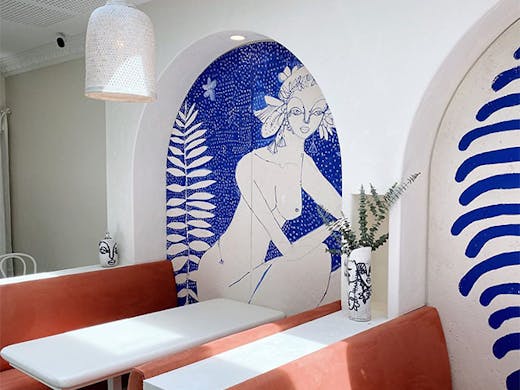 The Verdict
A big shock wave of excitement rippled through the Gold Coast last Friday 2 October when Maman opened its doors to the public.
Owned by champion Ironman Matt Poole and restaurateur Olivier Frost, the new restaurant boasts delicious Mediterranean to Middle-Eastern bites, sustainable wines and no nonsense cocktails.
Slinging the edible goods from the kitchen are Frost's mother Karen Frost and aunt Lizzie Fines—who apparently have been personal chefs for Pink, Tom Hanks, Kate Hudson and Matthew McConaughey—so it's safe to say you can expect top-notch eats.
Maman's menu is split between starters, small plates and bigger plates, which makes it the perfect "order everything and share" situation. Star dishes include the lamb kofte (with hummus, cacik, Israeli salad and Turkish pide), beef tagine, chicken breast coated in sumac, pomegranate molasses, chili and sesame seed, and loads more.
Vegan/vegetarian options are a bit slim, so if you're looking for a hefty vegan-friendly feast, you might want to look elsewhere. But if you're hankering for some quick, delicious bites, you can dig into the spinach and feta filo pie, the beetroot salad or the Tuscan three onion soup. Plus, you'll want to stay and try a few cocktails, at least.
For drinks, Maman definitely has cornered the no nonsense cocktail market, with classics like the Old Fashioned, an orange and torched rosemary G&T, a pink lemonade spritz if you're feeling fancy, and a few other ones you can check out on the menu for yourself.
Top it all off with a fine apple tart or with a saffron poached pear or the lemon curd tiramisu (hell yeah) and you've got yourself a pretty damn fine evening of good vibes and good eatin'.
Maman is open Wednesday to Sunday with varying hours, so make sure to book a table, stat.
Image credit: Maman
---