Miss Mee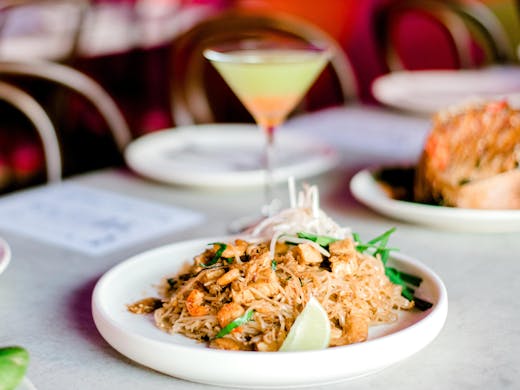 The Verdict
​Prepare to be blown away, because your favourite crew from Justin Lane have just thrown open the doors to an incredible, neon-lit Asian eatery and it's the hottest thing we've seen in a long, long time.
Neon lights run across the ceiling, hot pink bar stools line the bar and for those long nights with friends, you'll want to sink into the plush banquet and bench seats that are hugging the walls. Adorning most surfaces are cute Asian-inspired graphics and signs—basically, everywhere you look there's something to take in. And that's just the downstairs.
Whilst your jaw may hit the floor over the stunning transformation of the space, the tantalising food will have you chowing down on epic nosh almost immediately.
A vibrant celebration of South East Asian cuisine, the menu is overflowing with dishes that are Thai-inspired and somewhat more traditional than you'd probably expect. While you'll find the classics, there's also a bunch of off-the-beaten track Thai meals, you've probably never heard of.
Image credit: Kaitlin Maree for Urban List
---