Moonlight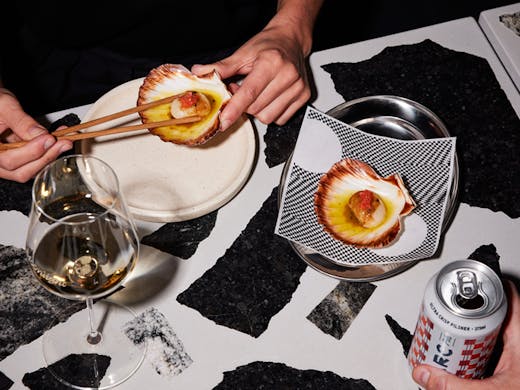 From the talented team behind Light Years, Moonlight Hibachi and Wine Bar is a whole new reason to make tracks for Byron Bay.
You'll find it across the courtyard from Byron's Light Years restaurant, bathed in the glow of white "moonlight" that comes courtesy of a neon crescent moon hovering by the doorway. A trail of fragrant smoke from the hypnotic hibachi grill should also guide your way.
Here, executive chef Robbie Oijvall and head chef Vaughn Williams are doing traditional Japanese hibachi layered with a few modern ideas and flavours.
The three-part menu fits on one page, but there's a lot going on. Like the standout vegan watermelon sashimi, which has been dehydrated, roasted, and delicately sliced to have all the texture of raw fish. It's dressed in a yuzu-infused EVOO, shiso, and sesame—and is one of those incredible creative dishes you'll want to order time and time again.
From the hibachi, try the Hokkaido scallops with Cafe de Nippon butter and finger lime, and the pork belly with nori and apple tare.
We also love the Japanese-style Furikake fries with curry mayo and the pork katsu sanga with pecorino and spicy mayo. For something fresh, there's also a chopped cucumber dish topped with ginger, sesame, and a fermented chilli rayu that pairs perfectly with Moonlight's edit of ancient sakés.
As well as saké, Moonlight is a spot to sip delicious biodynamic wines—picked according to the lunar cycle, of course. Cocktails created by Jason Lindsay are as impressive as the food—think Japanese highballs made using homemade sodas and natural garnishes, foraged from the Byron Hinterland. The Panda highball was our favourite.
It's an intimate venue, and we recommend sitting at the bar to soak up all of the action. Week-Days studio is behind the interiors, which are slick and monochromatic, complete with two murals by the queen of monochrome, Georgia Hill.
Image credit: Moonlight
---