Mr Hizola's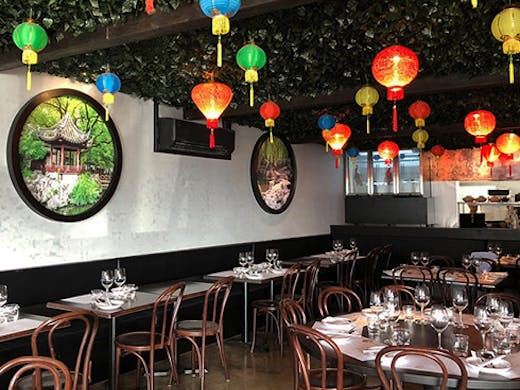 The Verdict
Located next door to the hidden shop front of Iku Yakitori and a stone's throw from Jimmy Wahs, Mr Hizola's has found himself in great company—Burleigh Heads is seriously buzzing rn people. Walking along the popular foodie strip you can't miss the eatery with its neon red sign and bright lanterns drawing customers in, and trust us, you won't be disappointed if you happen to stumble upon this place.
The restaurant, named after head chef Jon Hizola, formerly of Hideaway, is offering up a flavour-packed contemporary Cantonese-style menu. But it's not your typical Chinese eatery, not even close. Here, Jon and Scott, want diners to go on a food journey, one that will delight all five senses.
Case in point, the sizzling wagyu steak is served on a fo zek stone (AKA really, really hot). It's delivered to your table, doused in brandy and set alight, flames licking upwards and cooking the meat to mouth-watering perfection right in front of you. Dinner and show? We think so.
Want even better news? They're doing Yum Cha people! That's right, seven days a week, 12pm until 4pm, you can get your fill of half roasted duck pancakes, golden buddha tofu rolls, kung pao chicken and Mongolian clay pot beef. Yea, we suggest wearing loose pants for that one.
There's an impressive haul of tipples on offer too, including a load of local wines, but the cocktails really are a must-sip. Be sure to try the Quat You Talking About—white rum kumquat liqueur, grapefruit juice, lime juice and simple syrup.
Swing by for said cocktail and people watch from the window bar or—and we seriously recommend you do—carve a few hours out of your day and order the Emperor's Feast. For just $50 per person you'll be treated to around six to seven small dishes made specifically for you, based on your likes and dislikes. And best of all, it means you can keep coming back and have a completely different menu every single time. Now that's pretty special.
Vegan, vegetarians and those who are gluten-free, rejoice! Even though the menu has loads of options for you, the team are only too happy to come up with an array of dishes to keep your belly full and happy.
---