Mr P.P.'s Deli & Rooftop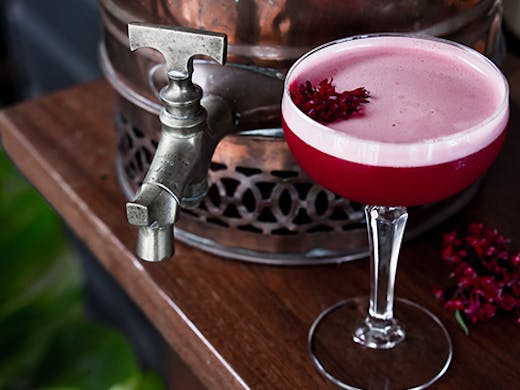 The Verdict
We're calling it, Mr P.P.'s Deli & Rooftop is the coolest thing to happen to the northern Gold Coast in 2017. Just like the old ambulance station and Co-Spaces next door, Mr P.P.'s has been a labour of love to revive a long forgotten historical building in the CBD, honouring its heritage (aka the old postmaster, Mr P.P.) while injecting a swag of energy that's bringing people together over sunset cocktails and delicious eats.
Downstairs, hidden behind the guise of a deli, Mr P.P.'s cosy wine bar is perfect for knock-off drinks and sociable Saturday nights. Keeping with the vintage theming, there's 1920s-style timber moulding with walnut finishes, a white marble bar top, ornate brass foot rails, antique picture frames featuring the honourable Mr P.P. Agnew himself and a deli cabinet stocked with cured meats and cheeses.
Upstairs, under a fully-retractable roof, the sun-drenched rooftop bar is scattered with picnic tables, booths, high bar seating and potted palms. On the rooftop menu are jugs of beer (eight options on tap) and shared cocktails, all served with urban vistas over the CBD and rooftops. Come and hang with the city office workers for sunset knock offs and you'll likely walk away with a handful of new friends.
Image credit: Jess Parkes for The Urban List
---