Mr.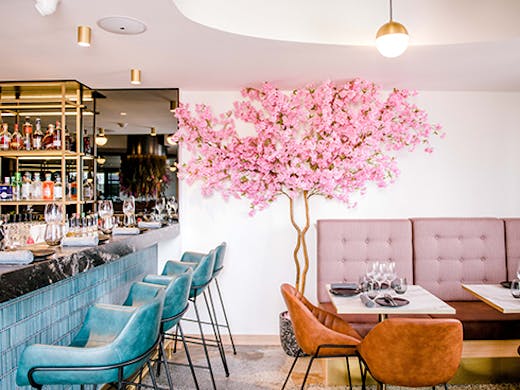 The Verdict
Mr. is a modern Australian restaurant in Nobby Beach, here for those times you're eager to treat your faves to an intimate dinner in a refined setting or sip on a fancy cocktail before seeing where the night takes you.
First to catch your eye is the brass geometric paneling and photo-worthy cherry blossoms that hug the exterior. Inside, this narrow and intimate 30-seat dining room is hidden away from the action outside by sheer drapes, where a mushroom-hued banquette-style couch lines the perimeter and stools at the bar scream cocktails. An elegant blend of colours and textures will have you running your hand over every surface from the soft leather seats to the intricately tiled bar and plush pink-lined menus.
Renowned for their quirky creations, your first visit to Mr. must start with the signature Assiette of Teeny Tinys—that's a platter of three mini cocktails. Mr.'s one-of-a-kind cocktail list and excellent selection of gins will inevitably send you down a rabbit hole.
Catering to a wide range of tastes, Mr.'s modern Australian menu basically means anything goes. From the cabernet mignonette oysters to the cuttlefish Asian salad and Kingfish ceviche with wasabi pea mousse to start. Or larger share plates such as the squid-ink risotto nero topped with tempura Moreton Bay bug tails and the crispy pork belly served on a sweet corn puree and smattered with scallops—they're dishes you'll totally want to keep all to yourself.
Image credit: Kaitlin Maree Photography for Urban List
---