Nightcap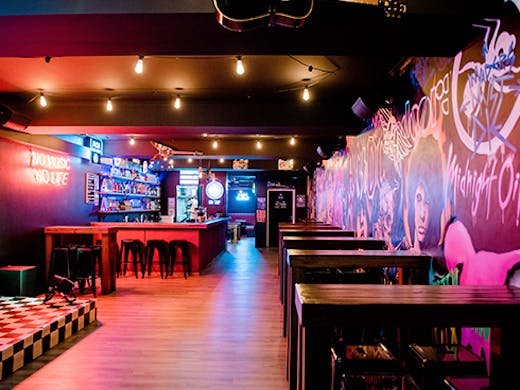 The Verdict
Nightcap is brought to you by the familiar faces behind Bine Craft Beer Bar, Hideaway Kitchen, Mr Hizola's, Soho Place and Nightjar. This crew has a loyal following—people seem to trail them everywhere they go—and you can trust this prime spot in buzzing Nobby Beach will be no different.
Nightcap is grungy, dark and somewhere you'll likely stumble in for "one drink" that will dangerously lead to the wee hours, given the intoxicating energy and lack of windows to the outside world.
Paying homage to the rock legends splashed in graffiti across the walls, alongside guitars, event posters, album covers and old vinyls, Nightcap's cocktail list reads like a who's who of music royalty. Start slow and sip on an ACDC Espresso (martini), Red Hot Chilli Pepper or Beatles-inspired Strawberry Fields. All the region's craft breweries are represented on the menu, together with bad-habits-never-die cans of VB, XXXX and Toohey's New. Whiskey lovers are well catered for and we expect the spiced rum Dead Man's Fingers is likely sprinkled in everything.
Nightcap dive bar is open seven nights until late. Though, you have been warned, a spontaneous "nightcap" here is likely to turn into anything but.
Image credit: Kaitlin Maree Photography for Urban List
---