Póke Póke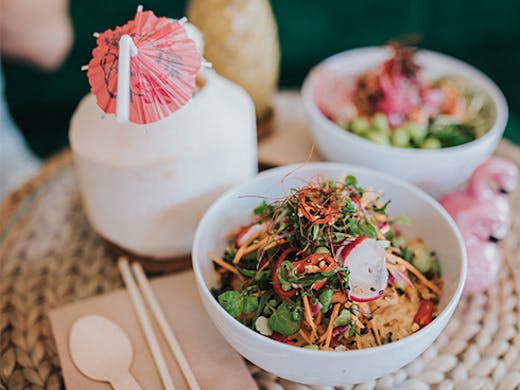 The Verdict
With poke bowls taking the world by storm, it was only a matter of time before the Gold Coast caught onto the trend and gained its own dedicated poke bowl restaurant. Like a Hawaiian or Caribbean Island marooned in Mermaid Beach, Póke Póke is a vibrant and utterly unique eatery that's open for brunch through dinner with a chill crowd and funky tunes bringing the positive vibes.
Tapping into the healthy eating set, poke is all about the good stuff: cured raw fish traditionally on a bed of rice (brown, white or green in this case) and served with a plethora of veggies makes these little bowls not only filling, but tasty to boot. Like the Tuna Me On, piled high with soya marinated sashimi grade tuna, chunky avocado, crispy plantains and wasabi mayo on brown rice, and the Fresh Off The Boat with 'fresh as' salmon, zucchini noodles (zoodles), radish and seaweed with wasabi mayo on brown rice. It's the kinda guilt-free dish you can eat mid-morning and will keep you satisfied until dinner.
Also on the menu are fragrant Carribean curries, Insta-worthy smoothie bowls served in coconut shells, baby coconuts, cold pressed juices and a small selection of cocktails, wine and beer… 'Cause it's five o'clock somewhere, right?
Image credit: Hayley Williamson for The Urban List
---